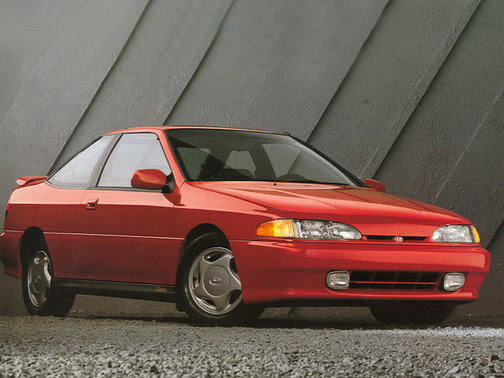 No 1993 Hyundai Scoupe inventory available
Get notified when this car becomes available. Sign Up.
Sign up to get notified
We understand it can be frustrating when the car you are interested in isn't available. Sign up to get notified when this car becomes available.
Already have a profile? Sign in.
Key specs
Base trim shown
3 trims
Starting msrp listed lowest to highest price
1993 Hyundai Scoupe review: Our expert's take
It has been said that when you live by the sword, there's every likelihood you'll expire via the same weapon.
In the auto industry, the analogy seems to aptly describe the situation at Hyundai, which made 265,000 people sit up and take notice in 1987 when the unknown South Korean automaker offered consumers an "under $6,000" alternativeto the "under $4,000" Yugo, which proved to be overpriced.
The last time the public was so captivated by a car, the vehicle was built in the U.S. and the name was easier to pronounce-the Model T.
That was then and this is now, and in 1992 Hyundai sold only 108,549 cars. Despite a five-year plan aimed at improving quality and bringing out new models to rekindle the consumers' love affair, it seems Hyundai's glory years are behind it.
Most dealers would rather see an IRS auditor pull into the store than a customer bearing a Hyundai to trade.
We test-drove a turbocharged 1993 Hyundai Scoupe, which would have appealedto the low-paid masses in 1987, but it hasn't kept up with the times since then.
The Scoupe offers neither driver-side air bag nor anti-lock brakes. Safety and quality are the price of admission and Hyundai is stuck holding a ticket stub at the main gate.
An air bag and ABS were left out to keep the price down, but the subcompactturbo Scoupe starts at $10,999.
Low price let Hyundai into this market, but $10,999 for a car minus air bagand ABS may be the reason people will continue to snub it.
Quality? Hyundai admits the Excel was rushed to the market to take advantage of demand for low-priced cars. So it was sadly lacking in quality. Now, the automaker insists, things are better.
Yet our test vehicle leaked transmission fluid. The speedometer read up to 140 miles per hour, but our top speed was 53. It's not that the car couldn't go any faster, it's that we chose not to push it. Our comfort level maxed out at 53 m.p.h.
But then, it would be easier to imagine Hillary Rodham Clinton saying, "Just call me Babe," than it would a 1.5-liter, 115 horsepower, turbocharged 4-cylinder engine powering the Scoupe to 140 m.p.h.
The 1.5-liter 4 was teamed with a 5-speed manual. Reaching fifth was a bit vague. You knew it had to be there, but the lever wasn't sure where it was.
Once in fifth, performance was lackluster. Even with a turbo boost the Scoupe lacks muscle.
Standard equipment includes power brakes and steering, tilt steering, powerwindows and mirrors, AM/FM stereo with cassette, body-colored rear spoiler, body-colored bumpers/door handles/mirrors, intermittent wipers, digital clock and leather-wrapped steering wheel.
Options include an upgraded AM/FM stereo with cassette and four speakers, air conditioning, tilt and removable sunroof in a package at $1,265 and carpeted floor mats at $56. The final sticker, after a $405 freight charge, was $12,725.
For $10,999-and most certainly for $12,72 5-you can shop Saturn. And for $10,499, Ford offers a line of Escorts that puts the Scoupe to shame. For $10,999 to $12,725 you should be able to find a used car, truck or utility vehicle with more to offer than the Scoupe.
Hyundai can't complain. Its 15 minutes of fame lasted the full 12 months of1987. Perhaps if it focused on quality, durability, reliability and dependability rather than strictly price, it would have a change at longevity.
The turbo Scoupe doesn't offer the same value for the dollar as Hyundai's competition.
Neither does it offer the ride, handling, room or comfot, much less resale value.
The consumer expects more-and deserves better.
Plymouth Laser RS
While Chevy turns out bland Cavaliers and Ford makes dull-looking Escorts, Chrysler offers the stylish Laser.
Laser is a subcompact economy car with very sporty sheet metal, a vehicle you don't have to be ashamed to park in your driveway even though it gets highmile age.
The only problem with Laser is that it is the one member of the Eagle-Talon-Mitsubishi Eclipse trio that never sold well.
Consumers favored the "Japanese" Eclipse, even though all three cars were built at the joint venture Mitsubishi/Chrysler Diamond-Star plant in Normal, Ill.
We test-drove the 1993 Laser RS Turbo with all-wheel drive, which is just as sporty as ever, but even more powerful with its 195-h.p., 2-liter, 4-cylinder engine. With all-wheel drive, it's a year-round performer.
However, there are numerous drawbacks. For starters, Laser is approaching the end of the line and if it is not discontinued at the end of the 1993 modelyear, it will disappear in the `94 model year, when a new generation of small cars to be built at Diamond-Star are scheduled to appear in the spring as 1995models.
All-wheel drive gives added sure-footedness any time of the year, but at a sacrifice in mileage. The turbo Laser with automatic we tested is rated at 18 miles per gallon city/21 highway. There are bigger cars that get better mileage.
There are a few other annoyances, such as no air bag at a time when the pubic is clamoring for that safety feature. And anti-lock brakes are available, but for almost $1,000!
And there's no room in the back seat for big kids or even little adults. The only way to take advantage of the rear seats is to fold down the backs anduse the space for cargo.
The RS Turbo with all-wheel drive starts at $17,371. Standard equipment includes power brakes and steering, limited-slip differential, stainless-steelexhaust, performance-tuned suspension, color-keyed body-side moldings, leather-wrapped steering wheel, floor console with coin holder, motorized safety belts, rear-window defroster, dual outside mirors, AM/FM stereo with cassette and digital clock, tilt steering, remote fuel door and liftgate releases, intermittent wipers and 16-inch all-season performance tires.
Options on the test car included air conditioning, power door locks, upgraded radio with graphic equalizer, cruise control, power widows, rear window wiper/washer, floor mats, body-side stripes and console cupholder in a $1,956 package plus ABS at $943, four-speed automatic at $857, removable glasssunroof at $373 and compact disc player at $517.
With a $400 freight charge, the sticker read $22,417, which immediately should turn your attention to a larger midsize Pontiac Grand Prix LE at about $17,900 with ABS standard but no air bag or the larger full-size Pontiac Bonneville SLE at about $23,000 with air bag and ABS standard. And the mileageon both (19/30 and 19/28 respectively) beats that of the Laser.
All model years for the Hyundai Scoupe