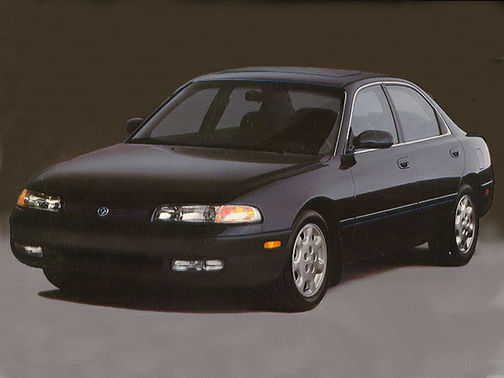 Get notified when this car becomes available.
Key specs
Base trim shown
3 trims
Starting msrp listed lowest to highest price
1993 Mazda 626 review: Our expert's take
It is tough separating automotive truth from transplants, originals from facsimiles.
The Plymouth Laser is the Mitsubishi Eclipse, which is the Eagle Talon. Most of the Lexus ES300 is a Toyota Camry. Even a Bentley is fundamentally a Rolls-Royce, and the Mercury Capri is built in Australia from Mazda parts.
Then there's the Ford Probe.
Which is a Mazda MX-6.
Both are cab-forward sport coupes with powerful, identical V-6 engines and handling to live for.
The Probe costs a few hundred dollars less and its initial acceleration is half a gasp faster. But the MX-6 has superior seats and doesn't have hog-ugly pop-up headlights.
Voting a patriotic ticket resolves nothing: The Probe is built in Flat Rock, Mich. So is the MX-6.
Where Mazda breaks the tie is by rebodying its coupe as a sedan. From the slinky MX-6 comes the more suburban Mazda 626. Same engine with sufficient power and growl to darken the day of those being passed. Same monocoque construction, slick transmission and flex-free chassis.
The 1993 Mazda 626ES also is the perfect four-door, five-passenger, mid-size car for sports who like to indulge their chutzpah once in a while but cannot live with two doors, kidney-hugger seats and cramped luggage space.
And with the three-car lineup starting at $14,255 and barely topping $22,000 for the leather-upholstered ES, the 626 competes favorably against Toyota Camry, Honda Accord and Ford Taurus–and could even divert the desires of penny-wise drivers from a BMW 325 or Lexus 300.
Although the lines of Mazda's 626 obviously were siphoned from the curves of the 929, an up-market sibling, the car doesn't crouch and stay flat to evoke presumptions of spirited performance. It sits a little upright–more from the mold of the Toyota Corolla–with slender windshield and rear window pillars to reduce any suggestion of dumpiness.
Because this is a longer, sedan body shell on the shorter wheelbase and chassis of a sport coupe, the 626 has noticeable front and rear overhangs. They do not shriek. But the cast alloy wheels of the ES model, with their seven half-spokes and matching holes, are rather fussy.
Five-spokewheels as mounted on the MX-6–and the Ford Probe–might have looked a little more adult.
The trunk appears abbreviated because the rear roofline travels high and far back to allow greater headroom for rear-seat passengers. Trunk space, however, remains 13.8 cubic feet, about as good as you'll find on any mid-size sedan these days.
It is an OK shape. Viewed from the back, there's even a rotund touch of Pillsbury Doughboy fun. Yet overall, the styling is generally safe, which means relatively uninspired.
Internally, the Mazda 626 is a little more daring.
Fabrics and vinyl have quality looks and feel; on the more expensive models, carpet piles rise thick and the leather feels more like a Coach billfold. Sea ts grip from shoulders to thigh without being the least bit obtrusive.
A gentle styling curve starts with the driver's door armrest, then flows through the dashboard and around the cabin to create a subtle, encompassing, very personal compartment.
There is one awkward dashboard touch: The instrument hood isn't much more than a fat upper lip, and it is set about 10 inches from the non-telescoping steering wheel. It is a gawky separation reminiscent of pedal cars.
In compensation, a myriad small but thoroughly satisfying touches abound on the 626ES: two cup holders central in the dash with another in the center console for back seat passengers or when traveling alone; a tiny dashboard drawer for parking meter change; a light inside outer keyholes for fumble-free door opening at night; a CD player that picks up where you switched off and not back at Track 1.
A fully loaded ES is a $22,000 car carrying the equipment of most $32,000 cars. That list in ludes driver's side air bag, anti-lock brakes, security system, heater vents for rear seats, power windows, sun and moon roof, and cruise control.
Two engines are available. The entry-level DX and upgraded LX are equipped with a four-cylinder, 118-horsepower engine for the sedate of soul. The ES comes with a 2.5-liter, 164-horsepower V-6 guaranteed to impress everything except a radar gun.
In performance and handling–despite extra poundage from four doors and the larger dimensions of any sedan–the 626ES that doesn't look terribly athletic works as well as the MX-6, which has been canonized by the automotive press.
The car accelerates smoothly and quickly, sliding from rest to 60 m.p.h. in a tick beneath 9 seconds. And no matter how hard the loud pedal is floored, a well-braced, firmly engineered front suspension keeps this front-driver from displaying significant amounts of torque steer.
Brakes on the ES are 10-inch discs up front, 9-inch discs in the rear, with a surplus of stopping potential; an ideal margin for any car that has the sense of something stolid but the potential of a wild thang.
The car is a rock-solid handler–thankfully a given for most mid-size sedans and all sport coupes these days–with a wonderful punch when flicking down from fifth to fourth gear in answer to some changing circumstance. Or to indulge the whim of playing with a remarkable surge of power at the high end.
There are many facets to Mazda's 626. It is a people mover but also a personal pleasure. Here is a car for those who need four doors but who also know clear mornings when there are no groceries on the back seat.
This is no ordinary sedan.
See it more as a four-door coupe.
1993 Mazda 626 ES
The Good Excellent four-door version of splendid two-door sport coupe. High-value car. Secure, coordinated handling.
The Bad Slightly chubby looks. Uninspired wheels.
The Ugly Set of steering wheel.
Cost Base: $18,725 As tested: $22,465 (includes driver's side air bag, leather seats, anti-lock brakes, power moon roof, compact disc player, power driver's seat, cruise control and power steering).
Engine 2.5 liter, 24-valve V-6 developing 164 horsepower.
Type Four-seat, front-drive, mid-size sedan.
Performance 0-60 m.p.h., as tested, with manual transmission, 8.8 seconds. Top speed, estimated, 130 m.p.h. Fuel consumption, EPA average, city-highway, with 5-speed, 21 and 26 m.p.g.
Curb Weight 2,800 pounds.
All model years for the Mazda 626
Show more years

Show fewer years