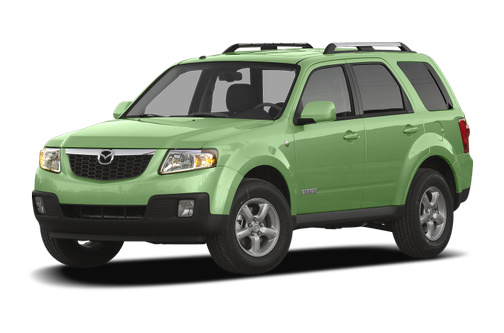 Key specs
Base trim shown
3 trims
Starting msrp listed lowest to highest price
2009 Mazda Tribute Hybrid review: Our expert's take

If the 2009 Mazda Tribute Hybrid looks familiar, it's with good reason. You see, it's basically a Ford Escape with a bit of Mazda-flavored accessorizing. Moms know that accessories can make the outfit.
This hybrid SUV gets the job done quietly and smoothly, and I don't really have a negative thing to say about it. That's not to say that my family and I fell in love with it; the Tribute Hybrid lacks that bit of flair or personality that makes a car memorable. I enjoyed my time in the Tribute Hybrid even when Mother Nature made the unthinkable happen: It rained in L.A. The Tribute Hybrid was there for me and mine, so we weathered the storm with no excitement whatsoever.
Even the two-wheel-drive version of the Tribute Hybrid handled the bad weather beautifully. Slick and muddy roads were no problem, and the Tribute Hybrid's higher ground clearance was helpful in getting the kids to school when the local roads started to flood. The hybrid engine took on hills and freeway merges with surprising speed. I'm a speedy kind of girl, and the Tribute was right there with me. There was less roll in the curves than I expected. The more I drove it, the more confident I felt.
So far, the Tribute Hybrid is a limited production model that's only available in California. The regular Tribute has the same exterior and interior as the Tribute Hybrid. While the Tribute Hybrid is Mazda's first gas-electric hybrid vehicle, the company plans to build more hybrids in the near future.
Exterior
While there's virtually no difference mechanically between the Tribute Hybrid and its Escape Hybrid sibling, Mazda did change the Tribute Hybrid's look to give it some "zoom-zoom." The front grille has Mazda's five-point shape and some extra chrome. The halogen headlights are angled. When they're paired with the grille, it makes the Tribute look like it's smiling. It's completely inoffensive, if that makes sense. The Tribute Hybrid just wants to mind its own business and take care of yours; it's not trying to make a statement or step on anyone's toes.
Lucky for us, the Tribute Hybrid doesn't just look friendly, it is friendly. The doors aren't too heavy and opened easily for little hands, and there's a flat step-in for little folks to use when they climb in.
Thanks to the remote keyless entry, there's no fumbling for keys to unlock the doors. The liftgate sits high enough when opened that I never had to worry about hitting my head on it. Of course, that could have made pulling it closed a bit of a stretch, but a grab handle made it easy and kept my hands from getting dirty. The rear hatch window opened separately from the liftgate, so you could access the cargo space without opening up the whole thing. See? Friendly.
SENSE AND STYLE
Family Friendly (Not Really, Fair, Great, Excellent): Excellent
Fun-Factor (None, Some, Good Times, Groove-On): Good Times
Interior
The inside of the Mazda Tribute Hybrid is clean and functional. The beige-colored, pebble-textured leather seats hid the inevitable dirt and grime that my family tracked in, and the seat heaters are a gift on a rainy day. With a six-way power adjustable driver's seat, I found a perfect, comfy position. The interior's glossy black plastic trim provided a bit of shine to an otherwise drab interior.
My test car had a six-disc CD changer, but it didn't have a navigation system. Without the big nav screen, all the audio and climate controls are viewed in two small screens. I was able to get all the information I needed, even outside temperature and compass directions, on the smaller screens. Below the instrument stack, there's a texturized rubber tray that was a great place to stash a cell phone or an iPod. The decent-sized center console had removable bins to keep bigger items organized, too. Those bins lift out and slide into a special slot next to the passenger seat, so there are multiple ways to keep your gear, snacks or trash contained.
A big power moonroof lets in lots of light, and an overhead console offers reading lights and a sunglass holder. Of course, the only sunglasses that fit in there belonged to my 5-year-old, so it was pretty useless to me. The glove compartment was also small, so most of my stuff went into the center console.
In the backseat, the wide bench provided plenty of room for three kids to sit comfortably. I had two in booster seats and the larger kid sat in between them. No one complained about being squished, but I don't think I could have squeezed a third booster seat back there. Three full-size teenagers sitting in the backseat might feel less than comfortable. Since I don't have any of those, the Tribute Hybrid offered plenty of room for my family.
My kids had no problems getting in or out of the Tribute Hybrid. They got their seat belts buckled without any help from me. The seat belt receptacles were easy to reach, not buried between the seats as in some cars. The middle position's seat belt was anchored in the top of the seat instead of the ceiling. This kept my line of sight from being obscured, as well as made it easier for my child to reach the middle seat belt. The Latch connectors also were easy to find and access.
IT'S THE LITTLE THINGS THAT COUNT
Storage Compartments (Puny, Fair, Ample, Galore): Ample
Cargo/Trunk Space (Puny, Fair, Ample, Galore): Ample
Safety
This year's Tribute Hybrid has a few new safety features. One important safety feature was the addition of rear stability bars that help keep this SUV steady in turns. Even so, this is a tall SUV, so rollovers are a possibility. That's why there are side curtain airbags, which protect occupants by draping over front and rear side windows, in addition to the front and side-impact airbags. There's also a rollover mitigation system, which senses impending rollovers and applies individual brakes to try and stop them, but I wasn't going to test it. The antilock brakes have electronic brake-force distribution, and traction control keeps the wheels from spinning during acceleration.
The safety features I enjoyed the most, however, were the height-adjustable front seat belts and the accessible Latch anchors. The seat belts fit everyone well, which was the most concrete way I could tell that the Tribute Hybrid would take good care of my family.
FAMILY LIFESTAGE
In Diapers: It was easy to access the Latch connecters, and there was plenty of cargo space to help make life easier for parents of infants.
In School: The doors opened easily, and a flat step-in area made it easy for young kids to get in and out of the SUV.
Teens: There was plenty of legroom in the backseat and a power point for charging electronics.
Warranty
New car program benefits
Bumper-to-bumper

36 months/36,000 miles

Powertrain

60 months/60,000 miles
All model years for the Mazda Tribute Hybrid