$5,131–$9,979 Inventory Prices
Key Specs
of the 2012 Scion iQ base trim shown
Body Type:

Combined MPG:

36 Combined MPG

Engine:

94-hp, 1.3-liter I-4 (regular gas)

Drivetrain:

Front-wheel Drive

Transmission:

2-speed CVT w/OD
From the Cars.com Vehicle Test Team
The Good
Convenient size
Urban fuel efficiency
Inventive styling
Cabin materials
Turning circle
The Bad
Highway composure
Visibility
Handling
Awkward controls
Front-seat comfort
No center armrest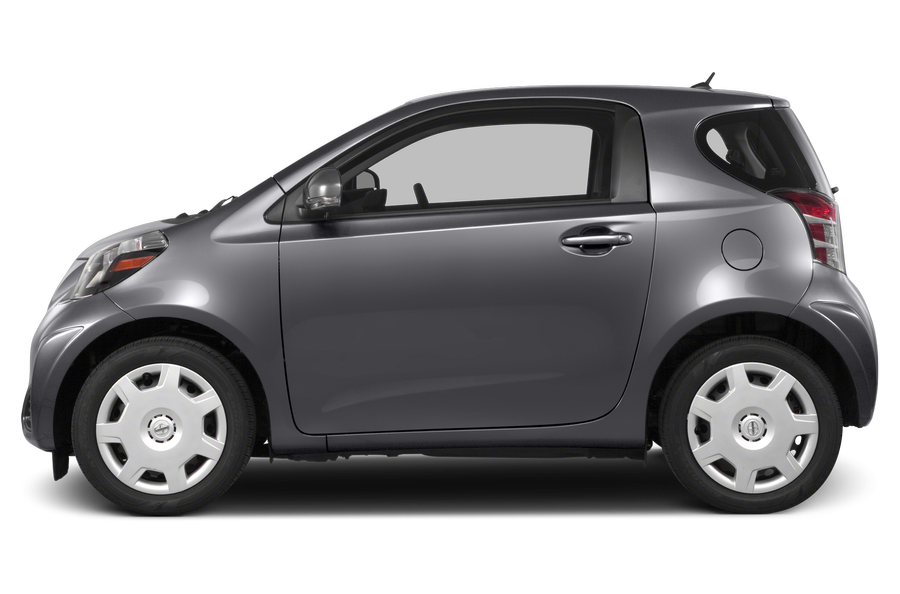 Notable Features of the 2012 Scion iQ
New for 2012
One of the smallest cars in U.S.
Seats three or four
1.3-liter four-cylinder, CVT automatic
37 mpg combined
11 airbags

The Scion iQ packs the funky appeal of a Smart ForTwo with few of the Smart's drawbacks, but that doesn't make it a complete car.
The four-seat iQ can fit in parking spots that are impossible for other cars, and it drives worlds better than the not-so-Smart, which we named the worst car of the 2000s. But it still feels witless on the highway, and its urban novelty wears thin as you notice the missing features and room that similar money can buy.
A Toyota division, Scion introduced the two-door iQ for 2012; typical of the brand, it comes in one trim level with a bevy of available dealer accessories, but our test car had few.
A True Minicar
At just 120.1 inches long, the iQ is the second-shortest mass-market car in the U.S. The ForTwo measures 14 inches shorter from bumper to bumper, but other microcars — like the Mini Cooper and the Fiat 500 — are more than a foot longer. Compare the four here. Traditional entry-level cars, like the Honda Fit and Ford Fiesta, are bigger still. The iQ is a true minicar, and it draws all the fascination of the genre. A Harley-Davidson owner pulled up alongside one of our editors and hollered, "My bike is longer than your car!"
The fascination will intensify when people see you park the iQ, which makes up for its size deficit versus the ForTwo by turning a scant 25.8-foot circle — 3 feet tighter than the Smart. You can make U-turns just about anywhere, so keep them legal.
Drives Like a Dream … a Sort-of Bad One
... Read more
The 2012 Scion iQ is billed as an urban runabout, and its tiny dimensions do make for easy parking. Unfortunately, the short wheelbase leads to a choppy highway ride, and the car isn't as practical as other similarly priced subcompacts.
Great used car!
I bought my 2012 Scion iQ used with 40,000 miles and in excellent shape. After 2 months of owning this little car I love it. It's good on gas and has performed flawlessly. It's a great value for a ... Read full review
I love my car
I wanted a car with good gas mileage to go back and forth to school. Didn't want an expensive car or a big car. I drove the smart car and was good with the size. I found a scion with less miles on it ... Read full review