10 Biggest News Stories of 2020: Jeep Wrangler Crashes Top Spot, Coronavirus Can't Cope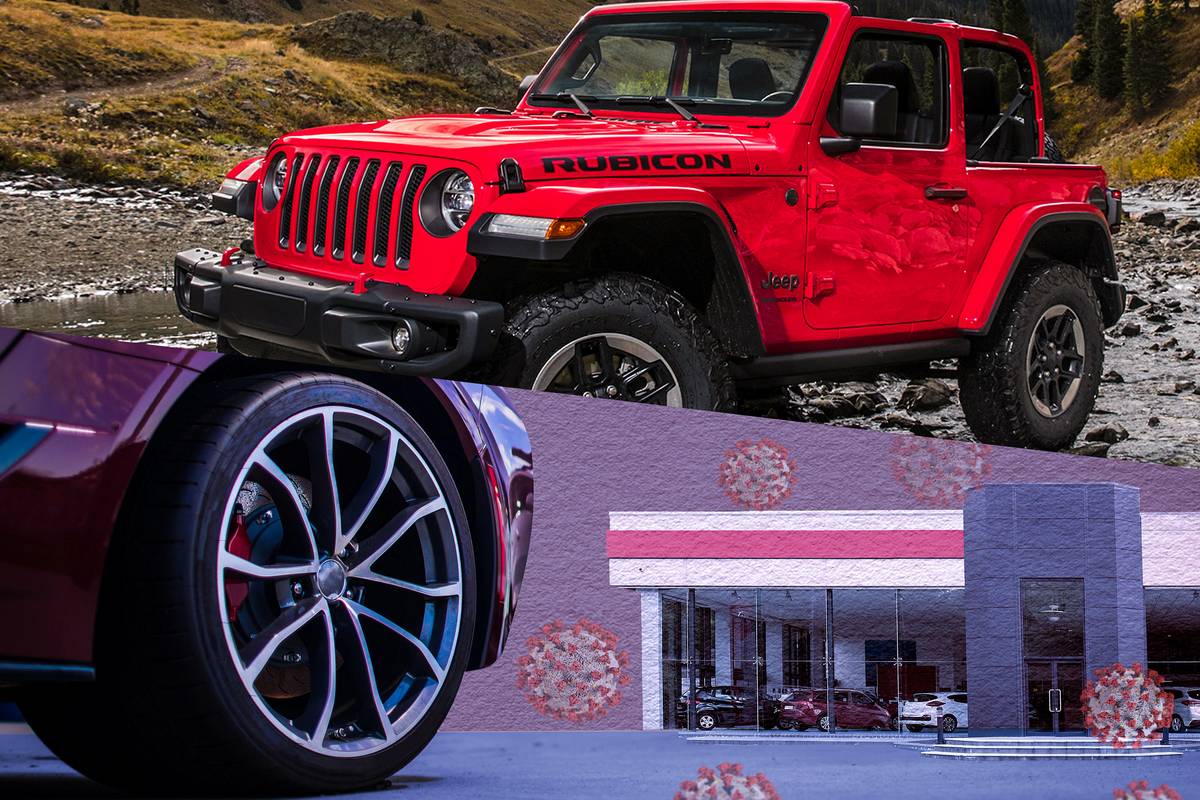 Watching the crash-test footage of a Jeep Wrangler smashing violently into an obstacle and then flipping on its side, then replayed over and over at different speeds, angles and perspectives, one can't help but think of America in the year 2020. The most pointed distinction, of course, is that the video of the Insurance Institute for Highway Safety's evaluation of the 2019 Wrangler's crashworthiness lasts less than 2 minutes — whereas the wreckage of the past year amid the COVID-19 pandemic's major spread in the U.S. has stretched on for 10 months and counting. Fittingly, if improbably, our coverage of the crash test made for Cars.com's most popular article of the past year.
Related: Side Curtain Airbags Help Save Lives, So Why Don't Jeep Wranglers Have Them?
Comparing America in 2020 to an overturned SUV isn't to be, er, flippant about the state of the nation — which has endured real hardship, heartache and loss — but, dadgummit, we've suffered together. Let's laugh a little together, too. 
As for that Wrangler crash test topping our year-end countdown, the fateful flip came during IIHS' challenging small-overlap frontal evaluation, which simulates what happens when the front corner of a vehicle strikes something like a utility pole or a tree. Over the protestations of Jeep parent Fiat Chrysler Automobiles, which conducted a successful attempt of the same test with no overturning, IIHS repeated its own test — and, again, the Wrangler wound up on its side.
This test failure was of particular concern for the then-recently redesigned off-road icon, which features a removable roof and doors, and no overhead side curtain airbags for occupant containment: collision, potential rollover and occupant ejection … you get the grim picture. Aside from the sheer spectacle of its troubling tipsiness (which reaped a marginal rating in IIHS' small-overlap test), the Wrangler performed admirably in the agency's other crash tests. Follow the link below to Cars.com's No. 1 story for all of 2020 to get the complete context.
As we take stock of the trying year in our rearview mirror, another notable entry on our annual countdown checks in at No. 5: our primer for car shoppers on the smartest, safest and sometimes only ways to procure a new ride during the early days of the pandemic. Early last spring, as most of the country was going into lockdown, we advised those in need of a new car on vital matters:
Are dealerships even open? 
What if my car lease is expiring?
Will there be vehicle or parts shortages from manufacturers?
Will incoming 2021 models be delayed?
Do I risk surface transmission for the coronavirus from vehicles imported from global hot spots?
Will the pandemic mean big discounts on new cars?
The article's relevance, of course, tied very much to its moment in world events, but it's definitely worth a look back — if only to remember where we were as a nation last spring.
Rounding out the year's top five articles are Cars.com reviewer Aaron Bragman's critique of the 2020 Mercedes-Benz GLC-Class luxury SUV (Mercedes' top-selling model in the U.S. through Q3), at No. 2; our update on the outlook for the redesigned-for-2021 Nissan Rogue's arrival amid pandemic concerns (spoiler: it arrived, and we reviewed it), at No. 3; and our rapid-fire roundup of the things we like and don't like about the 2020 Hyundai Sonata Hybrid, at No. 4.
It also bears noting that our article introducing the saga of our stinky 2020 Hyundai Palisade lands at No. 6. Suffice it to say, the vehicle that earned Cars.com's Best of 2020 award and a place in our long-term fleet spent a big chunk of the year in its own non-COVID-related quarantine as Hyundai figured out where a nasty odor was coming from (spoiler No. 2: the head restraints).
There's so much more where all that came from, so ring in the new year with us by reflecting on the car news that carried us through this Terribly Odd, or Oddly Terrible, Episode of Life that was 2020. Here are the top 10 news stories Cars.com readers couldn't get enough of in the past year:
1. Jeep Wrangler Flips in Crash Tests, Overturning Otherwise Solid Safety Scores
2. 2020 Mercedes-Benz GLC-Class Review: Fast and Fancy Family Haulers
3. Redesigned 2021 Nissan Rogue Release Date Still on Schedule: Report
4. 2020 Hyundai Sonata Hybrid: 7 Things We Like and 4 Things We Don't
5. Coronavirus and Car Buying: What You Should Know
6. CSI: Car Smell Investigation, 2020 Hyundai Palisade Edition
7. Easter's Over, But You Can Still Hunt for Easter Eggs in Jeeps, Other Cars
8. How Do I Get a Free Carfax Report?
9. Here Are the 10 Cheapest New Cars You Can Buy Right Now
10. Which Cars Have Self-Driving Features for 2020?
Related Video:
Cars.com's Editorial department is your source for automotive news and reviews. In line with Cars.com's long-standing ethics policy, editors and reviewers don't accept gifts or free trips from automakers. The Editorial department is independent of Cars.com's advertising, sales and sponsored content departments.