2017 Chrysler Pacifica Vs. 2018 Volkswagen Atlas: He Said, She Said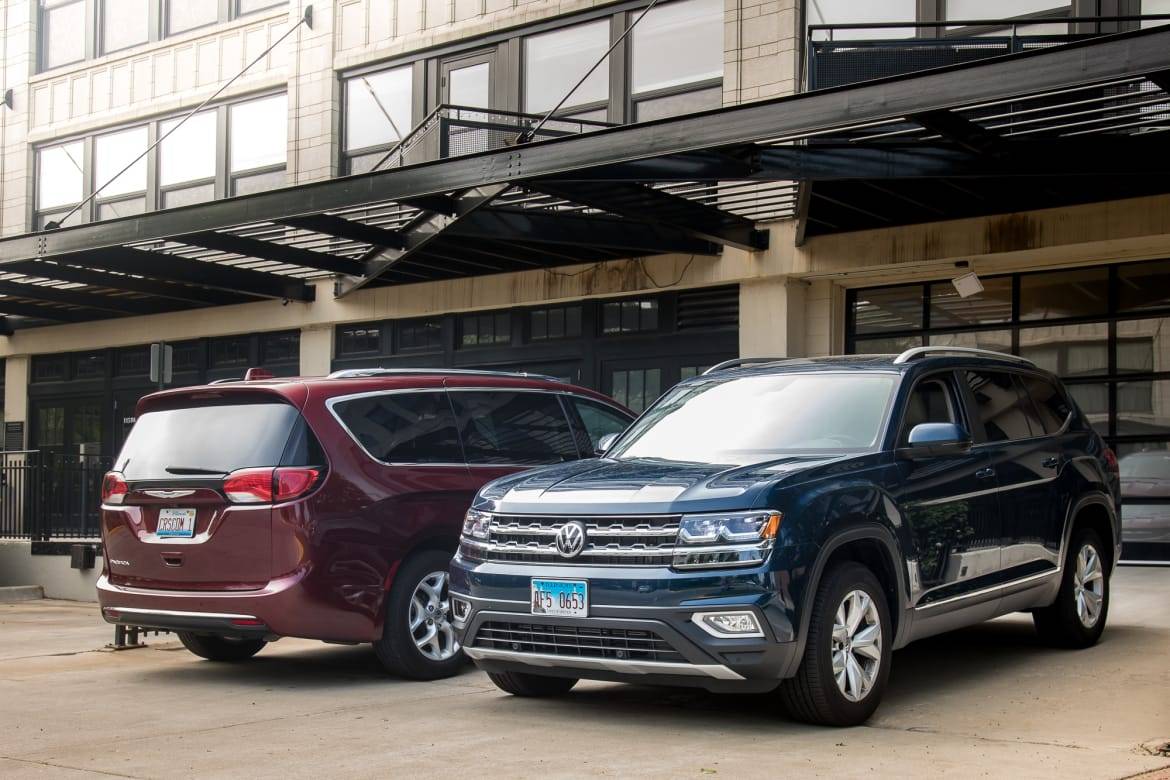 We get it: Your growing family has outgrown your car, but you're still not ready to turn in your cool card and become one of those … those, ulchhh, minivan people. On second thought, TBH, we don't really get it. As automotive journalists, we drive everything from a Mitsubishi Mirage to a Maserati Levante, and for us that sort of arbitrary image consciousness takes a backseat to choosing the right tool for the job.
But since the modern American family seems to have decided for some reason that SUVs are less lame than minivans, and because we just so happen to own a Chrysler Pacifica, our Best of 2017 vehicle, and a Volkswagen Atlas, our Best of 2018 pick, we decided to pit the two against each other to determine which was the superior family hauler, irrespective of caché.
Related: 2018 Volkswagen Atlas Helps Ease First-Time Parent Jitters
My colleague, Cars.com reviewer and mom of three Jennifer Geiger, and I each drove both cars back-to-back on a 30-mile circuit taking us from Cars.com HQ in downtown Chicago, through the surrounding suburbs, and back downtown via both fast-moving highways and slower town roads. We then rated each vehicle across 10 categories deemed essential for family duty. Each category is worth a maximum of 20 points.
So which vehicle came out on top? Read on to see how each scored.
Front-Row Comfort

Winner: Tie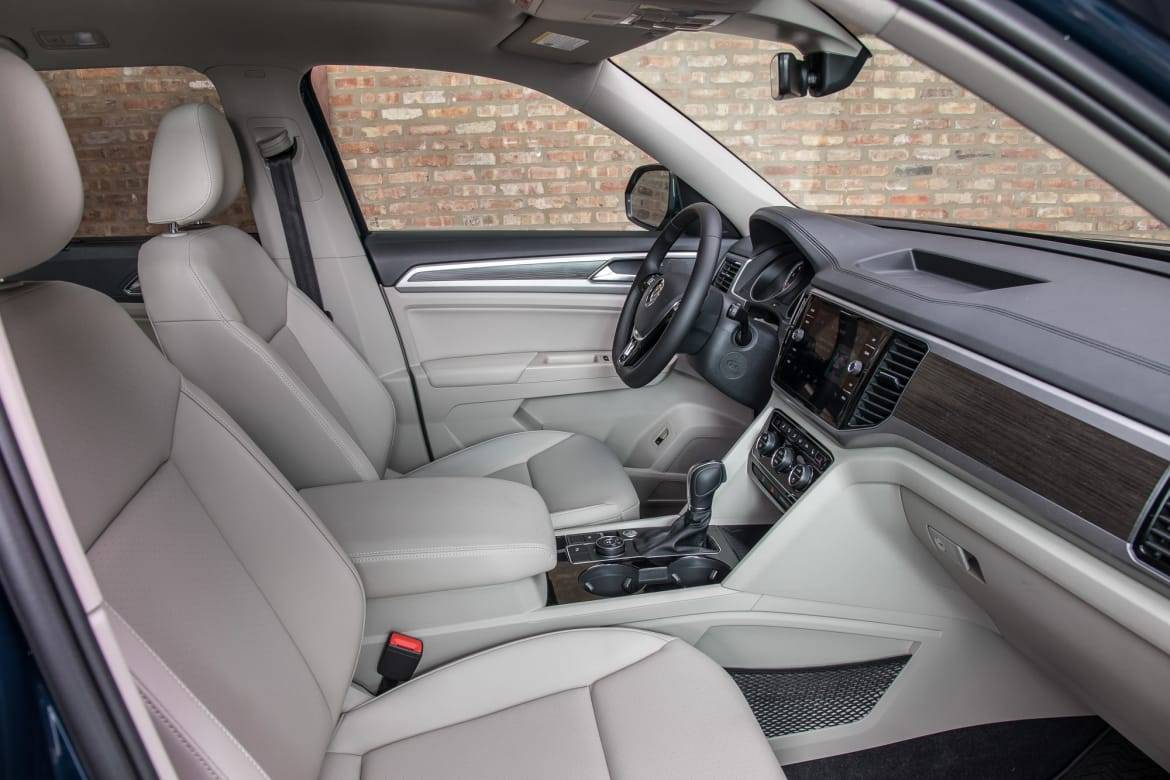 MS: The one aspect of our Chrysler Pacifica that's always turned me off is the seats, including the front row. The leather-upholstered captain's chairs look nice enough, but in that intangible/anecdotal sort of way accountable only to the butt of the beholder, they just come off as being a bit chintzy. And they have that sort of high-riding, bouncy feel I unflatteringly associate with a school bus. Plus, the fold-down inboard armrests are skinny and hard, and they don't really provide much of a resting point for my inside elbow, nor does the outboard door-panel-mounted one. The Volkswagen Atlas' wide, faux-leather-covered front seats, on the other hand, are comfortable, with a well-padded armrest in the outboard position and another one courtesy of the padded center console in the inboard position.
JG: I found both contenders' front seats comfy, but for different reasons. The Atlas' seats definitely have more cush for your tush, but the Pacifica's adjustable armrest provided a more fine-tuned level of comfort than the Atlas' fixed setup.
Out of 20 points, each vehicle scored 15. 
Second-Row Comfort

Winner: Atlas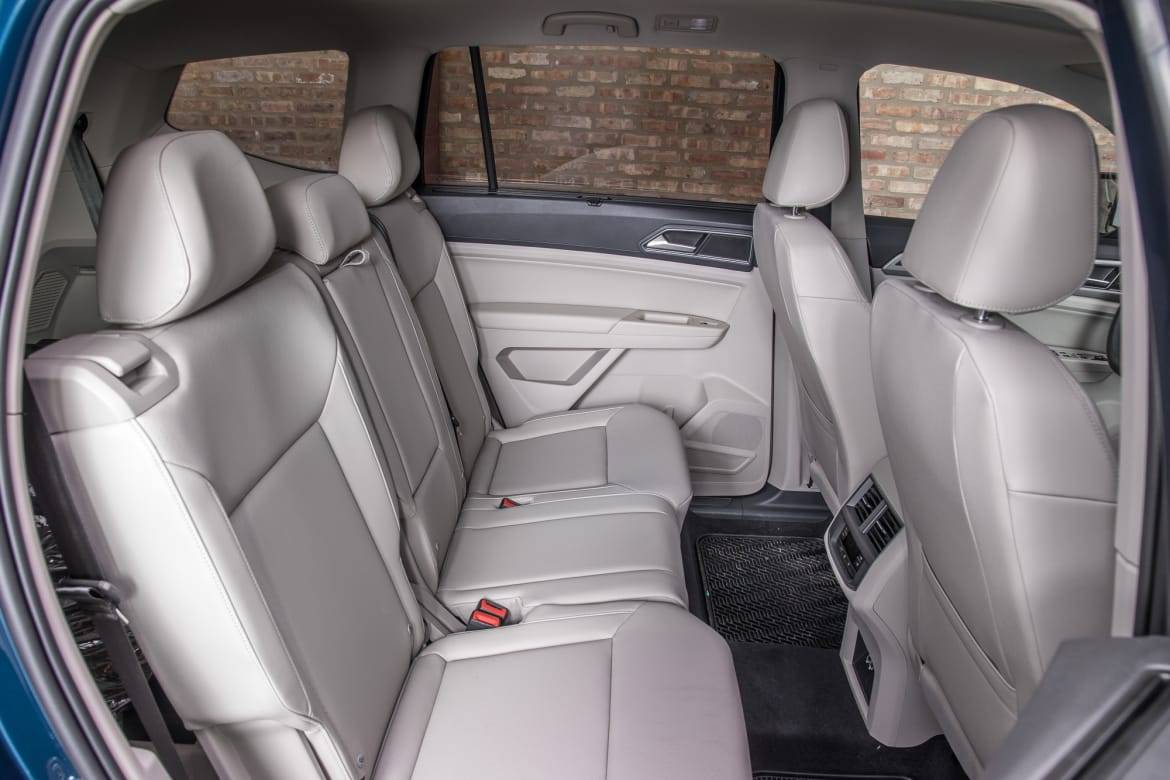 MS: Again, the Pacifica's rear seats are underwhelming to me, to put it mildly. There's nowhere to rest your inboard arm, at least when the removable middle seat is out; the seat height feels a bit low for a taller person, so my knees are bent in a position I'm not fond of. Plus, while I absolutely love the Stow 'n Go seating (although I don't get why there's no second apostrophe on the other side of the "n"), there's something creepy about the hollow feeling under my feet due to the empty space into which the seats fold flat. Again, the Volkswagen outclasses the Chrysler Pacifica with its comfy, elegant seating surface; in addition to tons of legroom, there's a sizable pull-down center console that provides padded armrests and cupholders on both sides.
JG: Although I love me some hidden storage cubbies, in terms of seat comfort, I feel similar levels of awkwardness when sitting in the second row of the Pacifica — sorry kids! (As the mom of tiny people, I spend 100 percent of the time in the driver's seat). The seats are too firm, flat and — their biggest downfall — the Stow 'n Go mechanism prevents them from sliding, making them less flexible than the Atlas' seats, which tilt and slide.
Out of 20 points, the Atlas earned 17 and the Pacifica 12.
Third-Row Comfort

Winner: Atlas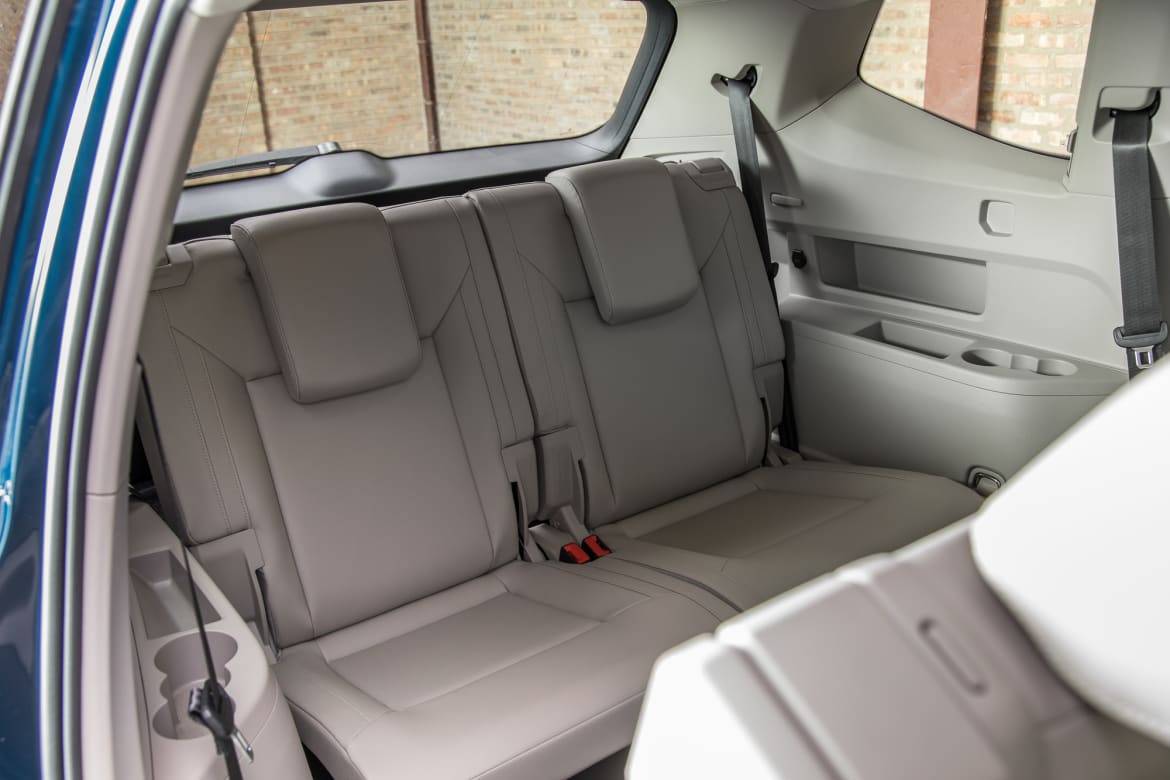 MS: The Chrysler Pacifica's third row seats two and it's not intended for larger passengers (I'm 6-foot-1). The outboard seat bolstering slopes upward, making it uncomfortable to share the space with a middle passenger (unless you like them a lot). In the middle seat, the ceiling-mounted seat belt setup is annoying. The Atlas' third row seats two, legroom is ample, and the seats are surprisingly comfortable; there also are cupholders and a small storage cubby.
JG: At 5 feet, 6 inches, I found the legroom OK in both third rows but appreciated the Volkswagen Atlas' less smooshed two-position setup over the Chrysler Pacifica's three narrow seats. Both rows felt like the cheap seats, however, with a less-than-comfortable, knees-up seat bottom angle and firmness and flatness that I'd only tolerate on a short ride.
Out of 20 points, the Atlas took home 17 and the Pacifica 13 points.
Car Seat Installation

Winner: Atlas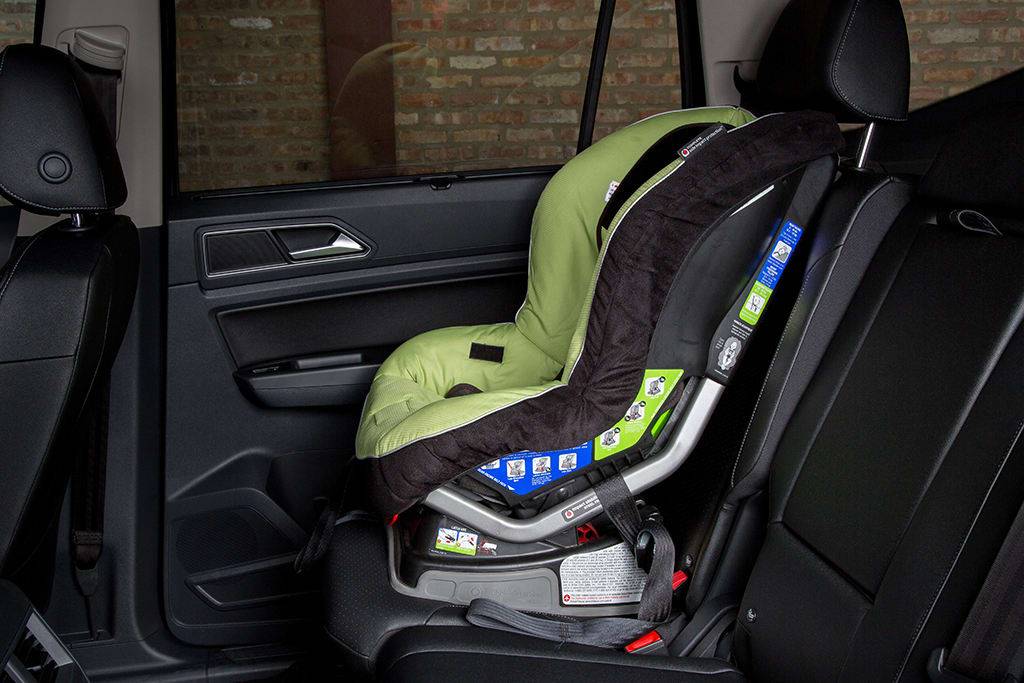 The Volkswagen Atlas is the decisive victor in terms of car seats, earning a perfect score of 10 in our Car Seat Check. In addition to easy installations and good seat fits all around, the Atlas was able to accommodate three car seats across its second-row bench seat. The Pacifica didn't get the opportunity to fit three seats across, as we tested it with the two captain's chairs in the second row, so no penalty there; however, we did deduct points for difficult-to-access Latch anchors, floppy third-row seat belt stalks and unclear markings for third-row top tether anchors, resulting in a score of 7 points. The Atlas lacks Latch anchors in its third row, however, something the Chrysler Pacifica has.
Out of 20 points, the Atlas earned all 20 while the Pacifica came up short with 14 points.
Cargo and Cabin Storage

Winner: Pacifica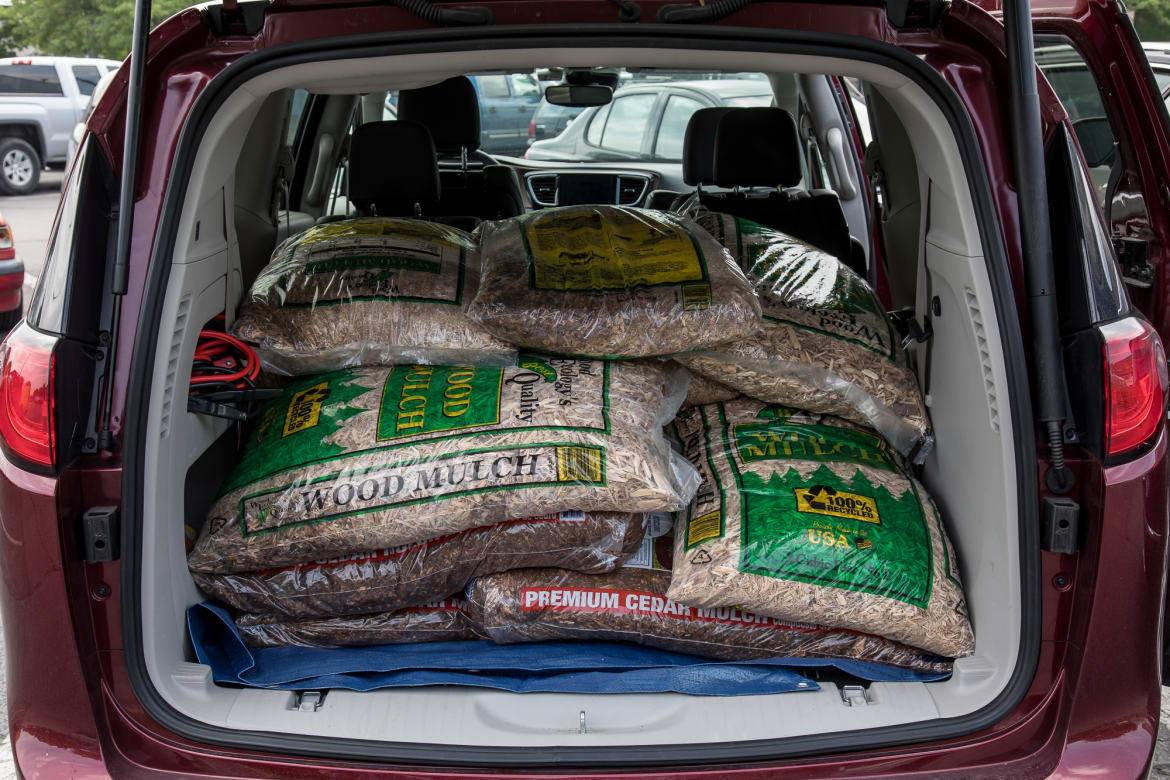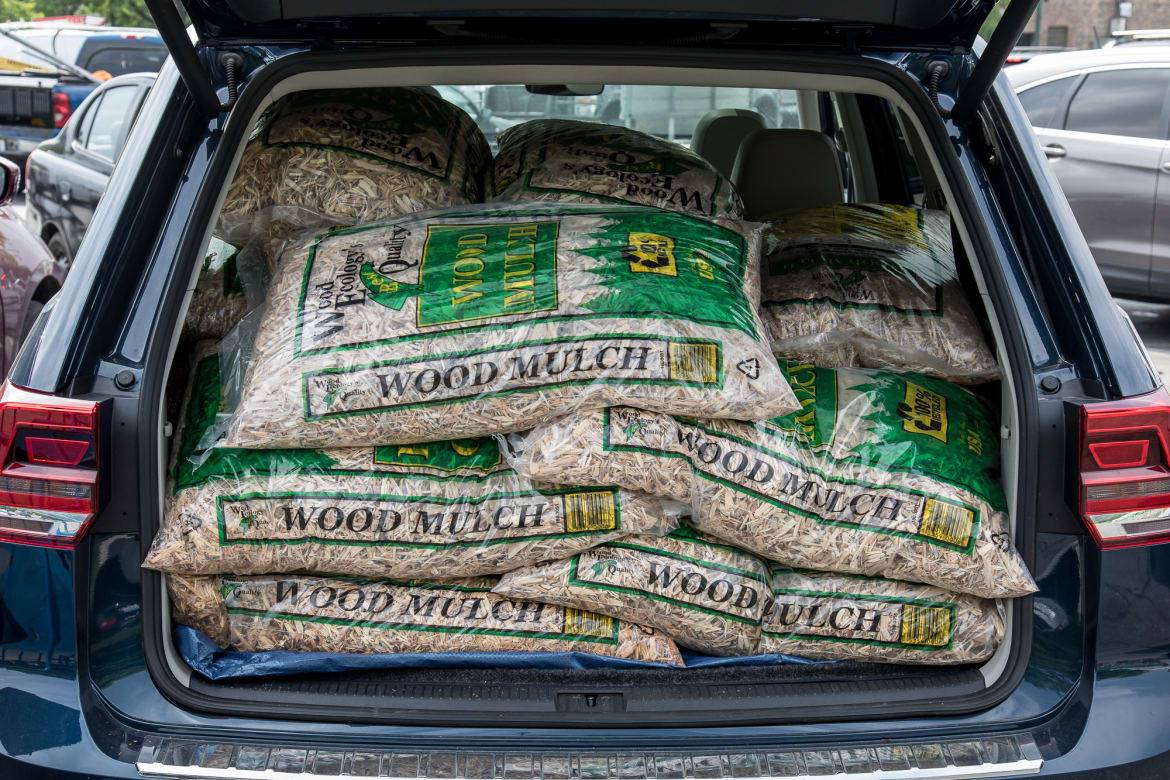 MS: This one's a no-brainer — the Pacifica boasts a max interior cargo volume of 140.5 cubic feet compared with the Volkswagen Atlas' 96.8 cubic feet. Thanks to those handy-dandy fold-flat Stow 'n Go seats, which create a massive, flat surface across the entire expanse of the Pacifica cabin behind the front seats. I was able to literally live in a van down by the river … OK, I went camping for a weekend, but my wife and I were able to sleep comfortably while also keeping all of our stuff out of the morning dew. Moreover, the Pacifica has so many cubbies and cleverly placed storage nooks from front to back that we weren't left wanting for places to put our keys, phones, water bottles, snacks … Breathe Right strips and carpal-tunnel wrist braces. Oh, and thanks to the Pacifica's 203.6-inch length, we were able to stash both of our 10-foot-4-inch-long standup paddleboards inside without having to worry about them being stolen while we were away from the car.
JG: My gear is a lot less adventurous, but I came to the same conclusion. The Pacifica easily swallows all of the stuff a big family will need to stash, from the gigantic equipment that fits in the back (a double stroller and a Costco run for the groceries) to the small but still essential must-haves peppered throughout the cabin's cubbies (sippy cups, snacks, more snacks, emergency crayon-and-coloring-book stash, extra diapers and wipes, and then more wipes because there's no such thing as too many wipes).
Out of 20 points, the Pacifica pulled ahead with 18 points while the Volkswagen clocked 14 points.
Controls and Multimedia

Winner: Pacifica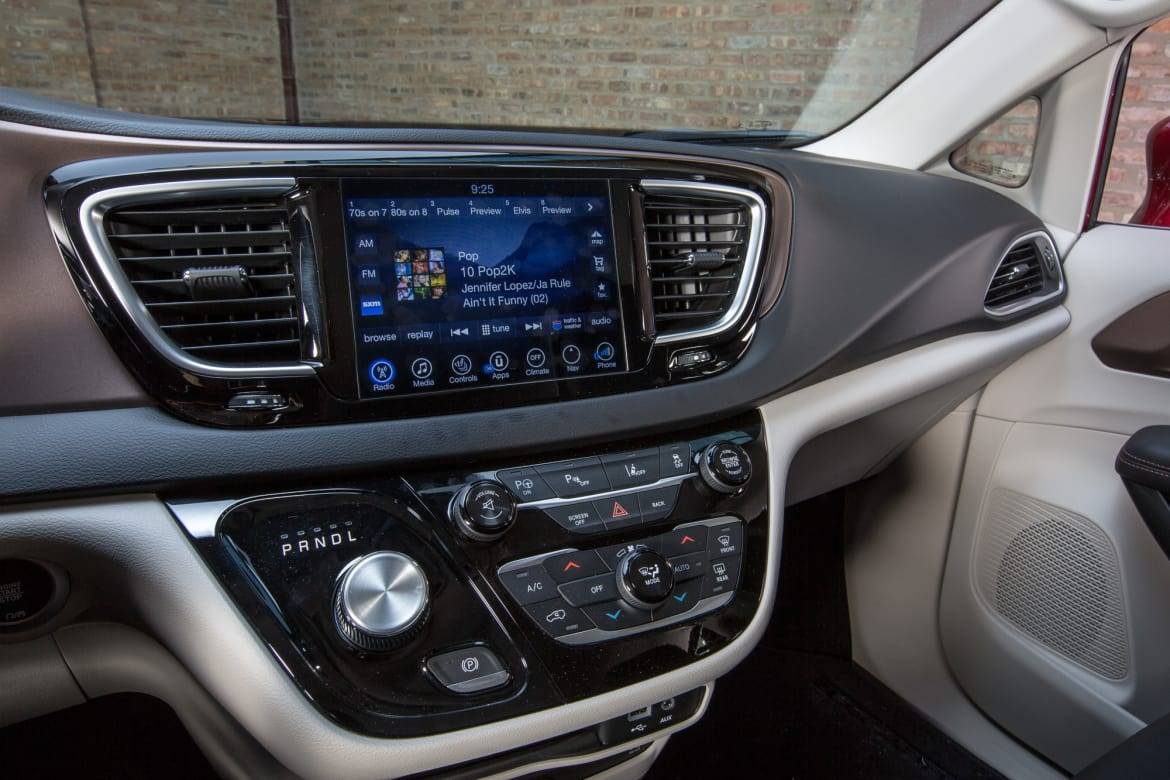 MS: We're generally big fans of Chrysler's Uconnect multimedia system, and the inclusion of the family-friendly Uconnect Theater system makes the Pacifica nigh unbeatable in this category. It offers a host of backseat entertainment options, from Blu-ray movies to games to the clever "Are We There Yet?" feature allowing impatient youngsters to track road-trip progress themselves … silently. The Atlas' infotainment system does provide welcome physical knobs, sharp graphics and generally intuitive use, but there are also some annoyances that are hard to overlook — for me, it's the knuckle brushing of capacitive touch controls when using those physical knobs.
JG: The Chrysler Pacifica's multimedia system is slightly canted toward the driver for a comfortable reach and good visibility, and I share the love for Uconnect — its menu structure is simple, its buttons are large, and its touchscreen's response time is speedy — but it lacks one feature that the Atlas has: Apple CarPlay and Android Auto smartphone connectivity. The 2018 Pacifica offers this handy system, but our 2017 model isn't equipped with it.
Out of 20 points, the Pacifica again earned more with 17 compared with the Atlas' 14.
Features

Winner: Pacifica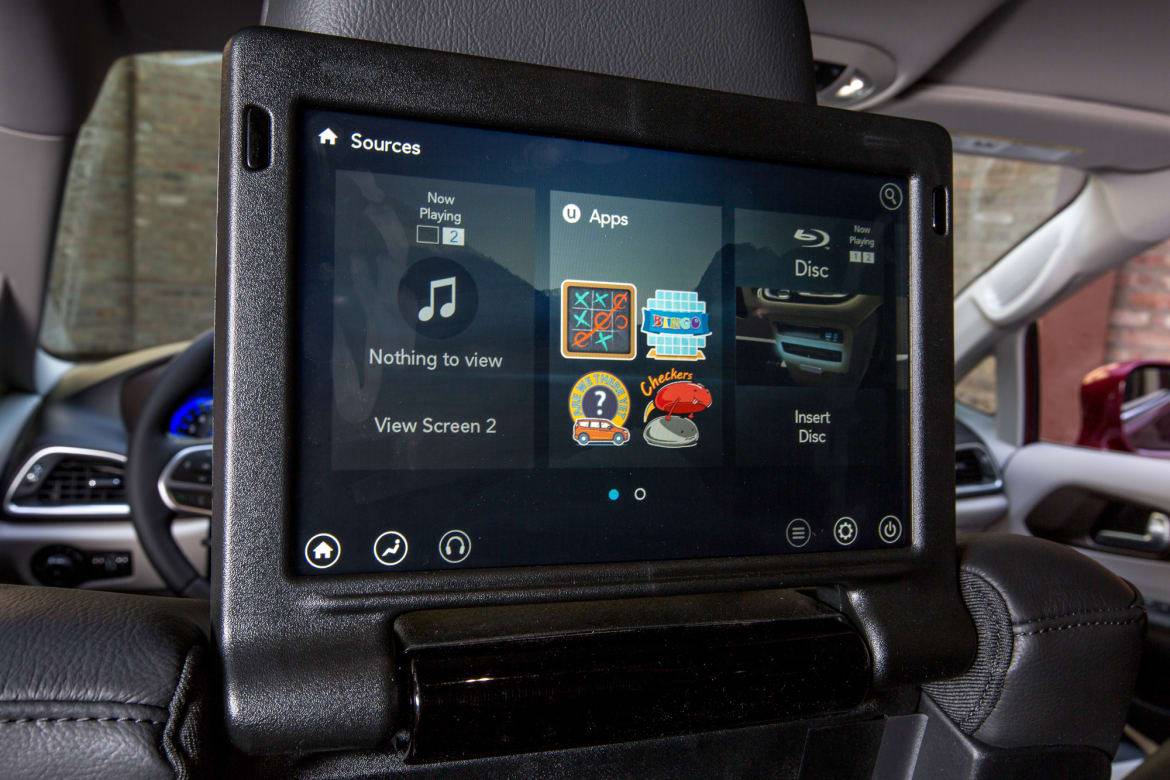 MS: Both the Pacifica and Volkswagen Atlas offer a ton of attractive comfort, convenience and assistance features. Our Atlas has active safety features, such as forward collision warning with auto emergency braking and lane keep assist, in addition to three-zone automatic climate control, a power liftgate with foot activation, heated power seats with a memory driver's seat, a panoramic moonroof and an 8-inch touchscreen with Apple CarPlay and Android Auto. Our Pacifica, meanwhile, has the aforementioned Uconnect Theater, power-sliding doors, power liftgate, power heated seats in the first two rows, Stow 'n Go seating and a heated steering wheel. Again, a compelling argument can be made for either, but the Chrysler Pacifica has everything I need and extra.
JG: My kids give the Uconnect Theater entertainment system and its built-in games six thumbs up (each using the two-thumbs-up scale), which translates into more than enough points for the Pacifica to handily win this category. Honorable mention features my family uses each time we're in it include hands-free power sliding doors and liftgate (see Costco runs above), second and third-row nap shades (the Volkswagen Atlas only offers second-row shades) and a conversation mirror (helpful when monitoring backseat shenanigans). Bonus: Chrysler also offers a built-in vacuum, handy for those inevitable Goldfish spills (the snack cracker, not a fishbowl … hopefully).
Out of 20 points, The Pacifica took home an almost perfect 19 points while the Atlas scored 15 points.
Acceleration

Winner: Atlas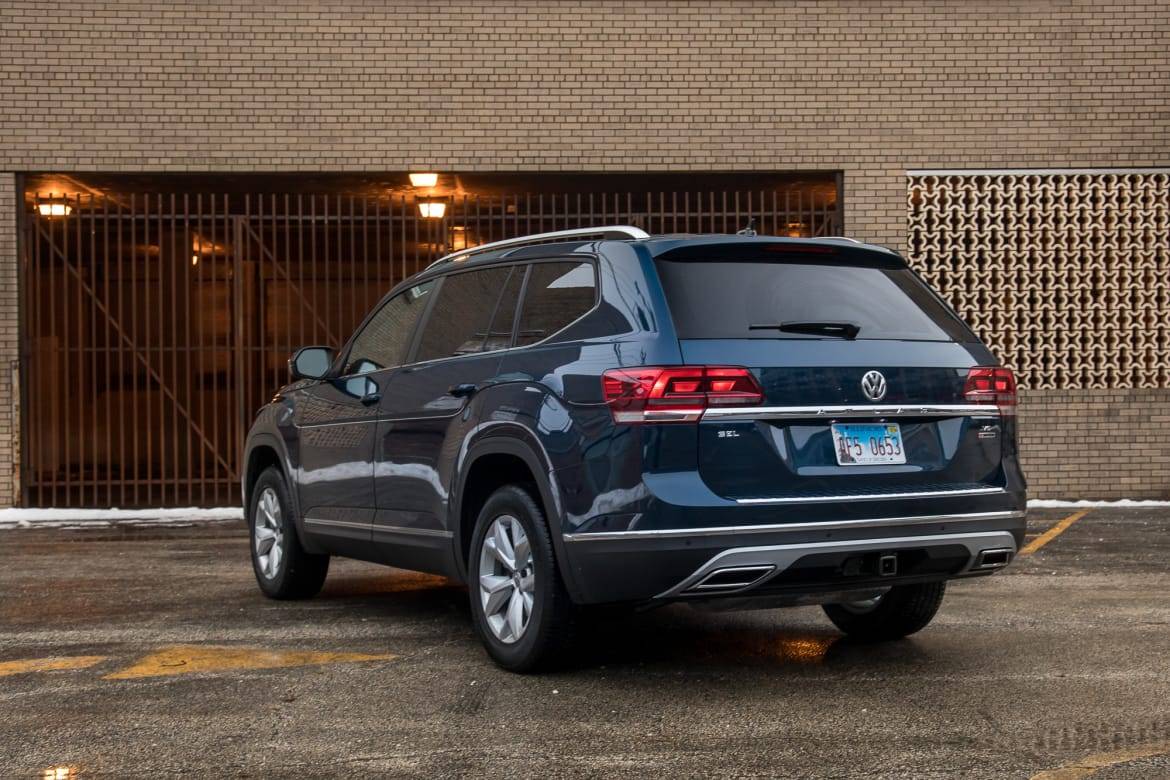 MS: On paper, the two vehicles are reasonably well-matched in the acceleration department. Both have 3.6-liter V-6 engines, the Pacifica's making 287 horsepower and the Atlas' making 276 hp. However, the Pacifica's 4,330-pound curb weight undercuts the Atlas by 172 pounds, and although both vehicles perform admirably off the line and at speed, the Pacifica just feels peppier to me — perhaps I just have that time we drag raced it against a Toyota 86 and it won stuck in my head.
JG: While "peppy" is not a word I'd use to describe either vehicle, the Atlas felt stronger of the line, with more responsive low-end power. Its brakes also felt smoother and more linear.
Out of 20 points, the Atlas was the winner with 16 points compared with the Pacifica's 14.
Ride and Handling

Winner: Atlas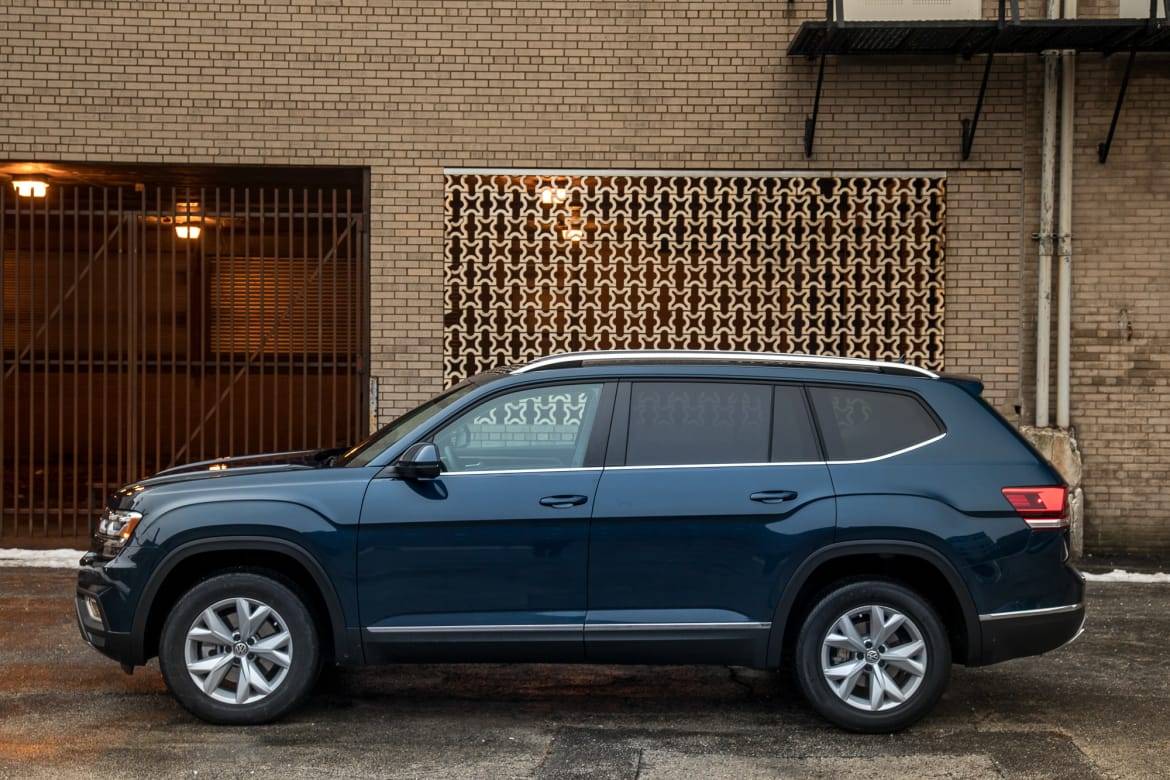 MS: The Chrysler Pacifica doesn't exhibit anywhere near the lumbering, rolly boxiness you might unfairly assume. In fact, its maneuverability is pretty darn great for a minivan, inspiring confidence as I negotiated the curvy, narrow lanes of Chicago's Lake Shore Drive in moderately paced midday traffic. Points off the board, however, for the overly aggressive lane keep assist, which clearly wasn't as confident in my steering as I was. The Atlas, on the other hand, was far less pushy in its prompts, and I found its road manners to be easy and agreeable — and ultimately more endearing on our afternoon drive through the heart of Chicago.
JG: The Volkswagen Atlas is no Golf GTI, but there's a hint of family resemblance in the handling department. Its ride is firm but not harsh, and its road manners overall feel crisper and tighter than the Pacifica's. While the Pacifica handles well for a minivan, its ride is mushier and you feel every bit of its long, wide body when cornering and going over bumps. 
Out of 20 points, the Volkswagen climbs ahead again with 17 points to the Pacifica's 13.
Value

Winner: Pacifica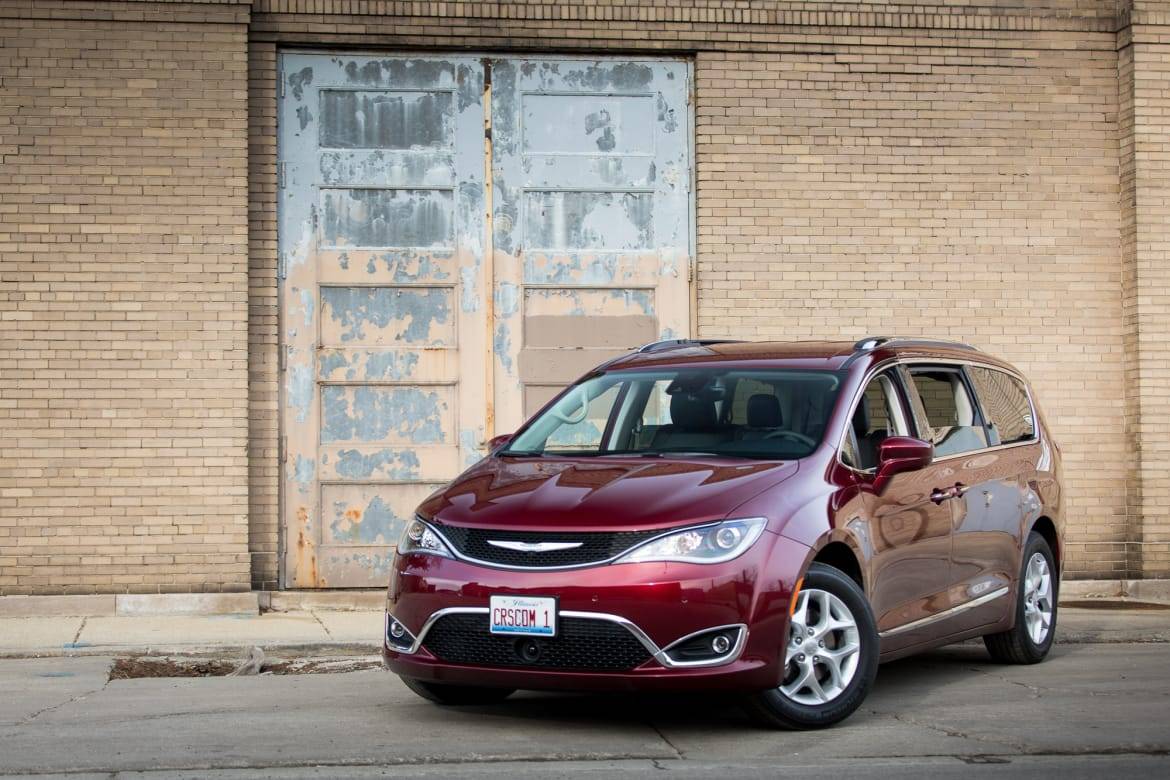 MS: These two vehicles certainly are evenly matched, price-wise, I'll give 'em that — but lemme also note that it's difficult on a fundamental level to talk in terms of "value" in reference to a $43,765 minivan and $43,615 non-luxury mid-size SUV, as tested. That said, the Pacifica offers just about everything you could possibly want in a family transport unit save for anyone mistaking you for anything other than a suburban schlep. But hey, so what? The "cool" people can judge me (a childless, downtown-dwelling, half-ass scenester type, they'd be surprised to learn) all they want — I'd rather throw my boards in the back of my vehicle after a morning paddle and go for fish tacos with my wife.
JG: The two are priced almost evenly, and both are loaded with safety features and creature comforts, but the Pacifica stood out for me in a few ways: The Uconnect Theater rear entertainment system is gold (and our Atlas doesn't have any type of rear entertainment system), the Pacifica's 360-degree camera system is much more helpful than the Atlas' standard view camera, and the van gets slightly better fuel economy than the Atlas, which equals savings over the life of the vehicle. One Atlas perk: It's got a better warranty.
Out of 20 points, the Pacifica notches one more win with 15 points to the Atlas' 12.
Overall Winner: Atlas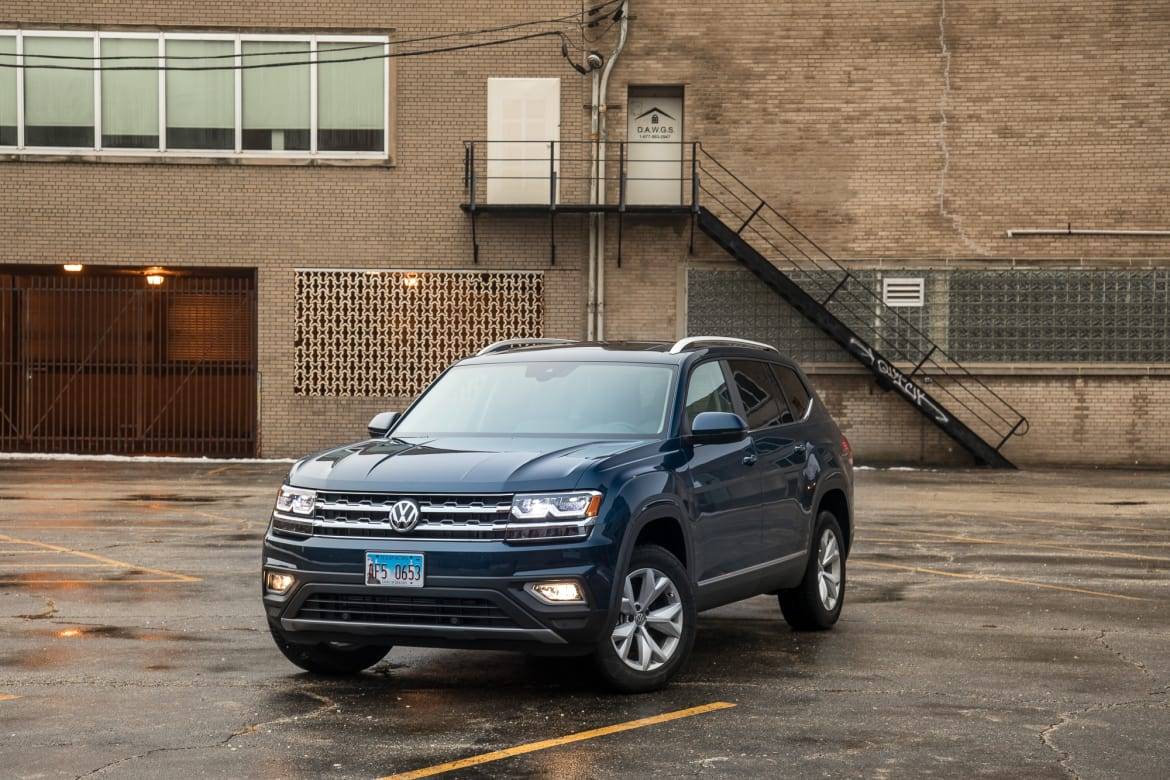 The Volkswagen Atlas squeaked out a win with 157 points compared with the Chrysler Pacifica's 150, which, frankly, surprised both "he" and "she." Individually, we confessed that we were wooed by the Pacifica's impressive laundry list of features and cavernous cargo room, but on paper, those attributes just weren't enough to overshadow the Volkswagen's more pleasant road manners, stellar car seat accommodation and high levels of second- and third-row comfort.
It's an age-old conundrum for car shoppers: The car they should buy on paper is greater in the sum of its parts — while the car they love is greater than the sum of its parts.
Cars.com's Editorial department is your source for automotive news and reviews. In line with Cars.com's long-standing ethics policy, editors and reviewers don't accept gifts or free trips from automakers. The Editorial department is independent of Cars.com's advertising, sales and sponsored content departments.