2018 Hyundai Elantra GT Review: First Drive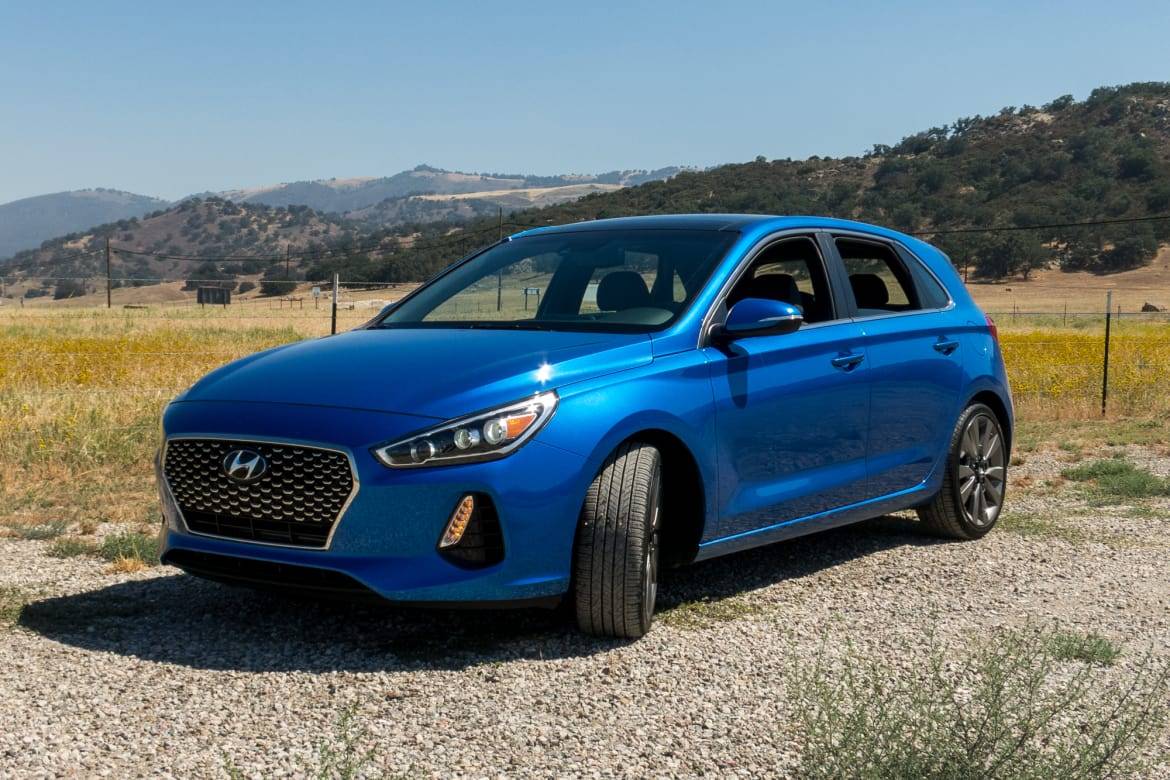 CARS.COM — As compact car sales decline in favor of small SUVs, Hyundai believes some Americans are ready for a third alternative: a compact hatchback that hauls like a small SUV but offers the driving fun and economy of a car.
Related: 5 Differences: 2017 Hyundai Elantra Sport Vs. 2017 Honda Civic Si
The jury's out on this, rationality not always driving car choices. But Hyundai is doubling up in this market niche with a redesign of its Elantra GT hatchback for 2018, along with a new sportier version, the GT Sport, with a turbocharged engine and upgraded chassis. The 2017 Elantra GT was a one-size-fits-all single trim. As before, the 2018 GT is an Elantra in name but is actually a U.S.-badged version of Hyundai's global i30 hatchback with different underpinnings than the U.S. Elantra sedan.
The 2018 faces growing competition that now includes six compact hatch choices: a freshened Volkswagen Golf,  Chevrolet Cruze, Honda Civic, Subaru Impreza (redesigned for 2017), Toyota Corolla iM, Ford Focus and Mazda3. All employ front-wheel drive except the Subaru, which includes the all-wheel drive typically offered as an option on the smallest SUVs.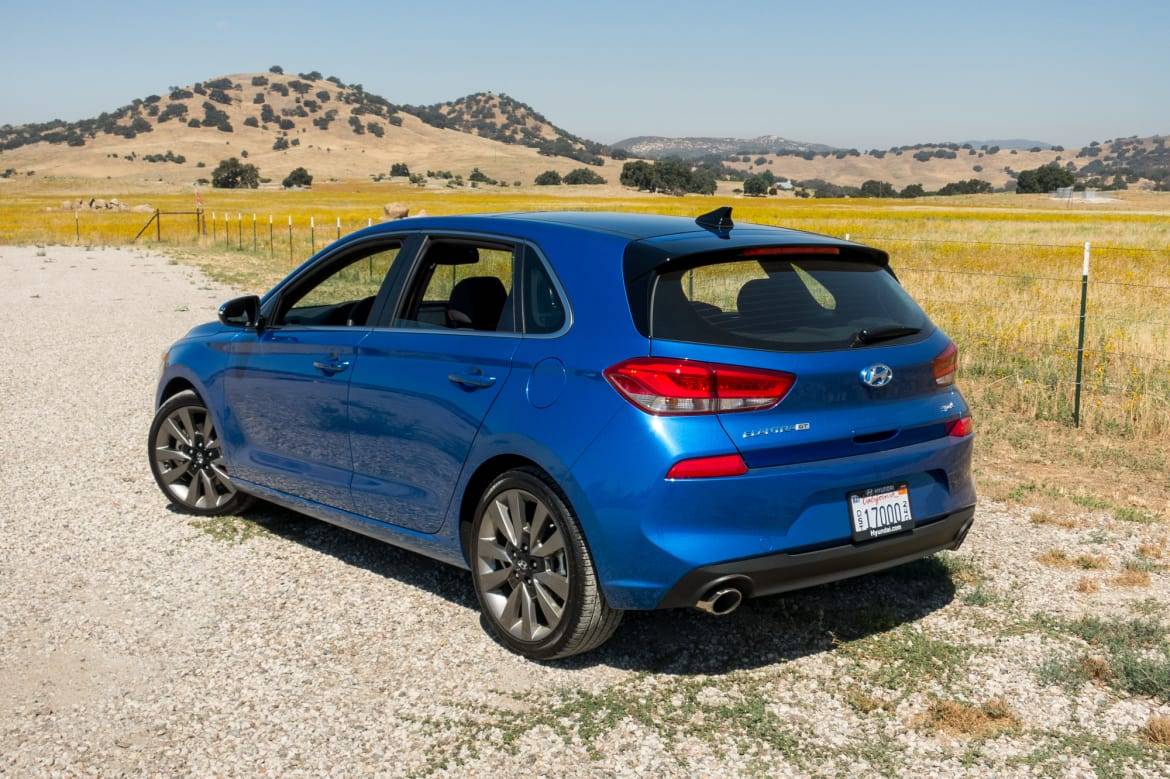 The core market for such cars, according to Hyundai research, is an active, younger, more affluent and often male buyer who needs more utility than a sedan but wants more driving fun than an SUV.  More fun, in fact, being the No. 1 consideration.
I went to San Diego to check out the new GT at a launch event hosted by Hyundai (per Cars.com policy, we pay for our travel and lodging at such events) and racked up miles in the city, mountain canyons and desert in a base GT (with a full load of options) and a GT Sport. They will go on sale within weeks; pricing has yet to be announced.
Looks More Golf Than Gaudy
The 2018 Elantra GT was designed in Europe, where hatches thrive and the Golf is a leader. The 2018 is only slightly longer, wider and lower than the 2017, but it looks more so thanks to a Golf-like boxy design that replaces the GT's former curvy look. It's a shape that manages to be practical while looking sportier than the 2017.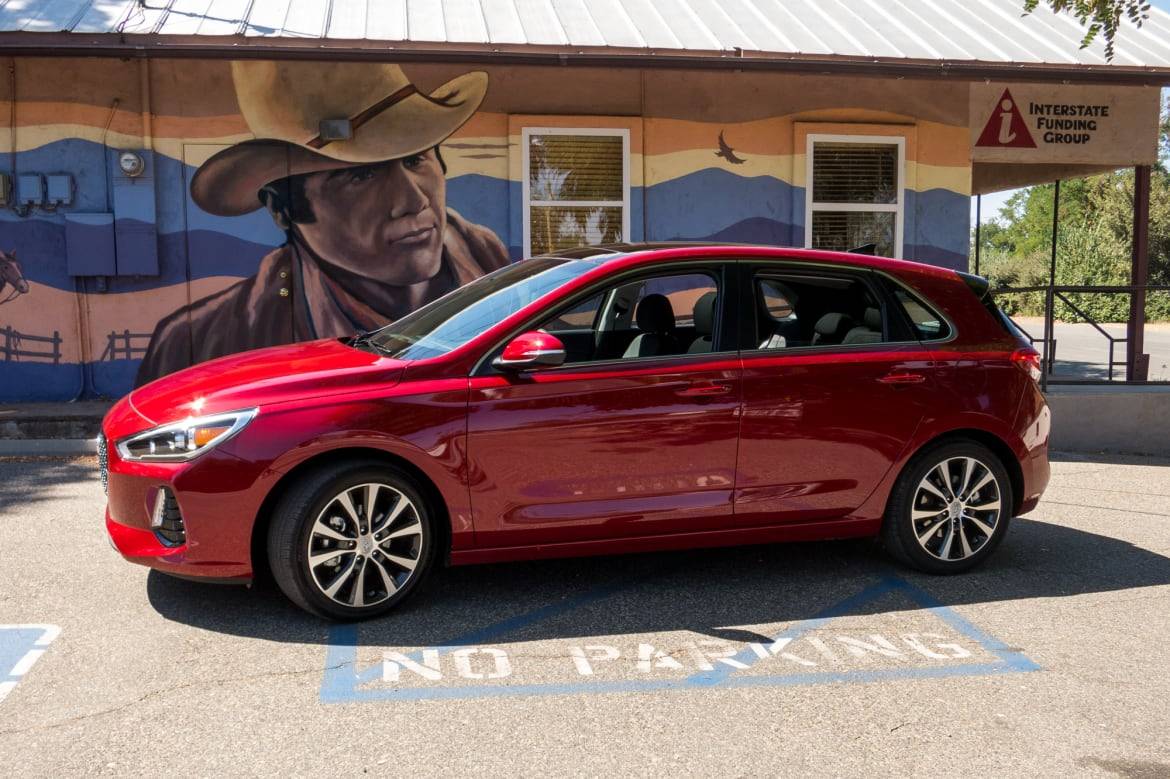 The 2018 GT also bears more family resemblance to the current Elantra sedan, thanks to its horizontal lines and a version of Hyundai's large "cascading grille." The grille is flanked by functional air inlets with vertical LED daytime running lights. The headlights stretch up and around the corners into a strong horizontal character line that extends all the way into the taillights and a rear end that looks wider than it is. Full LED headlights and LED taillights are available on the GT and standard on the GT Sport.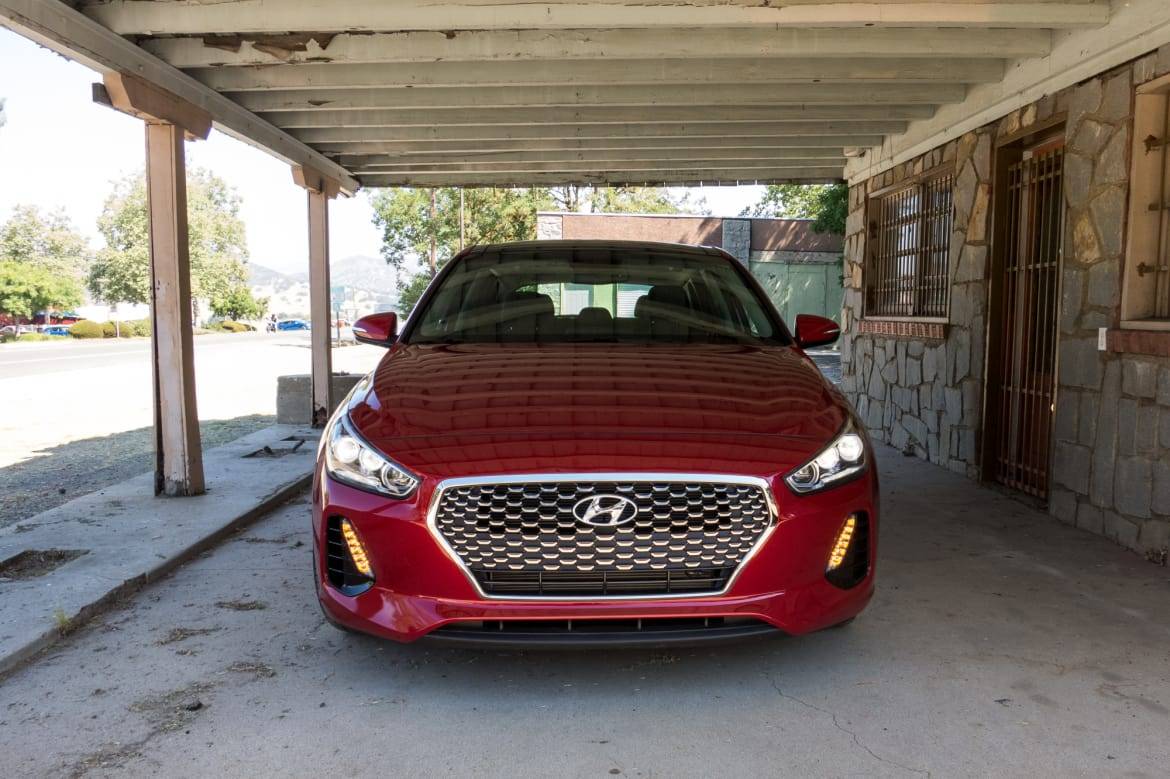 Roomy, Good-Looking Interior
The horizontal theme extends to the dashboard, enhancing the impression of space inside. And it's not just an illusion; the interior is roomy for a car of this size. The front seats are comfortable and sufficiently padded. The backseat is firmer but has reasonable legroom and headroom for two. If you opt for the dramatic panoramic moonroof, the interior seems even airier, but headroom for a tall (6-foot-2) backseat rider is just adequate. The materials and trim are competitive with rivals such as the Civic but short of the upscale feel of Volkswagen's Golf line, arguably the leader. Noise levels were good, though there was some road noise, particularly in the GT with its bigger wheels and tires.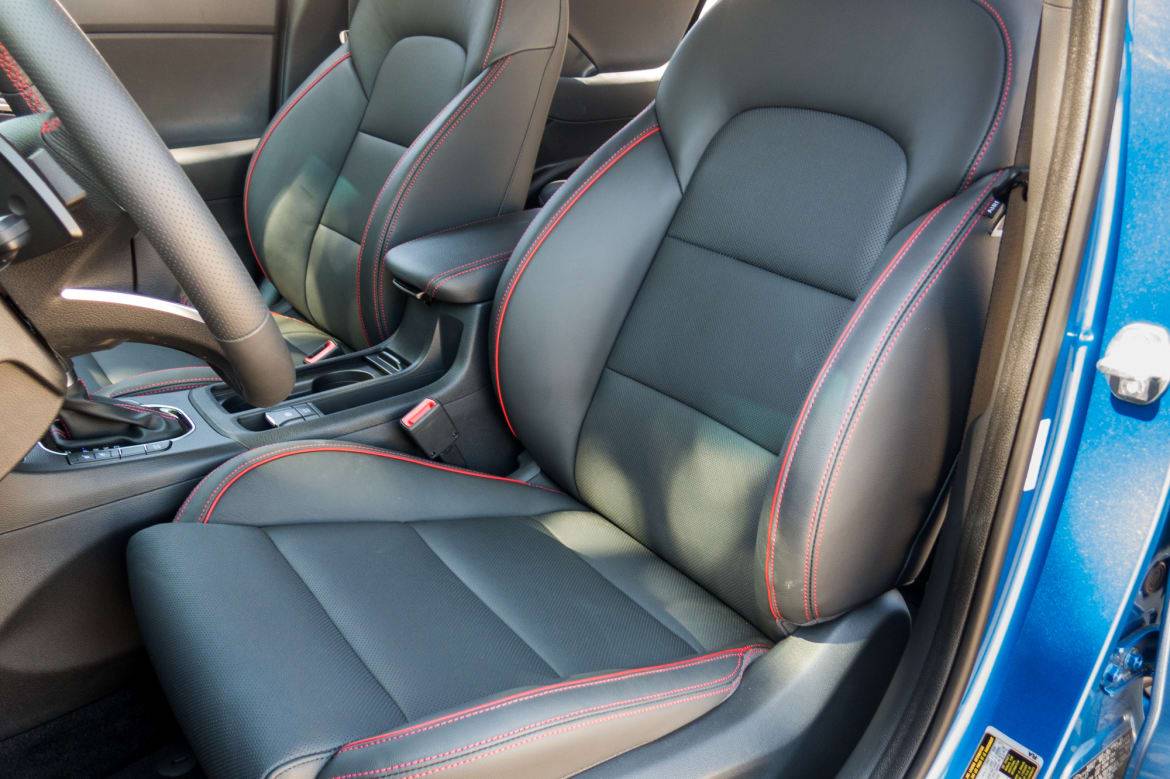 The GT Sport has a sportier feel inside with black leather seats and red accent stitching, as well as red satin-metal-finish accent trim. It also adds a power-adjustable driver seat and leather-wrapped wheel and shift knob. Heated seats are standard; ventilated seats available.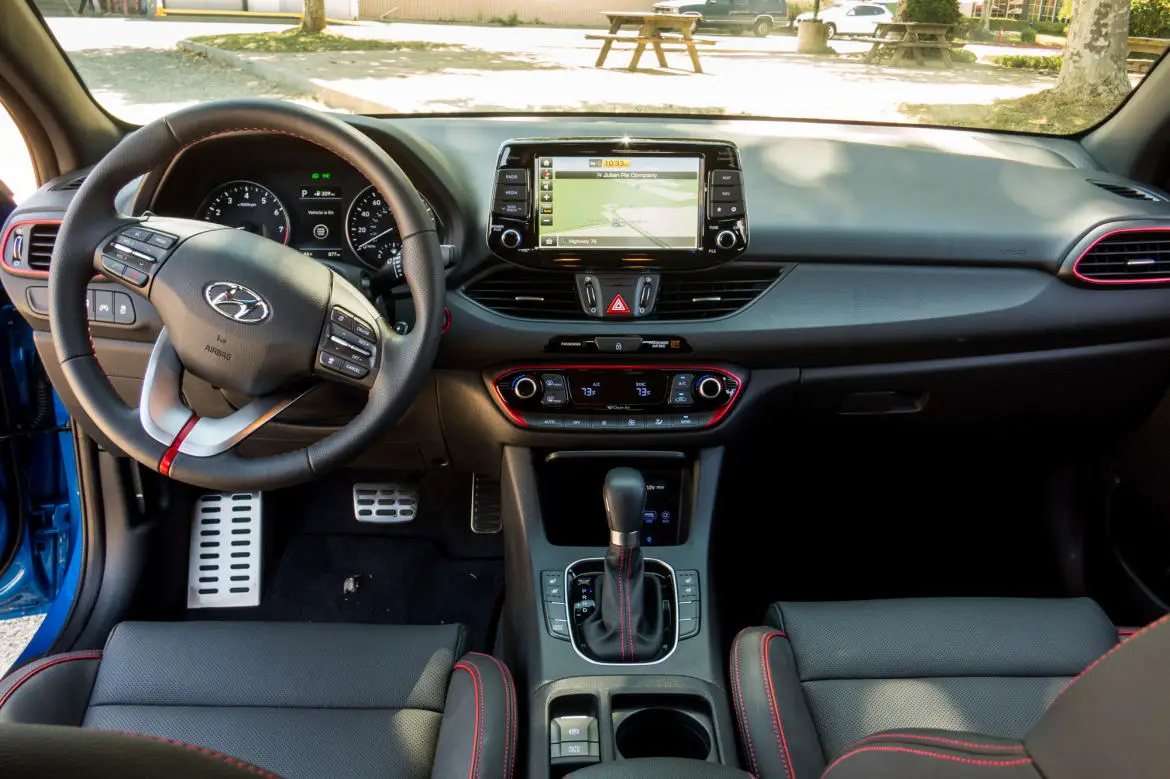 A love-or-hate-it feature: a standard 8-inch tablet-style touchscreen floating above the dash and flanked by buttons and knobs. I liked the ergonomics; it's easy to reach and to see without looking down, though I'd prefer a less shiny surface. I know the floating screen above the dash also used by Mazda and Mercedes-Benz, among others, is controversial, but I suggest you try it before dismissing it.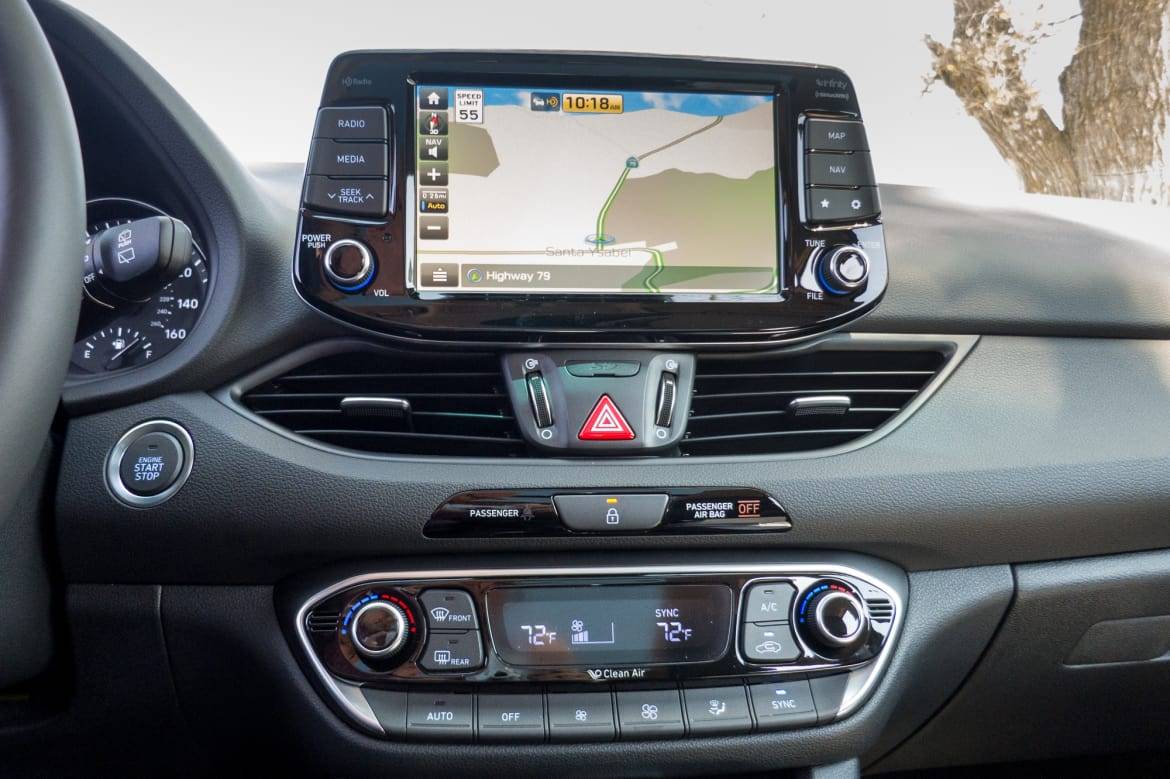 It Hauls Mass
The almost wagonlike new GT shape offers about 8 percent more high, wide and deep hauling space and a large hatch opening. We didn't have a mountain bike on hand, but Hyundai says it will swallow one without removing a wheel. The 60/40-split folding backseat creates a nearly level floor with the two-position rear cargo floor at its higher setting, though maximum volume is reached with the rear floor in its lower position.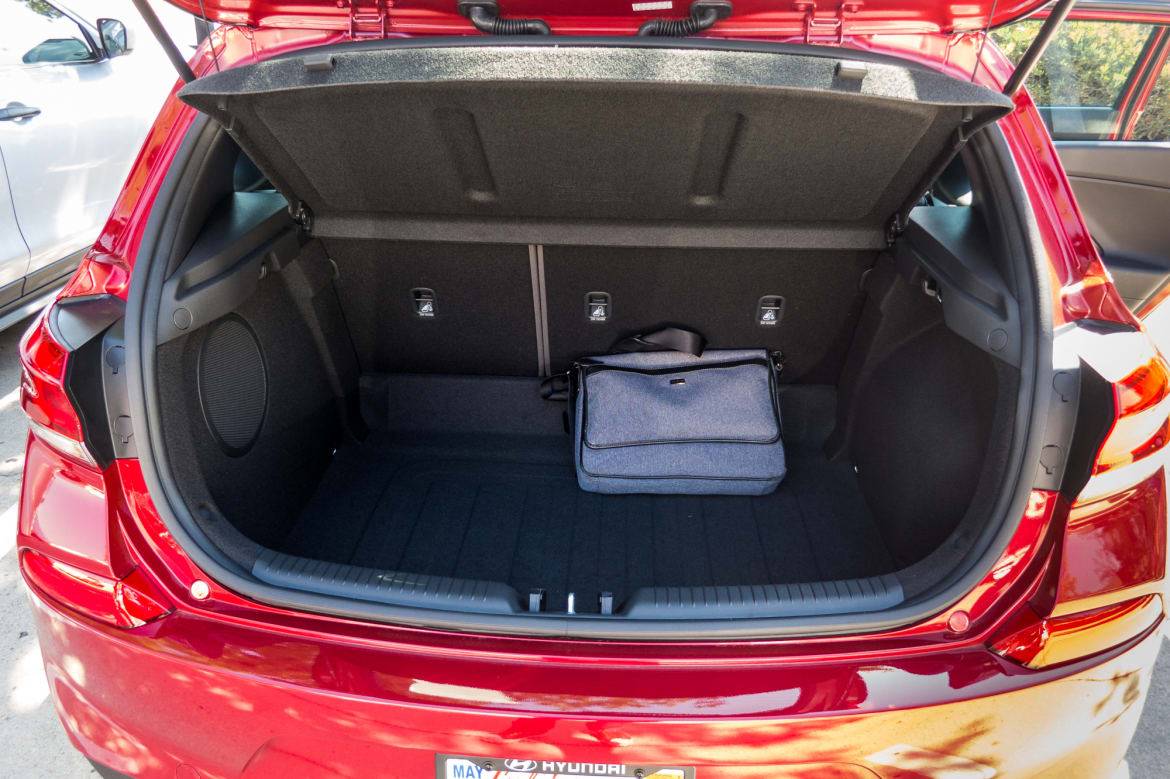 Maximum cargo room, a total of 55.1 cubic feet with the backseat folded, beats rivals such as the Golf (52.7 cubic feet), Mazda3 (47.1) and Honda Civic hatchback (46.2). Probably used more often: Space behind the backseat is a roller-bag-friendly configuration of nearly 25 cubic feet.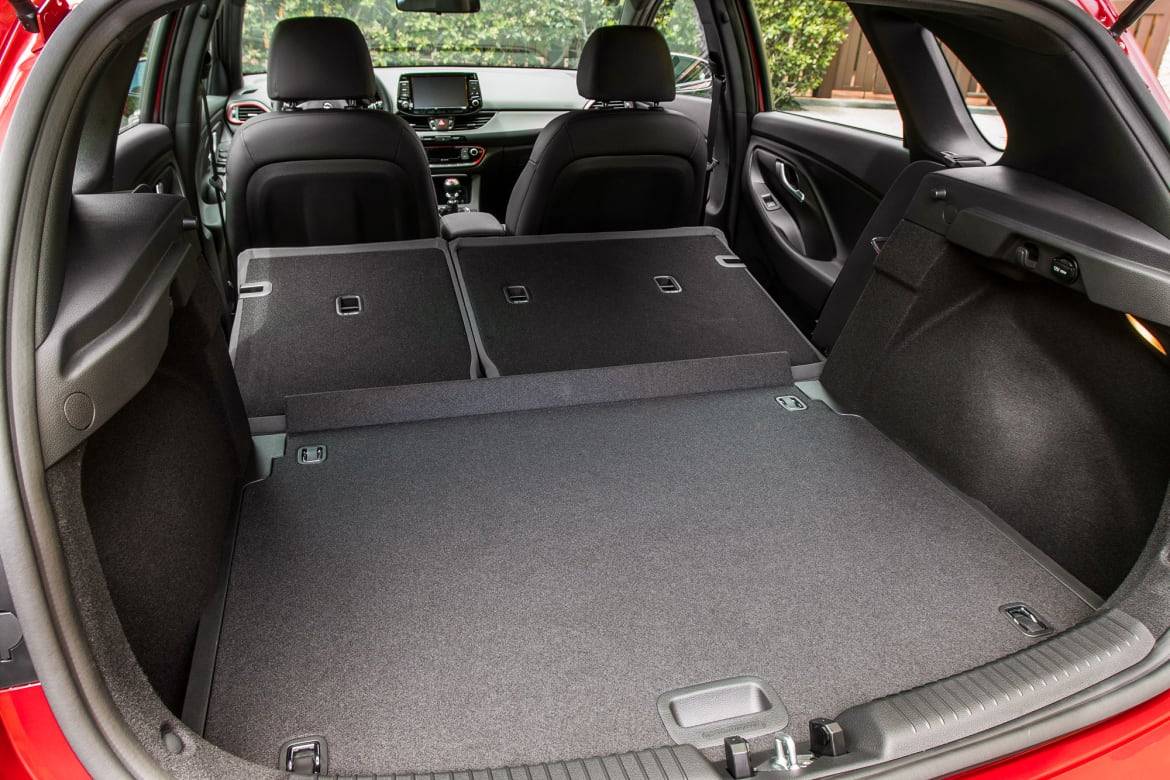 The GT's space also gives lie to the notion of needing a small SUV for hauling: Honda's popular HR-V SUV offers 24.3 cubic feet behind the rear seat and 58.8 cubic feet total.
Two Flavors Under the Hood
The GT's 2.0-liter four-cylinder puts out 162 horsepower and 150 pounds-feet of torque, both down slightly from 2017 (173 hp, 154 pounds-feet). EPA-estimated gas mileage ratings, however, remain the same at 24/32/27 mpg city/highway/combined with the automatic transmission and drop 1 mpg across the board with the six-speed manual. This base engine was adequate in most situations and will suit many buyers, though you'll want to plan well ahead to pass that semi.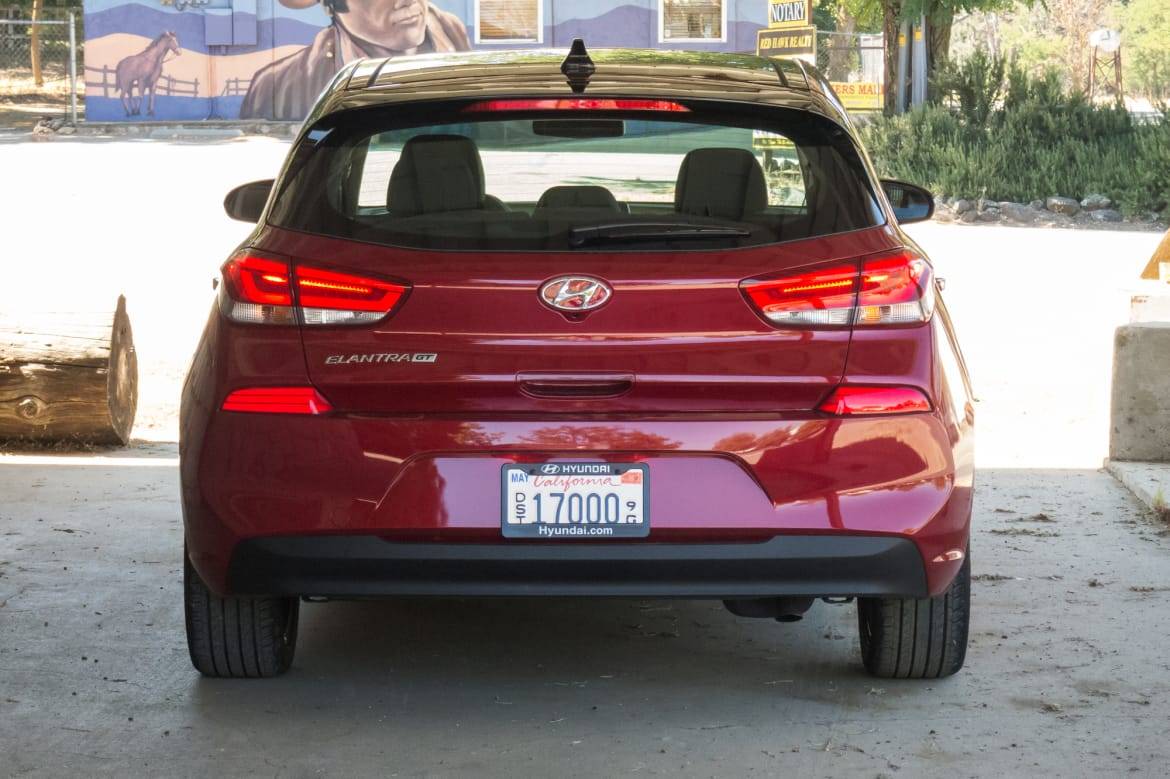 The better fit for the car's personality is the new GT Sport's 201-hp, turbocharged 1.6-liter four, an engine also used in Hyundai's Elantra Sport sedan and Veloster Turbo coupe. The power edge over the base model is magnified by delivery of its 195 pounds-feet of torque beginning at a low 1,500 rpm versus 4,700 rpm for the 2.0-liter. You can choose to stir the gears yourself with a six-speed manual (Hyundai estimates a high 30 percent of buyers will) or opt for the crisp-shifting seven-speed dual-clutch automatic with steering-wheel paddles. The 1.6-liter with automatic also is the top fuel-economy choice, EPA-rated at 26/32/28 mpg, while the manual is the least efficient GT at 22/29/25 mpg.
Both test cars were automatics; I did not have access to a manual version. But the turbo was a ball for carving canyon roads, with the paddles to manage the gears. And it was a lot more confidence-inspiring than the base engine in highway passing, with plenty of power and automatic downshifts that were quick and smooth. The low-end punchiness with only modest turbo lag would make a more satisfying choice for daily commuting.
You won't mistake the GT Sport for a true hot hatch, such as the Volkswagen Golf GTI or Ford Focus ST performance models, but it's a lot warmer than the 2017.
Ride and Handling
The Elantra GT Sport also gets substantial chassis upgrades over the GT, with a sport-tuned multilink rear suspension versus the GT's torsion beam, bigger brakes and 18-inch alloy wheels versus 17s on the GT. But even the standard GT setup was surprisingly nimble on twisting roads, and the ride was pleasantly firm for a non-sporty trim. The GT Sport could be pushed harder and faster with confidence, however, and the ride was just a hair busier.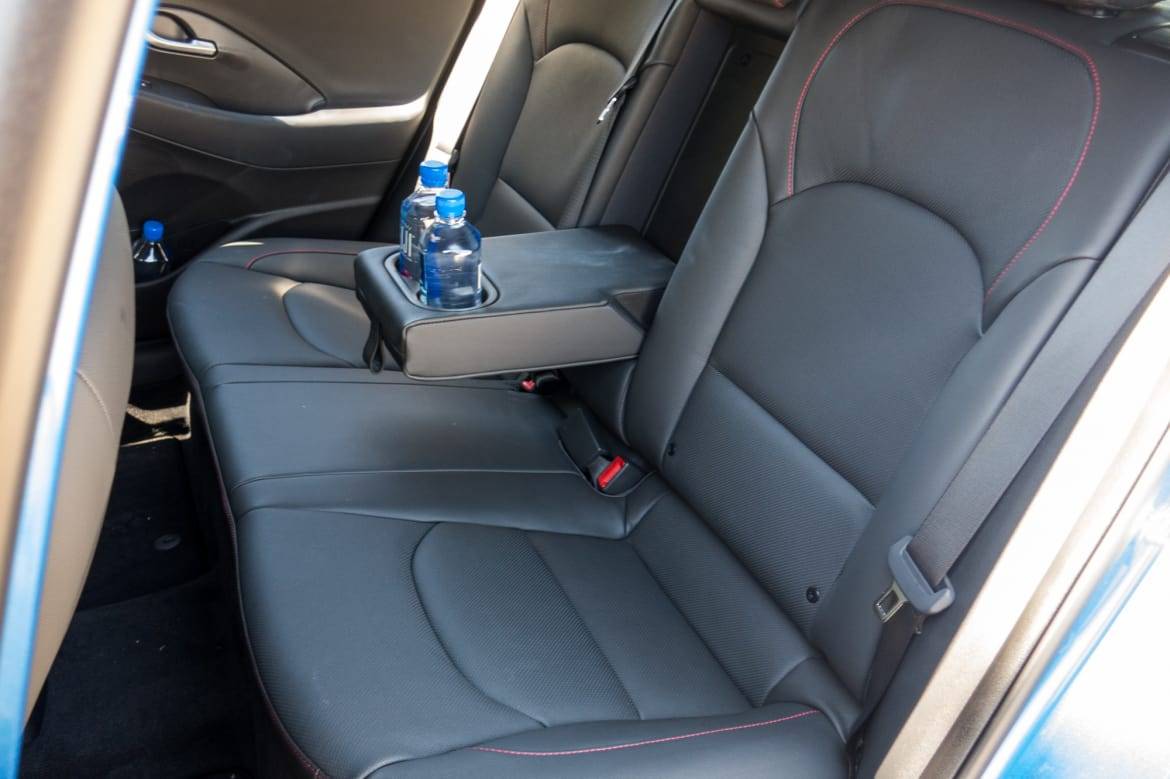 Oddly, the GT Sport did not feel quite as taut or confident when pushed as an Elantra Sport sedan I recently drove. And the steering, while OK, had more boost and less feel than the surprisingly good steering in Hyundai's refreshed 2018 Sonata family sedan I drove a day earlier.
Tech for the Bucks
Media and safety technology once limited to high-end cars rolls on with the Elantra GT and GT Sport. The 8-inch touchscreen system, with or without in-car navigation, is standard along with Hyundai's latest-generation infotainment system and Apple CarPlay and Android Auto smartphone integration; wireless phone charging is optional. The system was intuitive, quick to respond and had crisp graphics. A useful detail: You can mix and match AM, FM and satellite station presets on one screen. The GT also has updated Hyundai Blue Link connectivity for remote starting, locking and climate control via phone or home smart speakers.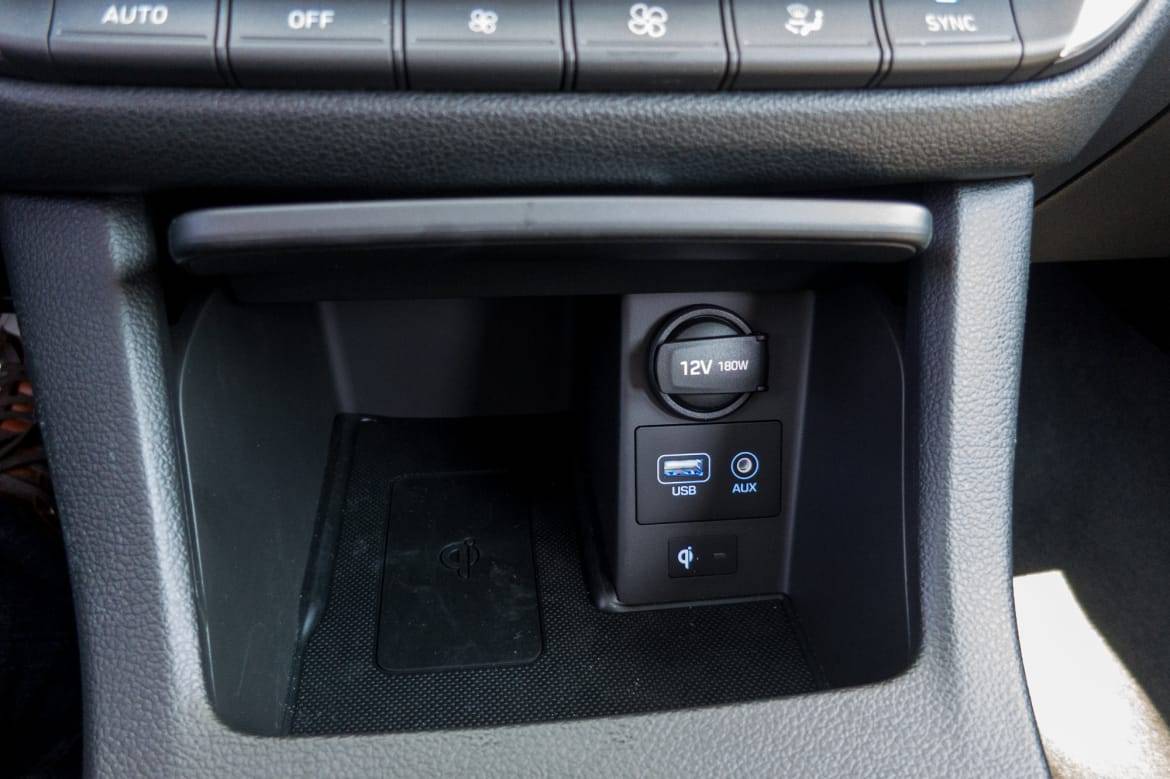 The Elantra also offers an array of safety tech once more common for high-end cars, and it rivals the Honda Civic's Sensing package for available features among the hatchback competition. Systems offered include adaptive cruise control with stop-start capability, a front collision system with automatic emergency braking and pedestrian detection that operates up to 37 mph, lane departure warning and prevention, high-beam assist, blind spot warning and rear cross-traffic alert. And a novel addition is a driver attention alert that detects weaving, lane encroachment, sudden movements and loose grip on the steering wheel. I tried these intentionally – it worked, and I did not suffer any false alarms in normal driving.
You can get the full safety buffet, however, only if you pony up for the GT Sport with the extra-cost Sport Tech Package. The GT Sport does get standard blind spot warning and rear cross-traffic alert; those are optional on the GT.
Value
While official pricing has yet to be released, the base model should start within shouting distance of the 2017's base price of $19,685 with shipping and manual transmission. That would be more than competitive with the mainstream hatchback competition. Just how good a value it will be in features for the dollar is a call that will have to wait for pricing of popular options and also pricing of the GT Sport versus hotter hatches, such as the Golf GTI. Already adding value, however, is the car's three years of free Blue Link remote services and navigation updates, plus Hyundai's generous five-year/60,000-mile transferable warranty and 10-year/100,000-mile powertrain coverage.
A sure thing, however, is that the GT and rival hatchbacks offer value against comparably equipped small SUVs that cost more to buy and drive. They can satisfy a lot of buyers' actual needs, while adding a healthy dollop of extra driving fun.