$24,995–$34,095 MSRP range
Key Specs of the 2017 Volkswagen Golf GTI
Golf GTI base trim shown
Body Type:

Hatchback

Combined MPG:

28 Combined MPG

Engine:

220-hp, 2.0-liter I-4 (premium)

Drivetrain:

Front-wheel Drive

Transmission:

6-speed auto-shift manual w/OD and auto-manual
From the Cars.com Vehicle Test Team
The good
Ride and handling
Dual-clutch transmission
Cabin quality and roominess
Good visibility
Brakes
Cargo versatility
The bad
Steering feel
Acceleration wheel hop
Numb clutch pedal
Low touch-screen placement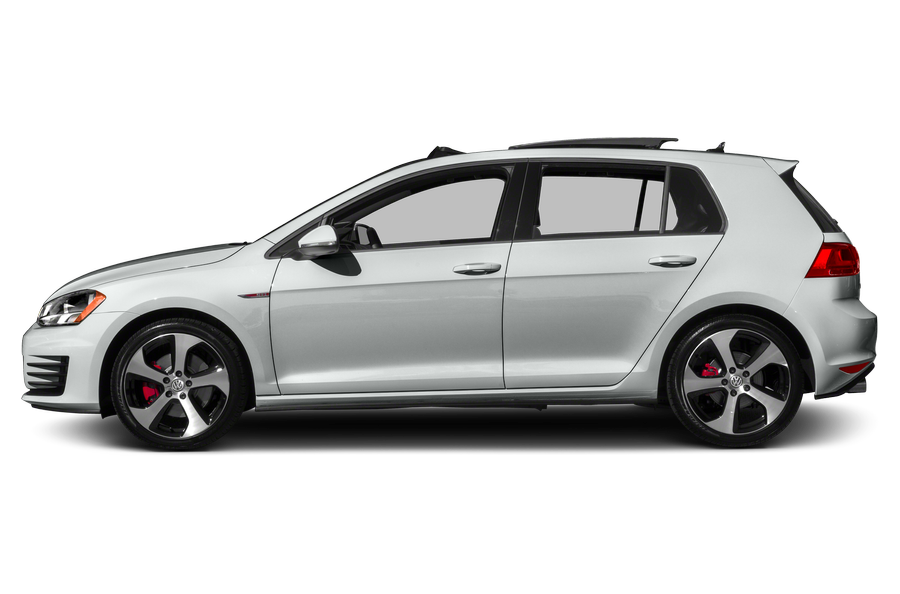 Notable Features of the 2017 Volkswagen Golf GTI
Two- or four-door hatchback
Turbo four-cylinder engine standard
Manual or dual-clutch automatic transmission
Related to automaker's Golf hatchback
2017 Volkswagen Golf GTI Road Test

Editor's note: This review was written in August 2016 about the 2016 Volkswagen Golf GTI, but little of substance has changed with this year's model. To see what's new for 2017, click here, or check out a side-by-side comparison of the two model years.
Volkswagen overhauled the GTI's multimedia system for 2016, addressing one of our few complaints about a hatchback that thumped seven competitors two years ago in Cars.com's $30,000 Cheap Speed Challenge (see the results here).
That was a 2015 car, the first year of the GTI's current generation. With the subsequent updates, the 2016 GTI is as strong a choice as ever.
The GTI is a middle child of VW's larger Golf lineup, which ranges from the sub-$20,000 Golf to the highest-performance Golf R (compare them here). We cover the others separately in Cars.com's Research section. The GTI comes in two- and four-door versions, with three trim levels and manual or dual-clutch automatic transmissions. Go here to stack them up or here to compare the 2015 and 2016 Golf GTI.
We tested a two-door, manual-transmission 2016 GTI SE.
Exterior & Styling
The GTI's claw-like bumper strakes make it easy to distinguish from other Golf models, but onlookers might mistake the rear for the prior-generation GTI. Such is the evolution of the Golf family, whose design hasn't radically changed over the past decade despite the entire group's redesign for 2015. Dual tailpipes and 18-inch ... Read more
Latest 2017 Golf GTI Stories
Funniest and most versatile little car
Daily commuter, long distance traveler or just pure fun - this car has it all. Highly recommended. Autobahn gives you all the fun stuff, and automatic is for me. Manual seems to be preferred to the re... Read full review
Lightning Fast
Just traded in my car for a 2017 GTI S and I absolutely love it! It's a good looking car aesthetically, but it also keeps up with the other sports cars on the market. In addition to the looks and the ... Read full review