2018 Las Vegas Auto Show: Chevy Blazer Tops 5 Things You Can't Miss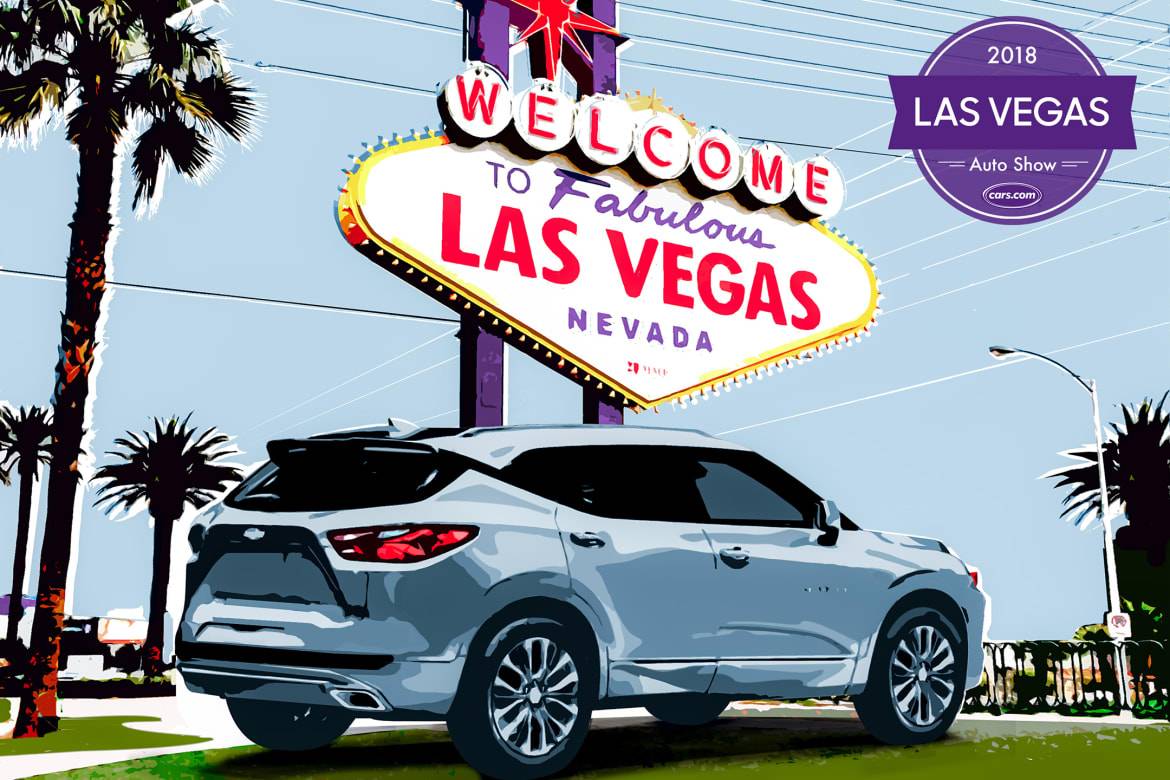 OK, so you just hit the jackpot on that "Creature From the Black Lagoon" slot machine at the Planet Hollywood casino just when you're in the market for a new car. Well, as luck would have it, the auto show reels will stop on Sin City this week, which means you can just hop a Deuce up the Strip and head to the 2018 Las Vegas International Auto Show and shop among a purported 350 vehicles from a host of major automakers for that brand-new ride you're gonna buy with your windfall.
Related: Video: How to Shop at an Auto Show
Be careful, though, as your winnings may not last you long in Vegas — not because of a bad run at the tables, but because of all those new casino parking fees. Still, this year's automotive exhibit has a lot for visitors to feel lucky about, with some exciting all-new models that have yet to arrive in dealerships. Some of those will make their local debut in true Vegas fashion: Like a past-their-prime pop star resurrecting their career with a big, flashy residency at a Strip hotel, the long-defunct Chevrolet Blazer and Ford Ranger are doubling down on nameplate nostalgia for 2019 (eat your heart out, Celine Dion).
The 2018 Las Vegas auto show kicks off Nov. 23 and runs through Nov. 25 at the Las Vegas Convention Center, 3150 Paradise Road; hours are 9 a.m. to 6 p.m. all three days. Admission is $10 for adults age 13 or older (and $9 if you buy online), and $8 for senior citizens age 62 or older and military personnel with a Department of Defense I.D.; children age 12 or younger get in free. Purchase tickets in advance here and save $1 per regular adult.
Here are the five things you can't miss at the 2018 Las Vegas International Auto Show:
1. 2019 Chevrolet Blazer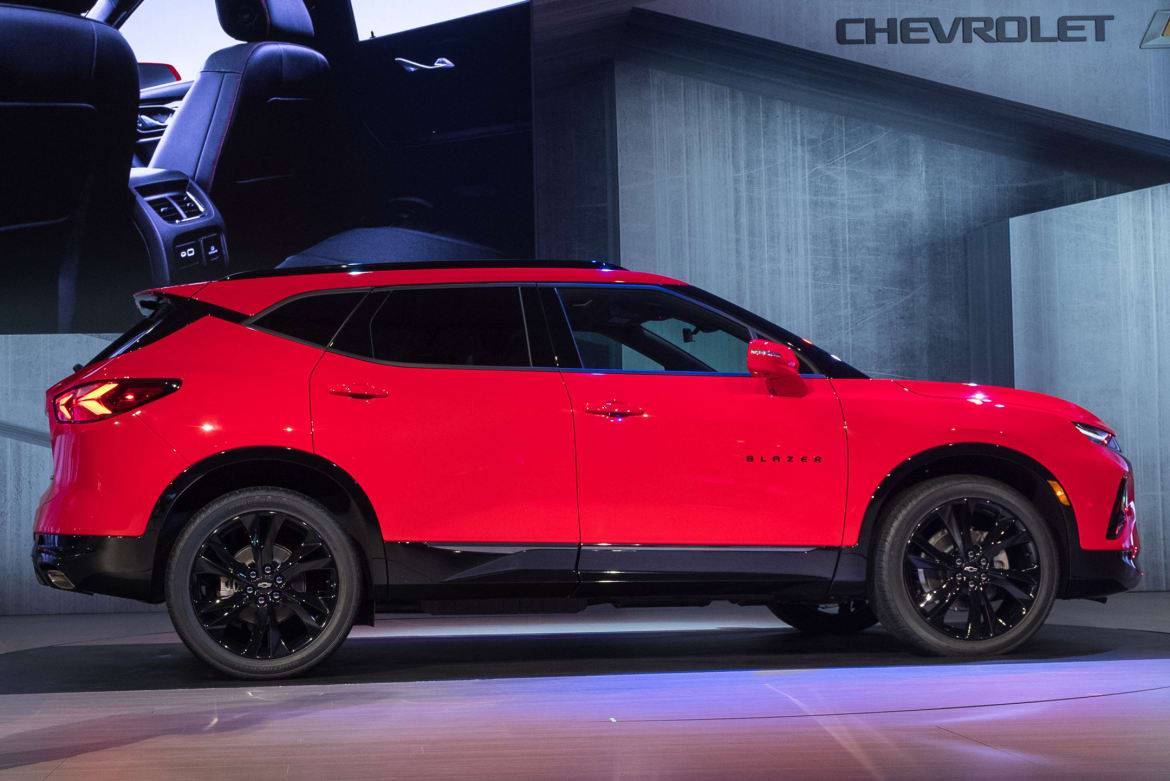 Although Vegas has cooled off since its notoriously kiln-like summer season ("but it's a dry heat"), it'll still be a real blazer at the auto show. The 2019 Chevrolet Blazer will make an LV stop on the 2018-19 auto-show circuit — giving locals who maybe didn't feel like making the four-hour-plus trek down Interstate 15 to Anaheim, Calif., in October when the iconic nameplate had its big reintroduction at the 2018 Orange County Auto Show a chance to feel the heat up close before it goes on sale early in 2019.
Despite fond memories of Blazers of yore, Las Vegas auto show visitors will find that this all-new SUV is no throwback. Instead, the reignited Blazer rocks contemporary sleek, swoopy styling and a squinty, last-gen-Jeep-Cherokee-like stare, along with a massive, gaping mouth. Check out Cars.com compatriot and PickupTrucks.com Editor Mark Williams first impressions of the Blazer here.
2. 2019 Ford Ranger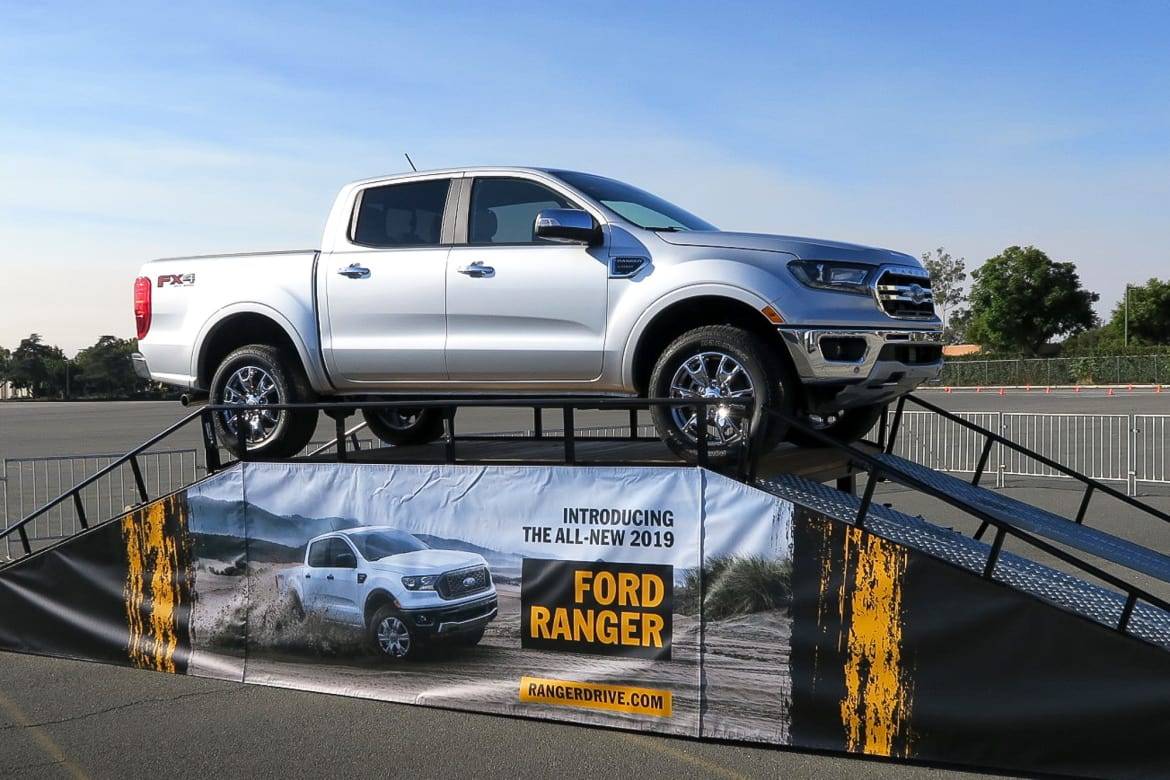 Another beloved model coming back from the dead like the King himself at Elvis Fest is the Ford Ranger. The all-new-for-2019 mid-size pickup truck was unveiled at the 2018 North American International Auto Show in Detroit after a seven-model-year hiatus, and it's now on a 20-city consumer-drive tour.
PickupTrucks.com's Williams also recently got the chance to test drive the new Ranger "undercover" at one of these events in Southern California; you can get his impressions from his brief drive here. Las Vegas won't be among the test-drive sites, but if you just can't wait to get behind the wheel, there will be opportunities in Los Angeles and multiple locations in Arizona later this month. But in the meantime, you won't even have to leave Clark County to get within close range of the Ranger.
In other pickup truck news, off-road enthusiasts will definitely want to get a load of the all-new-for-2019 GMC Sierra 1500 with the AT4 package that debuted in the spring at the 2018 New York International Auto Show.
3. 2019 Lincoln Nautilus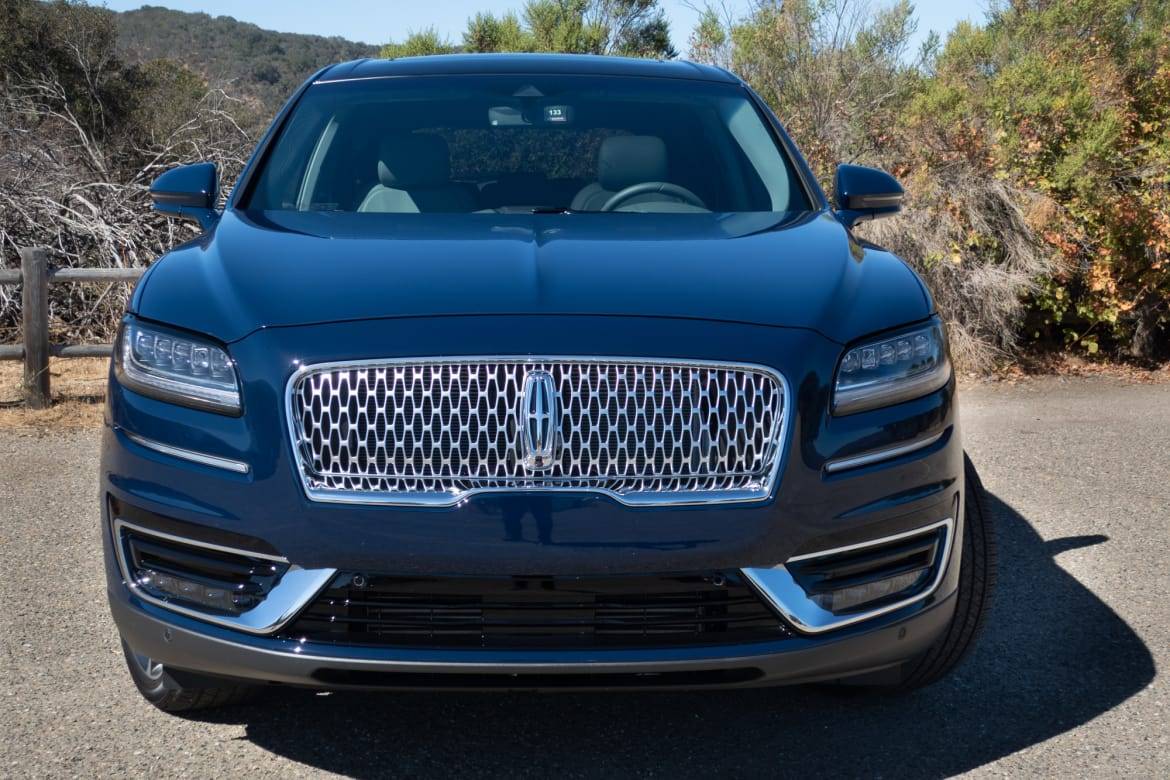 As the production version of Lincoln's all-new, three-row Aviator SUV readies its unveiling later this month at the 2018 Los Angeles Auto Show, the Ford luxury brand's other all-new SUV, the Nautilus — which debuted in L.A. last year — will finally make its way to Las Vegas. Lincoln's new adventure-themed model names for its SUVs (Nautilus, Aviator) thankfully replace its confusing yet forgettable letter-based naming convention for its vehicles (MKC, MKX, MKZ, MKT), and the Nautilus is the erstwhile MKX.
Cars.com reviewer Brian Wong in his first drive of the Nautilus this summer found the SUV to be a mixed bag, with one standout powertrain — a 335-horsepower, twin-turbocharged 2.7-liter V-6; hit-or-miss interior luxury; the excellent Sync 3 touchscreen multimedia system; and cavernous cabin and cargo space — but all for a price that's too "luxury" for an arguably "premium" experience. You can decide for yourself this week at the show.
4. Test Drives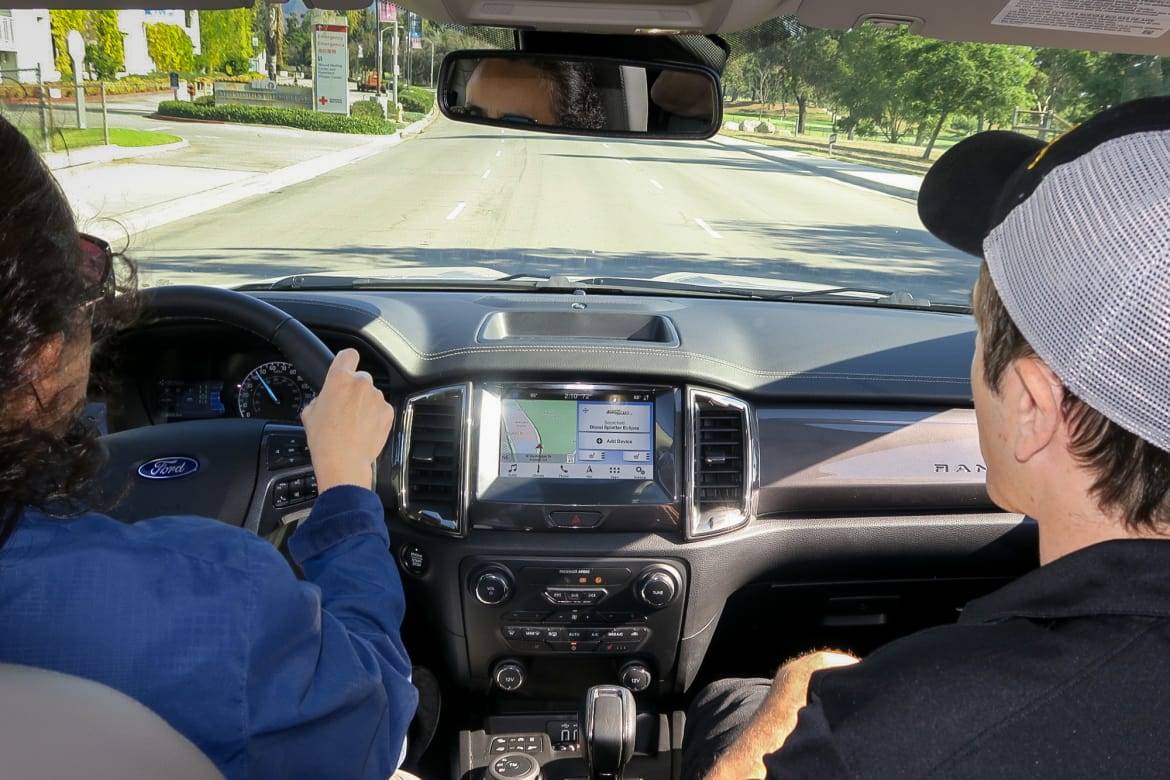 One of the most practical reasons to go to an auto show is to be able to get behind the wheel of multiple cars on your shopping list, or at least try to narrow a broad field by test-driving models across disparate automotive segments — and all without having to schlep from dealership to dealership and salesperson to salesperson.
A trio of brands will enable you to do just that starting at 9 a.m. all three days of the show and generally running until 5 p.m. (check specific test-drive times here). Participants must a present valid driver's license.
Vehicles available to take for a spin include:
Acura (ILX, RLX and TLX sedans; and MDX and RDX SUVs)
Ford (Edge, Escape and Explorer SUVs; F-150 pickup trucks; Fusion sedans; and Mustang sports coupes)
Toyota (Camry and Corolla cars; and Highlander and RAV4 SUVs)
5. Exotics and Customized Cars
While test drives may be a practical consideration, no trip to the auto show is complete without a taste of the intangible, the imaginative and the outright indulgent. It is Vegas, after all.
"Luxury car enthusiasts will not want to miss the Million Dollar Exotic Vehicle Display showcasing ultra-exotic vehicles, courtesy of Lamborghini Las Vegas," organizers said in a statement. "These high-end models are built for power, rocketing to 60 mph in under 3 seconds, and offer an escape from the ordinary commute. Showgoers will also get the chance to view and experience a display of tricked-out and customized vehicles from the Specialty Equipment Market Association Show."
We're guessing no test drives here, though.
Cars.com's Editorial department is your source for automotive news and reviews. In line with Cars.com's long-standing ethics policy, editors and reviewers don't accept gifts or free trips from automakers. The Editorial department is independent of Cars.com's advertising, sales and sponsored content departments.