What's the Best MPG 2020 3-Row SUV?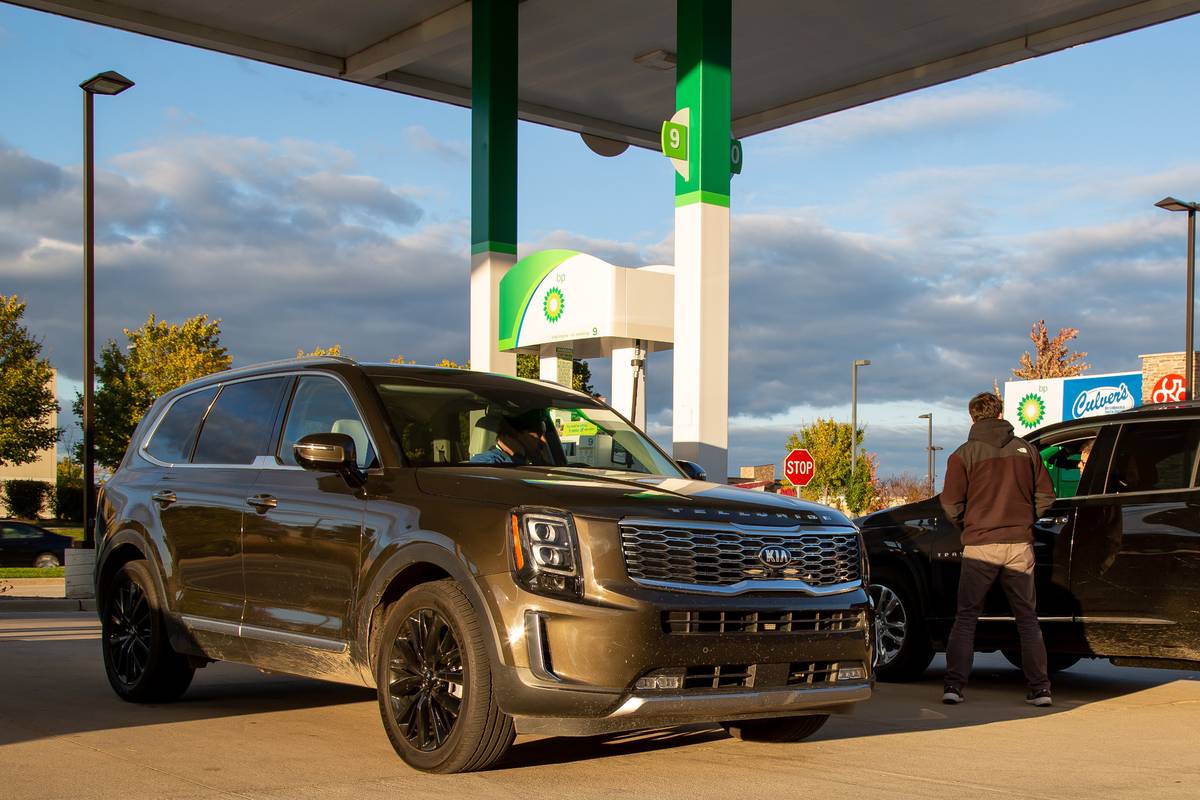 The idea of "your mileage may vary" is real — everything from tire pressure to weather to driving style to terrain can affect how efficiently your vehicle burns fuel. The idea that a lighter vehicle with a smaller engine will be more efficient isn't always true — and that's exactly what we observed when we tested seven three-row SUVs on a 200-plus-mile fuel-economy loop to see which of these popular family haulers had the best gas mileage. The fuel-economy test was part of our 2020 3-Row SUV Challenge that included the Chevrolet Traverse, Ford Explorer, Honda Pilot, Hyundai Palisade, Kia Telluride, Subaru Ascent and Volkswagen Atlas.
2020 3-Row SUV Challenge
Results | Winner | How We Tested | Mileage Drive | Cargo
Our MPG Test Results
1. 2020 Kia Telluride: 24.5 mpg
2. 2020 Hyundai Palisade: 23.9 mpg
3. 2020 Honda Pilot: 23.6 mpg
4. 2020 Ford Explorer: 23.3 mpg
5. 2020 Subaru Ascent: 23.1 mpg
6. 2019 Volkswagen Atlas: 21.5 mpg
7. 2020 Chevrolet Traverse: 21.0 mpg
Engines varied in size and equipment, and transmissions ranged from automatics with eight-, nine- or 10-speeds to a continuously variable automatic. Each SUV had all-wheel drive, ran on regular octane gasoline and all but one of our test vehicles were based on front-wheel-drive platforms. Here's how the competitors stacked up.
The Best MPG: 2020 Kia Telluride: 24.5 MPG, 30 Points (Out of a Possible 30)
Our mpg winner was the Kia Telluride, which is EPA-rated at 19/24/21 mpg city/highway/combined, meaning its observed 24.5 mpg came in above even its official highway mileage rating (our observed mpg is an average of trip-computer mpg readout and calculated fill-up). The Telluride comes with a big 291-horsepower, 3.8-liter V-6; an eight-speed automatic transmission; and no turbochargers to be found. But the V-6 is something called an Atkinson-cycle engine, which is rather unusual — it uses a slightly different combustion scheme to create a more efficient engine that's usually down a bit on low-rpm power, but generally more efficient overall; the mechanically identical Hyundai Palisade had the same engine. The eight-speed transmission was on the low end of the gear spectrum, with a number of competitors having nine-speed units and even a 10-speed in the Ford, but it still worked in the Telluride's favor.
How the Rest Fared
2. 2020 Hyundai Palisade: 23.9 MPG, 29 Points
While it's almost mechanically identical to the winning Kia Telluride, there are a couple of minor differences that could have accounted for the Palisade's slight variation in fuel economy. It could honestly be anything from driving style to gusts of wind to the firmer shock tuning to different tires (the Kia uses Michelins while the Hyundai uses Bridgestones). The Palisade is powered by the same 3.8-liter Atkinson-cycle V-6 and eight-speed automatic, and it's rated at the same 19/24/21 mpg, so it should be pretty close — and it is, as it's the closest competitor to our fuel-economy champ in this test.
3. 2020 Honda Pilot: 23.6 MPG, 29 Points
Scoring the same number of points as the second-place Palisade but only slightly less in observed fuel economy is the 2020 Honda Pilot. Under its hood is Honda's venerable 3.5-liter V-6 making 280 hp and the nine-speed automatic transmission (standard on the Elite trim we tested and other top trims, optional on lower-level trims), a combination good for 19/26/22 mpg city/highway/combined. Our observed mileage result of 23.6 mpg for the Pilot is above its combined rating but less than its highway rating, putting it in decent shape overall.
4. 2020 Ford Explorer: 23.3 MPG, 28 Points
The name may not be new, but the vehicle most certainly is — the completely redesigned Explorer is the lone rear-wheel-drive platform in this test, making it something of a more traditional SUV, though far from its body-on-frame roots. It's powered by a small turbocharged 2.3-liter four-cylinder engine that makes 300 hp on premium fuel, and it's mated to a 10-speed automatic transmission (the same powertrain you'll find in a Ford Ranger pickup truck or a base Ford Mustang). Its 20/27/23 mpg EPA rating is the best in our test, and our observed 23.3 mpg is about spot on for expectations. Why wasn't it better? Well, it may have a lot of gears, but a smaller engine works harder when moving around a big vehicle like the Explorer. We should also note that the Explorer was filled with regular 87-octane gasoline; Ford says that premium 91-or-better octane should be used for optimal performance, but that it runs just fine on regular unleaded (which it did).
5. 2020 Subaru Ascent: 23.1 MPG, 28 Points
The Ascent is another example of the "downsize and boost" idea in which you swap out a big engine for a smaller turbocharged one in order to try and improve fuel economy, not always working out as planned. The SUV is powered by a 260-hp, turbocharged 2.4-liter boxer-four-cylinder engine hooked up to a continuously variable automatic transmission. The Ascent is rated at a respectable 20/26/22 mpg, and our observed mileage of 23.1 mpg is smack within those parameters, but the driving experience was almost universally panned by our testers. The engine felt frenetic, and the transmission often kept it revving like crazy.
6. 2019 Volkswagen Atlas: 21.5 MPG, 26 Points
The big Atlas came in sixth, tied in points for last place in fuel economy and just managing not to finish in that spot by 0.5 mpg. You can get two different engines in the Atlas: a 235-hp, turbocharged 2.0-liter four-cylinder (only available with front-wheel drive) or the 276-hp, 3.6-liter V-6 seen here, mated to all-wheel drive via an eight-speed automatic transmission. The Atlas is rated at 17/23/19 mpg, which isn't great (especially in the city), but it managed to beat its combined score with a 21.5 mpg observed result.
7. 2020 Chevrolet Traverse: 21.0 MPG, 26 Points
Despite having a nine-speed automatic transmission to pair with its 310-hp, 3.6-liter V-6 engine, the big Traverse placed last with an observed fuel economy of 21.0 mpg. It's rated at 17/25/20 mpg, certainly not the worst one here when it comes to highway and combined mileage, but it is in the bottom half of the pack. It came in 3.5 mpg behind the observed mileage of the first-place winner, which is a considerable difference.
To read more about our fuel-economy testing methodology, be sure to check out How We Found the Best 3-Row SUV of 2020.
More From Cars.com:
Cars.com's Editorial department is your source for automotive news and reviews. In line with Cars.com's long-standing ethics policy, editors and reviewers don't accept gifts or free trips from automakers. The Editorial department is independent of Cars.com's advertising, sales and sponsored content departments.