2021 Chevrolet Trailblazer Review: Hitting the Sweet Spot
The verdict: The 2021 Chevrolet Trailblazer is a surprisingly fun-to-drive, spacious, competent little crossover that looks good and represents a decent value in its lower trims.
Versus the competition: The Trailblazer becomes a harder sell when compared with some competitors, especially its pricier top-end trims that feature a much less powerful engine than you can get elsewhere.
I'm getting tired of saying that small SUVs are all the rage these days, but it simply remains true, and now yet another subcompact cute-ute has replaced a traditional sedan in an automaker's lineup. In this case, it's the old Chevrolet Cruze compact sedan that got the boot, and in rolled this: the 2021 Chevrolet Trailblazer. It fits in between the smaller (and less enjoyable) Trax and the bigger, more family-oriented Equinox. Of course, you also have the Blazer in that showroom if you want something bigger and sportier, or the Traverse if you need a big family hauler — so many options, how are you to know what's sized and priced for you?
Well, the Trailblazer of 2021 is not the same animal as the last Chevy Trailblazer that left showrooms in 2009 — that was a mid-size, body-on-frame, traditional rear-wheel-drive SUV. The new one is much smaller, front-wheel-drive, powered by tiny engines and matches up against competitors like the new Kia Seltos, the Mazda CX-30, Honda HR-V, Jeep Renegade, Toyota CH-R and even the Nissan Rogue Sport.
The field is crowded with entries in this segment, so has Chevy done anything special to make new Trailblazers stand out in the crowd? Actually, it has.
Related: 2021 Chevrolet Trailblazer: Taking the Road More Traveled
If You Like the Way One Looks, You'll Like Them All
It doesn't really stand out in the styling department. There's a formula for crossover styling these days, and the new Trailblazer follows it fairly closely. Floating-look roof panel, separated from the body and available in two-tone colors? Check. Funky super-slim headlights that aren't really headlights? Got those, too. Plastic cladding on the wheel arches to make it look rugged? Yep. It basically ticks all the boxes for your typical small crossover, present in styling cues from half a dozen other automakers. Thankfully, it's an attractive look that works as well on the Chevy Trailblazer as it does on the Kia Seltos, Nissan Kicks, Hyundai Kona, you name it. 
The look changes depending on the trim level you choose, as well, with several trims to choose from, culminating in one of two options for the direction you go in at the top: RS if you want something sporty and aggressive with blacked-out trim and dual exhaust outlets with rectangular chrome tips (a little odd, given that it's available only with three-cylinder engines), or Activ if you're looking for a more traditional off-road look.
My test vehicle was the Activ trim level, which comes with a few interesting features that make it look and feel different from other Trailblazers. It has uniquely tuned shock absorbers made for rougher roads, improved ground clearance, more underbody shielding and special sport-terrain 17-inch all-season tires. It's unlikely that anyone is going to take a Trailblazer off-road, given that it's generally made to stay on the pavement given its running gear, but the image of being able to head into the dirt helps sell SUVs, so here it is. A Jeep Renegade Trailhawk would likely be a far better choice if you plan on doing any serious dirty work.
On the Pavement, Surprisingly Fun
If you're content to keep the Activ trim level on the pavement where it belongs, you're likely going to be surprised at your driving experience. The new Trailblazer is fun to drive, thanks to quick steering, a very well-damped ride and an engine that's surprisingly peppy given its modest power output. It starts with a choice of two turbocharged three-cylinder engines, either a 1.2-liter making 137 horsepower and 166 pounds-feet of torque if you opt for front-wheel drive, or a 1.3-liter putting out 155 hp and 174 pounds-feet of torque if you go for all-wheel drive. The automatic transmission changes, too: It's a continuously variable unit with front-wheel drive or a conventional nine-speed automatic with all-wheel drive, regardless of engine. My Activ had all-wheel drive, meaning it came with the 1.3-liter turbo and nine-speed, a combination that proved to be surprisingly responsive in around-town driving. It's best when accelerating from a rolling start to about 40 mph, whereupon the power evaporates and the little three-cylinder engine just sings its heart out without much more oomph on tap. It's perfect for zipping around urban areas, but if you plan on getting on the highway quickly or passing slower traffic on a two-lane road, you'd better have plenty of room to complete the maneuver.
The nine-speed transmission exhibited two very different personalities in two different vehicles we tested. In my vehicle, it felt perfectly tuned to the power available from the diminutive engine. Yes, it shifted a lot, but it did so quickly and without drama or harshness in the slightest, doing its job to keep the Trailblazer's engine in its modest power band as much as possible. Yet in another sample a different Cars.com reviewer tried on a different occasion, it felt very slow when it kicked down, making for a much less entertaining driving experience that was only slightly mitigated by shifting the Trailblazer's drive mode into the Sport setting. I personally found that the Sport setting didn't affect the driving experience other than adjusting the shifting behavior of the transmission, so I generally left it in its normal mode. 
There were no complaints about the body control and chassis dynamics, however, both of which are surprisingly good. The ride is well damped, there's no odd bobbing or pitching, and the result is a small SUV that's actually fun to drive. The steering is quick and responsive, nicely masking the understeer present in all front-wheel-drive crossovers, and rapid transitions on twisty roads are met with poise and proper control. Ride quality is good around town, but it does deteriorate a little bit as speed climbs — out on the highway, smooth pavement is met with calm manners, but expansion grates and frost heaves do get a bit jarring at elevated speeds. The brakes are a high point — they're firm and strong, but not overly grabby or aggressive. They add to the sporting demeanor of the Trailblazer by providing additional confidence in your ability to drive a little bit quicker.
A Mixed Interior Experience
The interior fittings are something of a mixed bag. The design of things is generally good, with some excellent shapes and material choices for trim surrounds, but there is a lot of hard plastic in here, which is to be expected at this price. It's a step up from what we've seen in other affordable GM crossovers like the Chevy Trax, but it does struggle to match what we've seen from competitors like Hyundai, Kia and Honda. Some elements mean well, such as the molded-in stitching on the doors and dash that's meant to simulate a cut-and-sewn leather interior, but the stitch molding itself is wavy in places, making it look like it wasn't executed properly. It's possible this was an early build example; follow-up inspections on later production models would be prudent.
We have fewer quibbles with the interior seating arrangements. The seats themselves are on the small side and are a bit firmer than most, but they're still acceptably comfortable. The cabin is a bit narrow, but this isn't a big SUV, it's a subcompact model, and it's not going to be cavernous inside. It does, however, have a surprising amount of legroom, far more than you'd expect, especially in the backseat. Our testers found that they could set the front seats to where they'd normally sit and then comfortably park themselves in the backseat with knee room to spare, unlike some similarly sized competitors like the new Mazda CX-30. The narrowness of the Trailblazer means that three across will be tight, but there's ample room for four occupants total. The rear seats aren't adjustable for fore-and-aft motion like they are in some competitors, but they do fold flat (as does the front passenger seat, for super-long items) and the head restraints also lower sufficiently to prevent obstructing the view out the rear window.
Visibility out of the rest of the Trailblazer is generally good. Although both the windshield pillars and rear quarter D-pillars are rather wide, the view is decent thanks to the upright window arrangement to the front and sides.
All the Modern Amenities, But Is It a Good Value?
The Trailblazer has all of the latest electronic goodies, such as standard wireless Apple CarPlay and Android Auto on some trim levels and a 7-inch touchscreen (upgradeable to an 8-inch unit), but it also starts to show that Chevrolet is getting the message about standard electronic safety equipment, as well. Standard equipment includes the Chevy Safety Assist system that includes forward automatic emergency braking with front pedestrian detection, lane keep assist with lane departure warning, forward collision alert, follow distance indicator and automatic high-beam headlamps. Options include adaptive cruise control, rear parking sensors, lane change alert with blind spot warning, rear cross-traffic alert and HD rear-vision camera. Many of these features used to be optional or package equipment on more expensive Chevrolet models, so this is a welcome change in GM's strategy.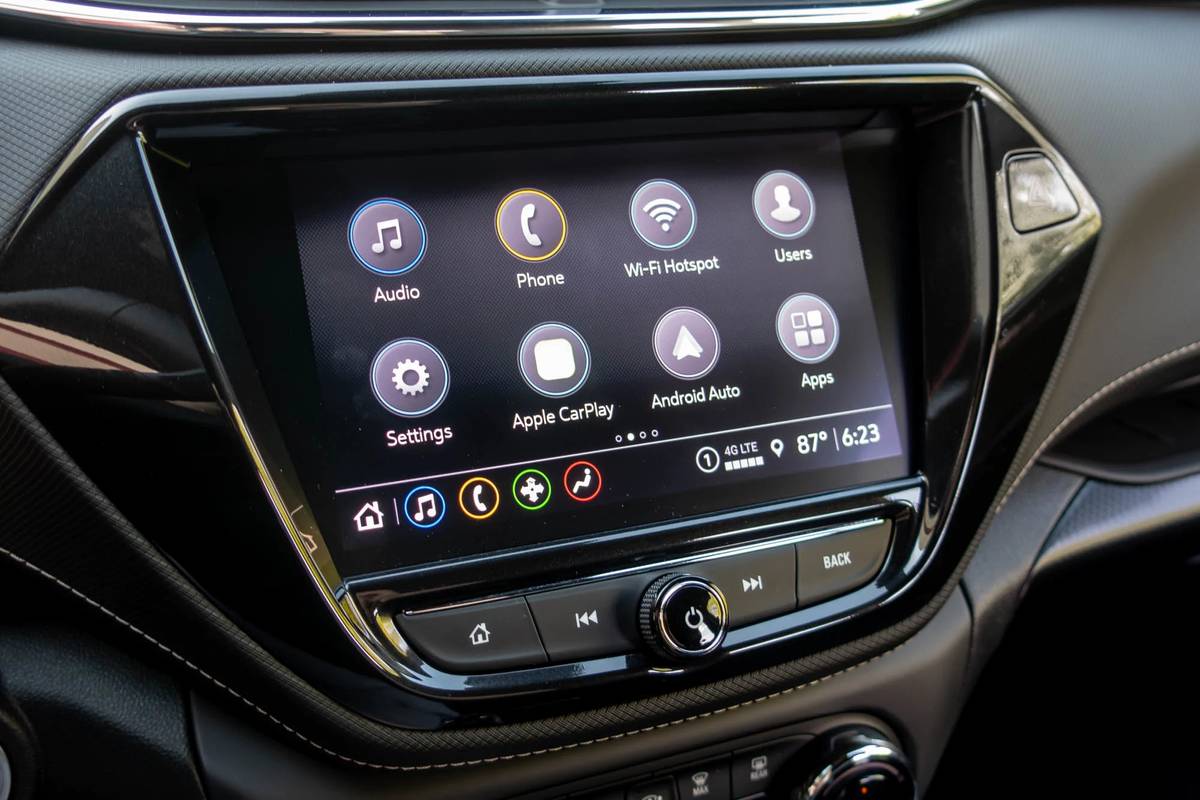 The bigger question is whether or not the new Trailblazer is a good value, an important question in this highly competitive segment. It starts with a price below 20 grand, just $19,995 including destination fee, for a basic Trailblazer L with front-wheel drive, the 1.2-liter engine and a continuously variable automatic transmission. For the price and equipment, it's not a bad deal, and it compares favorably in terms of price, equipment and powertrain with competitors like the front-drive-only Nissan Kicks, Ford EcoSport and Hyundai Venue.
But when the price starts to climb, the competitors change — at the upper end of its trim levels, we're starting to consider it against the Mazda CX-30, Kia Seltos and Hyundai Kona, and it's here where the Trailblazer starts to get outgunned. Though it's comparable in weight, its optional engine isn't as powerful as any of its competitors' optional engines, and most of them are cheaper. You can get a larger, loaded, more powerful Kia Seltos SX Turbo for less than $30,000; that's less money than a loaded Trailblazer.
The success of the Trailblazer will likely come from who is shopping for it and what competitor sets they're considering. It's a solid entry from Chevrolet, as good to drive as the old Cruze compact sedan and likely more versatile, too, with improved headroom, cargo space and optional all-wheel drive. It's undeniably stylish, has plenty of the latest technology and isn't priced too outrageously for what it is. With a bit more power and a properly sorted out interior, it could be a very successful competitor.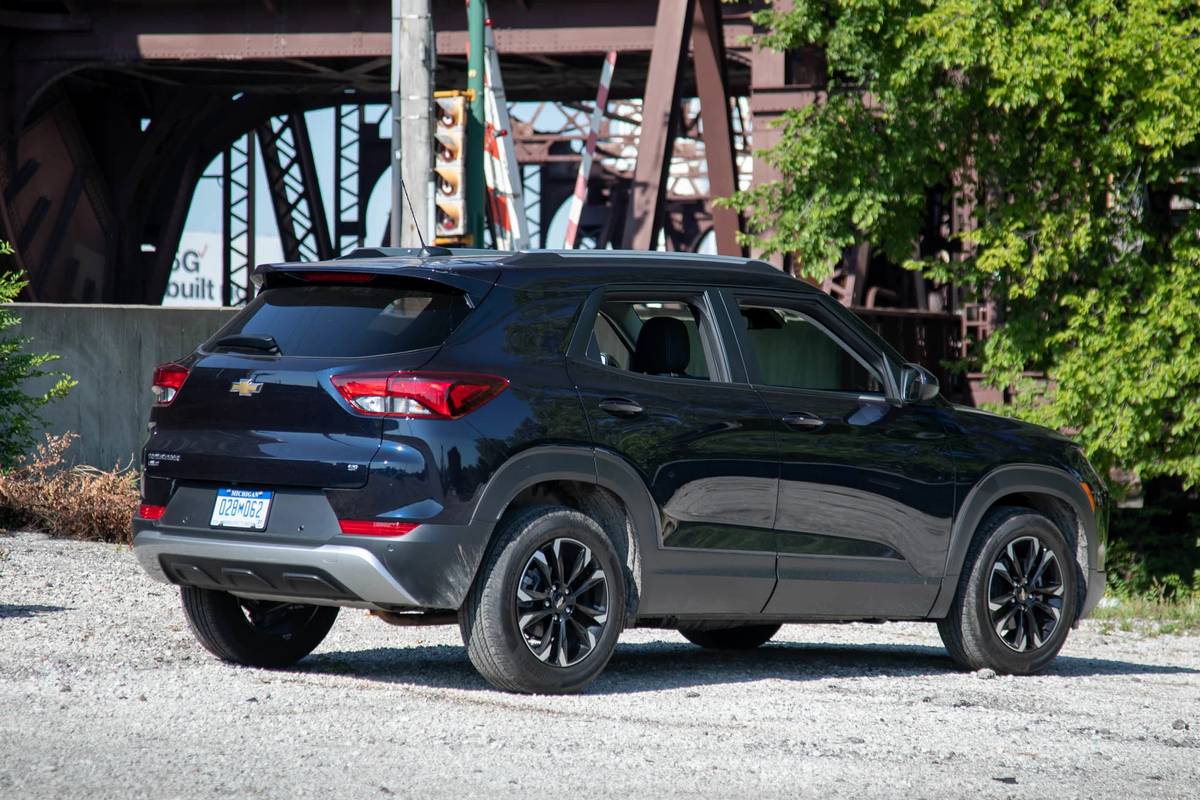 Cars.com's Editorial department is your source for automotive news and reviews. In line with Cars.com's long-standing ethics policy, editors and reviewers don't accept gifts or free trips from automakers. The Editorial department is independent of Cars.com's advertising, sales and sponsored content departments.