2021 Genesis G80 Review: Nipping at the Germans' Heels
The verdict: Once we accepted the redesigned 2021 G80 as a compromise between G70 sport and G90 luxury, as Genesis states, we began to appreciate it as a roomy, comfortable mid-size sedan with just a few things we would have done differently.
Versus the competition: If you're willing to spend extra, the 3.5T trim level of the Genesis G80 unquestionably puts the best European luxury sedans on notice with its interior quality and tech, though it could use some suspension tweaking and better mileage.
We've been looking forward to the redesigned mid-size Genesis G80 sedan since we experienced the all-new G70 and named it our Best of 2019. The G70 is a great car, but it could be more luxurious, its backseat is small and there are a few things about its controls and touchscreen that — while gloriously no-nonsense — seemed too similar to Hyundai models. (Genesis is Hyundai's luxury division, spun off in 2017.)
Related: Who Makes Genesis Cars?
The 2021 G80 is only the second sedan purpose-built as a Genesis, though it succeeds a car that was a Genesis long before that was a brand name. The G80 began its life as the 2009 Hyundai Genesis, which is largely responsible for anyone believing Hyundai could make a luxury car and, ultimately, a whole brand (Cars.com awarded that car its inaugural top honor). The G80 descendent we review here is technically the third generation; its most recent predecessor, after two years as the second-generation 2015-16 Hyundai Genesis, was renamed the Genesis G80 and sold from the 2017-20 model years in essentially the same form.
Enough with the history lesson. Does the 2021 G80 keep its smaller sibling's goodness and improve on it as hoped? We found out by driving two versions that were about as different as possible: a G80 2.5T RWD Standard with only one option ($400 Uyuni White paint) priced at $49,125 as tested, and a G80 3.5T AWD Prestige positively loaded to a total of $69,075 (all prices include destination charges).
Drivetrains: Good and Better
As with the G70, the G80 has turbocharged four- and six-cylinder engines (both larger) that define its core trim levels: the 2.5T and 3.5T, both offered with rear- or all-wheel drive. And just like our experience with the G70, the lesser engine is definitely adequate, though not exhilarating, while the upgrade dials up the thrills. Unlike the G70 in 2.0T Sport form, the G80 doesn't offer a manual transmission at all, only an eight-speed automatic.
The 300-horsepower, turbocharged 2.5-liter four-cylinder and eight-speed were a refined pairing in our G80 2.5T with rear-wheel drive, providing good acceleration with minimal lag in all circumstances, including transmission kickdown for passing. The only real disappointment is that the transmission didn't respond as quickly as it could have when shifted manually using the steering-wheel-mounted paddles; a multiple-gear request with the left-hand paddle would induce stair-stepping down through the gears — at least momentarily hitting all or most — rather than jumping quickly to the target as the best transmissions do. This behavior was the same in the G80 3.5T, and the choice of drive mode didn't seem to affect the responsiveness.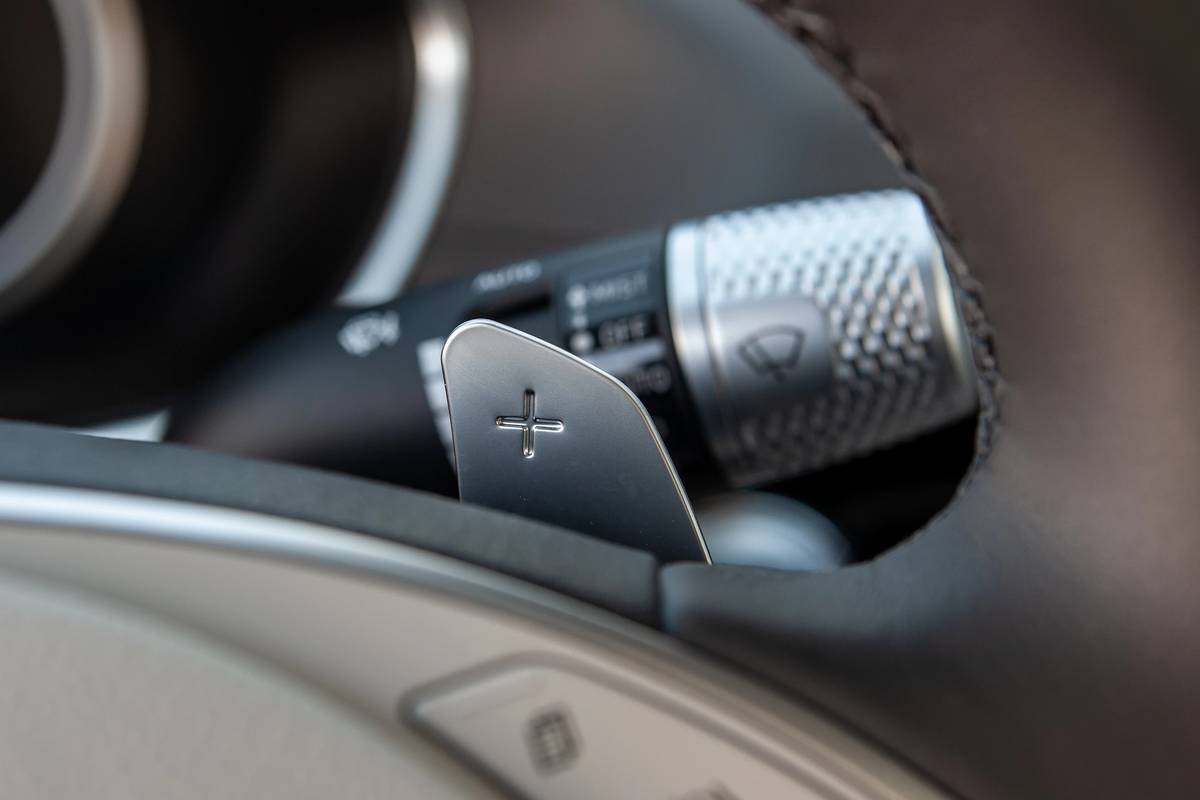 Rated at 375 hp (and 391 pounds-feet of torque versus the 2.5T's 311), the twin-turbocharged 3.5-liter V-6 of the G80 3.5T rockets the car with considerably more gusto, even with the additional weight of all-wheel drive and practically every feature the model offers on board. With the added thrust comes a better soundtrack, as well. Given that induction and exhaust sounds are augmented through the stereo (common practice nowadays), I'm surprised both trim levels don't sound better than they do, but Genesis is clearly going more for serenity here. As is often the case with such systems from Hyundai and Kia, even the Active Sound Design feature incorporated into our 3.5T's Lexicon premium audio system made changes so subtle as to be barely perceptible, tied as they are to high-rpm, heavy-load acceleration.
The 3.5T gets a brake upgrade to match, with larger brake discs front and rear and handsome branded four-piston monobloc front calipers in place of the 2.5T's industrial-looking one-piston grippers. Brake-pedal feel is satisfying and consistent between the two types in normal driving; we didn't flog these cars on a track to test brake fade.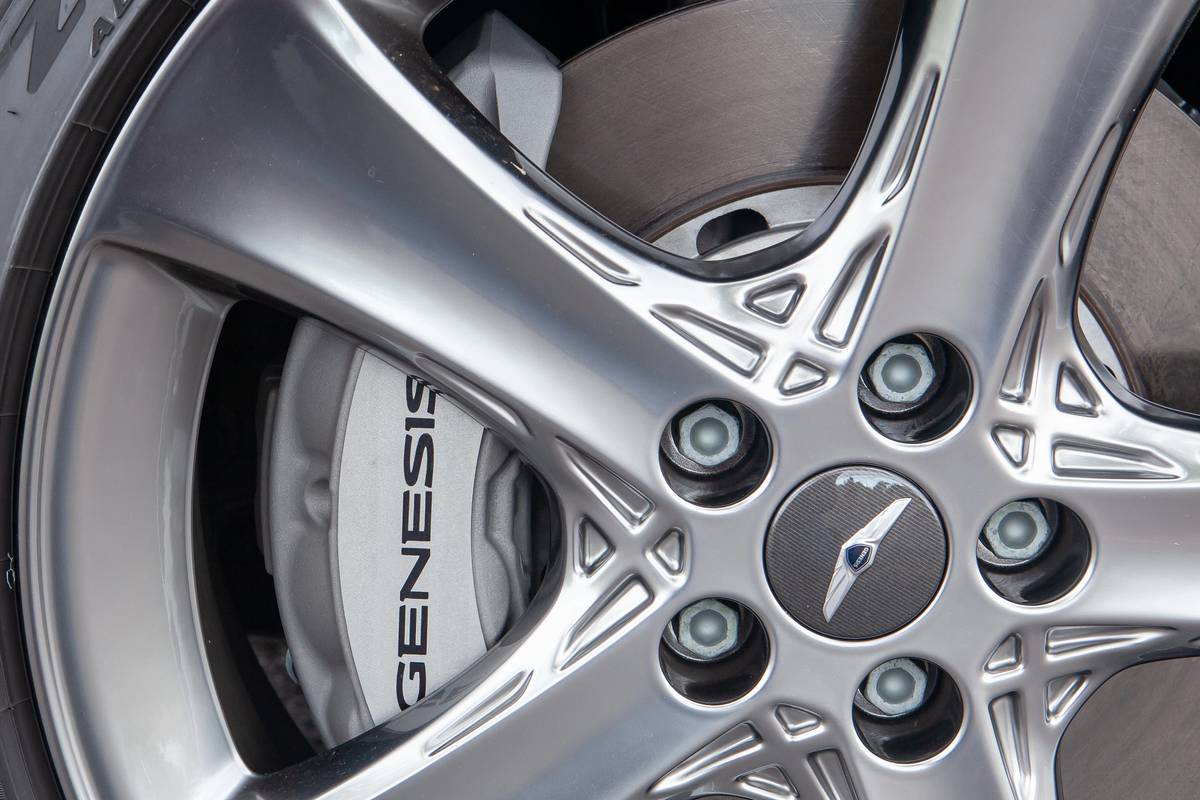 Both engines require premium gasoline, like virtually all luxury sedans, and the 2.5T gets an EPA-estimated 23/32/26 mpg city/highway/combined with RWD and 22/30/25 mpg with AWD. These figures are par for the course in the mid-size luxury sedan class, with four-cylinder German competitors ranging from 25 to 28 mpg combined.
The 3.5T doesn't look quite as good: It's rated 19/27/22 mpg and 18/26/21 mpg for RWD and AWD, respectively. Six-cylinder AWD versions of the same German competitors range from 24 to 26 mpg. The G80 3.5T AWD has 375 hp versus 335 hp each for the 2021 Audi A6 55 Premium Quattro and 2021 BMW 540i xDrive and 362 hp for the 2021 Mercedes-Benz E450, but horsepower can't be judged in a vacuum. A comparison of these models shows that the competitors' curb weights range from 4,050 to 4,266 pounds. Early specifications from Genesis list 3.5T AWD curb weights as 4,343 to 4,497 pounds, which are better than the 2020 model but still not as light as the others.
Ride and Handling: More G90 Than G70
It took a while to accept that this isn't a larger G70, a car that begs to be driven in a spirited fashion. That's not to say the 2021 G80 is without poise, but there's more emphasis here on comfort. The 2.5T comes only with a passive suspension, meaning no adjustable or automatically controlled shock absorbers like the 3.5T brings standard. The G70 3.3T AWD we owned was beautifully athletic with ride quality only some of us (myself included) found too firm on occasion. By contrast, our G80 2.5T Standard test car was better at absorbing the worst of the Chicago area's challenged pavement, but less eager to tackle its few curves. Equipped with rear-wheel drive, it had good front-rear weight distribution and admirable balance and controllability, but there was a bit more body motion than we'd expect from a sports sedan.
The G80 3.5T AWD Prestige we tested was better in most ways thanks, no doubt, to its adaptive suspension. Even though it had 20-inch wheels (an option, up from 19s) where the 2.5T had 18s, this version rode even more comfortably when in Comfort driving mode.
As for the other end of the spectrum, the 3.5T's suspension firms up more noticeably than many cars do nowadays when in Sport mode. The extra power was more than enough to overcome the weight of the all-wheel drive, features and engine itself, but we felt a difference in the curves, where this car felt more front-heavy — though judicious application of the gas could balance things out nicely. Yes, it's AWD, but with a definite rear-wheel bias.
It's a shame you can't get this suspension with the lesser engine because it improves both ride and handling. Still, our impression in the end was that this car has capabilities, but it doesn't beg the driver to explore them as the G70 does. The isolation you appreciate in normal driving doesn't vanish when you take to the twisties. In this way it's a lot like most luxury sedans, especially of this size and larger.
The Inside
The first all-new G80 of the Genesis era does address some of our misgivings about the G70. For one thing, the backseat is very roomy. If that seems an unfair comparison, the 2021 G80 also has almost 3 inches more backseat legroom than the 2020 model and more than the three German competitors mentioned above. (The 2021's front seat also lost more than 3 inches of legroom versus 2020, according to Genesis specs, but the new number is still superior to the competitors' front seats by about an inch.) Keep an eye on headroom, however, as the panoramic moonroof (optional, standard on the 3.5T) robs more than half an inch from the backseat, putting it at the lower end of the group.
Where backseat passengers benefit, the trunk suffers with only 13.1 cubic feet of cargo volume, according to Genesis — but that's not out of the ordinary in this class, either: The Mercedes E-Class sedan holds the same rating, and the BMW 5 Series is the most accommodating of the set at 14.0 cubic feet. What is out of the ordinary is that the G80's backseat doesn't fold; it has only a center pass-through. The three competitors have 40/20/40-split, folding backseats.
As for the appointments, they range from good in the 2.5T to excellent in our 3.5T, as equipped, which definitely nips at the heels of the European luxury marques, not just "premium" brands. Yes, $20,000 separated our two cars, but a lot of that was about features, not materials. Unfortunately, many of the features and materials are tied to trim levels or packages as we laid out pretty clearly in an earlier report, so you might not be able to doll up a G80 without spending more than you'd hoped. (The German luxury brands definitely give you less for your money to start with, but the upside is that they often let you nickel-and-dime yourself to suit, a la carte.)
The 2.5T comes only with leatherette (imitation leather) upholstery, which is oddly common in this class; among the German brands, only Audi bucks the trend with standard leather. G80 2.5T buyers can option leather instead, which is standard in the 3.5T. The 3.5T in turn is eligible for a Nappa leather upgrade, with which our test car was outfitted, so we didn't experience the regular leather, but the Nappa is terrific. The 2.5T's leatherette (the light color in my photos) also is of decent quality, but the difference in our 3.5T test car was clear and went beyond the quilted seat upholstery (dark) to a faux suede headliner, real wood trim and many stainless speaker grilles from the Lexicon premium audio system that's standard on the 3.5T and part of the Advanced Package option, which our 2.5T didn't have. We could swear the steering wheel horn pad and other surfaces in our 3.5T Prestige were a richer material, but Genesis said this, the top of the dashboard and such remain leatherette; perhaps the darker color gave a different impression.
The impression of luxury nowadays goes beyond materials to include things like displays, and there's no question the standard pair of analog gauges seem humdrum, even with an 8-inch color display between them, when the alternative is a 12.3-inch display with 3D effects in their place — offered only in the 3.5T's Prestige option package. The analog gauges shown on the screen are similar in style to the standard ones, but their trick is how they pop out a bit — visually, at least — from the display between them. If you don't understand how this works, it's not unlike a head-up-display image that appears to float over a vehicle's front bumper even though it's projected much closer, on the windshield. You won't see the effect in the photos because it requires two eyes to work, and the system relies on an infrared camera high in the cluster; shut one eye, and the image flattens back to 2D. Unfortunately, the camera is easily blocked by the steering wheel rim if you adjust it too low, which also defeats the 3D effect. The G80 offers a HUD too, but again as a packaged option only on the 3.5T.
The Widescreen and the Disk
Where Genesis wisely doesn't mess around is with the standard inclusion of a superwide 14.5-inch touchscreen (measured diagonally). Where the G70 had only a touchscreen, the G80 supplements it with a remote controller, as both this model and the G90 have in the past, beating other luxury brands to the punch. But this is the first time Genesis has stuck its flag in the soil regarding how it wants these things to operate since the brand was formed, and our conclusion is … it could have been worse?
The screen's image area is a full 14 inches wide and just shy of 4 inches tall, which isn't bad. The average 8-inch-diagonal car display is typically around that tall, so the G80 doesn't sacrifice the overall size of your backup camera image, or Apple CarPlay or Android Auto menus, like screens that are too short or narrow often do (regardless of how much total image area they provide). Make no mistake, however: This style of widescreen is best at showing several different things at once, side by side; there's little advantage otherwise.
The console-based controller is necessary because most of the display is pretty far from reach. Unfortunately, its design leaves something to be desired. It looks beautiful, as do the car's other knurled metal knobs and thumbwheels, but it's not as easily gripped and rotated as a raised knob, such as the rotary gear selector, which proves the point. You have to imagine the meeting where the car's developers recognized they couldn't have two similar knobs controlling a transmission and a display, so the latter drew the short straw — and a short, concave disk with a textured outer edge and a capacitive-touch center pad. In addition to its rotary motion, the disk serves a four-way joystick function for moving about the menus, and that simply means when you're pressing down, trying to get purchase on the disk to rotate it, you're bound to activate something you didn't mean to. Add cold weather, dry hands, calluses or gloves, and frustration is bound to ensue.
The only reason we're not more critical of this new system is because the rest of the field doesn't exactly have it down, either — witness Mercedes' overly complex menus, as well as touch-sensitive buttons on the steering wheel that are too easy to activate accidentally. At least the G80's menu structure is reasonably flat and simple, and a row of mechanical buttons above the ventilation controls give direct access to some root menus so you aren't overly reliant on the disk and its nearby Home, Menu and Back buttons. Had Genesis stuck with a shift lever and raised knob for screen-control duty, we suspect the majority of consumers would have been happier.
Should You Buy the Genesis G80?
There are numerous features the G80 offers, and some it doesn't, that might influence whether you buy this car over another model you're considering. I'll run through a few and give advice on what matters and what doesn't.
You might notice that the G80 doesn't have the new wireless versions of CarPlay and Android Auto, which Genesis confirmed cannot be added later, but my opinion is that these features are no bargain. They gobble up a smartphone battery charge faster than a wireless charging pad (available on the G80) can restore it and complicate vehicle sharing. You might as well plug in, something wireless versions don't always provide as a backup. You're not missing anything.
Apple iPhone users might also bemoan that the phone-as-key feature works only with Android smartphones (because Apple reserves near-field communication for its own purposes), but again, you're not missing much. The ability to share your car and to control access without handing off keys is certainly powerful, but otherwise, needing to place your phone up against the door handle to unlock it is a step backward versus leaving a key fob in your pocket.
From what we've seen of driver-assistance features, the G80 goes just as far as it should. Highway Driving Assist II combines adaptive cruise control with lane-centering steering in a mode that provides very effective semi-autonomous driving, and the "II" throws in lane-changing assistance to impress your friends. Though some competitors already have, did have or are still promising more ambitious hands-off driving modes, once you experience these systems, you realize they operate under very restricted conditions; even when you can take your hands off the steering wheel, they don't allow you to do anything else with your hands or eyes, making you wonder what the point is.
There's nothing unusual about an adaptive suspension improving performance, as detailed above, but Genesis' claim that "the Electronically Controlled Suspension with Road Preview enhances ride quality by reducing road impacts using information supplied through the front camera" is certainly intriguing. I had more fun in a G70 with a "dumb" suspension, but marketers gotta market, and I'm not going to stand in Genesis' way. Ditto for the claims that cloud-based machine learning and artificial intelligence (yes, both buzzwords at work) help Smart Cruise Control adapt to your preferences. (If you're thinking of getting in front of every company that claims to be using AI and ML right now, you might as well step in front of a train.)
Remote Smart Parking Assist, a feature seen in Hyundai Sonata commercials, is well worth having for the one or two times during your ownership of the G80 when you need to stand outside your car and extricate it from a tight parking spot (and the dozens and dozens of times you need to impress your friends).
The G80 offers an Ergo-Motion driver's seat in the Prestige Package that's intended to improve posture and reduce fatigue through the use of seven air bladders that, well, poke at various parts of your body. It's not intended to be a massaging feature, which doesn't excuse that I found it unbearable. However, I've never experienced an in-car massaging seat that felt anywhere near a professional massage or even one of those heavy power chairs you find at airports. If you think any car seat replicates what a massage feels like, you've been in lockdown way too long.
The 2021 G80 2.5T undercuts the Audi A6, BMW 530i and Mercedes-Benz E350 by roughly six to seven grand. Back when we awarded the G70 as our Best Of, we breathlessly noted that you could get the upgrade V-6 for roughly the cost of the German competitors' base engines, once you accounted for the features Genesis threw in standard. But in 2019, the G70 3.3T's sticker price was $3,500 more than that of a BMW 330i; for 2021, the gap has grown to $4,980. Similarly, we can't claim that the G80 3.5T — clearly the one to buy given what you can't get on the 2.5T — laps the field. It costs between $5,530 and $7,330 more than the German base four-cylinder models (comparing AWD versions), and that math excludes the G80's $5,400 Prestige Package ($6,000 with RWD) that includes the Nappa leather, 3D instrument display, 360-degree camera system, blind spot cameras, Remote Smart Parking Assist, head-up display, rear automatic braking and more.
Overall, the G80 certainly still represents a value, and part of that is the Genesis warranty, which includes five years or 60,000 miles of bumper-to-bumper coverage and a 10-year, 100,000-mile powertrain warranty versus the German brands' four years and 50,000 miles for both. Genesis and BMW both offer three years or 36,000 miles of free maintenance, and Genesis' terrific Service Valet Care means your vehicle is picked up and dropped off at no additional cost.
Genesis positions the G80 as the compromise between its sporty option, the G70, and its most luxurious one, the G90. Once I accepted that it wasn't going to be a roomier version of our beloved G70 sports sedan, I began to appreciate the G80 as a comfortable luxury car that doesn't fall into the trap Lexus has been stuck in arguably for 30 years, pursuing sport with little success and losing comfort in the process.
Cars.com's Editorial department is your source for automotive news and reviews. In line with Cars.com's long-standing ethics policy, editors and reviewers don't accept gifts or free trips from automakers. The Editorial department is independent of Cars.com's advertising, sales and sponsored content departments.