4 Ways the 2017 Hyundai Elantra Sport Nails Sporty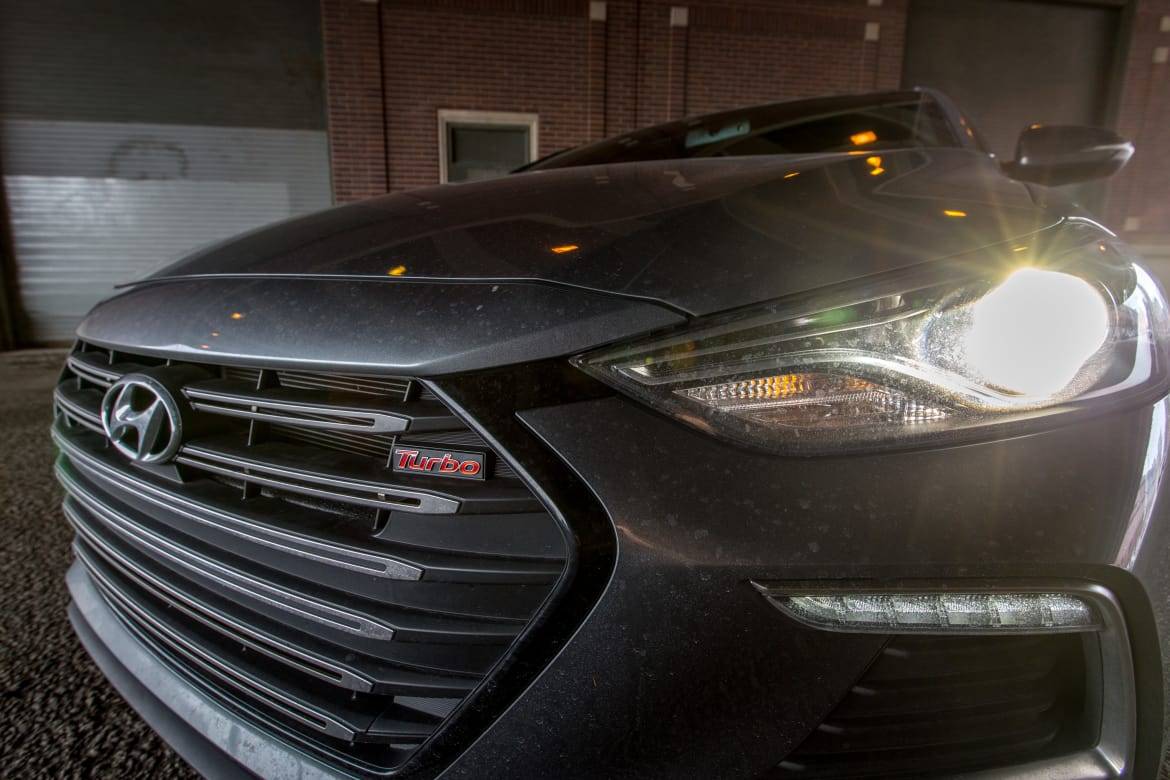 CARS.COM — If you wanna know exactly how the 2017 Hyundai Elantra Sport's technical performance specs translate from paper to pavement, talk to Cars.com reviewer Kelsey Mays, who tested the new sedan during a quick spin around the track. So just how sporty is the Sport model?
The answer: sporty enough.
Related: 2017 Hyundai Elantra Sport: First Impressions
The new Elantra Sport is significantly improved over the previous version, which lived from 2014 to 2016 until the 2017 redesign of the regular Elantra, and mostly relied on a set of larger wheels to justify its name. And while the 2017 Elantra Sport's performance reaches well beyond cosmetics, this sporty styling is on the elegantly subtle side, setting honest expectations for the car's capabilities.
Here are four reasons the Elantra Sport is sufficiently sporty:
1. Sporty Specs
The Sport's 1.6-liter turbocharged four-cylinder — the same found in Hyundai's Veloster hot hatch — sends 201 horsepower and 195 pounds-feet of torque through a six-speed manual or seven-speed dual clutch automatic transmission. That's a healthy boost from the 147 hp and 132 pounds-feet of the regular 2.0-liter four-cylinder, and also up 16 percent in horsepower over the outgoing Sport model. Hyundai says it's the most powerful Elantra ever.
2. Sport Mode
What those powertrain specs all translate to in terms of driving delight is fun, peppy acceleration that's noticeably more so in Sport mode, selected by hitting the Drive button near the base of the shifter until the Sport light is illuminated in the gauge cluster. Sport mode also livens up the handling; inputs feel more precise, and it corners with more agility in part courtesy of the Sport's independent rear suspension, which replaces a semi-independent torsion beam.
Scooting around a sparsely populated section of downtown Chicago made for lively fun on a recent weekend in our test car, which was equipped with the available automatic transmission, a $1,100 option. We surmise it would've been even more fun with the manual.
3. Sporty Style
While certainly fun enough to drive to justify its moniker, the Elantra Sport really sells its sportiness with styling. Our Galactic Gray test car wore 18-inch aluminum-alloy wheels, a front grille with "Turbo" badging, lower bumper area and side sill extensions, as well as lower rear body elements and a diffuser with dual exhaust.
Interior flourishes abound in the cabin, including black-on-black leather upholstery with contrast red stitching on the bolstered-and-badged sports seats and shifter boot; a chunky, flat-bottom steering wheel wrapped in leather and also contrast stitched; a sporty instrument gauge cluster; aluminum-alloy pedals, including a large dead pedal; carbon-fiber-like trim on the door panels and dash; and a black headliner.
4. Sporty by Comparison
Packing the same powertrain, the Elantra Sport not only boasts similar performance to that of the comparable Veloster Turbo R-Sport hot hatch trim, but it costs only $50 more at the base while providing significantly greater practicality as a sedan with a usable backseat. The Elantra Sport starts at $22,485 compared with the 2017 Veloster Turbo R-Spec's $22,435 starting price. Compare that price also to powered-up 2017 competitors like the Nissan Sentra SR Turbo, $22,855; Ford Focus ST, $25,650; Volkswagen Golf GTI, $25,815; Kia Forte SX, $26,895; and Subaru WRX, $27,515. All prices include destination.
However, you will take a hit in fuel economy compared with the regular Elantra. The Sport gets an estimated 26/33/29 mpg city/highway/combined versus its sibling's superior 32/40/35 mpg.
Our test car totaled $26,110, including destination, with the Premium package, which equipped it with an 8-inch multimedia touchscreen and power sunroof. For comparison, the regular Elantra starts at just $17,985 at the base and $23,185 for the Limited trim. But if you're willing to pony up the extra cash, the Elantra Sport is a pragmatic daily driver that lives up to what others have described it as a car for "budget-conscious enthusiasts."