Auto Show Face-Off: 2020 Land Rover Defender Vs. 2020 Jeep Wrangler Rubicon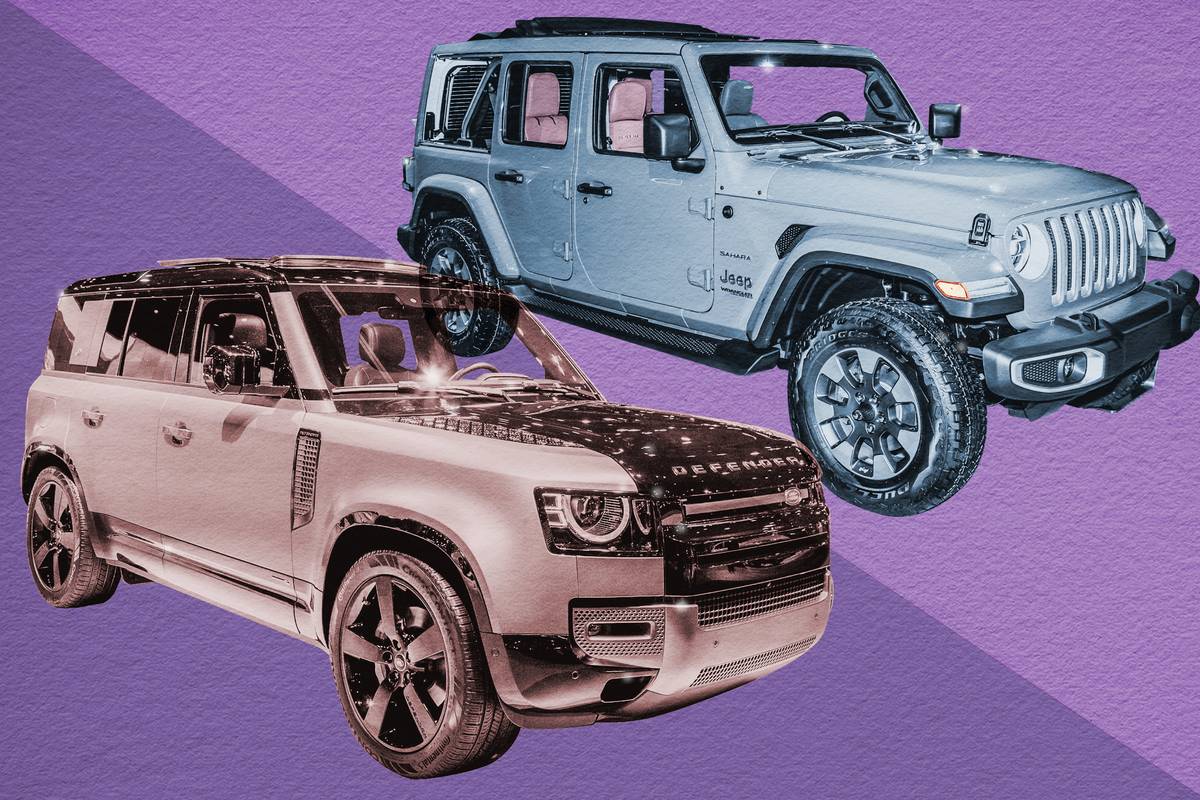 The off-road showdown of the new century may indeed be upon us. The recently redesigned Jeep Wrangler is about to be met in the malls and mountains by an all-new Land Rover Defender, appearing at the 2019 Los Angeles Auto Show and set to arrive back on our shores in 2020 after a 22-year hiatus from the U.S. market.
Related: More 2019 L.A. Auto Show Coverage
Strangely, when Land Rover cited the new Defender's competitors at the SUV's American debut, the Wrangler wasn't among the dozen or so vehicles it listed. That makes no sense to me given they can be had at roughly the same price, they're both premium off-road SUVs and both are available in two- or four-door models. They're also meant largely for the same mission: Go anywhere in comfort and style. But how they go about getting you there differs considerably. After having a solid look at the new Defender in L.A., I decided to match it up with the latest Wrangler to see how they compare head-to-head, on paper and on the show floor.
Off-Road Equipment: Tie
Both SUVs have locking differentials, both have a two-speed transfer case with a low range, both have off-road suspensions (the Land Rover's being a standard adjustable-height air suspension). The big difference in how these two models go about their wheeling is in the theory of what the SUV knows how to do versus what the driver knows how to do. In the Land Rover, everything's electronic; from locking the center or center and rear differentials to selecting a new ride height, it's all about selecting the right terrain on the Terrain Response system. Tell it what you're driving over and it'll adjust everything appropriately. The Wrangler does it differently, expecting the driver to know what they're doing off-road, and it provides them the systems to manually switch on and off in order to accomplish their goal. The Wrangler has a fixed-height suspension, but the Rubicon adds an electronic-locking front differential. The Wrangler offers multiple sizes of wheels and different kinds of tires, but so does the Defender. On an equipment basis, this is pretty much a tie.
Listed Off-Road Chops: Tie
OK, so the equipment is comparable, but which one is built for better off-roading? The Wrangler's specs are formidable — the four-door model has an approach, breakover and departure angle measurement of 44, 22.6 and 37 degrees, respectively, with a maximum ground clearance of 10.9 inches. The Land Rover Defender 110 four-door comes in at 38, 28, and 40 degrees, with a maximum ground clearance of 11.5 inches. On paper, the Wrangler can approach and climb a steeper hill, but the higher ride height and shorter rear overhang of the Defender give it the edge in cresting an obstacle and descending the other side. The Defender can traverse 35.4 inches of water, while the Wrangler manages to cross 30 inches max.
The Wrangler does offer a few things the Defender does not: a manual transmission for one, but that's more a matter of personal preference in what you prefer off-road. The Wrangler also has removable doors, a fold-down windshield and a completely removable roof either as a soft-top, three-piece hardtop or a combination of the two. When you're wheeling, nothing beats the ability to lean out the open space where a door used to be to see where you're putting your tires. So, in terms of initial published specs for off-roading abilities, this one's really a tie.
Prospective Passenger Comfort: Defender
Off-road trucks have never really been known for being comfortable, and while the Wrangler JL has made some big strides in this regard for its latest iteration, it's still a quirky, trucky setup. It's narrow, it's tall, and the backseat isn't exactly what one would call spacious or blessed with plentiful legroom. It's been made better by its new reclining feature and a 1-inch bump for the latest JL model, but it's still not everyone's cup of tea back there. The Defender comes from a luxury brand and is made with interior bits that are considerably more upscale than the more pedestrian Jeep.
Whether or not it's more rugged is debatable — you can hose out a Wrangler interior thanks to drain plugs in the floor, though the Defender does come with standard rubber flooring for wiping out. But the Defender's front and rear seats are much more comfortable, and the backseat has surprising legroom in the 110 model. We don't know how loud the Defender is on the road, but we do know that the Wrangler is not at all luxury-vehicle quiet thanks to its standard removable top. You can get a fabric roof on the Defender, but it's still built as a solid unibody structure.
Power, Towing Specs: Defender
You have a choice of engines in either model, with the Wrangler four-door offering up three possible engines: a 270-horsepower, turbocharged four-cylinder; a 260-hp, turbo-diesel V-6; or a 285-hp, gasoline V-6. The Defender offers two: a 296-hp, turbocharged four-cylinder or a 395-hp, turbo-and-supercharged mild-hybrid inline-six-cylinder. Despite this power, the Wrangler isn't exactly spry (Jeep does not publish 0-60-mph times for the Wrangler for just this reason). Land Rover's not shy about it, however, saying that the new Defender will sprint from 0-60 mph in 7.7 seconds for the four-cylinder and just 5.8 seconds for the six-cylinder. While the Wrangler isn't the rocket that the Defender apparently is with the optional six-cylinder, we have to give the Wrangler some props for offering a super-torquey diesel engine. But that diesel doesn't help if you want to tow a trailer or camper to an off-road site. The Defender lets you drag a far heavier one — up to 8,201 pounds regardless of powertrain or wheelbase, versus the Wrangler's maximum of 3,500 pounds for the four-door and 2,500 pounds for the two-door. Advantage: Defender.
More From Cars.com:
Value: Defender
Here's where it gets interesting. The lowest price of entry for the Wrangler four-door (the one they sell far more of) is $33,290 for a 2020 Sport model with no options. You still get a lot of ability in this vehicle, however, as it's a formidable off-roader even in base form. Plus, it comes standard with a removable top and doors, something no other vehicle can make claim to until the new Ford Bronco arrives. The least expensive Defender 110 is $50,925 but includes all the electronic Terrain Response system goodness, an air suspension, a much more advanced multimedia system and a host of other luxury-truck goodies. It's pricier but far better equipped.
Yet when you start looking at loaded Wrangler Rubicon models with prices topping $60,000, the comparisons get harder. At 60 grand, the Defender still has considerably more content and potential for refinement than the Wrangler, and all of the aforementioned abilities. Based on the high-spec to high-spec trims, the winner of this category is the Defender.
Of five categories, the Defender wins three and ties on the remaining two. At the higher prices at which both of these SUVs are likely to sell, the Defender could represent the better effort here. The first real salvo against the Jeep Wrangler has been fired, and it's a devastating blow. Now to get them on (and off) the road to see if the Defender is as good as it sounds.
Cars.com's Editorial department is your source for automotive news and reviews. In line with Cars.com's long-standing ethics policy, editors and reviewers don't accept gifts or free trips from automakers. The Editorial department is independent of Cars.com's advertising, sales and sponsored content departments.