Bass Model: We Test the 2019 Genesis G70's Lexicon Stereo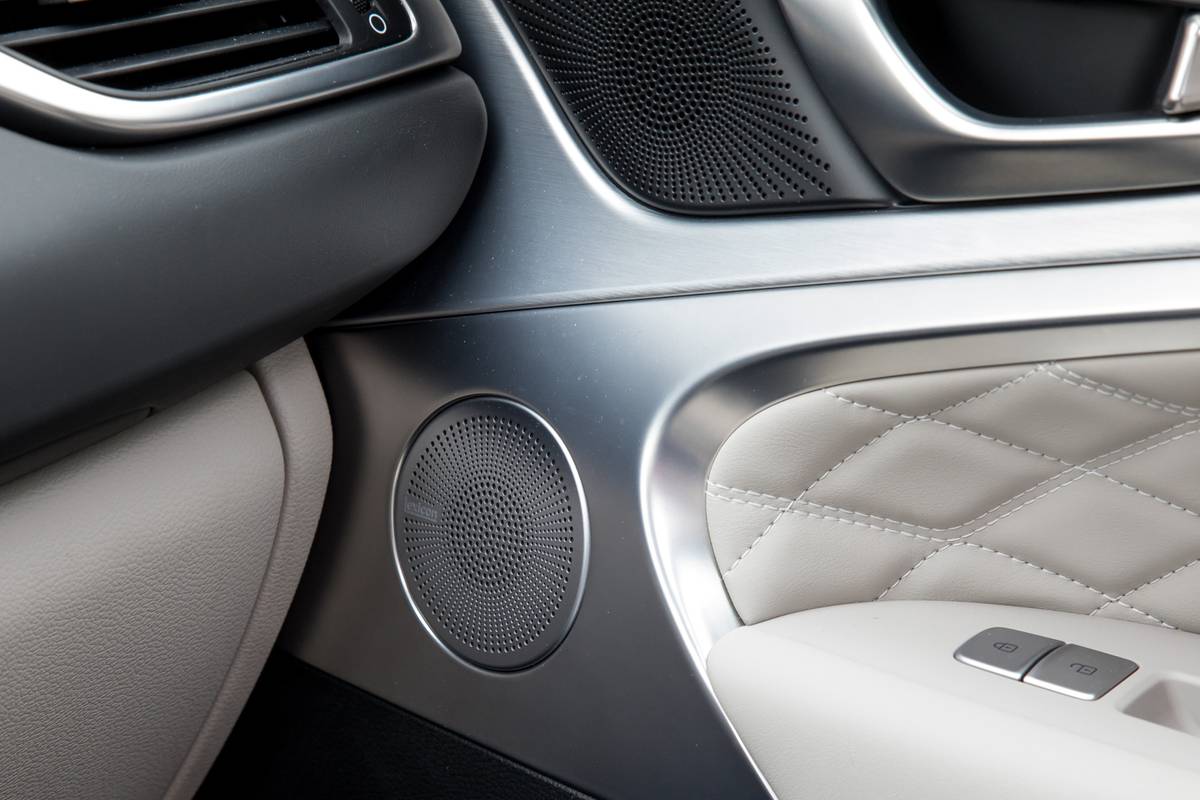 We don't always report on premium car-audio systems, and when we do, it's usually to help shoppers decide if they want to spend the extra money on an option. In the case of our long-term Genesis G70, winner of our Best of 2019 award, that's not really the situation. We haven't heard the G70's basic audio system, and you probably won't either, because the Lexicon 15-speaker audio system comes on practically all versions. The only way not to get it is to buy the base G70 2.0T Advanced with no option packages added. In automatic-transmission-equipped cars, the Lexicon setup comes in the $5,000 Elite Package along with a navigation system, parking sensors, power-folding and auto-dimming side mirrors, leather upholstery and many more features.
But that package is a prerequisite for other option packages, as well, so you're pretty much going to get it, knowing how dealerships order vehicles. It's even standard with the 3.3T version, which bears the G70's larger engine.
Related: Is the 2018 VW Atlas' Fender Stereo Worth the Cost?
Even though it's likely to come in any G70 you might buy, we like to dive deep into many aspects of our award winners, so I'll share my impressions of this system and some noteworthy attributes.
So you know where I'm coming from, I'm an alumnus of Audio and Car Stereo Review magazines, where I trained in critical listening during what was certainly the heyday of aftermarket car audio. As always, I tested this system with the car stationary and idling to ensure adequate voltage, and played source material from a lossless audio format (with no digital compression or perceptual coding, such as MP3s). Because the G70 lacks a CD player, I relied on FLAC files ripped from CDs.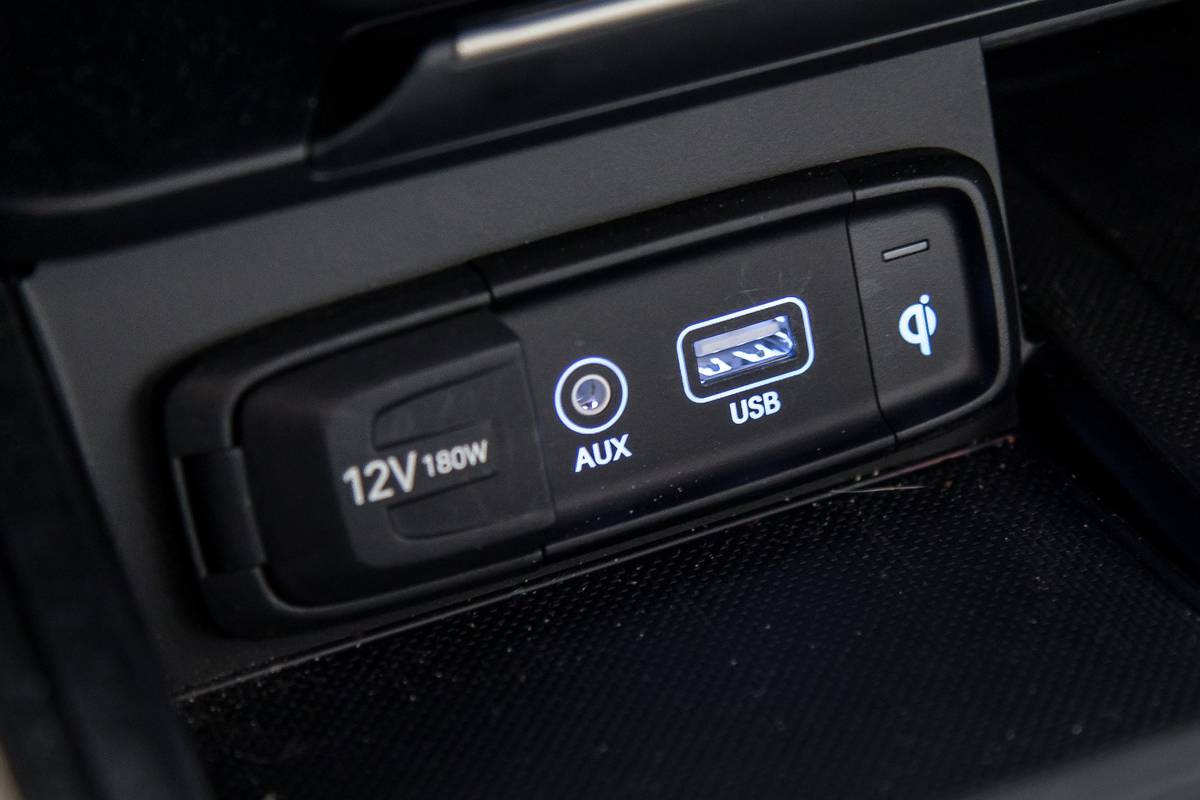 Where Are the Subwoofers?
I'll admit I was disappointed at first to find small, low-profile speakers in the rear deck behind the backseat that weren't even visible from the trunk. (They turned out merely to be surround speakers.) What you need for deep bass is good-sized subwoofers and a sizable enclosure, and a tricky way to do this in a sedan is to mount the woofers in this so-called infinite-baffle configuration and use the whole trunk as a speaker cabinet. It's a strategy you can't use in an SUV, minivan or hatchback, and I'm always infinitely baffled when sedan manufacturers don't take advantage of this location.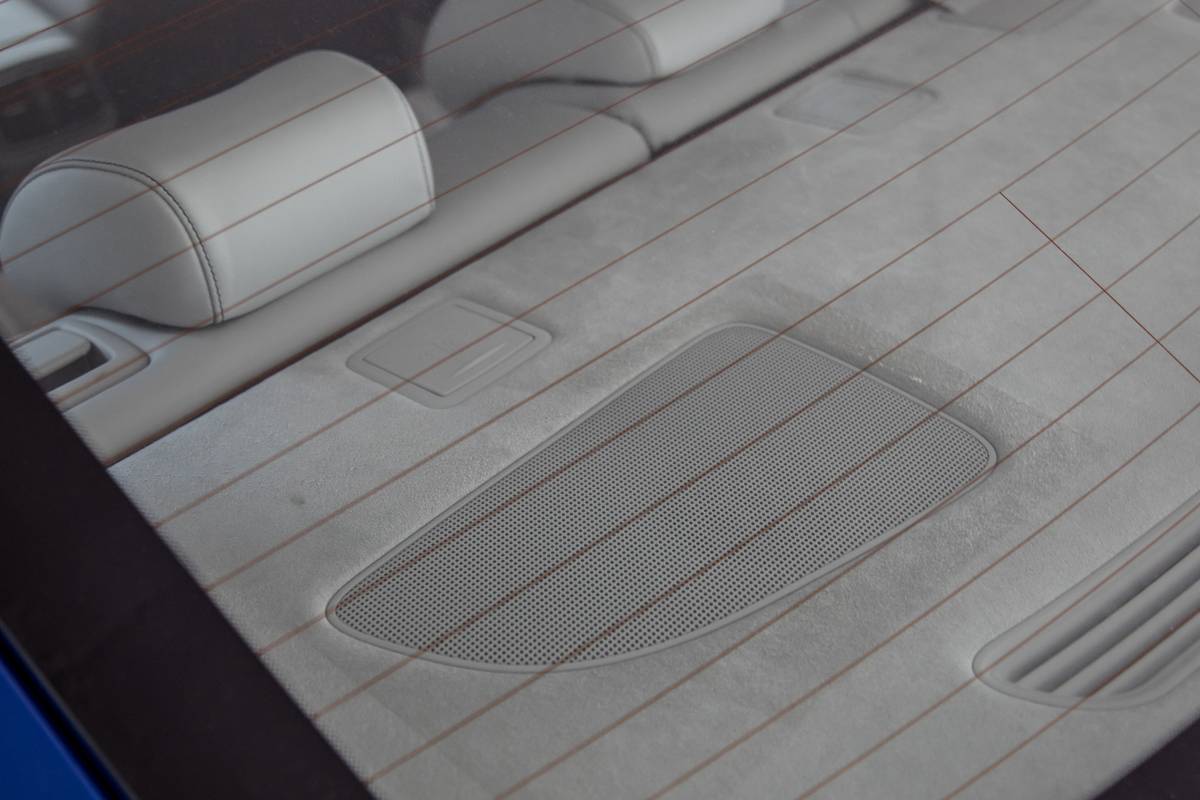 Instead, the G70 has a subwoofer under each front seat. When I learned this, I imagined one of those rounded-off thermoplastic boxes you sometimes find under the backseat of a pickup truck or nestled into the hub of a spare tire, the size of which seldom amounts to more than a liter or two of internal volume. They are unquestionably better than no subwoofer at all, as I detailed in my evaluation of a 2018 Volkswagen Atlas' optional Fender stereo. But they aren't the ticket to exceptional bass extension (depth) that rear-deck mounting or a larger enclosure can provide.
When I peeked under the front seats the first time (and the second and third, too), I didn't see the modules and wondered if they were up in the seat cushions. Then I noticed grilles flush with the floor, suggesting the enclosures sit in floor-pan depressions. This is the sneakiest integration I've seen since Harman Kardon mounted "Frontbass" woofers into sheet-metal enclosures in the footwells of the 2013 Mercedes-Benz SL-Class. Harman Kardon and Lexicon are both owned by Harman International, whose Infinity and JBL brands have sold aftermarket under-seat subs for some time, so this is a logical development.
So how do they sound? Quite good, actually. The best characteristic of the system's bass is that it's well-controlled. It's definitely not as deep as it could be — and that's exactly when designers are tempted to fatten up what is there to trick you, which results in a boomy response that exaggerates the same frequency range no matter which bass notes are being played. That leads to fatigue. The Lexicon system steers clear of such nonsense and stays pretty true to the source material instead. Only a couple of times did it sound a little tubby on material I know well.
I don't want to downplay the bass response, because having two of the 8-inch woofers mounted in the rigid barrier of the floor pan rather than flopping around in a door panel gives more solid bass than I'd expect, but it's still heard more than it's felt. Ironically, I've come to regard the vibration of my pant legs as a sign of robust deep bass, but in this case, I think their proximity to the speaker grilles were the reason. Overall, I experienced deeper bass and better dynamics in a Nissan Maxima equipped with a Bose stereo that we recently evaluated, which turned out to employ two 6-by-9-inch speakers in the rear deck as described above. One of the best performers in the G70's class, the Bang & Olufsen system in the Audi A4, uses a sizable woofer in its rear deck, as well.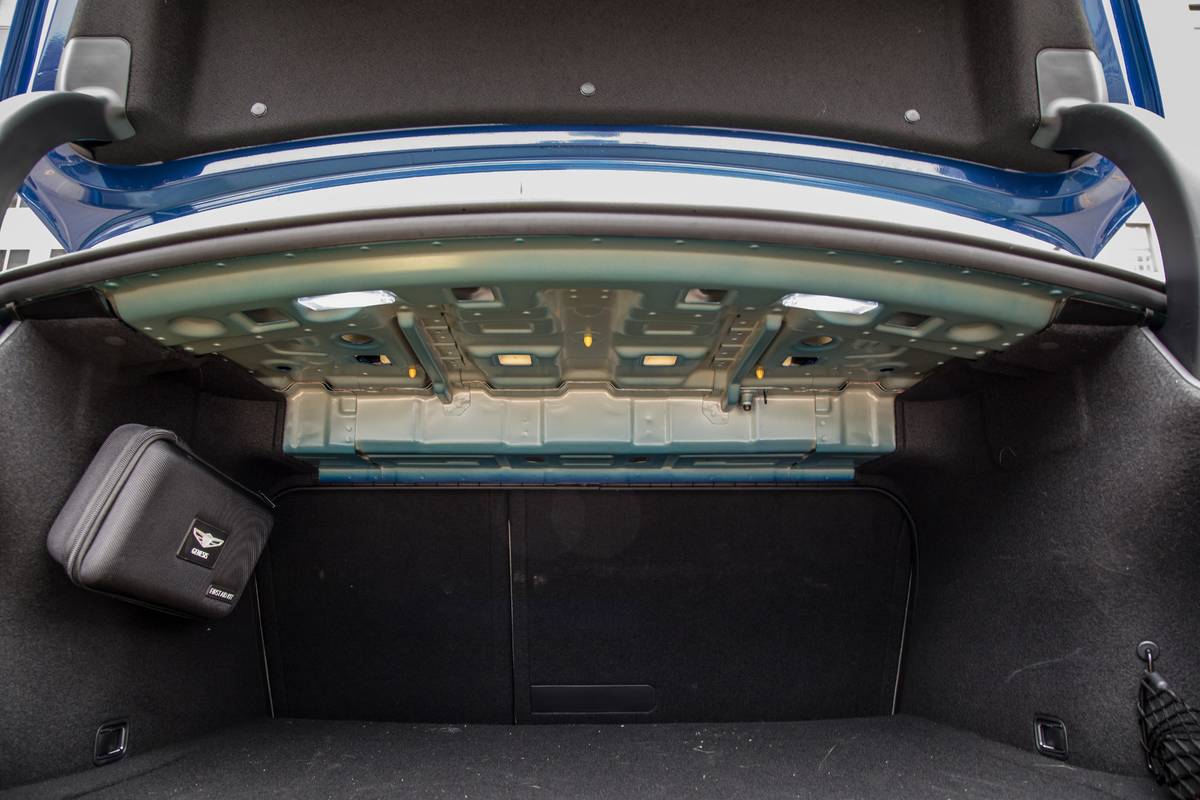 To be fair, I understand why automakers shy away from this approach. For one thing, the speaker itself is a pathway for noise to travel into the cabin from the trunk — something automakers combat, especially for luxury vehicles. (Higher-frequency surround speakers like the G70's above don't attempt to use the trunk as a resonator and thus avoid the same weakness.) Another shortcoming of infinite-baffle woofers in a sedan is that the tone will vary with the trunk's volume, which is to say how much you carry in it. Between these two complications, many sedan manufacturers choose to go the consistent, controllable route and avoid rear-deck mounting entirely — or use the deck but position an enclosure underneath it that dips only slightly into the trunk space, providing a speaker cabinet to seal off the cabin from the trunk in the process.
Tone and Soundstaging
OK, I don't want to sound bass-obsessed. How about the rest of the Lexicon system's tonal character? Overall, it's very good: neutral, clean and detailed. It's easy to hear the separate instruments even in complex arrangements. As always, I listened with the tone controls centered and, in this car, the Clari-Fi processing turned off. The system seemed to recognize that I was listening to lossless files and Clari-Fi seemed to have no effect when activated, but I'm not convinced it does what Harman Kardon claims it does, which is restore missing data from perceptually coded files like MP3s and streaming audio. I'll dig into that some other time.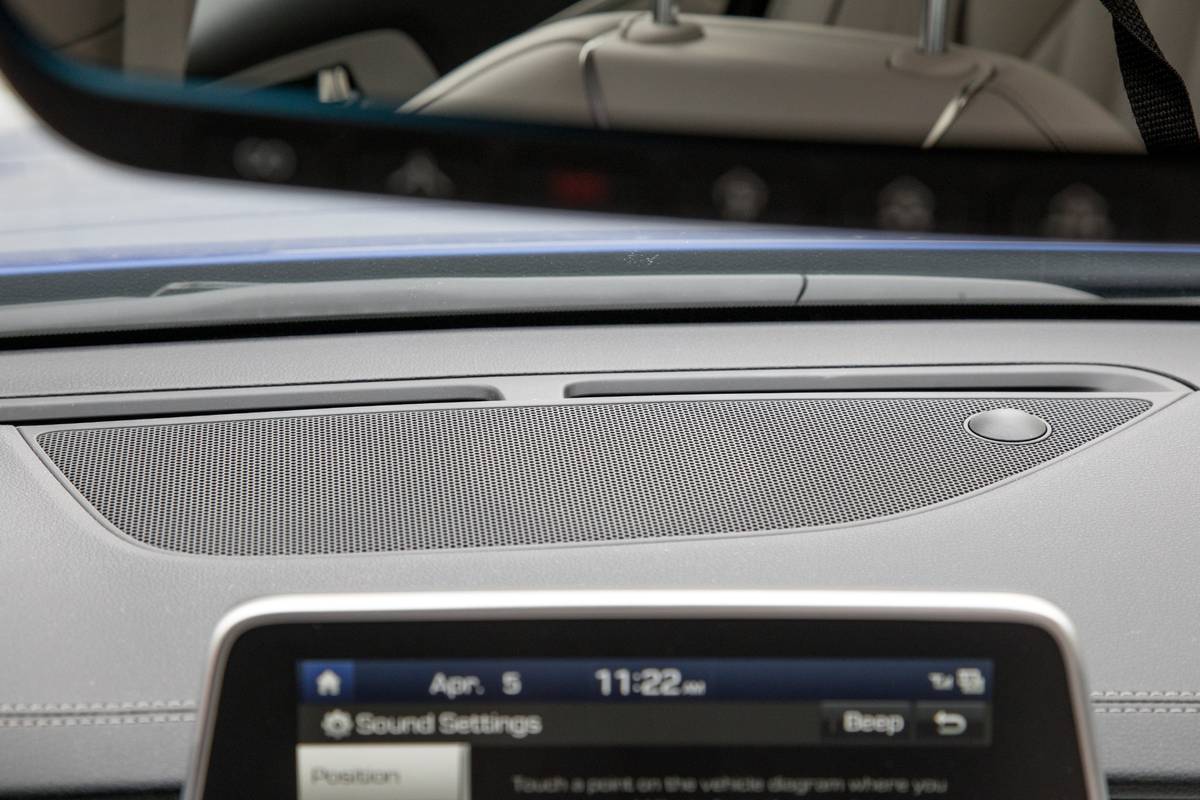 The Lexicon system has good overall soundstaging, which is how the instruments are arrayed in front of you — certainly the least important aspect of a stereo for most people. The source of music is reasonably high and spread out, not localized to the speakers themselves. The fundamental flaw to me is that the center image, such as a lead vocal, tends to wander between a point above the center of the dashboard (and a center speaker) and above the steering wheel. One look at the positioning of the speakers on the driver's door and I'm not surprised: The tweeter is high and clear, and there's a woofer down low, which is fine, but a midrange speaker behind an attractive stainless-steel grille is very close to — and aiming directly at — the steering column. I don't know how you can work around that. Apparently you can't; speakers go where they fit.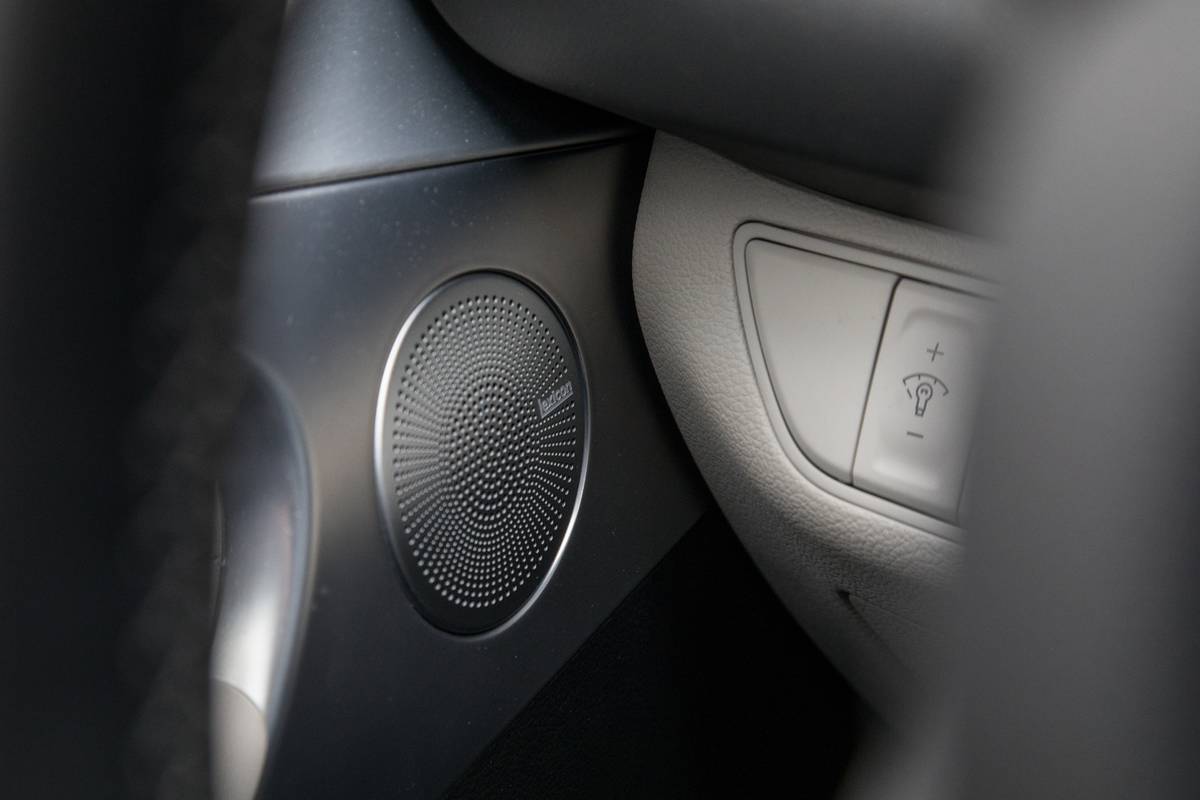 I played with the balance and fader controls a bit, and while it didn't destroy the rest of the sound as it often does, it wasn't able to stabilize the center image without widening it too much or moving it too hard right or left. It should go without saying that I didn't put the stereo's Quantum Logic Surround in its On Stage Mode, which is ridiculous, as are the people who enjoy such modes. (I defend your right to feel like you're surrounded by instruments rather than enjoying them arrayed in front of you, just as I defend my right to regard you as a philistine.) For that matter, the system's Audience Mode exaggerated the wandering-image problem, made the music sound canned and put a weird hole in the soundstage. I say the system is at its best with Quantum Logic Surround turned off.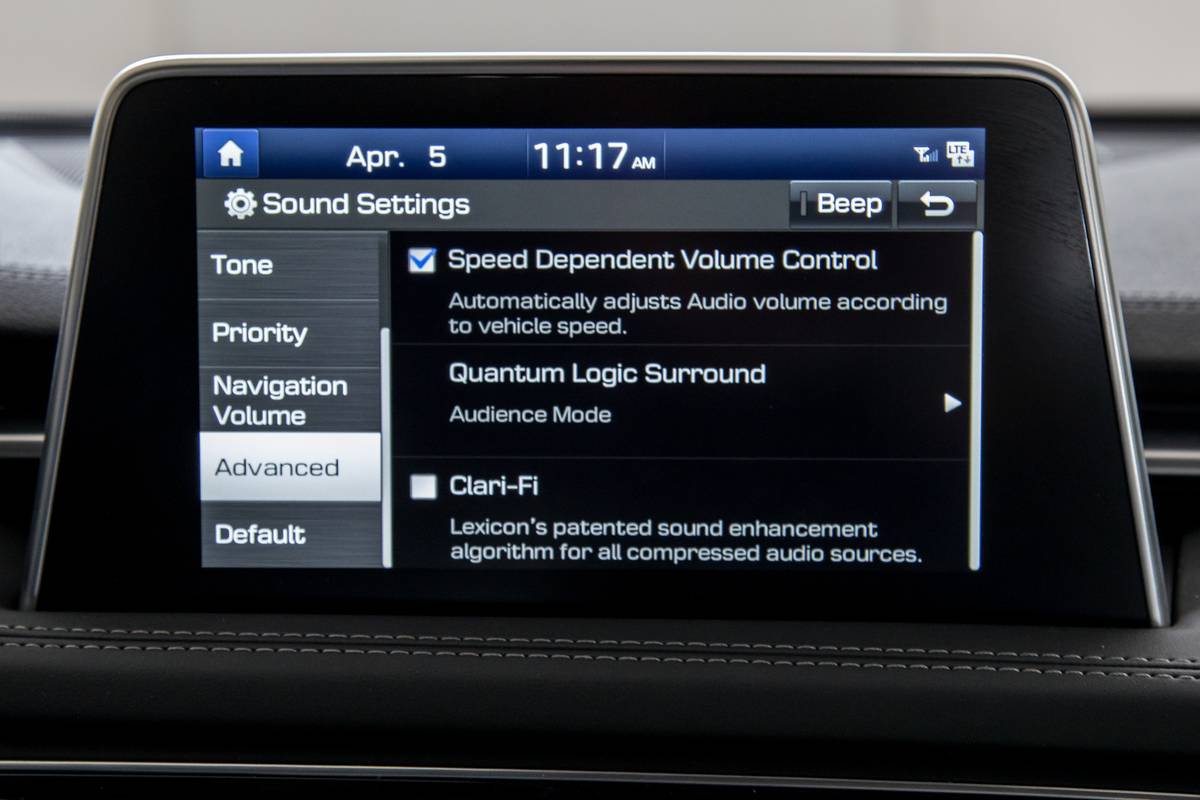 More From Cars.com:
I've evaluated many audio systems, and this is certainly a good one. Among the competition, I still prefer the A4's Bang & Olufsen because it has better bass extension and dynamics, and its surround adjustments and innovative low- and high-mounted tweeters on each windshield pillar allow me to adjust the soundstage to my liking. To get better performance than the best in this class, you have to spend a lot more — on the vehicle and on the system itself.
Cars.com's Editorial department is your source for automotive news and reviews. In line with Cars.com's long-standing ethics policy, editors and reviewers don't accept gifts or free trips from automakers. The Editorial department is independent of Cars.com's advertising, sales and sponsored content departments.