Cars.com's 2019 Car Seat Check Honor Roll: Which Cars Fit Car Seats Best?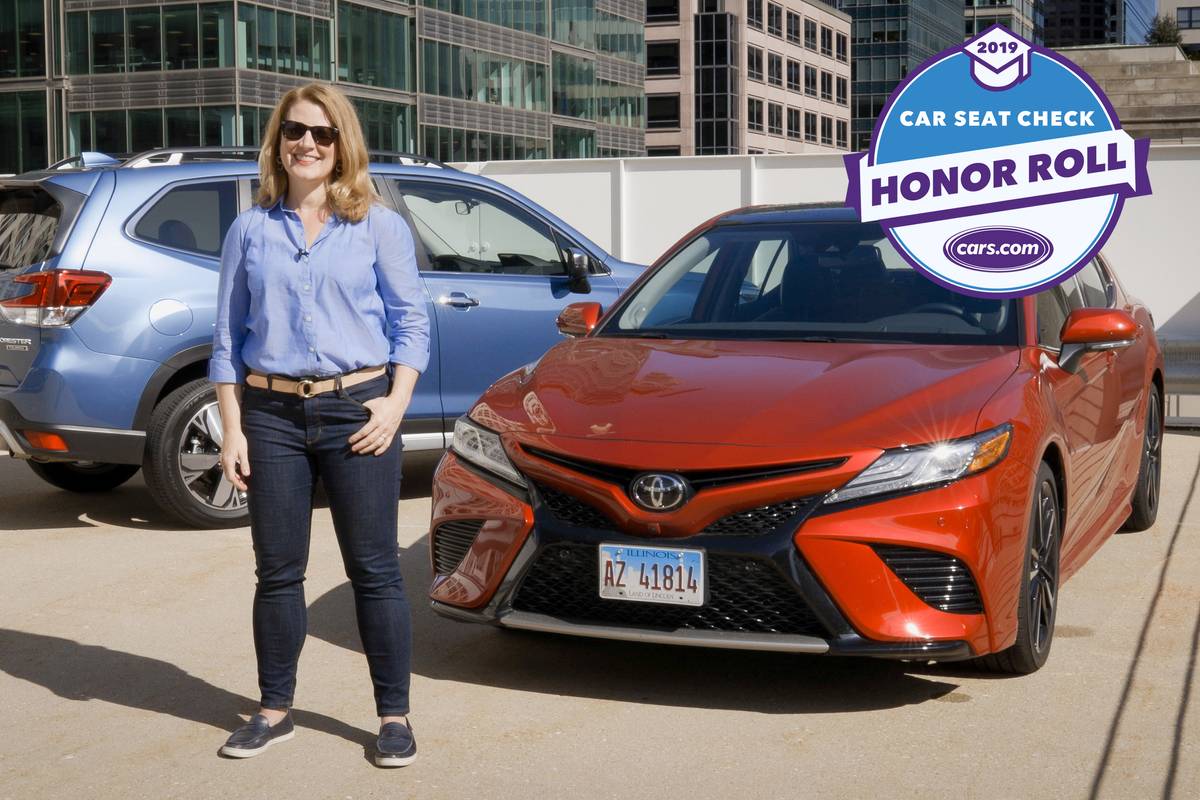 Parenting is tough, and in some cars, installing your kid's car seat can make a calm, collected mom or dad feeling like throwing a tantrum worthy of a toddler. Cars.com's annual honor roll is our way of calling out those cars that make car-seat installation a breeze thanks to a roomy backseat and an easy-to-access Latch system, the anchors that are supposed to make car-seat installation easier. For 2019, we have our largest honor roll ever — with 13 vehicles earning our praise.
Related: More Car Seat Checks
Of the 13 cars and SUVs, eight were recently redesigned, including the Hyundai Santa Fe, Toyota Avalon, Toyota Camry and Toyota RAV4. More automakers are recognizing the importance of the Latch system and making sure they work well for families. Hyundai spokeswoman Michele Tinson said the automaker significantly improved the Latch system's accessibility with the Santa Fe's redesign.
Jennifer Pelky, a senior engineer at Toyota who worked on the Avalon and Camry redesigns, said both cars' Latch systems were improved along with the sedans' overall redesign.
"We were able to utilize the redesign of both vehicles to make Latch ease-of-use improvements, particularly to the lower anchors," said Pelky, who's also a certified child passenger safety technician. "The end result … is a Latch system that has lower anchors that are very easy to both find and connect to a child restraint."
Cars.com's Honor Roll recognizes the vehicles that earned straight A's during our Car Seat Checks published between September 2018 and August 2019. A vehicle must receive the top grade of A in our Car Seat Check categories that test fit for an infant seat, a rear- and forward-facing convertible seat, and a booster seat. Our on-staff certified child passenger safety technicians also test a car's Latch system for ease of use.
These cars and SUVs made the grade in our 2019 Honor Roll:
The all-new 2019 BMW X7 is a roomy three-row SUV that's loaded with technology, style and luxury. The BMW X7's third row has enough legroom to comfortably fit adults — or bulky forward-facing convertibles or booster seats — for longer rides. The third- and second-row seats easily accommodated our three styles of car seats, and the Latch system was easy to use.
The 2019 Santa Fe is a two-row mid-size SUV that families are sure to like thanks to its roomy backseat. Families also will appreciate its value, offering the latest in active safety features — automatic emergency braking, blind spot warning, lane-keeping assist and adaptive cruise control — as standard equipment. The Santa Fe takes home another honor: It's been crowned Cars.com's Best Mid-Size SUV of 2019.
Shop now for the 2019 Hyundai Santa Fe.
If you're looking to do right by your family and the environment, Jaguar has you covered with its 2019 I-Pace. With an estimated range of up to 240 miles, this electric luxury SUV is ready for family road trips — well, within reason. This five-seater's ample backseat easily handled car-seat duty.
Shop now for the 2019 Jaguar I-Pace.
For 2019, Nissan gave the Maxima some TLC, refreshing its exterior styling, updating the interior and adding tech and safety features to this full-size sedan. In the 2019 Maxima, the Latch system even got a little love: The lower Latch anchors in the outboard seats are colored blue to help parents find them easily.
Shop now for the 2019 Nissan Maxima.
While all the vehicles on our list have earned all A's in their Car Seat Checks, the 2019 Nissan Murano should receive extra credit because it can fit three car seats across its backseat. This mid-size SUV seats five and received multimedia updates for the model year.
Shop now for the 2019 Nissan Murano.
When it came time to redesign the 2019 Forester, Subaru had one goal: Don't screw it up. The good news is the automaker improved on its popular compact SUV and didn't mess up its already-stellar Latch system and car seat fit.
Shop now for the 2019 Subaru Forester.
For 2019, Toyota gave its full-size sedan, the Avalon, the works: a new platform, new looks, new powertrains and new tech, including autonomous emergency braking with pedestrian detection, adaptive cruise control, lane keep assist and automatic high beams. Toyota also reworked the Avalon's Latch system to make it easier for parents to use.
Shop now for the 2019 Toyota Avalon.
Redesigned for 2018, the Toyota Camry remains a favorite with shoppers, especially families. The redesign significantly improved the mid-size sedan's driving experience and now includes a slew of standard safety features for getting your most precious cargo from A to B. With its redesign, the Camry's Latch system also was reworked for better accessibility.
Shop now for the 2019 Toyota Camry.
Whether it comes with two or three rows, the Toyota 4Runner is known as a rugged SUV that's just as at home off-roading as it is on city streets. For our Car Seat Check, we tested the two-row 4Runner and found it able to easily handle family duty. It also easily handled three car seat installed across its second row.
Shop now for the 2019 Toyota 4Runner.
Compact SUVs are popular with just about everyone, and Toyota looked to capitalize on that popularity with a redesign of its 2019 RAV4. As with the Toyota Avalon and Camry, the RAV4's Latch system was redesigned for easier usage. Toyota also added a hybrid version of the RAV4.
Shop now for the 2019 Toyota RAV4.
Volkswagen wowed our editors with its 2018 Atlas, a three-row SUV that easily handled family duty. We were so impressed by it that we gave it our Best of 2018 award. Thanks to its wide second-row, the Atlas can fit three car seats across it. And its roomy third row will easily handle a forward-facing convertible or booster seat.
Shop now for the 2019 Volkswagen Atlas.
Chalk up another accolade for the Volkswagen Tiguan. In addition to being named Cars.com Best Compact SUV of 2019, the Tiguan is on the Car Seat Check Honor Roll. The Tiguan comes in two or three rows. The two-row Tiguan received the high grades in our Car Seat Check; the three-row version struggled with car seats in its third row.
Shop now for the 2019 Volkswagen Tiguan.
Wagons used to be the family hauler, and while they've fallen out of favor with shoppers for now, the redesigned Volvo V60 could easily change people's minds. The V60 has easy-to-access Latch anchors and a roomy backseat for those bulky car seats.
Shop now for the 2019 Volvo V60.
More From Cars.com:
Cars.com's Editorial department is your source for automotive news and reviews. In line with Cars.com's long-standing ethics policy, editors and reviewers don't accept gifts or free trips from automakers. The Editorial department is independent of Cars.com's advertising, sales and sponsored content departments.