What's the Most Worry-Free Car for 2016?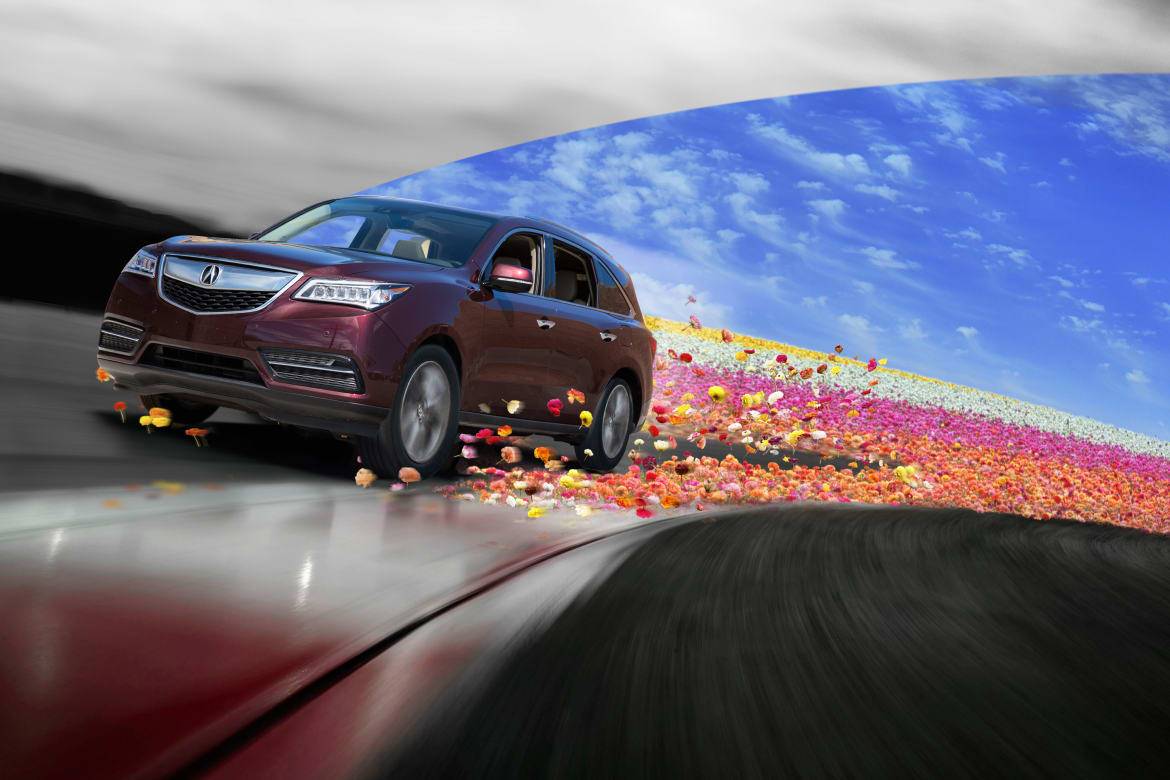 CARS.COM — Honda and its Acura luxury division topped Cars.com's 2016 Worry-Free Index, scoring three of the top four spots, while Ford made its strongest showing to date. The Acura MDX SUV jumped four spots from its 2015 rank to top the index as the most worry-free car for 2016. Acura's smaller RDX SUV, meanwhile, leaped 13 spots to land at No. 2. The Toyota Highlander and Honda Odyssey ranked third and fourth, respectively, while three Ford models — the Mustang sports car, F-150 pickup truck and Fusion sedan — took fifth, sixth and seventh.
Related: Toyota, Lexus Top Cars.com's 2015 Worry-Free Index
It's Ford's strongest showing yet. In the WFI's three-year history, only the MKZ Hybrid sedan from Ford's Lincoln division made the list, and that was two years ago. The Mustang, F-150 and Fusion are the first Fords to make it.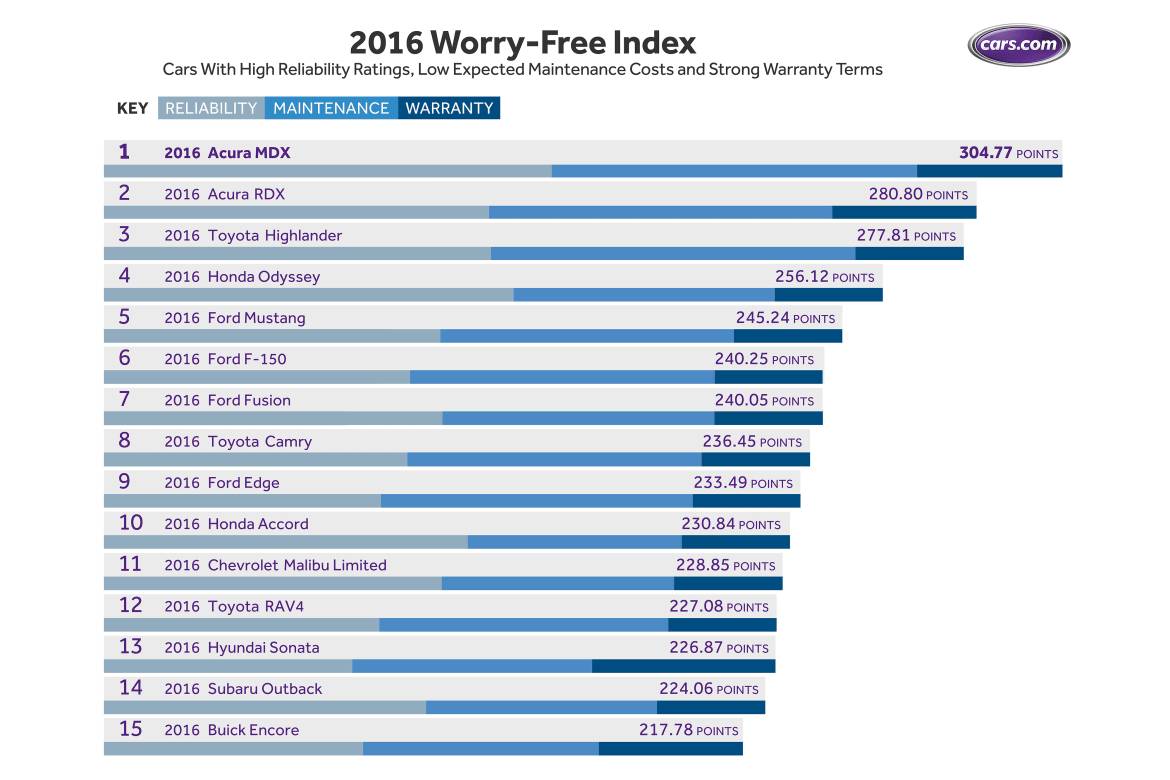 The top cars averaged 244.70 points in the 2016 WFI, down more than 15 points from the 2015 WFI's top cars (which averaged 260.29 points). Still, several returning models saw a big jump in scores. The Ford Fusion and Acura RDX gained 82 and 57 points from 2015, respectively, as both cars saw large increases in their consumer-reliability scores. Still, only three cars scored higher than 275 points this year. That's half as many as a year ago. Fast forward a year, and redesigns, lower sales or too-few consumer reliability ratings eliminated five of those six cars from WFI eligibility.
Reliability continues to be a crucial factor for car shoppers. In June, J.D. Power and Associates noted that expected reliability "still tops [the] list of purchase factors" in its survey of more than 80,000 new-car owners. Judging by past J.D. Power surveys, shoppers have held the same sentiment for some time. In recent years we've seen everything from gas-mileage scandals and new crash tests to massive safety recalls and new self-driving technology, all of which should have some bearing on what car shoppers care about. But consumers continue to put one single factor above all else: plain old reliability.
How We Create the WFI
Our Worry-Free Index rates popular new cars that are most likely to be trouble free, or at least free when trouble strikes.
The WFI looks at consumer-reported reliability scores plus warranty provisions and expected maintenance and repair costs for the top 120 best-selling cars, a group that represents about 90 percent of consumer auto sales. We are confident that the cars on this list will provide the most worry-free ownership experience based on our users' reported reliability, low expected maintenance and repair costs, and strong warranties. We took the market's top sellers through the end of September and analyzed reliability scores from thousands of Cars.com consumers over the most recent model years. We also scrutinized expected repair costs, which gauge the frequency and seriousness when things go wrong. But reliability alone isn't the only component of what makes a car worry free, so we looked at five-year estimated maintenance costs, which factor in any free-maintenance programs as well as manufacturers' warranty provisions.
As in years past, we disqualify cars in the first year of their current generation and any cars with bad crash-test ratings from the Insurance Institute for Highway Safety. We looked for both good and complete data, disqualifying any models without enough consumer reliability scores. Strong scores reflect cars that have a solid track record with lots of information to draw on. A vehicle can score a maximum of 350 points.
Want to see past Worry-Free Indexes? Go here.