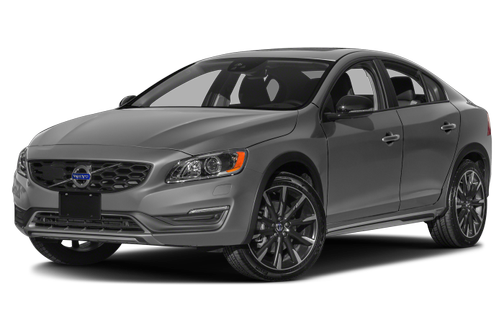 Key specs
Base trim shown
Overview
The good:
Responsive steering
Sound quality of available premium stereo
Hill descent control standard
Engine sound and response
The bad:
Trunk space
Ergonomic choices
Electronic glitches
Tight headroom
1 trim
Starting msrp listed lowest to highest price
Notable features
New Cross Country and Inscription models
All-wheel drive standard (Cross Country)
Higher ride height than standard models
City Safety low-speed collision avoidance standard
2016 Volvo S60 Cross Country review: Our expert's take
The verdict:
Versus the competiton:
While the Cross Country versions of the 2016 Volvo S60 sedan and V60 wagon have higher ground clearance, plus bodywork that suggests off-road capability, their firm suspensions mean they're best-suited for on-pavement driving.
I tested both of these; reviews of the S60 and V60 on which the XC versions are based are also available. The XCs' competitors include all-wheel-drive-only vehicles such as the Subaru Outback and Audi Allroad. Compare them here.
Exterior & Styling
Cross Country models are easily spotted because of their raised height compared with the standard V60 and S60; their 7.9 inches of ground clearance is about 2.5 inches more than conventional models. They also feature skid plates that protect the undercarriage from damage.
The look wears well on the wagon but makes the otherwise well-proportioned S60 look ungainly. Something about the size of the wheels, raised bodywork and general proportions just doesn't look right on that body style.
There are pieces of body cladding on both models that are subtler than previous off-road Volvos, like the XC70. In this way, the XCs manage a more elegant body design than both the previous Volvos and the Outback and Allroad.
How It Drives
Cross Country models are powered by a 250-horsepower, turbocharged 2.5-liter inline-five-cylinder engine matched with a six-speed automatic transmission. The combination is one of the best parts of driving the car.
Engine response is good off the line, and there's a sensation that there's a lot of power on reserve if you need it. The XCs move away well from a dead stop, and they're responsive when you need to make a pass on the highway. There's a fair amount of engine noise in the cabin, but the engine sounded really good to me, so I didn't mind.
The other standout positive of the Cross Country models is their steering. It provides a lot of feedback and really feels connected to the road. Those who prefer a lighter steering setup, though, will want to take a test-drive and pay close attention. These Volvos are among the few cars on the market that have too heavy a steering setup for some people.
Engine response and steering feel give you confidence to hustle a Cross Country, and the suspension is firm enough to reward that kind of aggressive driving.
And that's the problem. The XCs ride so firmly that they're just not comfortable on the rough stuff — or even on rough pavement. Put another way, I've driven the Outback in a variety of off-road settings and have always felt as if the suspension were soaking up some of the crap I was driving over and that the car was working to clamber over and through obstacles. The XCs feel so stiff you worry they might snap. Also, the standard wheels are 18-inchers, with 19-inch wheels optional. Here again, if I were going off road I'd want something with a bit more sidewall (to absorb bumps) than an 18- or 19-inch wheel provides.
Conversely, there's no doubt I'd prefer the XCs' overall power and handling if I were facing a long drive on twisting roads. In that setting, the Outback just can't match the Volvos' poise and power.
Both the sedan and wagon get the same EPA-estimated 20/28/23 mpg city/highway/combined. Sticking to combined mileage figures, the Cross Country models trail the Allroad (24 mpg) and four-cylinder Outback (28 mpg), but edge out the V-6 Outback models' 22 mpg.
Interior
If the off-pavement performance of the Volvos is underwhelming, their interiors are a highlight. There's a nice mix of high-quality materials. The leather seating surfaces look and feel good, with plenty of support. Side-bolstering is pronounced, but I didn't find it to be uncomfortable.
Volvo's material choices are consistent with a luxury brand. Cross Country buyers have a choice of metallic, piano black or wood inlays; our test model came with the wood trim. Normally I'm not a fan of this type of trim, regardless of automaker, but in this case Volvo's picked a material with good graining and a nice finish that appears attractive to my eyes.
Further, everything felt good in my hands. What appears to be metal feels like real metal. There's nothing plasticky or shoddy-feeling in the XCs, although one might want to suggest to Volvo that nobody uses a number pad to dial a telephone number anymore, so we might be able to clean up that part of the center console.
Visibility, however, is an area where Cross Country models struggle. There's a sloping windshield pillar that blocks a lot of the road, especially pedestrians. Also, the XCs' sight lines are different from the regular S60 and V60 and I found them harder to park than the conventional models. Both XCs feel like they're much larger cars than they really are, but, weirdly, the sedan was much more affected by this.
Finally, both models were cramped for me, especially in the headroom department. A moonroof is standard in all XCs, which cut into my space compared with the S60 sedan. That car does without the standard moonroof in lower trim levels, providing more than a half-inch more headroom. The specifications say all other seating dimensions and interior volume are the same between regular and Cross Country versions of the S60 and V60.
Whatever the reason, despite the higher ground clearance it sure felt as if my driving position wasn't really any higher than it would have been in many other cars. So the effort Volvo went through to raise the XCs didn't pay off for me, at least as far as my perception went.
Ergonomics & Electronics
This is another area where Cross Country models struggle. Volvo made a lot of odd choices.
For starters, using the tuning button on the stereo requires you to turn the knob to get the system to respond, then turn it more to get it to start changing stations. Then you have to click a button inset in the dial to actually change it to a new station. It's a lot of steps to do something very simple. As nice as the controls feel, it's just too much work.
Also, if you want to go from adjusting radio stations to the navigation settings, you have to make a selection from a ring of buttons around the telephone keypad buttons. It's hard to remember which button is placed where … and even harder to see the buttons at a glance.
Ditto with the climate controls, where Volvo has you change the zones that the air blows out of by pushing a profile of a body. Yes, it's how Volvo's done it for a while. No, that doesn't mean it's good. Simply put, after driving other cars I became aware of how frustrating both the audio and climate controls were in the XCs.
Finally, the Volvo system was the most likely to quit working, either while inputting a destination or while playing music from my phone. That's highly unusual in my experience testing cars, so it bears mentioning.
Cargo & Storage
Cargo space is the single biggest difference between the V60 Cross Country and the S60 Cross Country. It's to be expected that a wagon would offer more room than a sedan, and this is the case. However, the S60 sedan has an almost-unusably small trunk. It's wide from side to side and extends forward from the rear bumper a good amount, but the opening from top to bottom is quite small. I kept fiddling with items in the cargo area in hopes of finding more room because I couldn't believe how small the trunk was.
The V60 Cross Country is better in this respect, offering almost as much volume as the regular V60: There's a maximum of 43.1 cubic feet with the backseat folded, versus 43.8 cubic feet in the regular V60.
Safety
Neither the 2016 S60 nor the V60 Cross Country has been crash-tested by the Insurance Institute for Highway Safety or the National Highway Traffic Safety Administration.
Standard safety features include what Volvo calls City Safety, which is autonomous braking that — at low speeds — applies the brakes to avoid a collision not only with other cars, but also with pedestrians.
Notable safety options are included in a $925 Blind Spot Information System Package, including rear cross-traffic alert, front parking sensors and blind-spot warning lights.
Value in Its Class
In some areas — notably interior quality and driving dynamics — the Cross Country holds up well against the luxury class, and it soundly beats competitors like the Outback. However, its ergonomics and especially its multimedia/electronics systems lag not only direct competitors, but the market as a whole.
While you could say the XCs' competition is the Outback and Allroad, I'm not sure the better comparison isn't between them and the regular S60 and V60 models, both of which are impressive on the road and competitive on price when similarly equipped.
Faced with the choice, I can't see any attributes of the Cross Country models that vault them ahead of their "conventional" siblings. Their increased ride height is offset by their tight headroom, and their driving dynamics and engine response are not superior to the S60 or V60. In short, choosing a Cross Country over another Volvo is a case of picking style over substance.
Warranty
New car and Certified Pre-Owned programs by
Volvo
Certified Pre-Owned program benefits
Maximum age/mileage

Less than 5 years/less than 80,000 miles

Basic warranty terms

5 years/unlimited miles , upgradeable up to 10 years

Powertrain

N/A

Dealer certification required

Roadside assistance

Yes
View all cpo program details

Have questions about warranties or CPO programs?

All model years for the Volvo S60 Cross Country