2017 Detroit Auto Show Winners and Losers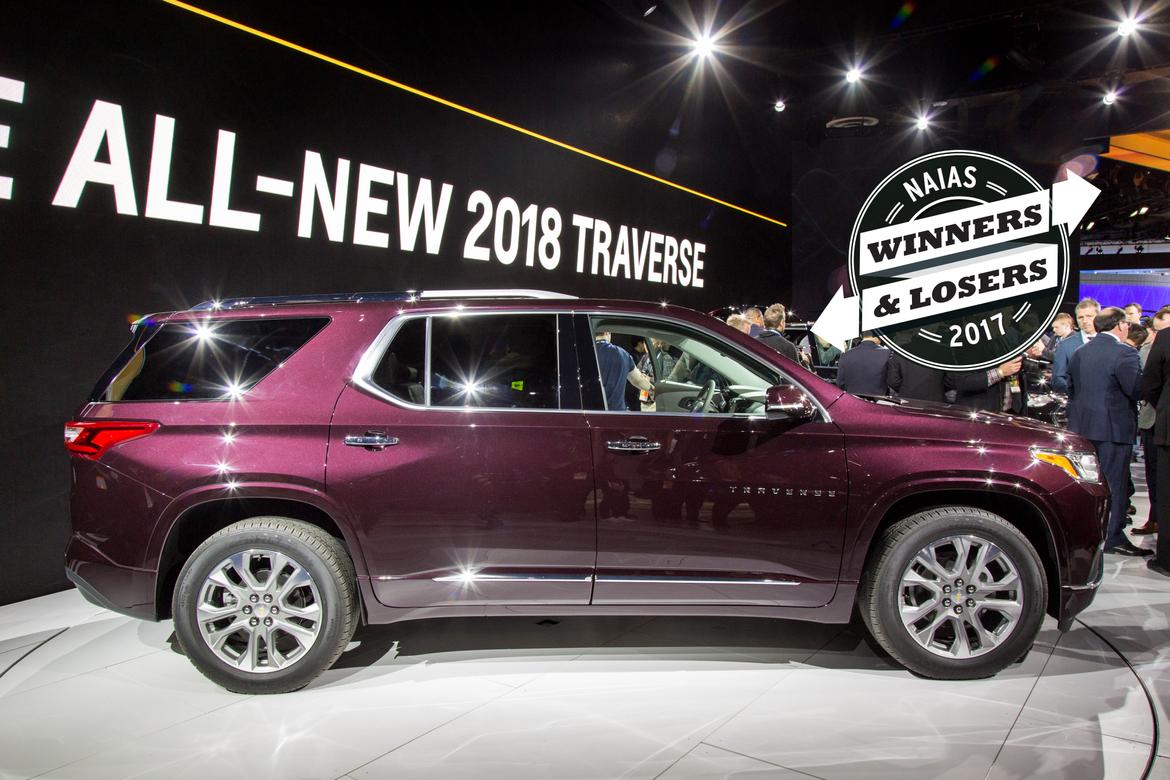 CARS.COM — More than 20 cars, trucks and SUVs took a bow under the bright lights at the 2017 North American International Auto Show in Detroit this week. From the Toyota Camry to the Honda Odyssey to the Chevrolet Traverse, the 2017 Detroit auto show did not disappoint. It was filled with debuts of cars that many Americans drive.
Related: 2017 Detroit Auto Show: Best in Show
Cars.com editors Aaron Bragman, Joe Bruzek, Mike Hanley and Fred Meier logged thousands of steps as they roamed Cobo Center seeing all the automakers had to offer. Here are their hot takes on what worked and what didn't at this year's show.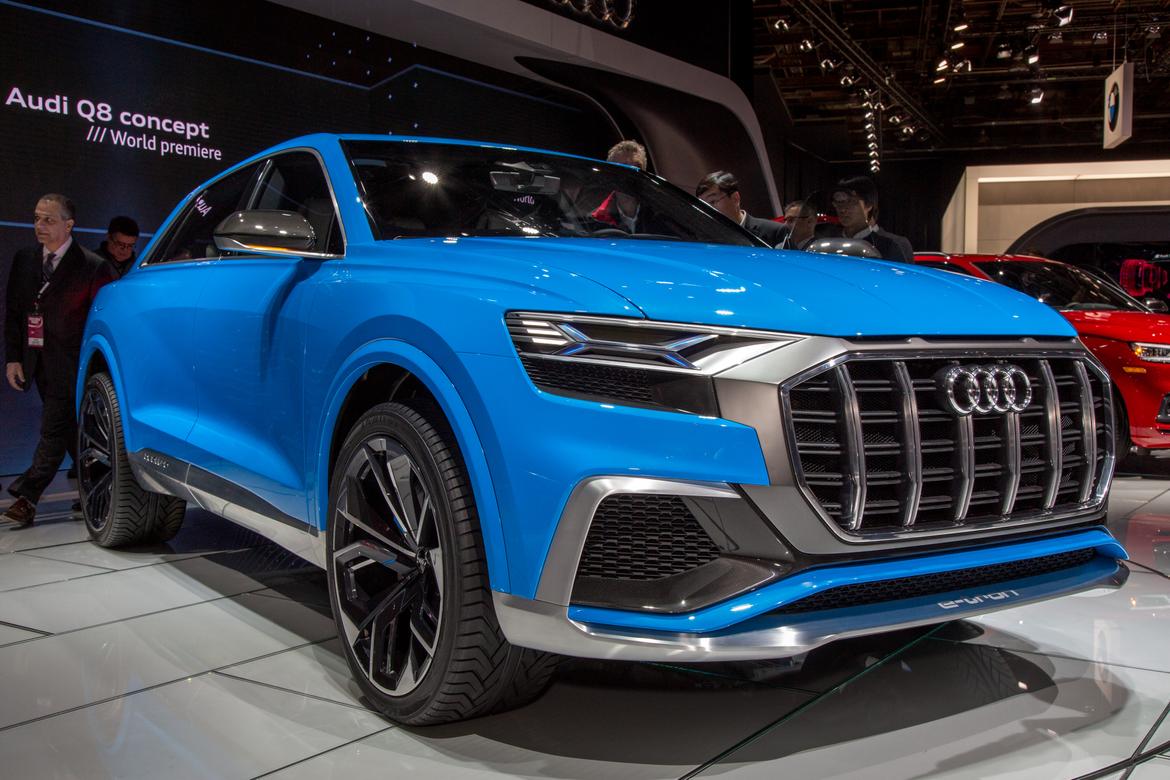 Joe Bruzek: Winner
The Audi Q8 concept has an imposing presence. What I like about the Q8 are details such as the frameless windows similar to a traditional coupe and the multimedia system that goes without Audi's traditional controller. The concept previews what an Audi interior could look like if it ditches mainstays like that controller in favor of a touchscreen, and I dig it.
Mike Hanley: Loser
I like the wider interpretation of Audi's familiar grille, but I have the same issues with this concept as I do with coupelike SUVs from BMW and Mercedes-Benz that are already in production: The Q8 is irredeemably compromised. It has coupelike styling but not the performance of a true coupe combined with aspects of an SUV but not the full utility of one.
Aaron Bragman: Loser
I was wondering when Audi was going to get around to making its own BMW X6, Mercedes-Benz GLE coupe or Acura ZDX (remember that?). The idea was dumb the last few times we've seen it — all the visibility and cargo room of a sports coupe combined with the driving dynamics of a porky SUV — and it's no better here. Sorry, I can't get excited about yet another example of a ridiculous segment intended to simply part clueless rich people from their money.
Fred Meier: Loser
I'm not sure what this this concept wants to be. The coupe SUV may be a frivolous idea in itself, but with the Q8 concept, Audi can't bring itself to fully embrace the silliness. It's more a hefty, squarish, four-seat Q7 than a potential rival to the jacked-up fastback "coupe SUVs" from BMW and Mercedes-Benz.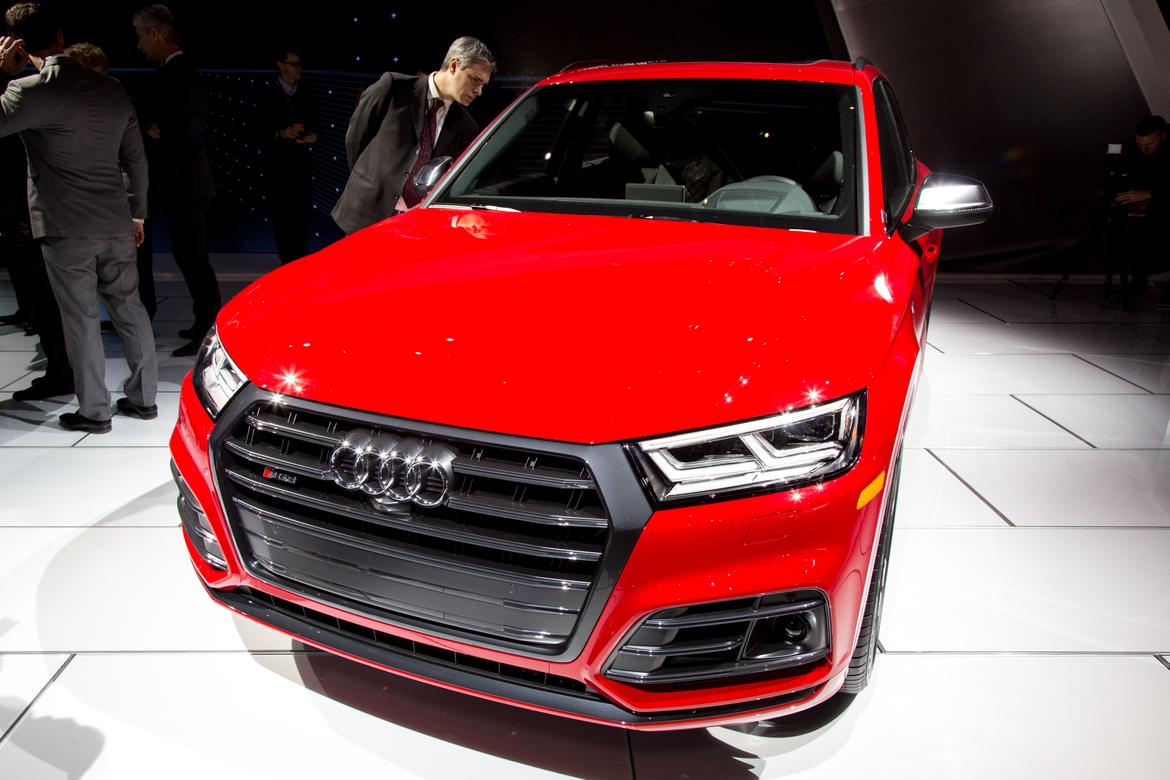 JB: Winner
We blasted the redesigned Q5 at the 2016 Los Angeles Auto Show for its unsubstantial interior quality and small backseat. In certain instances, I believe more power and trick suspensions can make a car less sucky, and I'm a big fan of the outgoing Audi SQ5 — so this new SQ5 has more potential to stand out.
MH: Loser
The high-performance powertrain is promising, but the unremarkable cabin quality remains along with exterior styling that seems uninspired and bloated. Performance SUVs are a bit confounding to begin with, and there's little here that excites.
AB: Winner
While the SUV coupe idea is stupid, a proper performance-enhanced SUV such as the SQ5 is OK in my book. Styling inside and out isn't too wild, but the performance chops are there. I agree that the cabin materials seem a little cheapened versus previous Audis, but not sufficiently for me to count that against it too harshly. It's nice inside, but not overly nice.
FM: Winner
The sportier, dressed-up SQ5 interior overcomes, though not entirely, some of the shortcomings in the new Q5, and the performance specs promise a load of fun in the compact SUV package. The S styling differences, however, make it seem bulkier and stodgier than the regular Q5.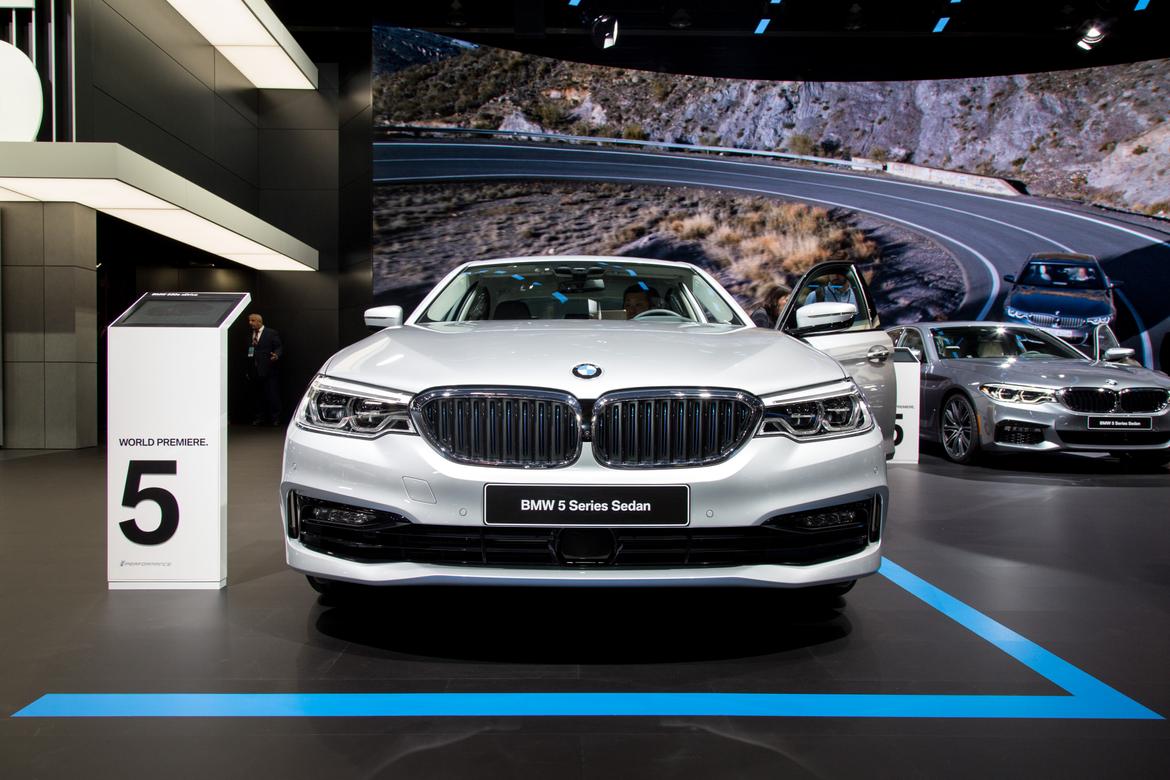 JB: Winner
BMW took many of the goods from the recently redesigned 7 Series, such as gesture control and a rear entertainment system with dual screens, and put them into a much more manageable package. The dual rear screens make for a claustrophobic backseat, but the front seats are pillowy soft and luxury abounds front and back.
MH: Winner
BMW follows the same formula as its German peers with styling that's much the same across its car lineup, but the new 5 Series' understated look appeals nonetheless. Like Bruzek said, it's filled with tech features and is luxuriously appointed like its big brother, the 7 Series.
AB: Loser
I'm tired of trying to play "spot the differences" between BMW model years. Unless you're a hard-core fanboy, recognizing that this is a new 5 Series is an effort in hunting for minutiae. It doesn't look any different, really, than the last model, inside or out.
FM: Winner
I agree with Bragman regarding the lack of differences — and I'm OK with that. For me, it's the right-sized BMW sedan and it didn't need fixing. If anything, there's a little too much 7 Series influence for this sportier sedan. The more sophisticated tech is a plus, but the dual screens in back seem like gratuitous clutter.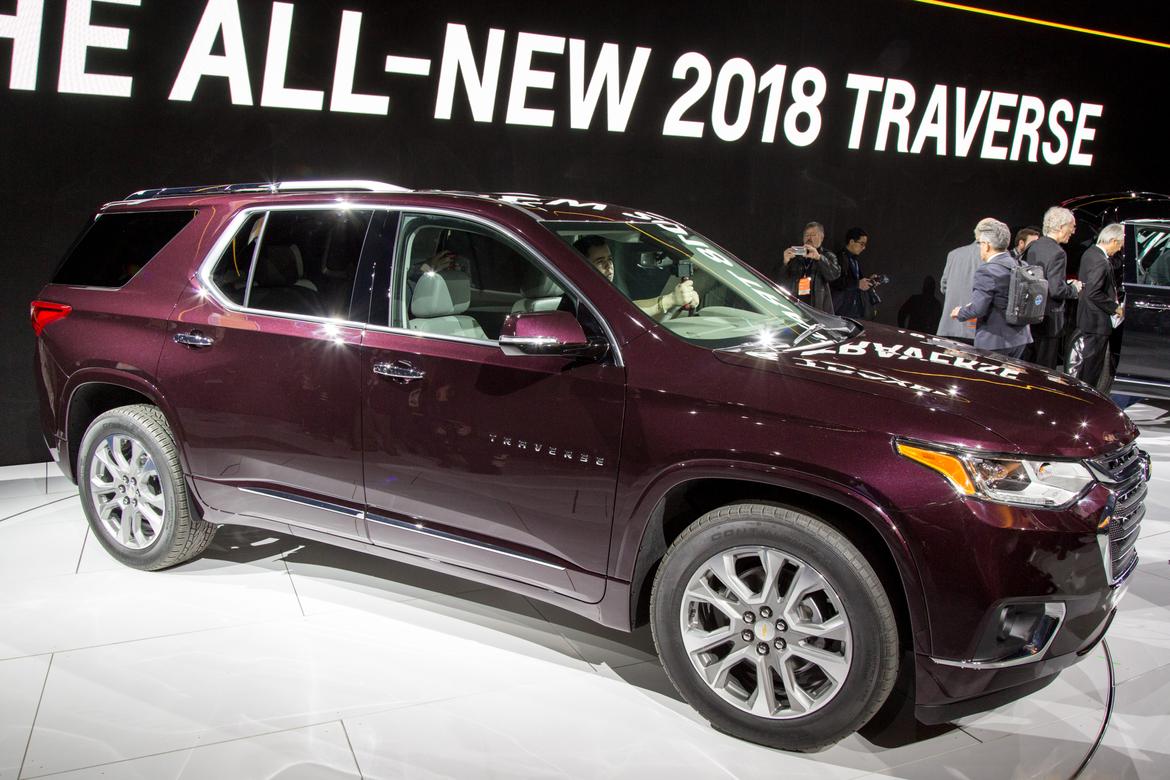 JB: Winner
The new Traverse is roomier and more functional than the outgoing one, and it looks more like an SUV despite its minivanlike utility; those are important characteristics to improve on a family hauler like the Traverse. I'd like to see one-touch third-row access on both captain's chairs rather than just the passenger side, however.
MH: Winner
I was surprised to see the redesigned Traverse remain the big SUV it's long been, especially since the GMC Acadia was significantly downsized when it was redesigned. The cabin is a strange mix of upscale materials and amenities next to cheap-looking plastics that are out of place in a modern SUV. That said, families should like all the cabin space the Traverse offers.
AB: Winner
I think this is a solid update for the Traverse, an SUV that I liked for its comfort and room, and now I can also enjoy for its style and amenities. I'm glad GM didn't downsize it like the GMC Acadia and kept it on the big boy platform. I have some concerns about the direction of GM interior material quality, however; it's starting to look and feel a little low rent. And the removal of front seat belt height adjusters is absolutely unconscionable.
FM: Winner
I, too, am glad it's not a rebadged, smaller GMC Acadia, a three-row SUV I like and one that's a good choice for some needs. The still-big new Traverse meets a different set of family needs in a package with the footprint of Chevy's Tahoe but maximized for hauling your people, not towing your boats. I also like the sharper edges in the styling, echoing the latest generation of GM's big truck-based SUVs. But I agree that the interior materials (as in the new Acadia in some trims) seem to be moving downscale as you get closer to the floor.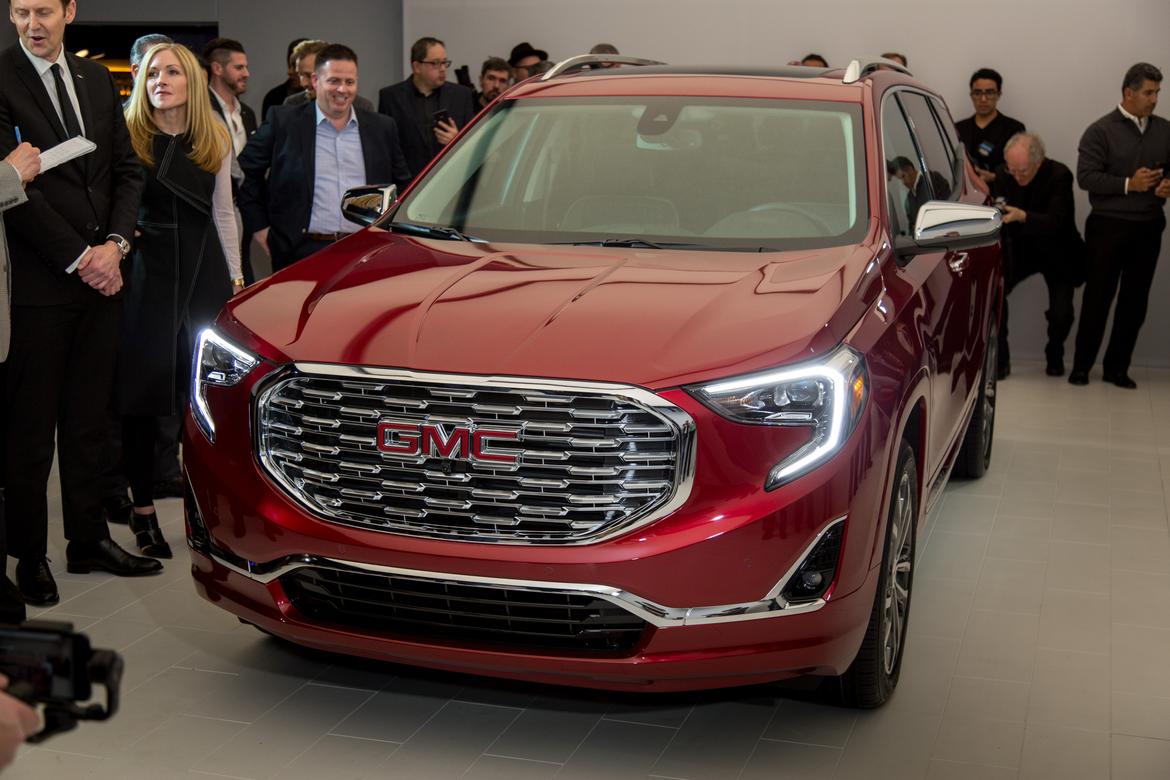 JB: Loser
Visibility is hampered by rear styling that aggressively cuts into the Terrain's profile. The unique styling payoff isn't worth the lack of visibility in this kind of vehicle. A 600-horsepower luxury coupe? Sure, but not in a non-luxury compact SUV. Then there's the tab/button gear selector that's too far away and a bit too unconventional; for a safety item like the gear selector, keep it simple.
MH: Loser
I've grown to appreciate the Terrain's distinctive, boxy styling, but that look has been wiped away with this redesign in favor of sleeker, smoother lines that seem to go against the image GMC is trying to cultivate. Also, I'm shocked the push-button gear selector was approved in its current form.
AB: Loser
What on earth happened here? Its big brother Acadia looks fantastic, but then GMC somehow took its eye off the styling ball and ended up with the awkward new Terrain. While it doesn't look as bad in person as it does in pictures, it's still a mess of angles, swoops and weird cut lines. And for some reason, GMC decided to include a gear selector unlike any that consumers have used before, just to add mechanical dysfunction to styling disaster.
FM: Loser
Like Bragman, I thought the handsome Acadia was a good omen for GMC design. I also hoped that the old Terrain's distinctiveness in a look-alike class would live on. I lost on both counts: The design mishmash let me down on the Acadia's promise, and an ill-fated attempt at distinction led to details such as that rear beltline flourish in the shape of an old Cadillac tailfin that only succeeds in cutting rear vision. I'm guessing the button-and-switch gear selector was driven by a desire to save space and then designed by lawyers who thought it would bypass the problems other electronic shifters have had.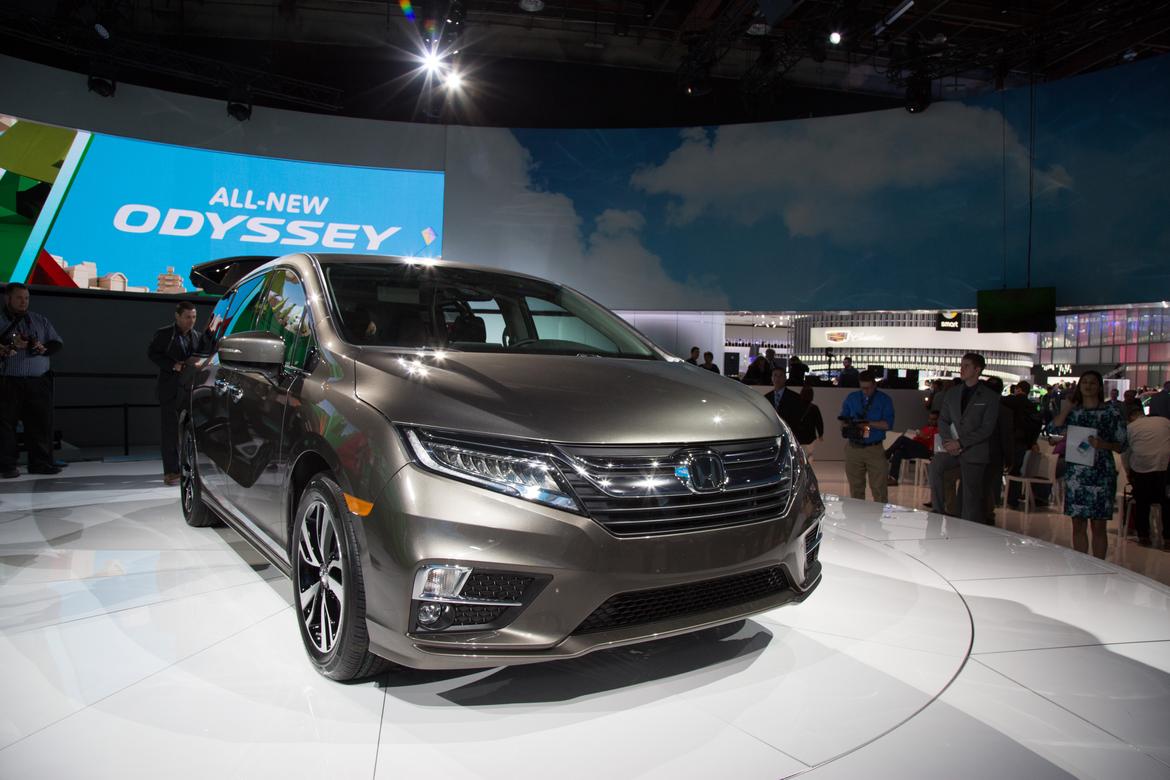 JB: Winner
The new Odyssey's Magic Seat has more enchantment than any other Magic Seat from Honda, with its laterally sliding seats and array of configurations. Then there's the second-row camera with infrared to watch over kids via the main media screen, which may enable a whole new generation of helicopter parents, but it's using tech readily available (cameras and big screens) in a new way.
MH: Winner
Honda softened the Odyssey's more controversial styling elements, but it added enough new visual cues to keep things interesting — for a minivan. The CabinWatch feature lets you keep tabs on your kids in a way they'll surely find creepy, but the Odyssey still delivers the functionality and space that's made it a family favorite.
AB: Winner
I wasn't a big fan of the last Odyssey's styling, but I respected its roominess, options and refinement. With this generation, the styling's been cleaned up to the point where it genuinely looks attractive. The interior keeps all of its good points while improving the multimedia system. The seating still isn't as "magical" as Chrysler's Stow 'n Go chairs, but it is more comfortable.
FM: Winner
The Odyssey's styling updates haven't made a dent in the design sins of the past. It's no Chrysler Pacifica. And it doesn't really matter. This class is about details in the box, and the Odyssey redesign does what it needed to do: The media system is significantly improved from frankly marginal. The parent PA system and night-vision camera are fun and will get buzz. The sliding middle seats are convenient even if they don't stow. And the back row does stow — with one strap to pull. Add in Honda's safety and reliability reputation and you're good to go.
JB: Winner
The LS 500's designers threw caution to the wind, and I like it. The LS 500 has an aggressive shape for Lexus' flagship sedan, whose average buyer likely skews toward the older side of the spectrum.
MH: Loser
I wouldn't complain if the LS 500's gaping grille was toned down a bit, but the bigger issues for me are inside. While the cabin is richly finished in top-rate materials, the Remote Touch multimedia system's trackpad interface has been maddening to use in other Lexus models. Also, despite a longer wheelbase, the backseat is surprisingly snug — what gives?
AB: Loser
It just looks weird. Nose to tail, top to bottom, the styling here is awkward and messy. That front end looks pinched and squinty. Inside, the explosion of swoopy stitching lines in doors, seats and on the dash make the interior feel like you're sitting on a cheap sofa. The Mercedes-Benz S-Class doesn't have anything to be worried about here.
FM: Loser
It's just too much. It's really big, it's brash, it has loads of chrome and that giant mouth is, well, a disaster waiting to happen in my city's streets and parking spaces. And that's before you get in and your eyes try to find a place to rest among the crazy angles and lines in the dash design and seat stitching.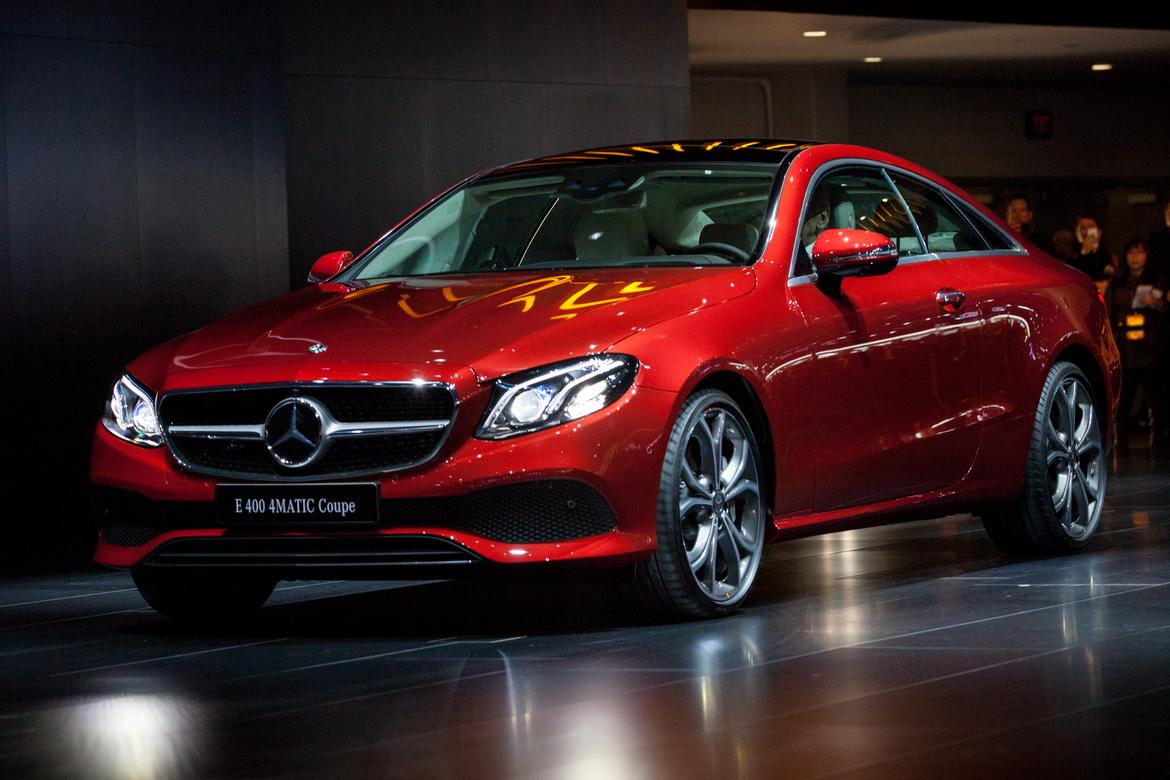 JB: Winner
Mercedes excels at taking the opulent S-Class and imbuing its characteristics throughout the brand's lineup. The E-Class epitomizes that strategy so much that I question whether you really need to splurge on the S-Class coupe.
MH: Winner
I like a good pillarless coupe — a rare thing these days — and the new E-Class coupe fits the bill nicely. Like Bruzek said, the cabin gives up little to the bigger S-Class in terms of luxury or technology. The one aspect that doesn't look quite right, however, are the small rear quarter windows, which are surprisingly jarring to the design.
AB: Winner
The trickle down of S-Class goodness to the rest of Mercedes-Benz lineup has been fantastic, starting with the last C-Class redesign and continuing across the board. I agree that the new E-Class coupe is so good that it makes the bigger S-Class coupe seem unnecessary. It's gorgeous, spacious, filled with unique styling elements but sharing the fantastic material, switch gear and assembly quality of its bigger brethren.
FM: Winner
The E-Class coupe is gorgeous in a way that's all about the shape itself and not the decoration. The pillarless design formerly known as a "hardtop" still has appeal. And the interior materials and detailing, such as the design of even the speaker grilles and air vents, is a garden of delights.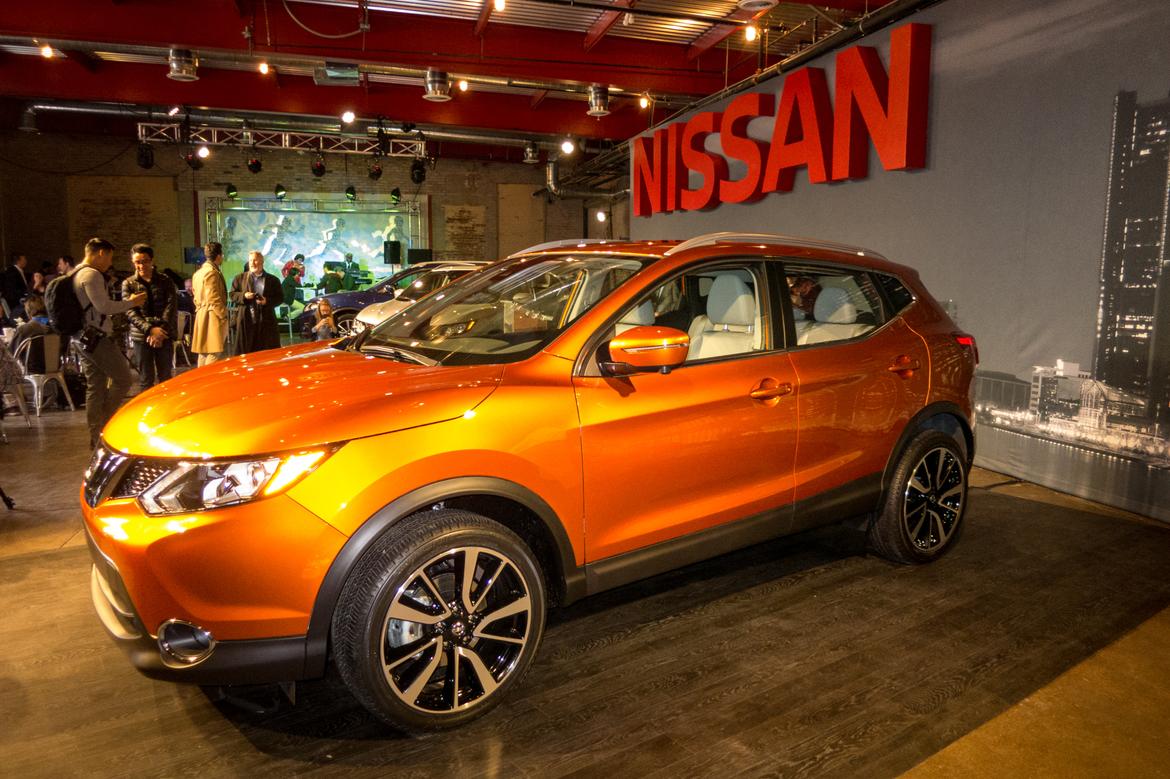 JB: Winner
The Rogue Sport will be a great addition to the subcompact class. It retains the high-quality interior of the full-size Rogue but with the footprint of the pint-sized subcompacts. It's a proper entry to the class where its sibling, the Juke, faltered as an everyday usable utility vehicle.
MH: Winner
Nissan has a subcompact SUV in the Juke, but that model's focus on style over functionality gave us a small SUV with not much space or utility. The Rogue Sport addresses those issues and more, giving shoppers another high-quality small SUV to consider.
AB: Loser
The car itself isn't a loser. It's a solid little trucklet, sharing perhaps too much of the good parts of the larger Rogue (styling, interior bits, powertrains) but coming in a little bit smaller and likely a little less expensive, too. But the Rogue Sport could pull away sales from the Rogue, its top-selling nameplate — and that could be a problem for the Rogue and Nissan.
FM: Winner
The Rogue Sport is a solid little SUV with all of the design and materials virtues — and most of the available tech and safety options — that have made the Nissan Rogue a best-seller, but in a package sized like Rogues used to be. And against its subcompact SUV rivals, it brings to this new class a bit more space and cargo room than most.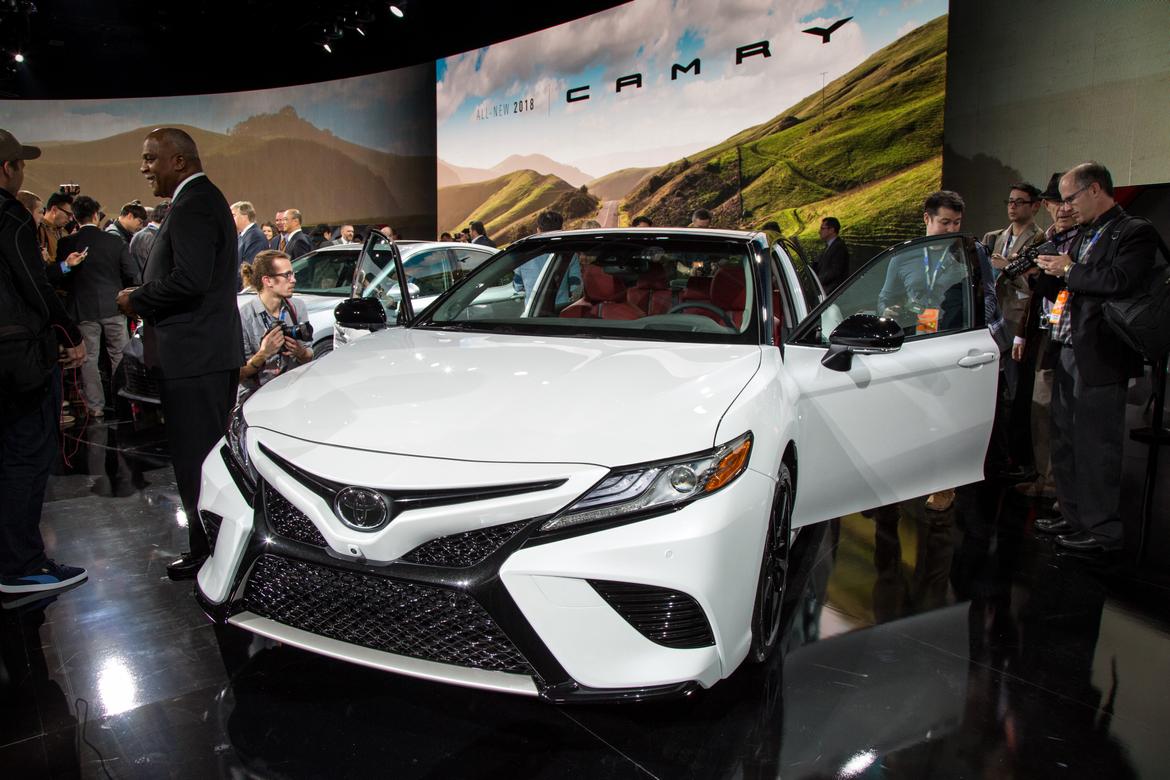 JB: Winner
A ground-up transformation means this Camry is a whole lot more interesting. I'm not a big fan of the XLE's gaping grille, but the sporty XSE's unique front and rear styling hits the bullseye. The interior has a lot to like, too, with a healthy balance of style, quality materials and roominess.
MH: Winner
Competition in the mid-size segment is fierce, and Toyota has hit back hard with its redesigned Camry. Improvements can be seen everywhere, especially in the cabin where the materials are significantly improved. If the driving experience is better by a similar degree, the best-selling car in the U.S. will be an even more formidable competitor than it is today.
AB: Winner
Oh my God, I like a Camry. It's the first time since 1993, folks. It's visually appealing (except for that XLE trim's baleen-whale, krill-strainer grille), stylish inside and filled with much higher quality materials than the outgoing model. Toyota CEO Akio Toyoda has been talking for a few years now about his passion for cars and driving, and finally he's delivered.
FM: Winner
This is a much better-looking Camry. With that big, complicated grille design, it remains a party in the front, business in the back. And the interior also is a step up. It may attract some new buyers while not doing anything that would upset the legion of loyalists.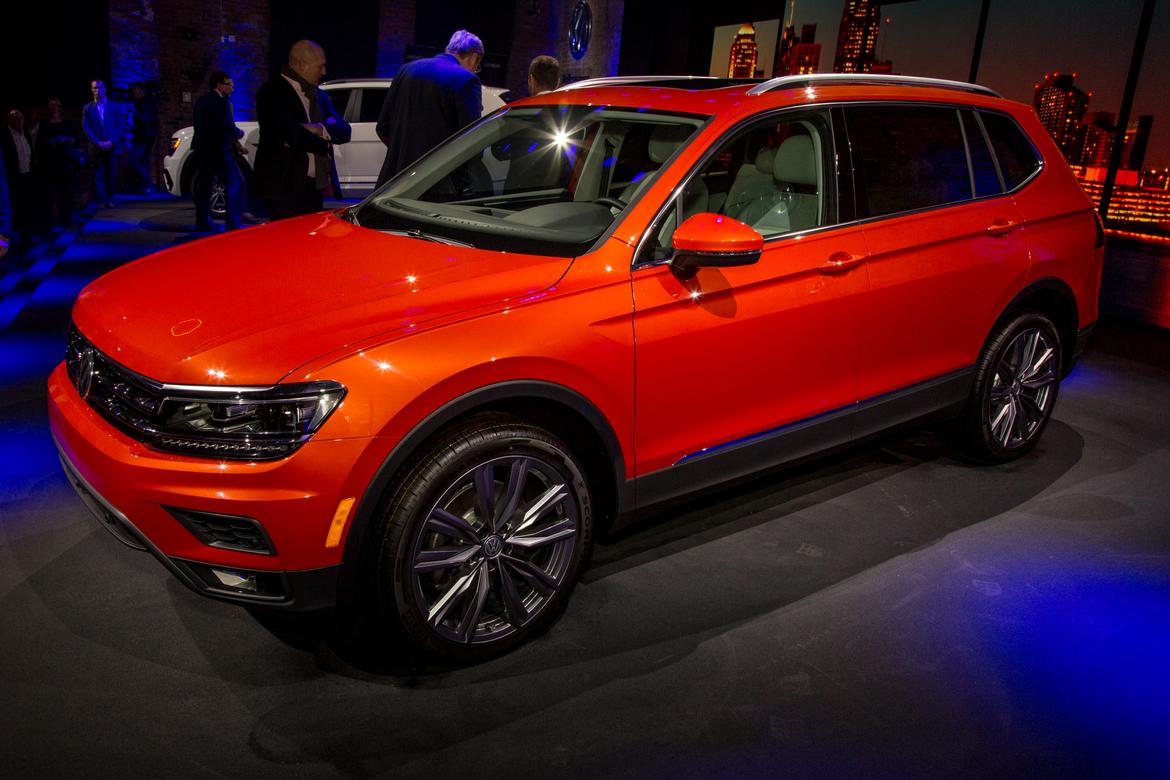 JB: Loser
I really struggled with calling the Tiguan a loser. The two-row model has a lot of room and is supersized compared with the current Tiguan, but the interior quality isn't premium like VWs of old. It's merely on par with the rest of the class rather than a step above like the original Tiguan.
MH: Loser
I had no such qualms; from its ho-hum exterior styling to its unremarkable interior quality, the redesigned Tiguan already seems dated in some respects. That doesn't bode well in the competitive compact SUV segment.
AB: Winner
I'm torn on the new Tiguan. I think the styling is solid, the interior space can't be beat, and the powertrains and multimedia tech are also fully competitive. But my colleagues ain't wrong when they say that the interior looks cheap, especially the "leather"-equipped models on the show floor. You can't even call that "leatherette," not when it has the appearance and texture of a vinyl hazardous materials suit. But the rest of it is good enough to not ding it as a loser.
FM: Winner
The redesigned Tiguan is good looking and spacious inside, and it now has the size, powertrains and much-improved technology to compete with other compact SUVs. I won't argue on the interior quality; it doesn't give you that little bit extra that you got in the old Tiguan (and still get in some Golf models). The materials already seem behind some other new designs in the class, such as the latest Honda CR-V. Still, it's solid package and a much better fit to compete in this class.