Genesis G70 Vs. BMW 3 Series: Battle of the Best?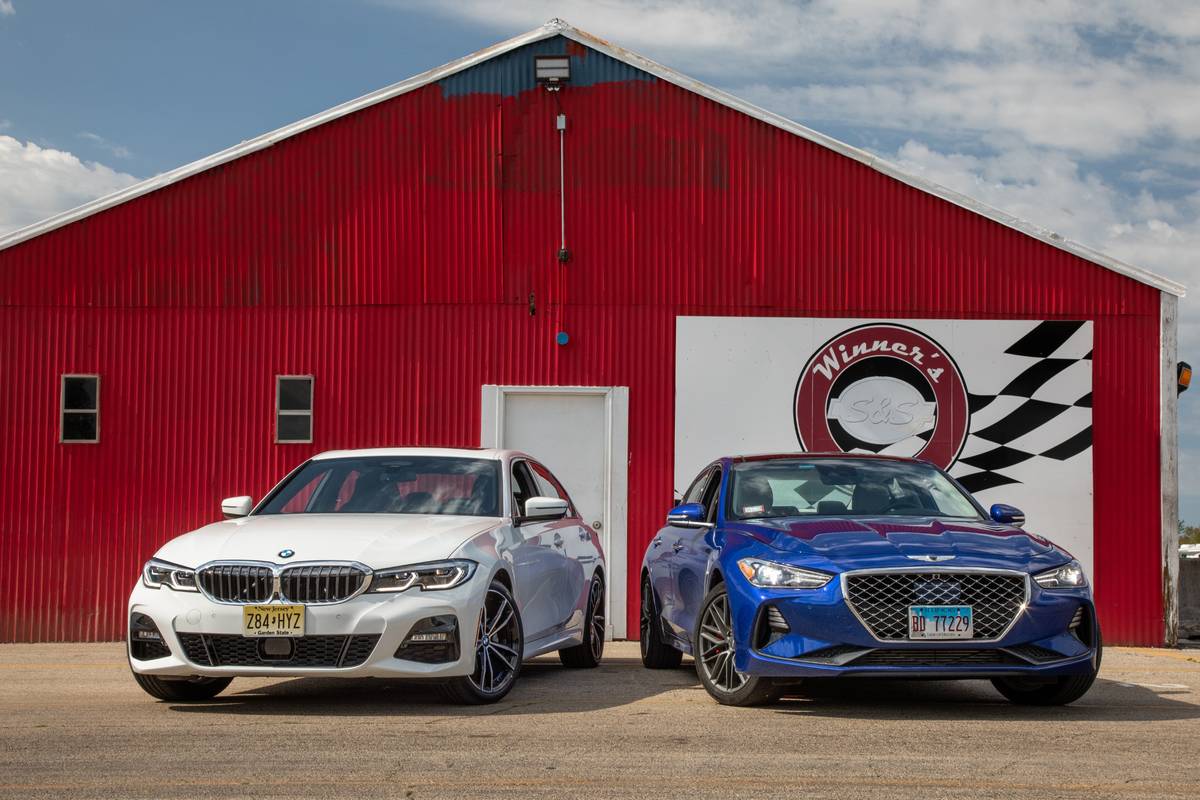 The redesigned BMW 3 Series is late to the party — a shindig that saw the all-new 2019 Genesis G70 win the night. A few months after we gave our highest annual award to the newest sedan from Hyundai's budding luxury division, its German rival hit dealerships with a seventh-generation redesign in the form of the 330i for 2019 and M340i for 2020. Now, finally, we've had a chance to compare them by evaluating four- and six-cylinder versions of each over a multiday test comprised of street driving, measured acceleration and braking testing, and a small handling course. Consumers shop by price, so our comparison primarily dove into the two sedans that fall closest in that regard: the six-cylinder G70 3.3T ($51,225) and the four-cylinder 330i with M Sport Package ($57,420). All prices include destination.
Related: 2019 BMW 330i Review: Now More Machine Than Man
Purists are sure to balk because we put a six-cylinder up against a four-banger, but engines aside, both cars have all-wheel drive, all-season tires and sport suspensions without adaptive shock absorbers, characteristics we felt important to match up where the other cars did not have parity. Managing Editor Joe Bruzek and I graded 17 categories to find a winner, and we later explain where the $44,895 G70 2.0T and $69,570 M340i fit in to this luxury sedan mash-up.
BMW 330i Vs. Genesis G70 3.3T
Track Acceleration
Winner: G70
The prior 330i was third quickest among six rivals two years ago, hitting 60 mph in 6.1 seconds in our tests. Its successor adds a few dozen pounds of curb weight, but BMW's turbocharged 2.0-liter four-cylinder is rated with 7 more horsepower and 37 more pounds-feet of torque (to 255 hp and 295 pounds-feet), all of which makes the redesigned 330i appear substantially quicker. Using BMW's launch control in our AWD test car, 0-60 mph happened in just 5.59 seconds, and our best run through the quarter-mile clocked 14.17 seconds at 99.4 mph. Power from the 2.0-liter plateaus a bit as the engine approaches redline, but BMW's eight-speed automatic rips off blinding-fast, crisp upshifts to start the process anew. All told, the 330i is quick.
It can't match the G70's turbocharged 3.3-liter V-6, however. Even saddled with a lot more weight — as-tested 3,965 pounds versus the BMW's 3,670 — the engine's 75-hp advantage makes up for it.
With 376 pounds-feet of torque, the G70 launches hard, with broad, smooth power that builds a little more linearly than in the 330i. Upshifts are a little slower from its eight-speed automatic, but the extra power more than makes up for it. Our best runs with launch control clocked 4.81 seconds to 60 mph and 13.10 seconds through the quarter-mile at 107.6 mph, roughly a full second quicker in either regard than the 330i. That's a wide gulf.
2019 Genesis G70 3.3T AWD ($51,225)
365-hp, turbocharged 3.3-liter V-6
Sport suspension with passive shocks
As-tested 0-60 mph: 4.81 seconds
As-tested quarter-mile: 13.10 seconds at 107.58 mph
As-tested weight: 3,965 pounds
2019 BMW 330i AWD ($57,420)
255-hp, turbocharged 2.0-liter four-cylinder
M Sport suspension with passive shocks
As-tested 0-60 mph: 5.59 seconds
As-tested quarter-mile: 14.17 seconds at 99.41 mph
As-tested weight: 3,670 pounds
Track Braking
Winner: Tie
Although the G70 has 295 pounds' extra curb weight over the BMW, its Brembo brakes — included on all V-6 models — stopped it from 60 mph in just 121.6 feet, a stone's throw from the 330i's 123.7 feet. Both cars exhibited linear pedal response, no undue yaw and limited brake fade over repeated efforts. We judged this category a draw.
Street Power
Winner: G70
In our suburban test loop, the 3.3-liter G70 delivered smooth, immediate power off the line with good transmission kickdown if you press the accelerator while in motion. We judged the 330i's automatic even quicker on downshifts, but BMW's downfall remains a case of noticeable accelerator lag from a stop — a delay that's relatively absent in the G70's V-6. The G70 didn't just have more power; it served it up sooner.
Steering and Handling
Winner: 330i
A longtime 3 Series complaint is numb steering feedback, a condition that still plagues the redesign. The wheel has a lifeless on-center feel, and initial turn-in is sleepier than the G70's ultra-quick response. But things change dramatically once you start wheeling into a corner. The 330i's optional variable sport steering — part of the equipped M Sport Package, along with a sport-tuned suspension — tightens up considerably to sharpen the car's reflexes at speed. At the limits of grip, dynamics are sublime; the steering is crisp and responsive, and the nose turns as eagerly as a dedicated sports car's. On the autocross, the 330i displayed outstanding neutrality, its tail sliding (even with all-wheel drive) with plenty of warning and easy adjustability. The 330i seldom gets away from you; the car rotates as gracefully as anything we've tested in recent history, with a near telepathic ability to navigate our small handling course.
The G70 does not. It's far from an autocross mismatch, but it's not nearly as fun or capable. Steering has better initial feedback, increased stiffness and quicker turn-in, but body roll is excessive even with the optional sport-tuned suspension. (Adaptive shocks are a further option, but our G70 didn't have them.) Rotating the G70 around our cone course was a tentative affair, requiring lots of gas and reactive, ginger steering to combat understeer by way of the tail. Pressed too hard, the car snaps around erratically — a tendency seldom experienced in the BMW. Our test car's Michelin Primacy all-season tires howled in protest the whole time, while the 330i's Bridgestone Turanza all-seasons proved cooperative. By day's end, the autocross had eaten the Michelins' front tread blocks for lunch, while the Bridgestones emerged in good shape.
Ride Quality
Winner: G70
BMW claims twice as much difference in damping forces between base and M Sport suspensions versus the outgoing 3 Series, a model sometimes criticized for feeling too soft. Nobody will think that of the redesign: The chassis is taut as a tightrope, surrendering virtually no lateral body movement over hardscrabble pavement — something the G70 exhibits, albeit just slightly. Unfortunately, the M Sport suspension is as firm as they come. The M Sport suspension previously came standard only on rear-wheel-drive 3 Series with the M Sport Package, leaving all-wheel-drive M Sports with the base suspension. Now, the as-tested M Sport Package with AWD has the M Sport suspension standard, and its tuning swings wildly the other way of "base." On sewer covers or expansion joints, shock absorption is all shock, no absorption. Other configurations might improve on things, but the M Sport Package's suspension has evolved into a rather extreme upgrade. With 18-inch wheels (versus the 330i's 19s) and a sport suspension, the G70 acquits itself simply by having a modicum of ride comfort at all. It wins easily.
Noise Levels
Winner: 330i
Choppy ride aside, the 330i is relatively quiet at cruising speeds, with less wind and road noise than the G70. The Genesis develops a gravelly tire noise at all speeds, something we didn't observe in the 330i. BMW wins this category.
Interior Quality
Winner: G70
The G70 has its share of cheaper materials below arm level, but it beats BMW in most other areas. Lavish cabin appointments include a stitched vinyl wrap over much of the dashboard; Genesis' optional Nappa leather upholstery beats the snot out of the 330i's rough optional cowhide (simulated leather is standard), and most controls operate with fine-tuned precision. By contrast, the 3 Series shows noticeable cost cutting versus its predecessor, with more hard-touch surfaces and phoned-in controls. Genesis is trending in the opposite direction of BMW here.
Front Seats
Winner: 330i
Our 330i's sport seats feel like a hodgepodge of overstuffed cushions fastened together, but it has the clear edge in roominess. Despite its extra 0.9 inch of exterior width, the G70's cabin feels narrow, hemming your legs between a high center console and thick doors. Headroom is the G70's biggest problem, requiring both of us to sit lower than we'd like in our moonroof-equipped test car. The 330i with a moonroof suffers none of these ills.
Rear Seats
Winner: 330i
Like the front seats, the rear bench wins in roominess. Seating height is similar between the two cars, but we found a little more knee clearance and a lot more headroom in back of the BMW. Where the G70's ceiling tapers, the 3 Series stays upright; adults should have no trouble sitting comfortably in back.
Interior Storage
Winner: Tie 
Both cars have center-console cubbies ahead of the cupholders, but neither is ideal: The 330i's is harder to access but the G70's allows too much to slide out, which happens frequently because the G70's engine is eager to please and quick to respond. The G70 has roomier confines under the center armrest and in the glove compartment; it also has an overhead sunglasses holder. The 330i does not, but it has more usable door pockets and a bonus cubby to the left of the steering wheel. It's a draw.
Cargo Space
Winner: 330i
It's clear that both automakers' trunk-volume claims — BMW quotes 17.0 cubic feet, Genesis claims 10.5 cubic feet — come from alternate realities, as manufacturer-stated cargo specs don't often tell the whole story. The 330i does not have anything close to 62 percent more luggage room than the G70. But it does have sizably more. By our measuring tape, both trunks have similar depth from the rearmost point to the seatbacks and width between the wheel wells, but the 330i has substantially more height, with 20 inches versus 17 inches to the trunk's high point; that's nearly 20 percent more. BMW also has more versatile backseat folding (40/20/40 versus the G70's 60/40), with a wider opening when folded.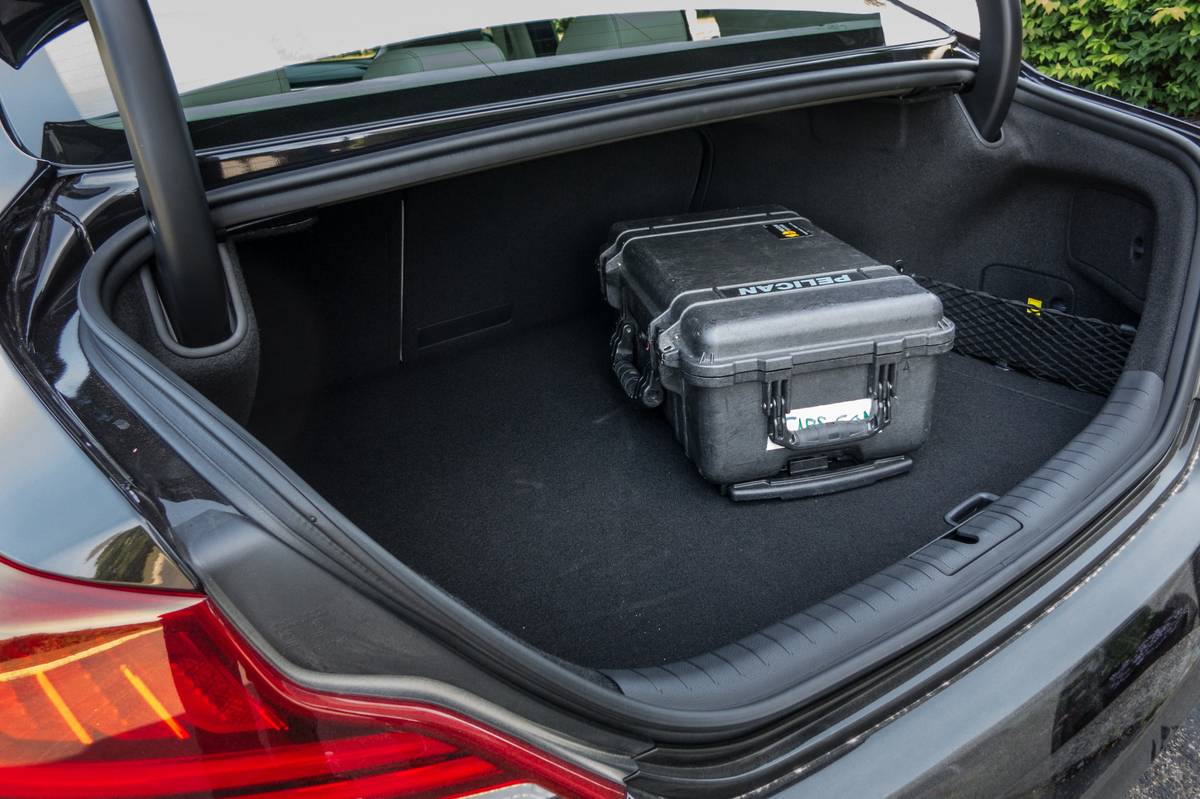 Media and Connectivity
Winner: Tie
Both cars have wireless smartphone charging, but the 330i is among a handful of models with wireless Apple CarPlay. The G70, like most cars, requires a physical tether for CarPlay to work. The 330i also has one more USB port (four versus three), and three of its ports are the more advanced USB-C type. In the G70, all ports are the common USB-A. So why doesn't the 330i easily win the category? Two words: Android Auto. BMW needs to get with the program on it, as no Bavarian models support Android Auto for the 2019 or 2020 model years. That's a deal-breaker for those with an Android smartphone. Another knock against the BMW is that CarPlay requires an annual fee after the initial free trial; in the G70, Android Auto is standard and CarPlay free. That brings this category back to a tie.
Usability of Controls
Winner: G70
The 3 Series has larger displays, with a 10.25-inch touchscreen and 12.3-inch virtual gauges in our test car versus the G70's 8-inch touchscreen and 7-inch gauge display. But the 3 Series' controls are an exercise in unnecessary complexity. Buttons on the center console share space on flat panels, requiring too much attention to feel out on the fly. The climate controls sit in a tiny pod between the air vents. The headlight buttons are just that — buttons! — instead of a straightforward knob. The electronic gear selector has unintuitive detents and a tiny Park button. We could go on.
The G70 has smaller displays with lower resolution, but its controls are everything BMW's are not. Simple, large dials manage climate, and below the touchscreen are large, clear controls. The gear selector lever is still electronic, but its detents are cleaner, and the Park button is hard to miss. For its refreshing simplicity, the G70 gets this one.
Visibility
Winner: 330i
The same roofline that grants more headroom in back of the 330i makes for taller backseat windows to aid over-the-shoulder visibility. Likewise, BMW's rear window is larger than the G70's small pane.
Safety Features
Winner: 330i
Both cars have excellent crash-test ratings (see the 330i's here and the G70's here) and a full complement of standard crash-avoidance technology. But the 330i ekes out a win for a few minor upgrades, things like active side-collision avoidance (which can apply steering to keep you from veering into adjacent traffic) and a higher-resolution backup camera.
Driver-Assist Tech and Autonomy
Winner: 330i
As-tested, both cars have adaptive cruise control that works down to a stop, but the 330i stands out as one of just a few cars industrywide with hands-free steering, courtesy of BMW's Extended Traffic Jam Assistant. Included on our test car, ETJA can center the 330i in its lane during highway traffic at speeds up to 40 mph without needing you to hold the wheel; hands-on lane centering takes over above 40 mph. The G70 doesn't even have low-speed lane centering, much less a hands-free system, though its lane keep assist does an admirable job of helping to keep the car centered without pinballing off the lane markers.
Value
Winner: G70
Reflecting its importance among consumers, our value category carries double weighting in this comparison, as it does in our class-wide Challenges. And this contest isn't even close: The 2019 G70 starts at $35,895 and tops out around $52,500 with all its factory options. The 2019-20 3 Series, by contrast, starts in the low $40,000s and tops out around an eye-popping $70,000. The cheapest M340i is just shy of $55,000 — thousands more than even a factory-loaded G70 3.3T.
For their as-tested prices, our 330i had more technology but fewer creature comforts. The G70 had heated rear seats, cooled front seats and a power-adjustable steering column, all features missing in the 330i, and it cost $6,195 less. Both cars have three years' free maintenance, but Genesis augments that with a service valet and an excellent warranty. The 330i's lesser power comes with far better fuel economy but requires at least mid-grade (89-octane) fuel. Both cars recommend premium for max performance, but the G70 can run fine on the cheap stuff.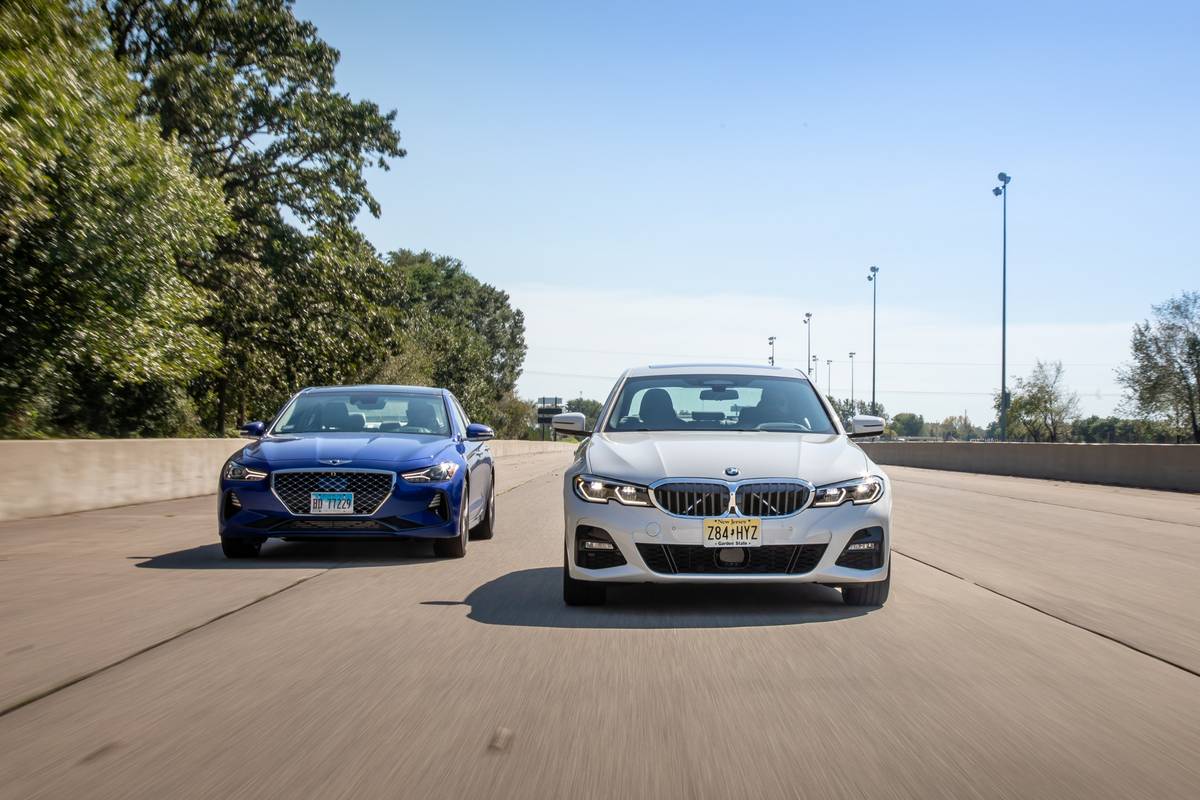 Overall Winner: BMW 330i
Out of 17 categories judged, the 330i narrowly won, taking eight categories over the G70's seven-equivalent (six plus double weighting for value). The cars tied in three other categories. You read that right: Cars.com's Best of 2019 vehicle lost a head-to-head comparison test. But, much like our classwide comparisons that end up close, this is less about which car is better and more about how your needs could sway you in either direction. The 330i plays on dynamics, technology and space; the 3.3-liter G70 boasts acceleration, usability and value.
But what if money is no object, or if you want a luxury car on a budget? Read on.
How About the BMW M340 or Genesis G70 2.0T?
Bookending the cars we focused on were two other variants, with an M340i at the high end and a four-cylinder G70 on the value front. Both illuminated what a lot of extra money can get you — or what a lot of savings will sacrifice.
The M340i is nuts. It's the only way to currently get a six-cylinder 3 Series, and its turbo 3.0-liter six-cylinder makes 382 hp and 369 pounds-feet of torque, which is similar output to the G70's turbo V-6. The results, however, are anything but similar. We suspect BMW rated the M340i conservatively: With launch control, our AWD test car blasted through 60 mph in an insane 3.89 seconds, substantially quicker than the last M4 coupe we tested. The M340i accelerates with violent, breathtaking force, ripping through early gears in the blink of an eye. Power was still building as we tore through the quarter-mile in 12.15 seconds at 113.9 mph, with no signs of instability at high speeds. This car is crazy-quick.
Despite another 210 pounds' curb weight over the 330i, the M340i is still a force to be reckoned with on the autocross. With summer tires and an electronically controlled M Sport rear differential — a feature our 330i didn't have — the M340i feels equally neutral. The extra power enables easier on-throttle oversteer, but the M340i seldom feels like it will get away from you. It takes all the fun of the 330i and adds tons more power for good measure.
2020 BMW M340i AWD ($69,570)
382-hp, turbocharged 3.0-liter inline-six-cylinder
Adaptive M suspension with adaptive shocks
As-tested 0-60 mph: 3.89 seconds
As-tested quarter-mile: 12.15 seconds at 113.86 mph
As-tested weight: 3,880 pounds
The four-cylinder G70 goes the opposite direction. With rear-wheel drive but our favorite tires in the group — Michelin Pilot Sport 4 high-performance summers — our 2.0-liter G70 sticks like glue on the autocross but not gracefully, as the car literally leans on the tires to make the most of it because the suspension isn't offering much control. Once it reaches the limits of grip, the nose pushes hard. As with the 3.3-liter G70, rotating the 2.0-liter car requires a lot of mid-corner gas and fast, corrective steering as the tail finally snaps around. A 3 Series, this is not.
2019 Genesis G70 2.0T RWD ($44,895)
252-hp, turbocharged 2.0-liter four-cylinder
Base suspension with passive shocks
As-tested 0-60 mph: 6.45 seconds
As-tested quarter-mile: 14.71 seconds at 94.81 mph
As-tested weight: 3,670 pounds
Nor does it touch any variant of the BMW on the drag strip. Genesis' turbo 2.0-liter (252 hp, 260 pounds-feet of torque) restricts much of its power to higher revs, and the slow-shifting automatic does no favors down the stretch. Using launch control, we clocked 60 mph in 6.45 seconds and the quarter-mile in 14.71 seconds at 94.8 mph, both substantially slower than the 2.0-liter 3 Series. Specs don't tell the full story: On the strip, the four-cylinder G70 is nothing to write home about.
Fortunately, you don't have to. Our well-equipped G70 cost about as much as a base G70 with the 3.3-liter V-6 ($44,745), and the V-6 is hardly a stripped car at that. G70 shoppers should skip other options to spring for the better engine; it's worth it.
More From Cars.com:
Editor's note: BMW removed the subscription cost for Apple CarPlay in December 2019, after Cars.com published this article. Apple CarPlay was set to become free on model-year 2019 and 2020 BMW models.
Cars.com's Editorial department is your source for automotive news and reviews. In line with Cars.com's long-standing ethics policy, editors and reviewers don't accept gifts or free trips from automakers. The Editorial department is independent of Cars.com's advertising, sales and sponsored content departments.