IIHS Testing Finds Pedestrian Detection Systems Vary Widely in Crash Protection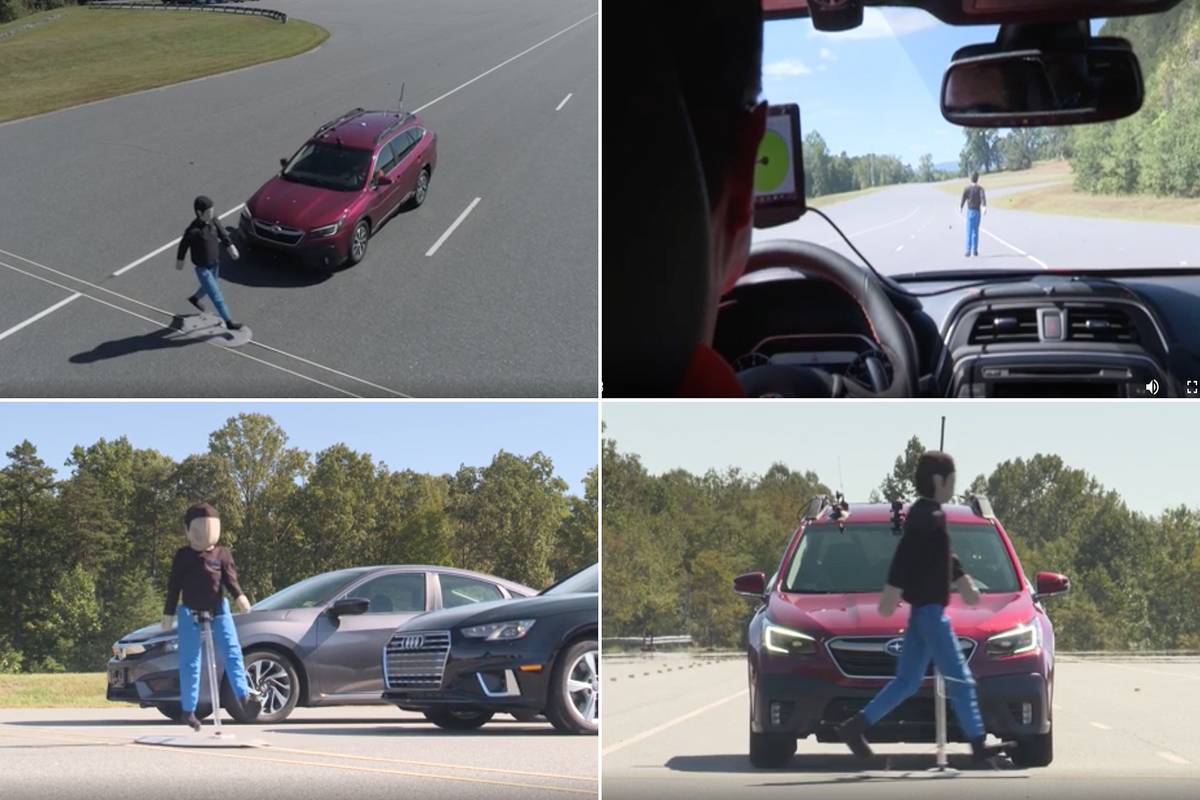 Pedestrian crash-prevention systems with automatic braking on 16 mid-size cars vary widely in their ability to detect and avoid hitting people in the street, according to the latest round of testing by the Insurance Institute for Highway Safety.
Related: Which SUVs Have the Best Pedestrian Detection Systems?
But results overall were fairly positive. Four luxury and two mainstream mid-size cars and wagons got the top rating, called superior (out of superior, advanced, basic or none), for pedestrian crash prevention. Another six cars rated a notch lower, at advanced. Four non-luxury cars, however, earned only a basic rating or got no credit at all. Here are the 16 (some have two scores because they offer both standard and optional systems):
Vehicles Rated Superior
2019 Audi A4 (standard system)
2019-20 BMW 3 Series (standard)
2020 Subaru Outback (standard)
2019-20 Mercedes-Benz C-Class (optional upgraded system)
2019-20 Nissan Maxima (optional for 2019, standard for 2020)
2019 Volvo S60 (standard)
Vehicles Rated Advanced
2019-20 BMW 3 Series (optional upgraded system — yes, worse than the base system)
2019-20 Honda Accord (standard)
2019-20 Lexus ES 350 (standard)
2019 Mazda 6 (standard)
2019-20 Nissan Altima (optional)
2019-20 Tesla Model 3 (standard)
2019-20 Toyota Camry (standard)
Vehicles Rated Basic
2019-20 Chevrolet Malibu (optional camera-only system)
2019-20 Chevrolet Malibu (optional camera and radar system)
2019-20 Mercedes-Benz C-Class (standard system)
No Credit
2019-20 Ford Fusion (standard system)
2019 Hyundai Sonata (optional)
2019 Kia Optima (optional)
More Cars Have Pedestrian Systems Standard
IIHS is ramping up testing of pedestrian protection, having earlier tested a batch of SUVs. The vast majority of automakers have agreed to make automatic emergency braking standard by 2022, and they're increasingly upgrading such systems to detect and automatically brake for pedestrians, not just other vehicles. According to IIHS, about two-thirds of front crash systems offered on 2019 model-year vehicles have pedestrian detection. In many cases, these systems now are standard.
"Pedestrians are the most vulnerable road users, so it's encouraging that pedestrian crash prevention systems are standard equipment in 12 out of the 16 mid-size cars we tested, including five out of six superior-rated systems," said IIHS President David Harkey in a statement. The agency will factor pedestrian detection into its overall testing for Top Safety Pick and Top Safety Pick Plus awards beginning with the 2020 model year, spokesman Russ Rader has told Cars.com. It began testing pedestrian detection in February.
Halloween Is Scariest Day for Pedestrians
IIHS notes that its latest results come just ahead of Halloween, which is consistently the deadliest day for U.S. pedestrians. That's thanks in part to trick-or-treaters and, we suspect, increasingly partying adults in awkward costumes. IIHS claims that from 2013 to 2017, the two deadliest days for pedestrians on average were Oct. 31 and Nov. 1 (after midnight on Halloween). Citing its own study of federal crash data, IIHS notes that annual pedestrian fatalities had increased markedly since a 2009 low. More than 6,000 pedestrians were killed in 2018, up 53 percent since 2009, according to the agency.
How Cars Were Tested
Most frontal crash systems use one or two cameras, in some cases augmented by radar sensors, to look for objects ahead. Vehicle software now can detect pedestrians as well as vehicles, and in some cases identify bicycles or animals. If a collision is imminent, the system alerts the driver and can hit the brakes to prevent or mitigate a crash.
IIHS tests three scenarios with dummies: an adult stepping into the street ahead of a vehicle with an unobstructed view, a child darting into the street from behind two parked cars, and an adult pedestrian near the side of the road facing away from traffic. The first two tests are done at 12 and 25 mph; the pedestrian near the side of the road is tested at 25 and 37 mph. In each test, the system has 1 or 2 seconds to stop the car to avoid the pedestrian. The tests are done in daylight on dry pavement. IIHS notes that such systems might not perform as well at night, but it says a vehicle with lights rated well in the agency's headlight evaluations should be able to spot pedestrians.
The six superior-rated vehicles slowed dramatically in IIHS tests, in most cases avoiding the dummy or greatly reducing the risk of severe injury. Notably, the mainstream Nissan Maxima's system avoided the pedestrian in all tests. Advanced-rated systems also achieved major speed reductions, though less consistently. The basic-rated systems failed to do so in one or more tests, while those that earn no credit failed in multiple scenarios. For example, the Ford Fusion, which got no credit, didn't slow down at all for the simulated child darting into the street and slowed only slightly for the adult stepping into the street.
"The child dashing out from behind parked cars is a very challenging test," said Harkey. "But it's fitting that it was one of the main things that separated the top systems from the rest of the pack, since that is certainly a frightening scenario on Halloween or any day."
More From Cars.com:
Cars.com's Editorial department is your source for automotive news and reviews. In line with Cars.com's long-standing ethics policy, editors and reviewers don't accept gifts or free trips from automakers. The Editorial department is independent of Cars.com's advertising, sales and sponsored content departments.