Which 3-Row SUVs Fit Car Seats Best?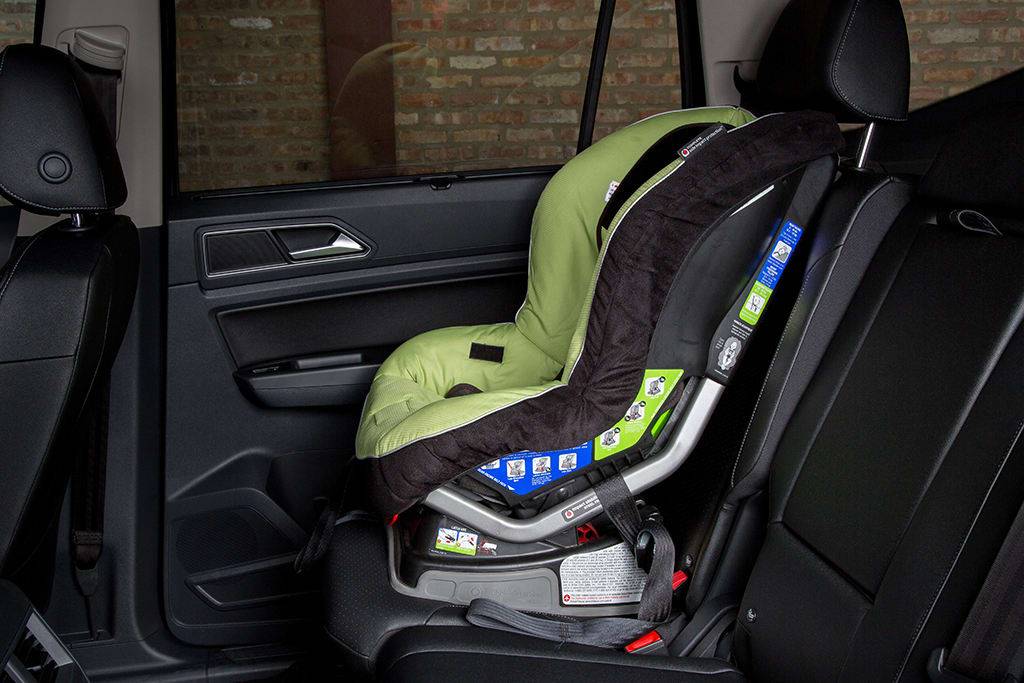 CARS.COM — Of all the many, many things we haul around in our vehicles, among the most important are our kids and their car seats. For many families — especially larger ones — a three-row SUV is a natural choice: Many offer an appealing blend of cargo room, occupant space, creature comforts and safety features. Though they have a natural size advantage over the average sedan, how well they accommodate child-safety seats is a mixed bag.
Related: Which 2017 Three-Row SUVs Offer Captain's Chairs?
We perform Car Seat Checks on the segment's most popular vehicles to find out which one handles car seats best. Here's how they rank:
The Winners
2018 Volkswagen Atlas, 10 Points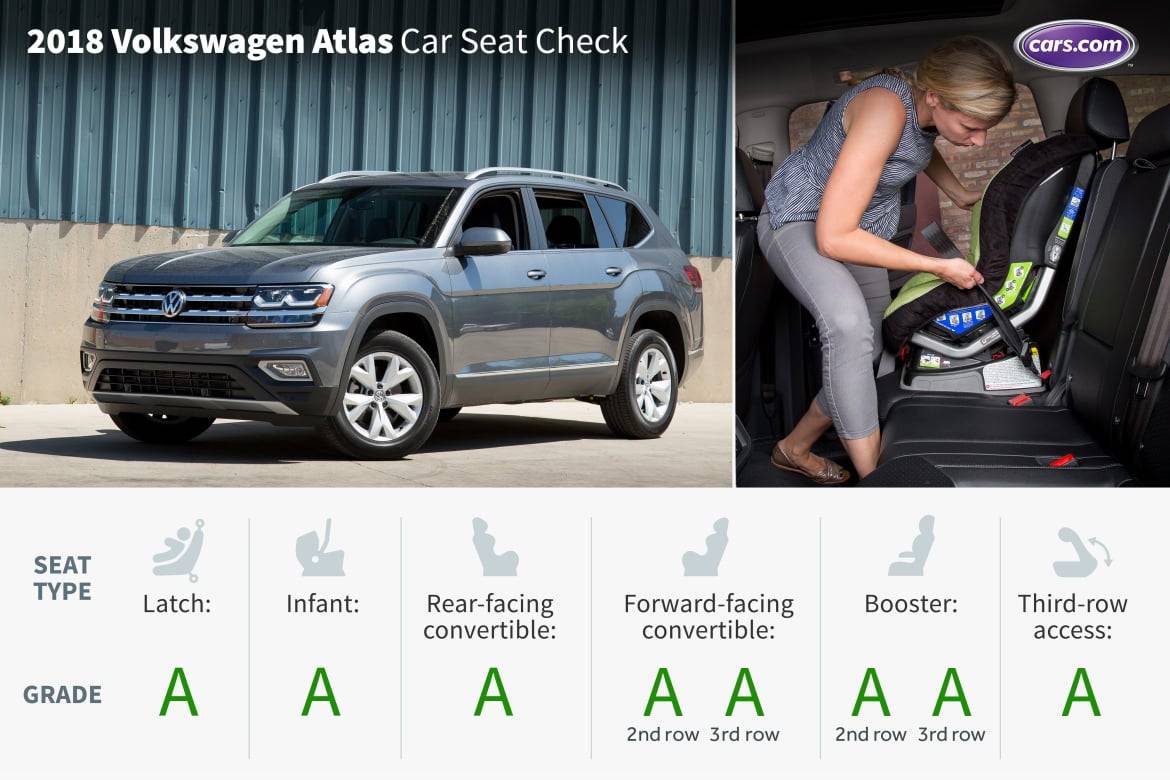 VW's newest — and largest — SUV scored so well in our Car Seat Check that it was included in our annual Honor Roll. The Atlas got straight A's thanks to its easy-access Latch anchors and roomy second and third rows. Bonus: It easily accommodated three car seats across its second-row bench seat.
2017 GMC Acadia, 10 Points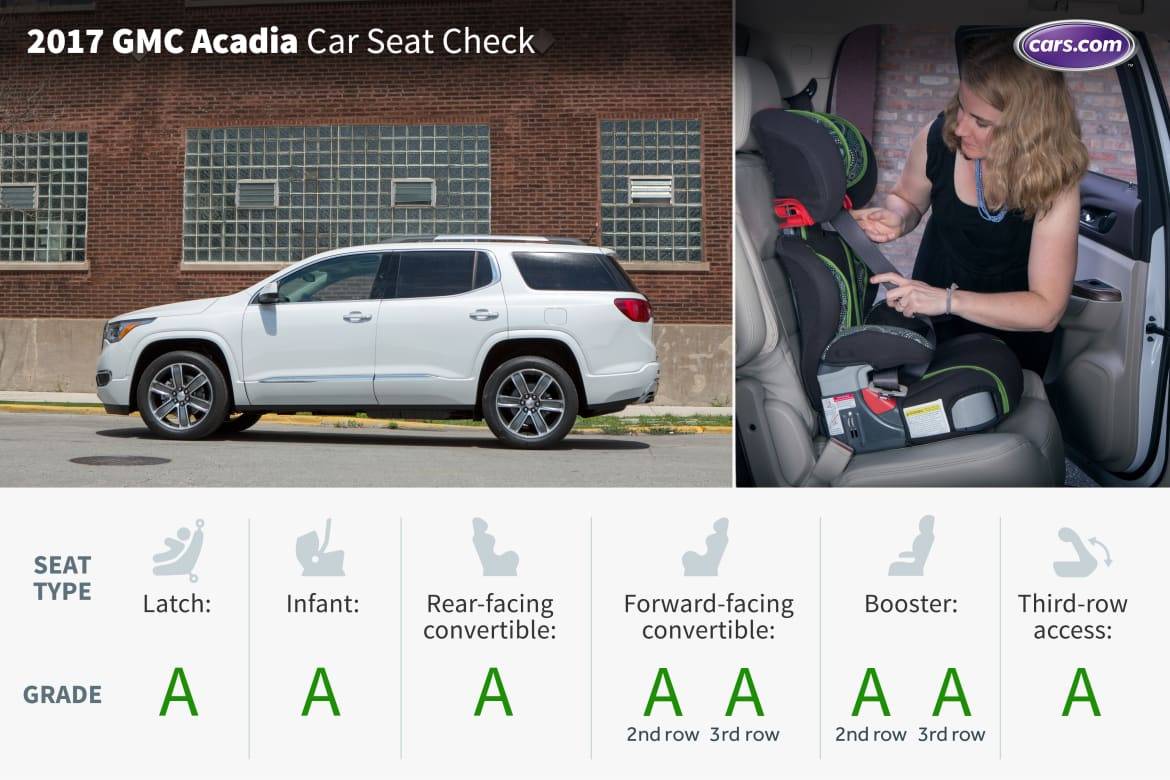 Redesigned for 2017, the now-smaller, mid-size Acadia still wins big on child-safety seats by making the most of its second- and third-row legroom. Though it can also be had with just two rows of seats, we tested a three-row Acadia Denali with second-row captain's chairs.
The Others
2017 Dodge Durango, 9 Points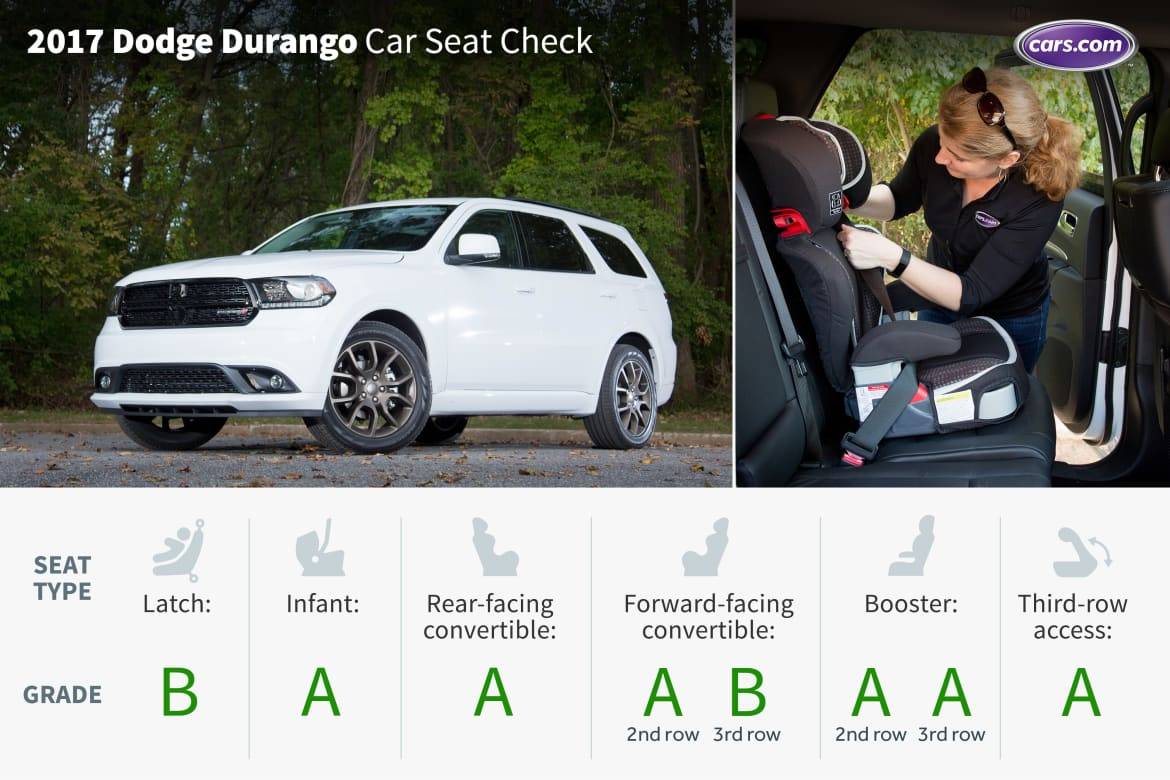 Big and burly, the Dodge Durango is a bit of an SUV throwback, but it delivers when it comes to hauling kids and towing a boat or camper. The Durango's second-row bench easily handled rear-facing car seats in our testing, but the third row's partially covered tether anchor lost it a point.
2017 Honda Pilot, 8 Points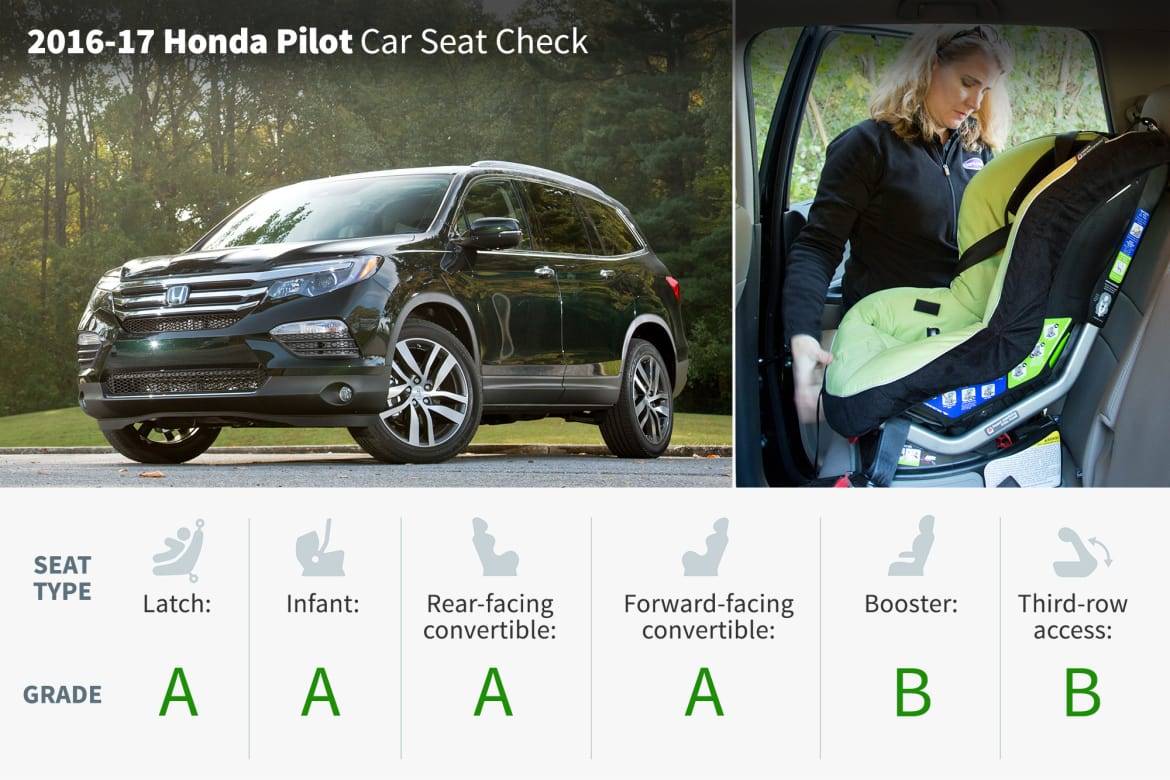 Honda's largest SUV handles car seats well in all three rows, and there's ample room for three car seats in the Pilot's wide, flat second row when it's equipped with a bench seat. While it earned high marks for room, Latch ease and an extra set of anchors in the third row, we deducted points for its floppy second- and third-row buckles, which make it tough for kids to buckle up independently.
2017 Ford Explorer, 8 Points
With its capable powertrain, ample room and rugged exterior, the Ford Explorer SUV is a hit with many families looking for a third row and the ability to tow boats or campers when properly equipped. In our Car Seat Check, we tested a 2017 Explorer XLT with seating for seven.
2017 Mazda CX-9, 8 Points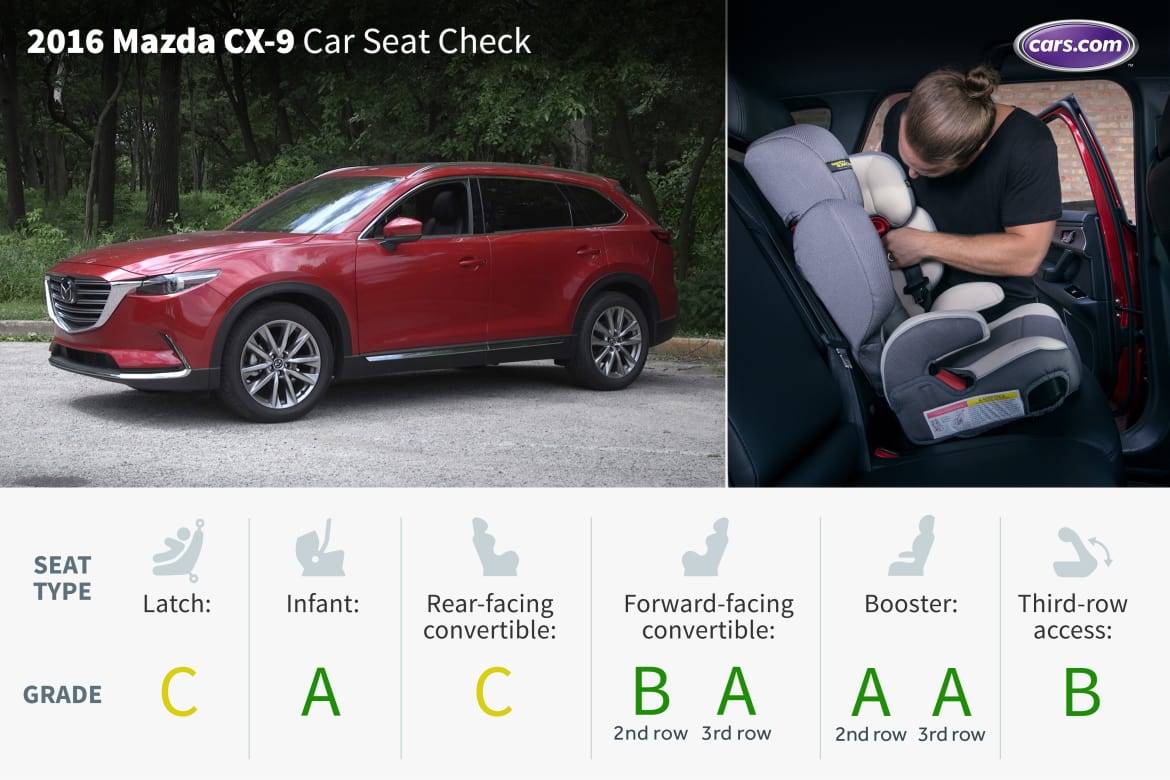 Redesigned for 2016, the CX-9 SUV is leaps and bounds ahead of previous versions when it comes to car seats. It has a tilt-and-slide second row that allows parents to create a pathway to the third row even when a forward-facing car seat is installed. It lost some points for its second-row Latch anchors, however.
2017 Hyundai Santa Fe, 7 Points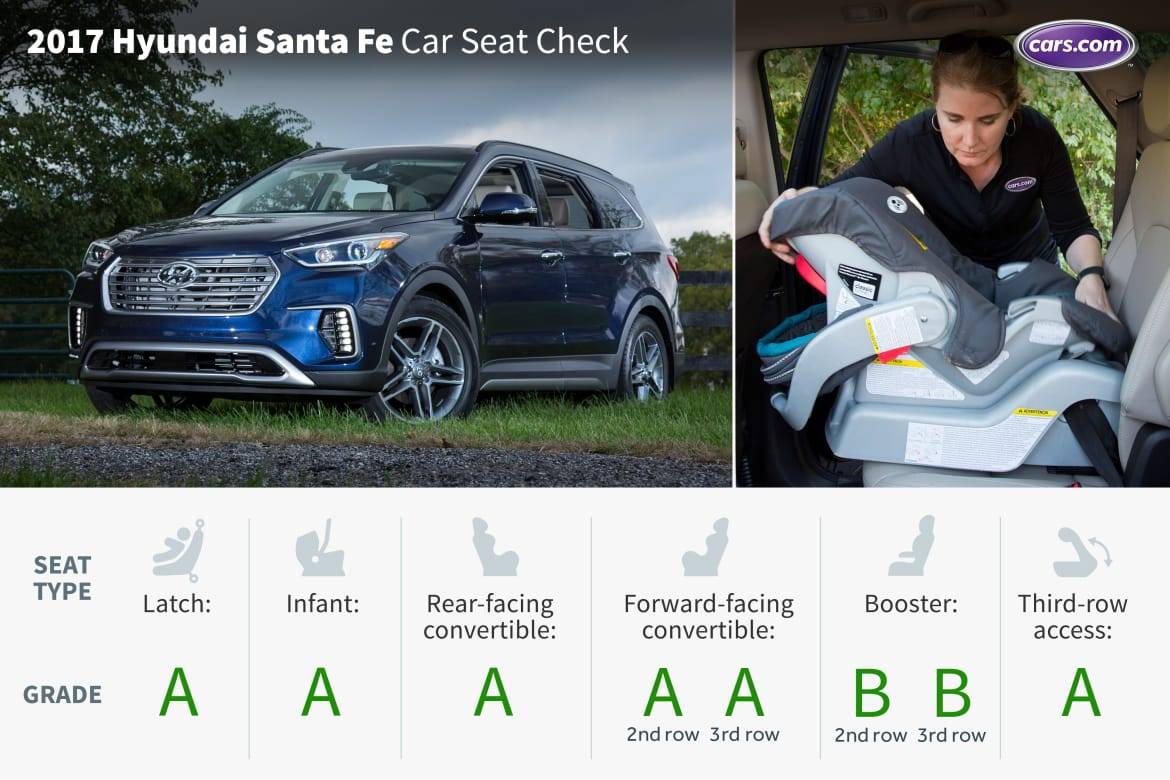 Car seats of all sizes fit well in the Santa Fe SUV, but what hampers it are the floppy seat belt buckles in the second and third rows. These buckles sink into the bottom seat cushion, making it harder for kids in boosters to buckle up independently.
2017 Mitsubishi Outlander, 7 Points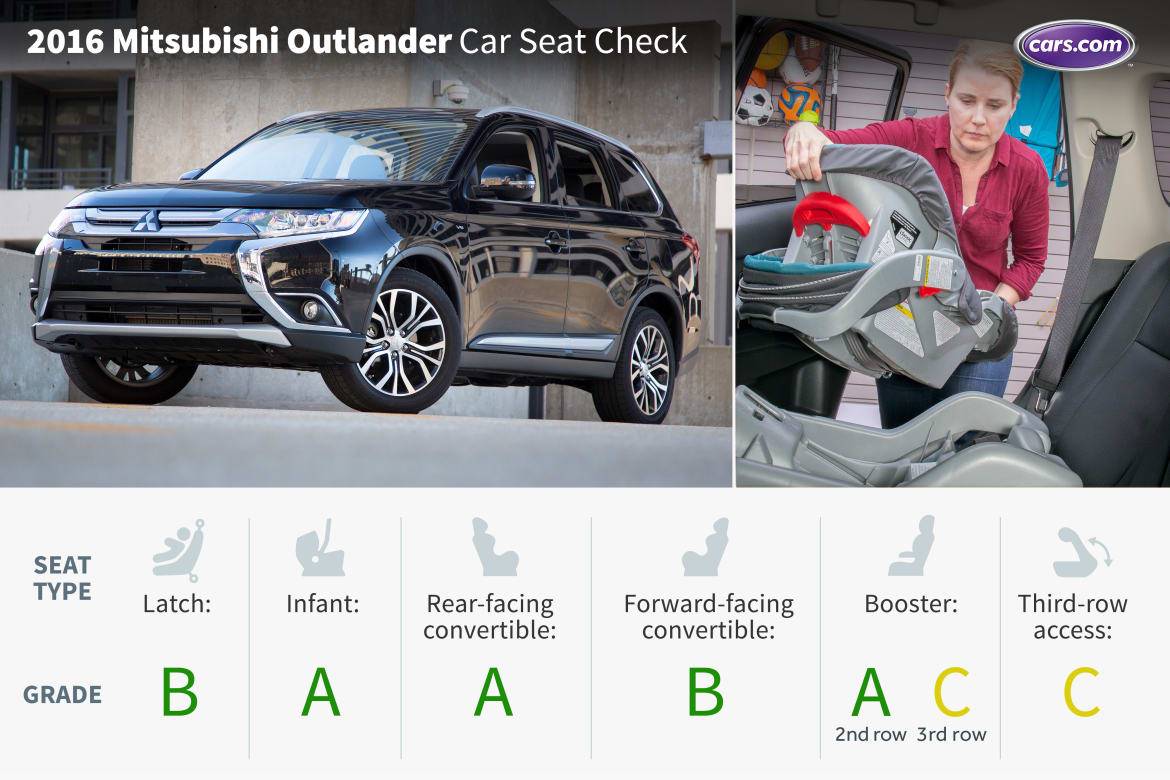 For families on a budget looking for three rows of seats, the Mitsubishi Outlander SUV might be appealing. When it comes to child-safety seats, the seven-passenger Outlander performs well until you get into the third row. It lost points for difficult-to-use second-row top tether anchors and buried third-row buckles. Also, because the third row doesn't have any Latch or tether anchors, the only car seats that can be installed back there are booster seats.
2017 Nissan Pathfinder, 7 Points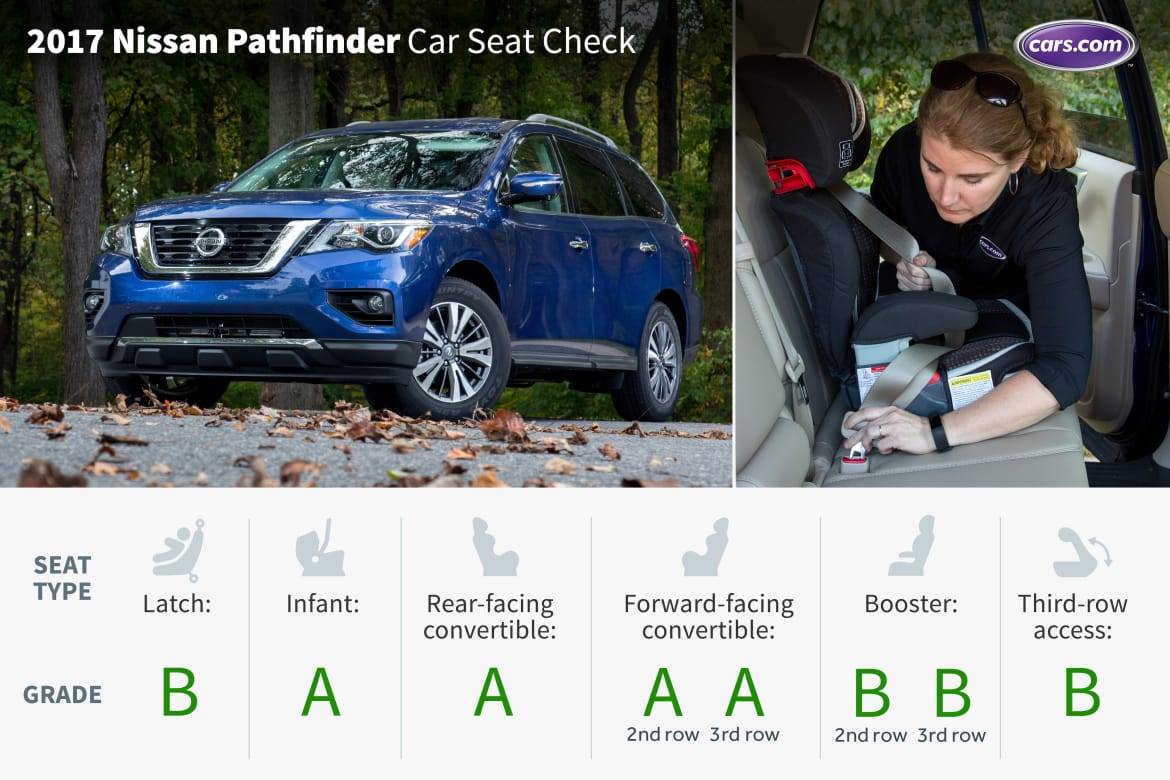 Refreshed for 2017, the Pathfinder made easy work of installing our trio of child-safety seats, but it suffers the same car-seat penalty as the Santa Fe and Kia Sorento SUVs: floppy buckles in the second and third rows.
2018 Chevrolet Traverse, 6 Points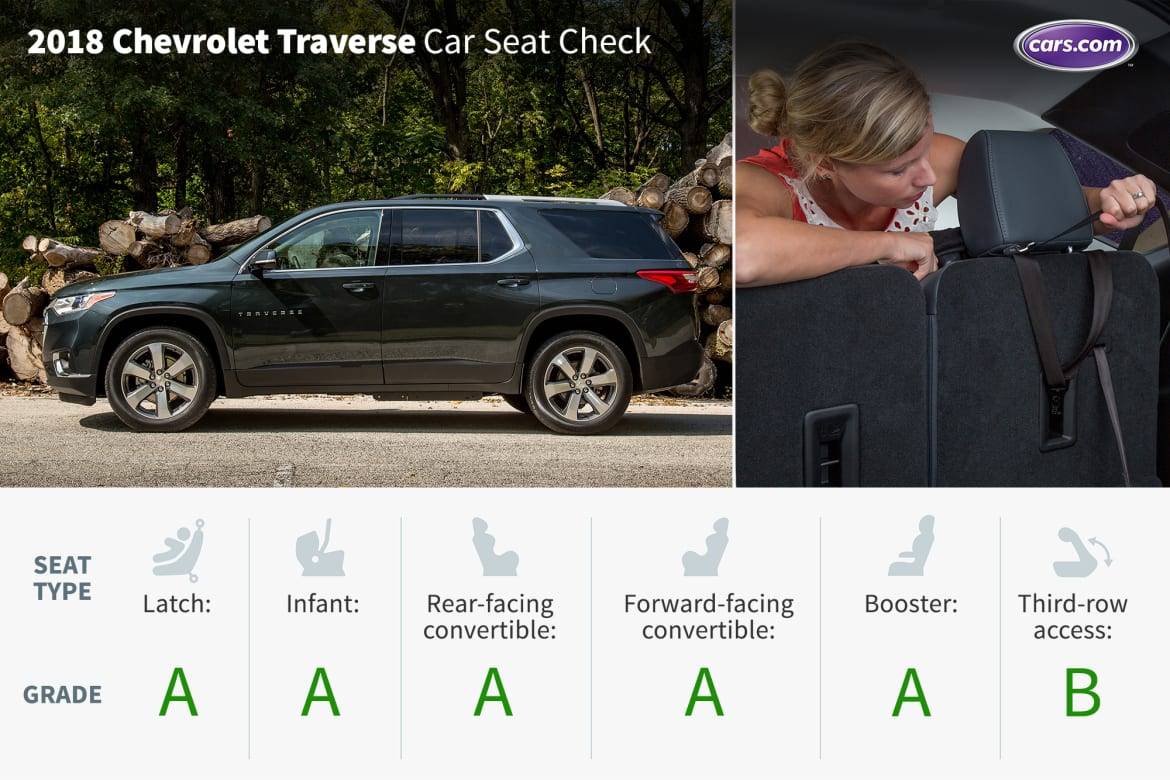 Although Chevrolet's redesigned people mover has a roomy second row with accessible Latch anchors, the 2018 Traverse's lost points for its third row. The fixed head restraint interfered with the front-facing convertible's fit; we had a similar issue with our booster seat in the third row. Also, the third row's floppy buckles are not very kid-friendly.
2017 Kia Sorento, 6 Points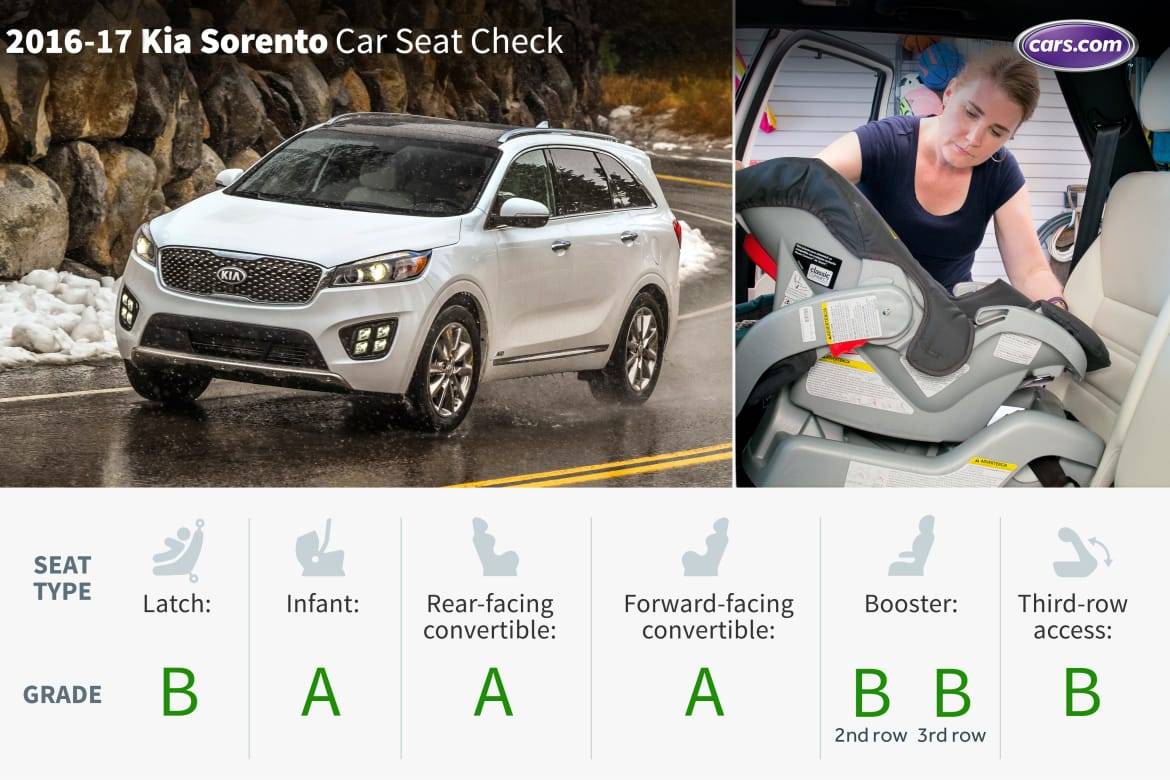 Like its Santa Fe cousin, the Sorento SUV suffers from floppy seat belt buckles, which decreased its overall car-seat score. And it takes some muscle to connect to the second row's lower Latch anchors, but our car seats fit well. Lastly, it lacks a third-row top tether anchor, which means forward-facing car seats cannot safely be installed back there.
2017 Toyota Highlander, 5 Points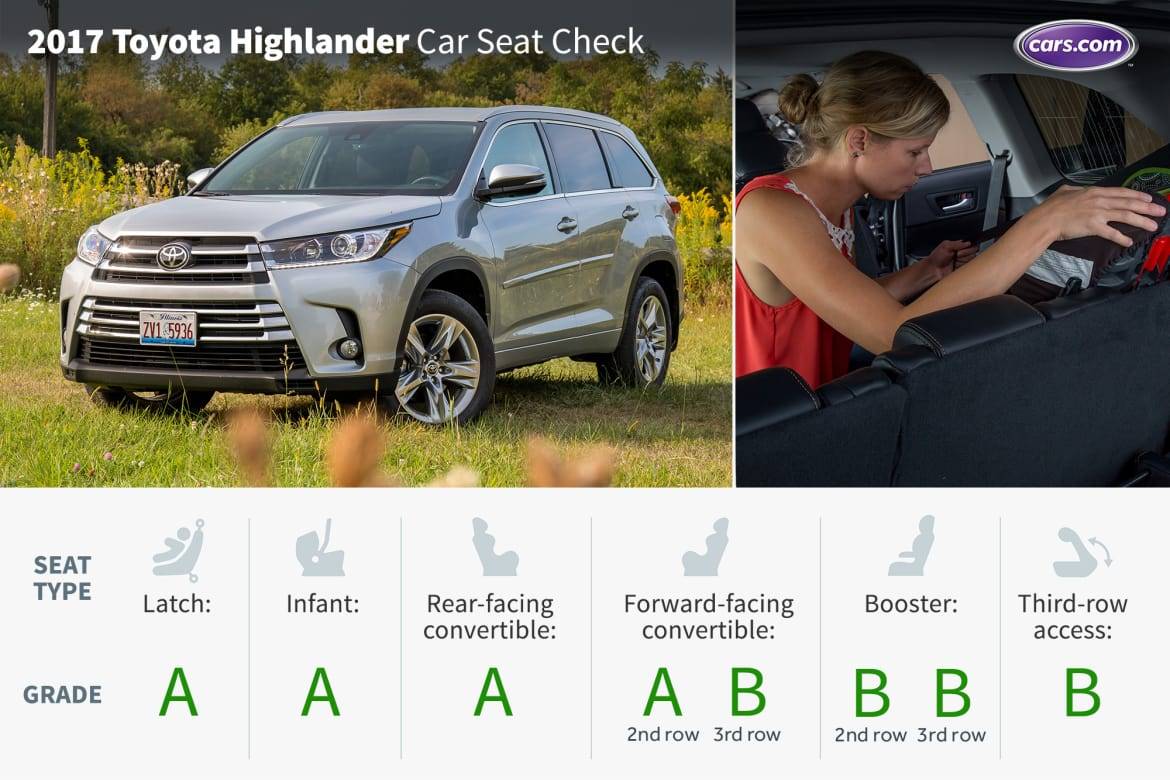 Dropping to the bottom of the list is Toyota's Highlander SUV, earning just half the points of our winner. It lost points for floppy buckles in its second- and third-row seats, as well as poor accommodation of the front-facing convertible in the third row. Since there are no third-row lower anchors, we used the seat belt to install the car seat and had to position it in the middle spot since that's where the sole top tether anchor sits. Because the seat belt comes down from the ceiling, it blocks the driver's view when in use.
How We Conduct Car Seat Checks
We set the front seats in a comfortable position for the driver (5-foot-11) and for the front passenger (5-foot-6).
We place the rear-facing infant seat behind the front passenger, as well as the convertible seat in both forward- and rear-facing positions.
We place the booster seat behind the driver's seat.
We check to see if three seats fit (when the three seats are installed, there has to be enough room to allow a child in the booster seat to buckle himself in). In this scenario, we put the infant seat in the middle seating position.
We start with 10 points and deduct the following:
2 points if the rear-facing infant or convertible seat does not have sufficient clearance without moving the front passenger seat forward, or if the booster or forward-facing convertible has fit issues.
2 points if the car has floppy buckles, which make it tough for kids in booster seats to buckle up.
2 points if the lower Latch anchors were difficult to access — either by being too buried or having insufficient clearance, above or below, to attach Latch anchors.
1 point if the seat belt buckles are recessed in the bottom seat cushion, allowing the booster to sit on top of them.
1 point if the tether anchors or seat belt we use for installation are in the ceiling.
1 point if the tether anchors are not clearly marked, or if they're difficult to use.
1 point if there are no third-row top tether anchors.
We add for the following:
2 points if there's at least one set of Latch anchors in the third row.
Cars.com's Editorial department is your source for automotive news and reviews. In line with Cars.com's long-standing ethics policy, editors and reviewers don't accept gifts or free trips from automakers. The Editorial department is independent of Cars.com's advertising, sales and sponsored content departments.