Key specs
Base trim shown
Overview
The good:
Interior quality
Minimal road and wind noise
Roominess for the money
Quality of available 12.3-inch screen
Standard driver-assist features
Uses regular gasoline
Base suspension ride quality
The bad:
AWD only on ES 250
No folding backseat
Poky ES 250
Noisy four-cylinder engine (ES 250)
Not engaging to drive (even F Sport)
Leather seating optional
4 trims
Starting msrp listed lowest to highest price
Notable features
New touchscreen multimedia system
Newly standard blind spot monitoring and rear cross-traffic alert
ES 250 (four-cylinder), ES 350 (V-6) and ES 300h (hybrid)
All-wheel drive (ES 250 only)
Front-wheel drive (ES 350 and ES 300h)
Standard adaptive cruise control and lane-centering steering
2022 Lexus ES 250 review: Our expert's take
The verdict: A new touchscreen for multimedia and vehicle controls makes the 2022 Lexus ES 350 a much better option than previous versions.
Versus the competition: In a class of small, sporty luxury sedans, the ES 350 remains a comfy, quiet option best experienced in its non-F Sport versions.
Incremental changes have kept the Lexus ES sedan fresh since its 2019 model-year redesign, including a four-cylinder, all-wheel-drive ES 250 in 2021. But the 2022 ES is the best version yet — and it didn't take an entire redesign or even a significant refresh to get there; all it took was a touchscreen.
Related: Updated 2022 Lexus ES Addresses One of Its Greatest Misses
Finally, a Touchscreen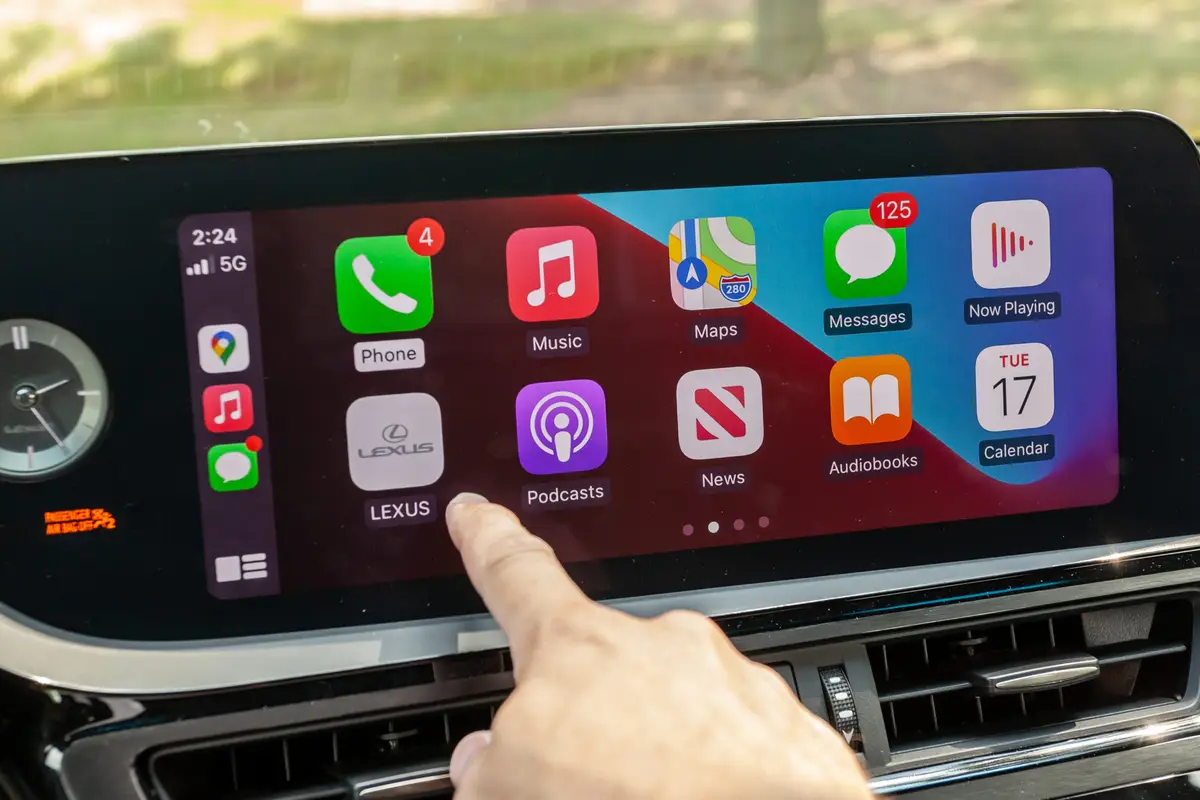 Over years and through generations of Lexus ES sedans, drivers primarily controlled the car's multimedia and other features through a wonky touchpad controller or a polarizing joystick. I preferred the 2014-18 joystick over the more recent touchpad, but neither was great.
The redesigned 2022 Lexus NX SUV got a whole new touchscreen system, and while the 2022 ES has kept its touchpad controller, its best upgrade is a new touchscreen to replace the previous non-touch display. It gives the ES 250 and ES 350 the usability we expect from a new car, including the ability to use Apple CarPlay and Android Auto as they're intended: by touch. Apple CarPlay even stretches across the whole screen, which isn't a given with the proliferation of large screens in cars these days. I tested a top Ultra Luxury trim of the ES 350, and its 12.3-inch touchscreen was high-resolution and high-quality, with the same crisp graphics it had before to go along with its new touchscreen functionality — prompting a big sigh of relief. (A smaller 8-inch touchscreen is standard.)
In transforming its display to a touchscreen, Lexus positioned the new unit 4.3 inches closer to the driver than was the outgoing non-touchscreen. It's a noticeable shift that puts the screen right at arm's length. The Lexus RX 350 SUV received a similar update for 2020, but the screen remained a bit too far away for easy reach. That's not the case in the ES. It's like the manual transmission gearshift on a Mazda MX-5 Miata: exactly where you want and expect it to be.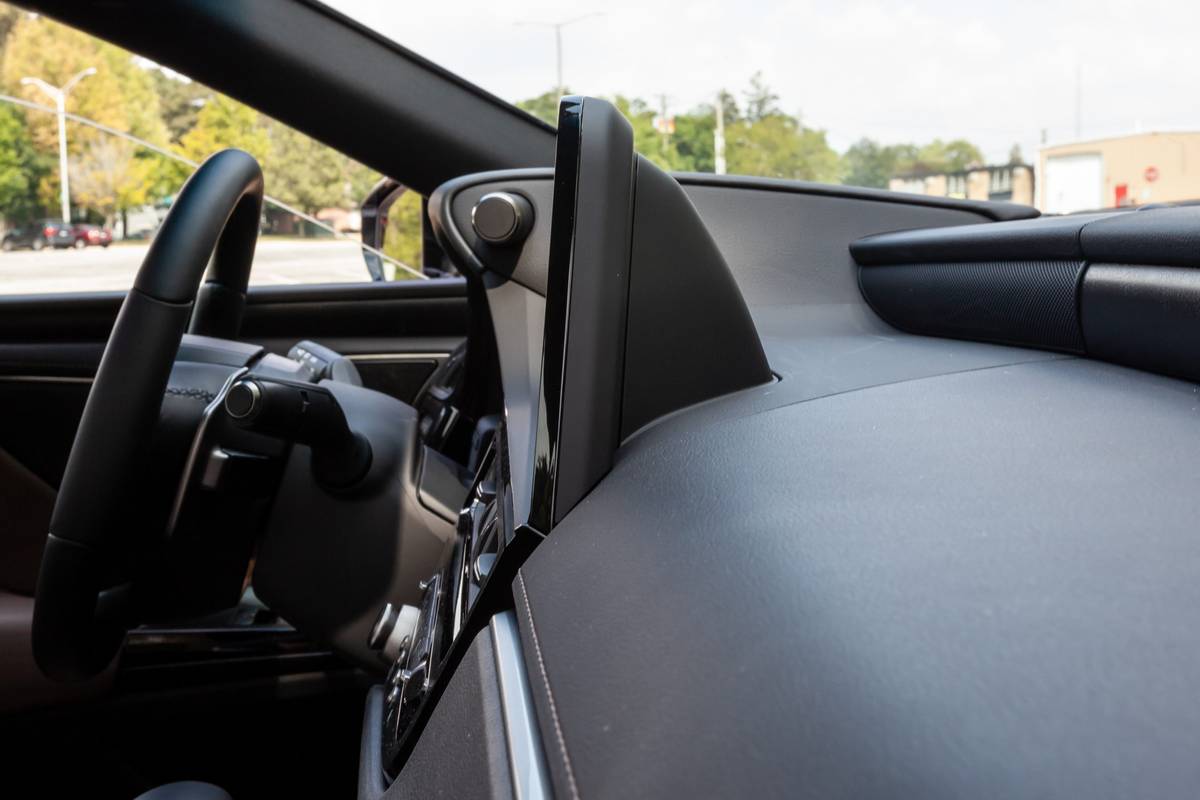 A lowly touchscreen may not seem like much, but it's done away with the ES' biggest red flag: The touchpad that was the primary controller before the touchscreen was truly hard to use while driving, requiring more steps than simply touching a screen, and it was inconsistent in its movement and activation. If you did like the touchpad controller (and I say "you," singular, because that's how many fans of it I think there are out there), know that it's sticking around for now. Areas that still need improvement are the backup camera and 360-degree camera system displays. For how high-quality the native graphics are, the 360-degree camera system display lacks clarity, and its images stretch unnaturally across the screen.
What Else Changed?
The rest of the ES is relatively unchanged, with respectable size and interior quality for the money. You can read our thoughts on its interior space and quality in our original review of the redesigned ES, as well as our review of the new-for-2021 ES 250 F Sport. While the touchscreen is the most notable change for 2022, there are some other ones, including additional standard safety features thanks to the inclusion of Lexus Safety System Plus 2.5 (replacing the 2.0 version), which adds blind spot monitoring and rear cross-traffic alert to the automaker's suite of standard safety features. The new standard features were optional on base trims of the 2021 ES but standard on all others.
Other additions to Lexus Safety System Plus 2.5 include camera and radar enhancements that open up some newly available functions, including Intersection Turning Assist. In certain situations, this feature can identify an oncoming car or pedestrian and apply precollision system warnings and intervention. The adaptive cruise control feature adds Curve Speed Reduction to slow the vehicle through tight curves, and the lane-centering function is said to have better course recognition than the past version. In my testing, however, the lane-centering system was inconsistent when it came to keeping the car in a single position in a lane, and it often held uncomfortably to the right side of the lane.
The brake pedal is larger, and the brake system's master cylinder and brake booster have been updated for more linear brake pedal feel and response; the previous braking system didn't bother me, but if it did you, it might be worth revisiting.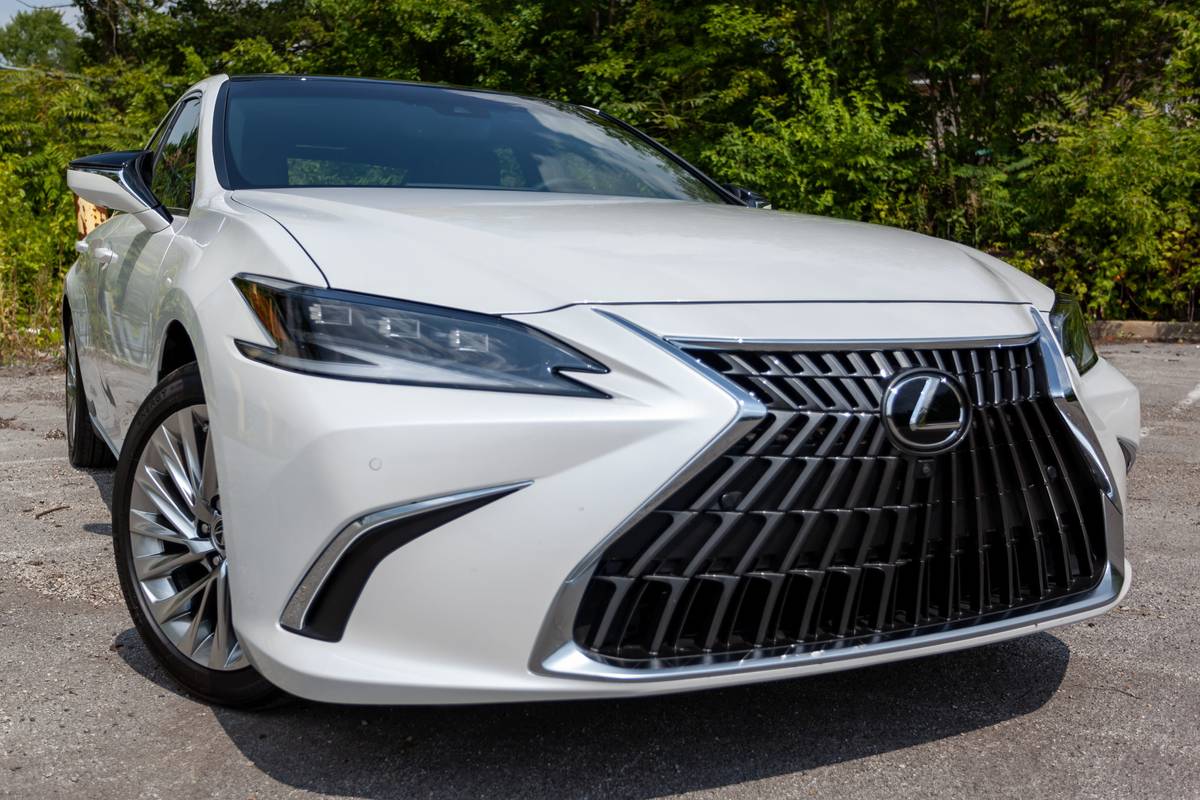 On the outside, every trim except the F Sport gets a newly styled front grille. The car I tested had a grille with additional horizontal slots versus the 2021 version, breaking up the former grille's humpback whale vibes. Also, the ES 300h hybrid gains the F Sport treatment for the first time.
ES 350: The Best ES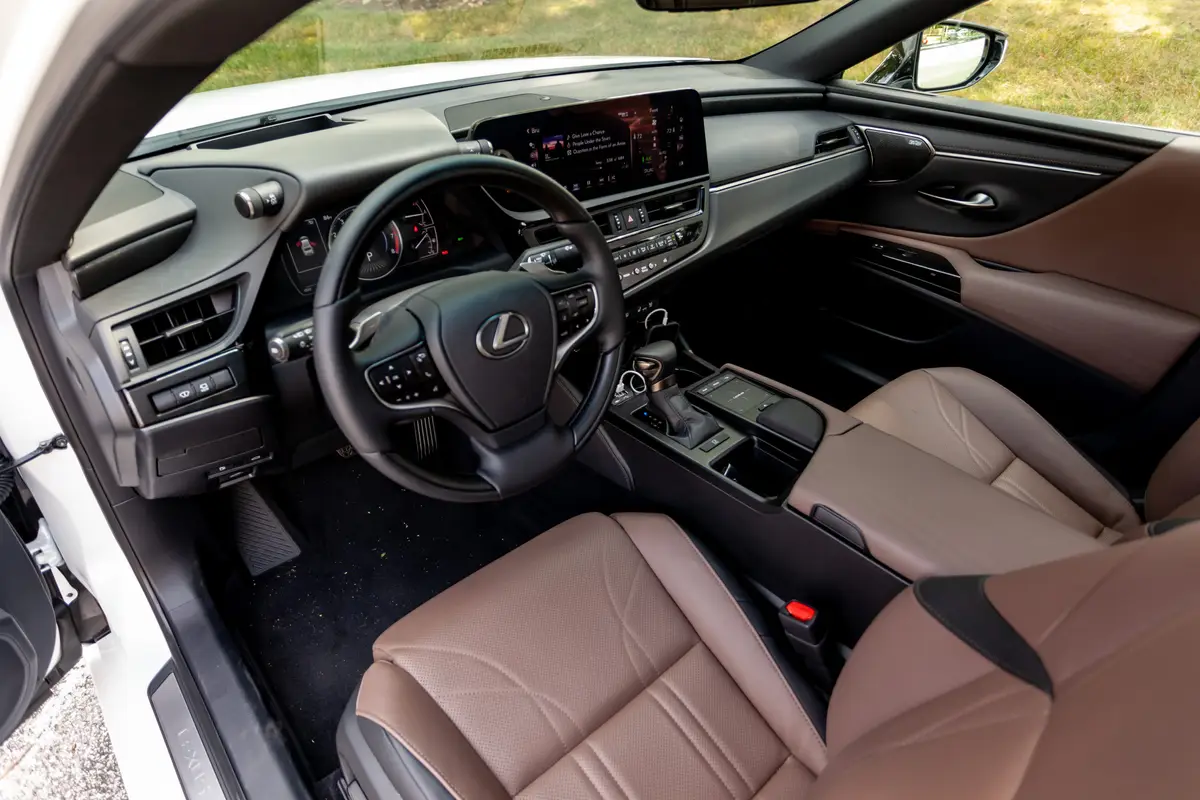 F Sport is a sleek, attractive package that gives the ES a healthy dose of aggressive looks, but  its ride harshness and unique suspension tuning — even with the optional adjustable-firmness shock absorbers — make any handling gains not worth the price of admission. With the sporty GS sedan no longer available, the ES F Sport does have a place — but its looks, ironically, will be the driving factor for buyers, not how it drives. The base-suspension ES 350 exudes classiness and composure in its ride at highway speeds, and it accelerates with refined smoothness from its silky 302-horsepower V-6; the F Sport degrades some of that smooth ride.
When I reviewed a then-new 2021 ES 250 F Sport — a four-cylinder, all-wheel-drive ES — I was disappointed in its acceleration and the wheeziness of the four-cylinder. Driving this ES 350 a year later validated my belief that the ES 350 remains the ES to buy — unless you absolutely need all-wheel drive — especially considering it has exactly the same starting price as the ES 250: $41,875, including destination fee. That pricing parallels what's available in Cars.com's national inventory: The average ES 350 listing price was $47,373 in November 2021, while the average list price for the ES 250 was $46,807, though there were only 291 of those cars in our inventory versus 2,448 ES 350s (meaning you have a better chance of finding an ES 350 anyway).
It's a shame the ES 350 remains front-wheel-drive only because its front wheels are easily overpowered by its punchy V-6 engine. It's the V-6 that needs all-wheel drive to retain the ES' acceleration and pleasing engine soundtrack. The traction control does a fine job slowing the car's wheel speed, but it notably hampers acceleration because it often has to work overtime: With all traction assistance off, the ES 350 blazes its tires.
Given my complaints about the V-6's limited traction, it may sound contradictory to say I prefer the ES 350 over the ES 250 AWD. Easy enough solution, right? Buy the 250 and its AWD. But most of the times you think you need AWD, you could likely get by with a set of dedicated winter tires, and when you're not digging out of the snow, the V-6 is simply the more appropriate — and more enjoyable — engine for the ES.
More From Cars.com:  
Cars.com's Editorial department is your source for automotive news and reviews. In line with Cars.com's long-standing ethics policy, editors and reviewers don't accept gifts or free trips from automakers. The Editorial department is independent of Cars.com's advertising, sales and sponsored content departments.
---
More from our experts:
Warranty
New car program benefits
Bumper-to-bumper

48 months/50,000 miles

Corrosion

72 months/unlimited distance

Powertrain

72 months/70,000 miles

Maintenance

12 months/10,000 miles

Roadside assistance

48 months/unlimited distance
All model years for the Lexus ES 250