2020 Hyundai Palisade Vs. 2020 Toyota Highlander: Family SUVs Duke It Out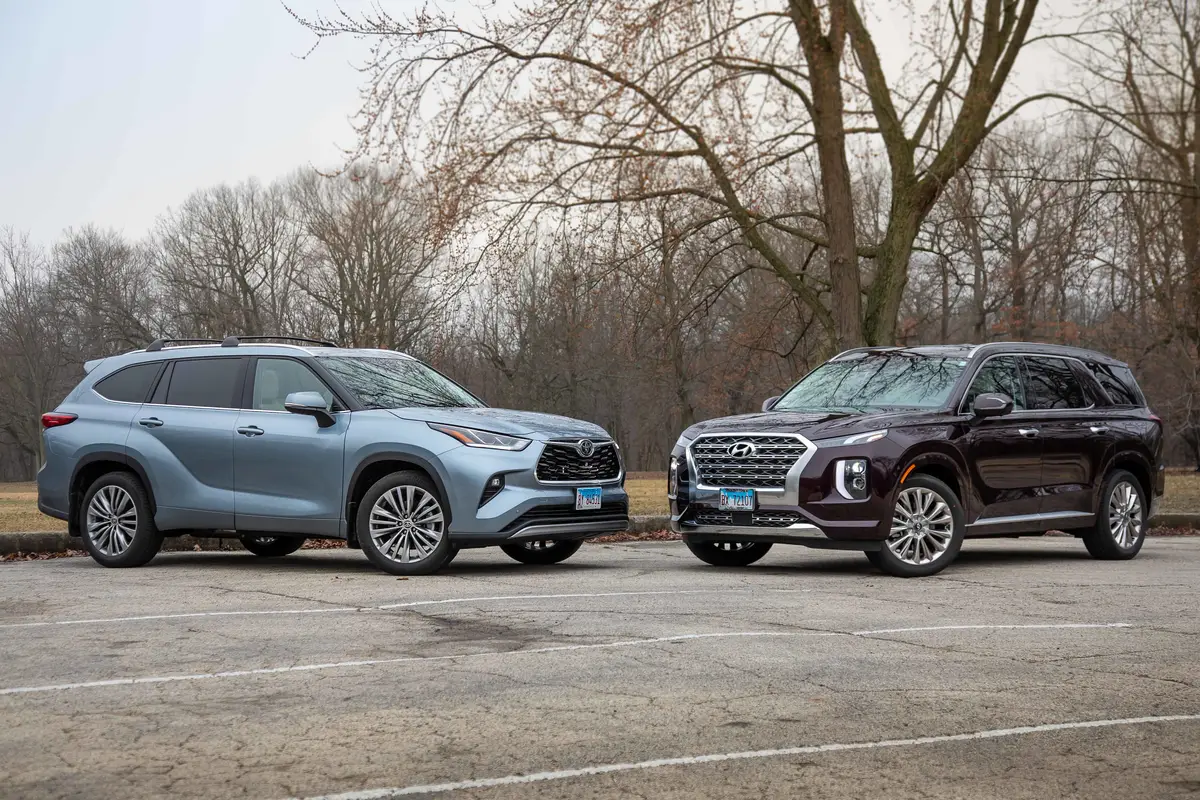 Before coronavirus-spurred losses for all auto sales, three-row SUVs were all the rage. In sales tallies over the final months of 2019, shoppers demonstrated a clear preference for such haulers over their two-row, mid-size counterparts: The Chevrolet Traverse blazed the Blazer, the Ford Explorer edged the Edge, the Honda Pilot passed the Passport … OK, we'll stop.
Related: 2020 Toyota Highlander: Everything You Need to Know
Cars.com evaluated seven such family haulers in a wide-ranging comparison published in December 2019, where I served as one of three judges in the comparison. The all-new Hyundai Palisade finished atop the group, going on to win Cars.com's highest annual award among all new and redesigned cars, Best of 2020. But notably absent from the comparison was a household name: the Toyota Highlander. Because it was being redesigned for 2020, Toyota couldn't furnish the new SUV in time for our comparison, leaving family shoppers to wonder how it might have fared against the new benchmark.
Wonder no more. In March, we evaluated a well-equipped Highlander against Cars.com's long-term Palisade, which we purchased in December to own for a full year. With top trim levels of each SUV — a Highlander Platinum and our long-term Palisade Limited — the two were similarly equipped and priced. Both had all-wheel drive and a few accessories, coming to $51,112 for the Highlander and $47,950 for the Palisade (all prices include destination).
Cars.com Managing Editor Joe Bruzek and I took both vehicles on back-to-back loops in Chicago's western suburbs on a rainy March day with tire pressures set to their respective specifications beforehand. Similar to the December comparison — which included a different but similarly equipped Palisade — we also measured cargo space, evaluated car-seat fitment and scored myriad static and driving categories, from handling and drivetrain refinement to seating space and interior quality. We did not evaluate real-world fuel economy this time around, choosing instead to consider respective EPA ratings in our As-Tested Value category.
As is customary with head-to-head comparisons, we'll simply name the winner or declare a tie for each category. Thus, the overall winner is the SUV with the most individual category wins. In line with Cars.com's longstanding emphasis on value, the As-Tested Value category gets double weighting — a practice also employed in Cars.com's points-based Challenge scoring. 
In total, we judged 18 categories between the two SUVs, starting with those that involve driving:
Acceleration: Tie
Ride quality: Highlander
Braking: Tie
Noise abatement: Highlander
Steering and handling: Tie
Interior quality: Palisade
Usability of controls: Palisade
Media and connectivity: Palisade
Front seats: Tie
Second-row seats: Palisade
Third-row seats: Palisade
Visibility: Highlander
In-cabin storage: Palisade
Cargo space: Palisade
Car-seat accommodations: Palisade
Safety features: Highlander
Driver-assist and autonomy: Tie
As-tested value: Palisade
Acceleration
Winner: Tie
With curb weights a stone's throw from each other, both SUVs pair eight-speed automatic transmissions and normally aspirated V-6 engines with nearly identical horsepower and torque. That's an even matchup on paper, but in practice, a tie emerges out of some key differences. The Highlander feels a touch quicker if you really stay on the gas and rev it out to higher rpm, while the Palisade's low-end torque gives a little more advantage from a stop. If you accelerate hard while in motion, Toyota's eight-speed automatic hunts through intermediate gears on multigear downshifts. Still, the transmission reaches its eventual gear a bit sooner than the Palisade's unremarkable eight-speed in the same circumstance, and it's less laggy than when we drove a Highlander at Toyota's media preview in December. At day's end, Bruzek slightly preferred the Palisade's powertrain overall, while I judged the Highlander's a tad better. It's a tie.
Ride Quality
Winner: Highlander
No such tie comes with ride quality. Both SUVs boast good ride control, free of much bounciness or lateral movement, but damping is notably firmer in the Palisade. By contrast, the Highlander has generous shock absorption over potholes and sewer covers. I deemed neither SUV especially adept at isolating the cabin at speeds faster than 40 mph or so — Bruzek gave the Highlander better marks in this regard — but Toyota got our collective nod for overall ride quality.
Braking
Winner: Tie
Another tie emerged on braking, where we again disagreed mildly. Both SUVs demonstrate surefooted deceleration overall, but Bruzek found the Highlander's pedal feel too mushy; I deemed the Palisade too vague on the first inch or so of travel. Again, a tie.
Noise Abatement
Winner: Highlander
The Highlander abates noise admirably in all conditions, though we observed some noise from the tires slinging water into the wheel wells that the Palisade masked better. That said, the Palisade has notable wind noise near the A-pillars around 40-50 mph, as well as more road noise at lower speeds. In this category, Toyota carried the rain-soaked day.
Steering and Handling
Winner: Tie
If you're tired of ties, note that just two more exist in the remaining 13 categories. Fact is, neither SUV's steering distinguishes itself. At low speeds, both have highly assisted steering, ranging from low-effort in the Palisade to downright child's play in the Highlander. Bruzek found the Palisade a little more dialed in during sharp corners and cloverleaf interchanges; I preferred the Highlander's reflexes during such maneuvers, though its skinnier tires fall short of the Palisade's for wet cornering grip. Still, we agreed that neither model stands out as fun. That's a modest strength among rivals like the Mazda CX-9, Volkswagen Atlas and redesigned Ford Explorer.
Interior Quality
Winner: Palisade
In higher trim levels, the redesigned Highlander is nicely appointed: Areas your arms and knees touch are padded, and much of the dashboard and doors have upscale, stitched wrappings. But it can't compete with the Palisade. From Nappa leather upholstery to a suedelike headliner, build quality and materials in the Palisade Limited befit a luxury brand. The interior is remarkably free of foibles, too: The Highlander drops the ball here and there with cheap plastics or clumsy controls — reminders that you are not, after all, in a luxury car. In the Palisade's top trim, meanwhile, Hyundai sets out to convince you of the opposite. It succeeds.
Usability of Controls
Winner: Palisade
Both SUVs have a full roster of must-have controls and supersized touchscreens, but execution differs. The 12.3-inch display in the Highlander Platinum eclipses the 10.25-inch unit in the Palisade Limited (lower trims on both models employ 8-inch touchscreens), but Toyota's size advantage fizzles when you plug in a smartphone or show the navigation map. Toyota limits Apple CarPlay, Android Auto and the map to only about two-thirds of the screen — roughly an 8-inch portion — reserving the remainder, confoundingly, for other menus. The Palisade does that with Android Auto but not Apple CarPlay or the navigation map, which both leverage the full display. Add to this the configurable virtual gauges in the Palisade Limited versus a smaller display between the Highlander's physical gauges and it's a clear win for Hyundai.
Media and Connectivity
Winner: Palisade
Both SUVs have the requisite smartphone integration, though the Highlander has better integration with Amazon's Alexa voice assistance. It also offers in-car Wi-Fi, but you'll have to pay for a subscription after the introductory period (three months or 2GB, whichever comes first) runs out. More enduring is our Palisade's seven USB ports, including two in the third row; the Highlander has just five ports, many of them bunched together in cord-tangling locations. Hyundai won by a nose.
Front Seats
Winner: Tie
The Highlander's lower center console leaves more knee space than the Palisade's high console, though the latter has more overall width between the console and doors, and neither berth feels particularly wide for this class. We judged the Highlander's front seats comfier than the Palisade's, but Toyota's lack of a passenger-side height adjustment — a feature on well-equipped examples of the Palisade, including ours — drew frustration. So did the Highlander's heating provisions, with lukewarm heated seats and a heated wheel that warms only the side portions, a longstanding problem for Toyota and its Lexus luxury division. The Palisade's heated seats and wheel, meanwhile, work without issue. Ultimately, we judged this a draw.
Second-Row Seats
Winner: Palisade
The second-row seats in both SUVs afford adult-friendly knee space, but the Palisade's feel like an extension of the front seats; they're big, comfortable and easy to adjust. The Highlander's seats have unintuitive controls — new passengers will need your direction — and they're both smaller and closer to the floor. Features differ, too. Both SUVs had second-row captain's chairs as tested, but the chairs in the Palisade Limited are heated and ventilated; the Highlander Platinum's second-row seats are only heated. Hyundai easily won.
Third-Row Seats
Winner: Palisade
With intuitive push-button access to slide the second-row captain's chairs forward, plus a wider space to climb in back with the chairs forward or by using the aisle between them, the Palisade thumps the Highlander for third-row access. Once you're back there, space is a closer battle; neither SUV has as much room as, say, the Atlas. But the Palisade wins thanks to better headroom and a higher seating position. Both SUVs are likely to carry mostly kids in the wayback seats, but the Highlander's third row feels like it should only do such duty.
Visibility
Winner: Highlander
In their top trim levels, each SUV leverages technology to improve visibility. Side-view cameras in the Palisade aid your view of adjacent traffic, while the Highlander's camera-based rearview mirror shows an unobstructed view out back. Both also have 360-degree camera systems to aid parking maneuvers. Without such cameras, neither SUV is inherently easy to see out of: Palisade drivers suffer from thick C-pillars, while the Highlander has bulky second-row head restraints and a smaller rear window. We judged the Highlander slightly better, cameras and all, because its 360-degree display has some additional viewing modes that prove helpful. What's more, its rearview camera is undaunted by water runoff during the rain, something that renders the Palisade's side-view cameras all but useless.
In-Cabin Storage
Winner: Palisade
Between the Palisade's multilevel console bins and the Highlander's dashboard shelves, both SUVs boast tons of driver-accessible storage. The Highlander has an overhead sunglasses holder (a head-scratching omission in the Palisade), but we prefer the accessibility and capacity of the Palisade's console storage to the Highlander's shelves.
Cargo Space
Winner: Palisade
Manufacturer-stated cargo specs are an unreliable metric, so we measured cargo space in both SUVs using methodology consistent with what we did in two recent SUV comparisons. The Palisade emerged a clear winner, with 22.9 cubic feet of as-tested volume behind the second row versus the Highlander's 18.7 cubic feet. Behind the third row, we measured 14.2 cubic feet in the Palisade versus just 9.9 cubic feet in the Highlander. It's worth noting that a driver's-side speaker for the JBL premium stereo in the Highlander Platinum costs some room in the latter category; an XLE model without the speaker, which we measured in February at the Chicago Auto Show, has 10.5 cubic feet by our tape. Any way you slice it, though, the Palisade has more cargo room. It also provides easier seat folding thanks to cargo-area controls and a power-folding third row, aids missing in the Highlander.
Car-Seat Accommodations
Winner: Palisade
For both models, Cars.com's certified car-seat technicians evaluated child-safety seat fitment by installing a booster, rear-facing infant and forward- and rear-facing convertible seat. Both SUVs have sufficient accessibility to Latch anchors, with enough room in the second row to install even our bulkiest rear-facing seat. The Highlander's seat belt buckles are easier for kids in booster seats to reach, as they're more stable than the Palisade's floppier receptacles. But the Hyundai earned more distinction, and the category win, for having enough room to install a seat in the third row plus an extra set of Latch anchors back there — two aspects missing in the Highlander.
Safety Features
Winner: Highlander
Because third-party crash tests are seldom available across an entire class for Cars.com's multi-vehicle comparisons, we typically address safety by accounting for key crash-avoidance technologies. In this case, both SUVs have been crash-tested by the Insurance Institute for Highway Safety, which gives similar ratings across the board for each (see the Highlander's here and the Palisade's here). Both vehicles are packed with important safety technologies, including low- and high-speed automatic emergency braking with pedestrian detection, lane departure warning with steering intervention, blind spot warning systems and much more. The Highlander wins thanks to curve-adaptive headlights and rear automatic emergency braking, two features unavailable in the Palisade. Toyota offers both on higher trim levels of the Highlander, including the Platinum grade we tested.
Driver-Assist Tech and Autonomy
Winner: Tie
There's less daylight between the two SUVs in terms of driver-assist technology and autonomous features. Both have adaptive cruise control and hands-on lane-centering steering that work from a stop all the way to highway speeds. In real-world experience, both systems functioned reasonably well to center the SUVs in a variety of conditions. This ended up a tie.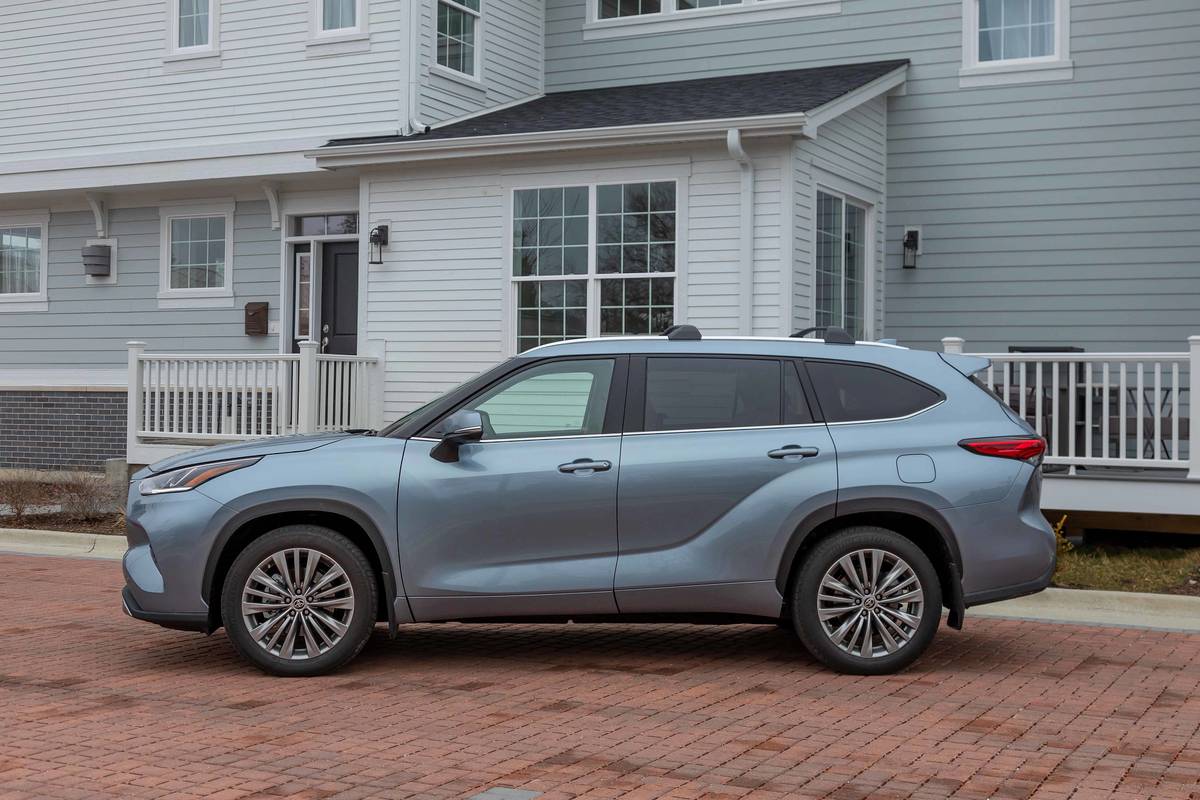 As-Tested Value
Winner: Palisade
As tested, the Palisade boasts comparable features to the Highlander but decidedly better quality and room, all for an as-tested price that's $3,162 (6.2%) less. Toyota gets notably better EPA fuel economy, but relatively cheap gas at the time of this writing means it would take literal decades to recoup the price difference through fuel savings alone. To serve current shoppers, we also factored in Hyundai's free-maintenance program introduced in February even though our Palisade purchase preceded it; such provisions beat Toyota's free maintenance by a year. Hyundai's excellent warranty, meanwhile, has played a longstanding part in our value considerations. In this important category, the Palisade wins a decisive victory.
More From Cars.com:
Overall Winner: Hyundai Palisade
Decisive, too, is the Palisade's category lead in this head-to-head comparison. Hyundai piled up the equivalent of 10 category wins (nine wins plus Value, which counts double) versus just four for Toyota. Five categories resulted in a tie. We can't speculate exactly where the Highlander might have furnished in the whole class of SUVs had Toyota furnished an example for our December comparison, but this head-to-head comparison proves the 2020 Highlander wouldn't have threatened the Palisade's top ranking.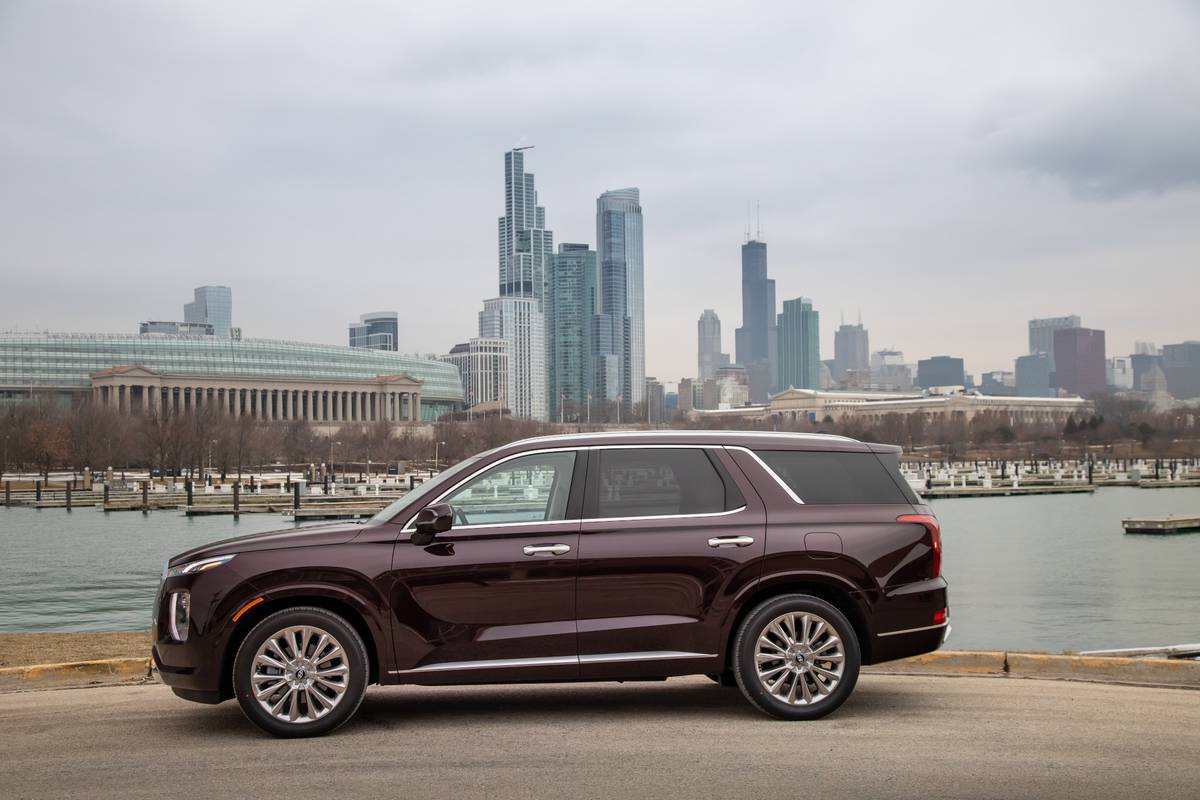 Cars.com's Editorial department is your source for automotive news and reviews. In line with Cars.com's long-standing ethics policy, editors and reviewers don't accept gifts or free trips from automakers. The Editorial department is independent of Cars.com's advertising, sales and sponsored content departments.