Cheap Thrills: 6 New Cars With Small Price Tags and Big Fun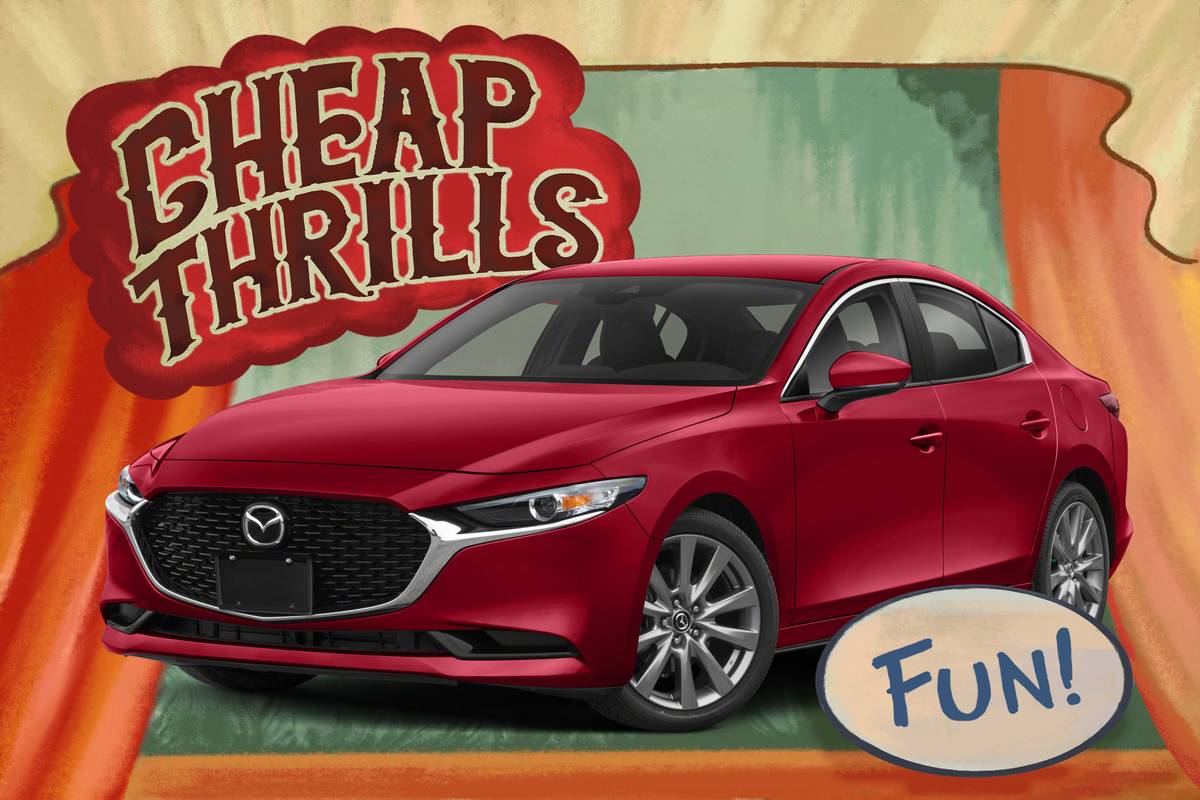 There's no getting around it, cars are getting more and more expensive . Last year, the average transaction price surpassed $34,000 for the first time, according to J.D. Power and LMC Automotive. That's a lot of cheese. The good news, however, is that there's a glut of cars that come with small price tags and big fun behind the wheel.
Related: 2020 Toyota Corolla Review: Hatchback-Nice With a Trunk and Real Backseat
For many years the Toyota Corolla offered inexpensive, reliable and fuel-efficient transportation, but about as far from fun as you can get. That has been rectified with the redesigned 2020 Toyota Corolla; both the sedan and hatchback versions get a serious dose of added enjoyment with an improved suspension and an enjoyable manual transmission. It was so good that it got me thinking of all the other cars that are affordable and a joy to drive — I love cheap thrills.
You may notice that traditional sports cars like the Mazda MX-5 Miata and the Toyota 86 are absent from this list. That's because we're focusing on compacts, and I set a minimum of three doors and a maximum price of around $26,000 to make it onto this list. So while both of those would be worthy entrants on driving acumen alone, they don't offer enough practicality in this case.
For each car that made the cut, I list a base fun price. Some of the cars offer different engine and transmission combinations, and I list the lowest price for a version that's fun to drive (including destination charges):
2020 Toyota Corolla SE and Corolla Hatchback SE
Base fun price: $23,705 (sedan), $21,245 (hatchback)
These cars were the inspiration for this list because the Corolla is no longer boring thanks to a giant step up in handling and drivability. The prices above are for the SE models of both body styles, important because the SE (and pricier XSE trim levels) come with the more powerful 169-horsepower, 2.0-liter four-cylinder engine; the base 139-hp engine is underpowered for any sort of hijinks.
The 2.0-liter is also the only engine that comes with the available six-speed manual transmission, included in the prices above. It comes with a subtle rev-matching feature that is less of a performance bonus than a nice helper for those who are learning to shift their own gears. Do note that strangely, a Corolla SE equipped with the continuously variable automatic transmission actually costs less than the manual because has a bit less standard equipment.
Even if you do opt for the CVT, not all is lost. The firmed-up chassis gives the Corolla better balance — it feels taut in turns and the steering isn't oppressively numb like it can be in other Toyotas. A fun Corolla wasn't something I think I'd see in my career, and I'm glad it's here. In a back-to-back drive with the Mazda3, Cars.com's Kelsey Mays actually favored the Corolla's dynamics over the Mazda.
2020 Mazda3
Base fun price: $22,420 (sedan), $24,620 (hatchback)
The Mazda3, the longtime flag carrier for driving acumen in the compact class, has slipped a little bit but still very much warrants inclusion on any list of affordable fun. Stick with the base model for the most fun per dollar, which also adds more safety features for 2020 that increases the car's value.
The Mazda3's steering feel is its biggest highlight. Get it out on a curvy road and you will feel a oneness with the handling that's still distinctly Mazda. But the move to a torsion-beam rear suspension (rather than multilink setup found on most competitors) and an engine that takes too long to get into power hold it back slightly. The last generation of the car (model-year 2014-2018) was more engaging.
Included as standard on the base models is a six-speed automatic transmission. Unfortunately, the excellent six-speed manual is only offered on front-wheel-drive Premium hatchback models (the top trim level). Luckily, the automatic is good enough that it won't hold you back too much if you don't want to pony up the money.
2020 Hyundai Veloster Turbo R-Spec
Base fun price: $24,070
The Veloster's naturally aspirated, 147-hp 2.0-liter base engine is not much to write home about, but take one step up to the 201-hp, turbocharged 1.6-liter four-cylinder and the Veloster gets very exciting. The only available transmission in the 2020 Turbo R-Spec is a six-speed manual and it's quite a good one, which is a stunning turn of events from a company that had previously made sloppy manuals. And the same thing is true of the steering. Gone is the vague, overboosted feeling of the previous Veloster versus the new sharp and engaging steering with proper weight and feedback. This new generation of the three-door sport coupe/sedan/thing fully rectifies the foibles of the old.
For this price, the amount of performance equipment is pretty staggering in addition to that torquey turbocharged engine. You also get sticky Michelin Pilot Sport 4 summer tires, brake-based torque vectoring control, 18-inch alloy wheels and a multilink rear suspension. It's so good that there could be a pretty good argument made that the R-Spec is the best performance car you can get under $30,000 if not for its crazy sibling, the bonkers Veloster N.
2020 Hyundai Elantra GT N Line
Base fun price: $24,430
The Elantra GT N Line is like the Veloster R-Spec's grown-up cousin with more conventional and buttoned-up styling to match. It has four doors, fits adults in the backseat and wears khakis on the weekends. If you do need a bigger dose of practicality, this hatchback provides a more livable version of the R-Spec's frivolity.
Powering the Elantra GT N Line is the same turbocharged engine found in the R-Spec, but it offers an automatic transmission. The price above is for the excellent six-speed manual version, while a seven-speed dual-clutch automatic adds $1,100 to the price tag. The Elantra GT N Line also comes with the same sticky summer tires, though only when equipped with the manual transmission.
The Elantra GT N Line drives much like the R-Spec, but with less of an edge. It's one feature away from being just as good: torque vectoring control. Try to put power down with immediacy and you will feel torque steer grabbing at you from the steering wheel. It's controllable in a straight line but you really feel it coming out of corners. It makes for an unrulier experience with tire screeches aplenty, but it's still fun in that "my car is trying to fight me" kind of way.
2020 Honda Civic Si
Base fun price: $25,930
Perhaps no other vehicle is as associated with cheap speed than the Honda Civic Si. Its 205-hp, turbocharged 1.5-liter four-cylinder provides plenty of kick for not too many dollars. The only transmission is a six-speed manual, and much like all of the other vehicles on this list, it's quite good, complete with a metallic top to the shift knob that feels great to the hand.
The base fun price is the same for both sedan and coupe versions of the 2020 Civic Si, though our dreams of having a hatchback Si march on unrealized. For an extra $200 you can get summer tires, rather than all-seasons, an option I'd go for living in Southern California. An adaptive damping system is standard, which firms up the suspension in Sport mode while keeping it softer and more comfortable for day-to-day driving. And in contrast to the Elantra GT N-Line, it has a mechanical limited-slip differential, so it puts power down cleanly.
2020 Volkswagen Jetta GLI
Base fun price: $26,890
I wavered a bit on our final entrant because its price tag comes right at the edge of what could be reasonably called "cheap," but it's so good that it felt wrong to exclude it. The 2020 Jetta GLI is 95% of what a Golf GTI is, but with more backseat room and a lower price tag.
Power comes from a 228-hp, turbocharged 2.0-liter four-cylinder engine that makes 258 pounds-feet of torque. A six-speed manual is standard (and included in the price above) with a seven-speed dual-clutch automatic available for an additional $800. Both transmissions are great, as is the new-to-Jetta VAQ limited-slip front differential. Driving the Jetta GLI, you do lose some of the GTI's agility — adding 2 inches to the wheelbase and some weight makes it feel a bit looser in sharp turning. But if you think of the Jetta GLI as a more practical and less expensive GTI, it makes a lot of sense.
More From Cars.com:
Cars.com's Editorial department is your source for automotive news and reviews. In line with Cars.com's long-standing ethics policy, editors and reviewers don't accept gifts or free trips from automakers. The Editorial department is independent of Cars.com's advertising, sales and sponsored content departments.