Tire Damage on 2019 Genesis G70 Results in Close Shave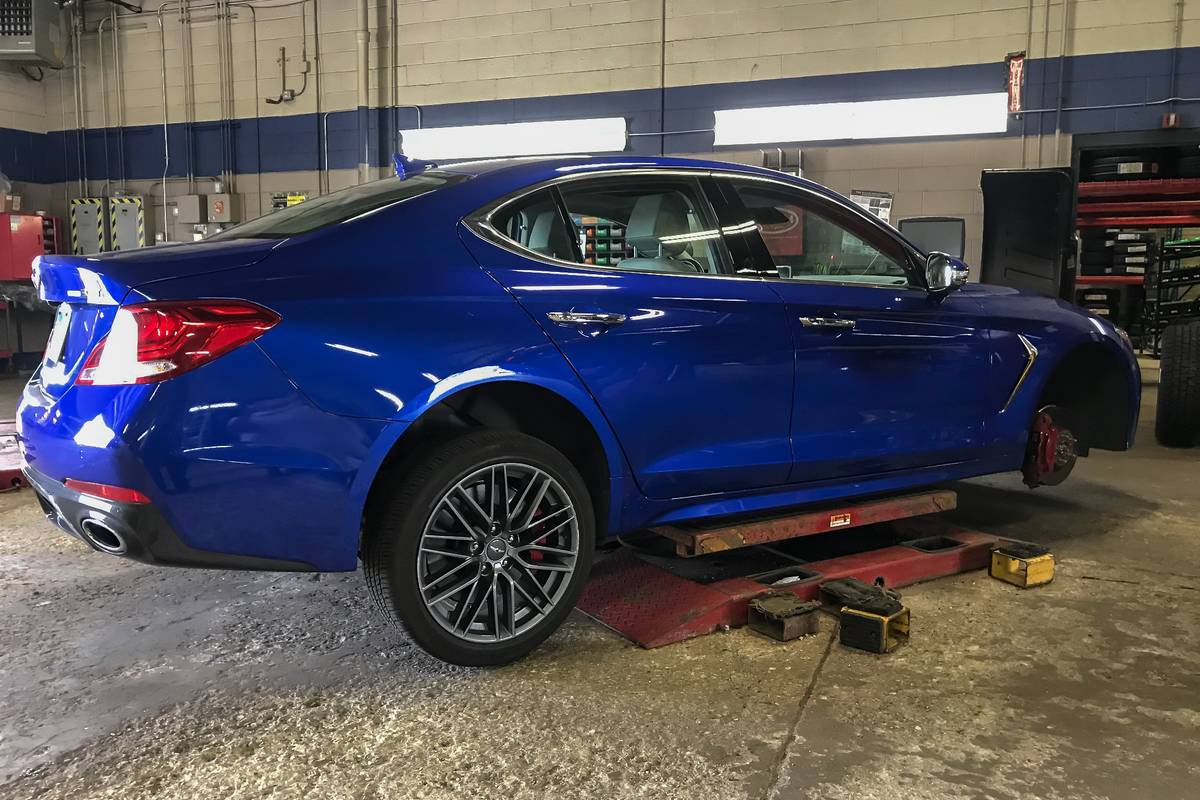 Sometime this summer, Cars.com's long-term test car and recipient of our Best of 2019 award, the Genesis G70, developed a gouge in the passenger-side front tire. Whodunnit? We're not sure when, where or how it happened, because multiple Cars.com editors share the car for the purpose documenting our experience across a year of ownership, but we sent it in for service to get a closer inspection.
Related: Do I Need to Replace More Than One Tire at a Time?
On Sept. 16, we emailed a photo of the damaged tire to the service advisor, who reckoned it would need replacing. Two days later, the dealership sent a service valet (a perk with every Genesis purchase) to swap our car for a loaner G80. Upon receiving our G70, the service department measured the other three tires — all Michelin Primacy MXM4 P225/45R18s — and reported remaining tread depths of 6/32nd to 7/32nd of an inch.
Tire tread is measured in 32nds of an inch, and tires typically need replacement before reaching 2/32nds. Ours began with 9.5/32nd of an inch, a Michelin representative confirmed by phone. Our dealership's service technician said the difference in tread between the new tire and its semi-worn counterparts would border on excessive and, since our car has all-wheel drive, might prompt traction headaches down the road. It can also create undue driveline stress.
The service advisor quoted $256 for the new tire plus $35 to mount and balance it. We found the same tire from Tire Rack for $220, including tax, a price the dealership offered to match. But our adviser said he could not shave the tread down to match the other three tires. That's something often recommended for AWD vehicles; with the dealership, our option was simply to buy one new tire or a whole set.
A Third Option
Faced with spending more than $1,000 on four new tires or having a sizable difference in tread with one tire, we opted to buy the single tire — but not from the dealership. We called Tire Rack and asked to get the new tire shaved down to match the others, a service the company provides. Tire Rack shaved the replacement tire down to 6/32nds and shipped it out to a nearby facility, with which we set up an appointment for Sept. 20.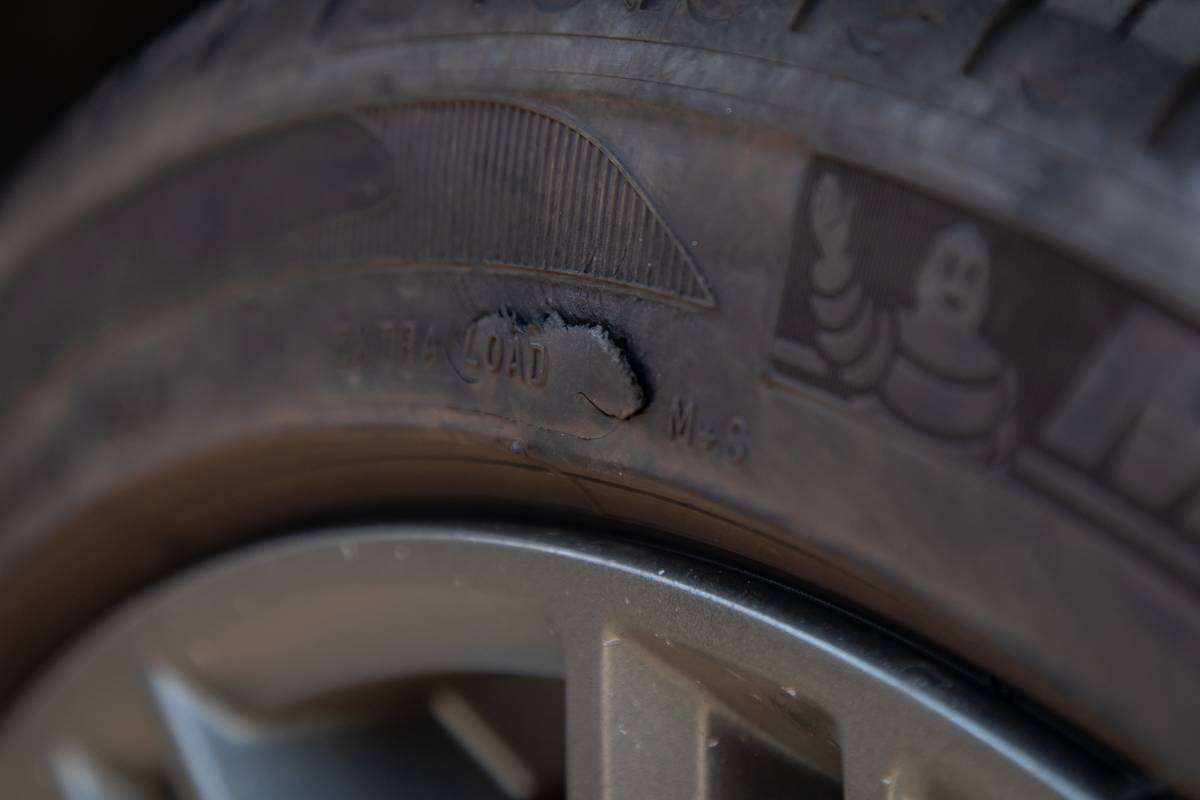 In the meantime, we called our service adviser and asked for the G70 back. He asked if we wanted our car serviced since it was there, as it was just short of its 12,000-mile service. We OK'd the service, and the dealership changed the oil and filter plus the cabin air filter before returning the car later that afternoon.
All of it came at no cost under Genesis' complimentary maintenance program, which runs the first three years or 36,000 miles. That marks the G70's second regularly scheduled service appointment. Our first service came late — at 7,500 miles instead of the 6,000 miles recommended in the owner's manual due to a snafu in Genesis' maintenance-reminder system — so this latest service effectively gets our car back on schedule for every 6,000 miles.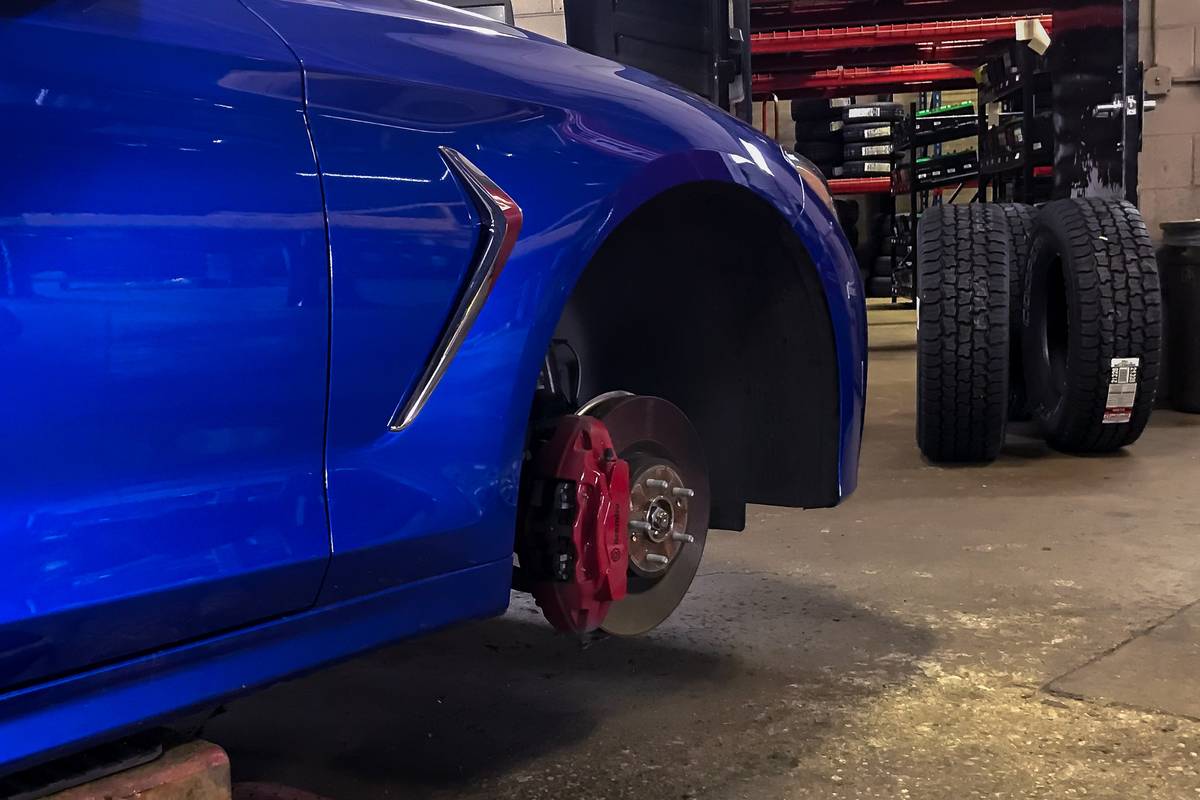 More From Cars.com:
Records in Hand
Genesis' owner portal has yet to show any online service records for our G70, a capability the portal purports to have, but this time — unlike the first few times our G70 went in — we at least received paper records on the back end. (After we reported on missing records of any type in July, Genesis officials told us the brand was still grappling with technical hurdles to getting the online records posted. Soon afterward, our dealership sent us paper records for all visits.)
We also have a new, albeit shaved, tire. Tire Rack shaved and shipped it to a local shop, which installed it on Sept. 20 as planned. Including taxes and fees, we paid $205 for the tire, $30 for the shaving, $17 in taxes and fees, and $22 for installation, for a total of $274. Granted, that has increased our maintenance-and-repair costs so far by some 8,300 percent, but such is life when you've spent all of $3.29 up to that point.
We followed the installation with some 600 miles of break-in driving, most of it on the highway. The G70's new tire served without excessive noise or harshness, though we did observe a little chatter from AWD binding at low-speed turns. We'll see if that persists or works its way out. Stay tuned.
Cars.com's Editorial department is your source for automotive news and reviews. In line with Cars.com's long-standing ethics policy, editors and reviewers don't accept gifts or free trips from automakers. The Editorial department is independent of Cars.com's advertising, sales and sponsored content departments.