Which 2018 3-Row SUVs Fit Car Seats Best?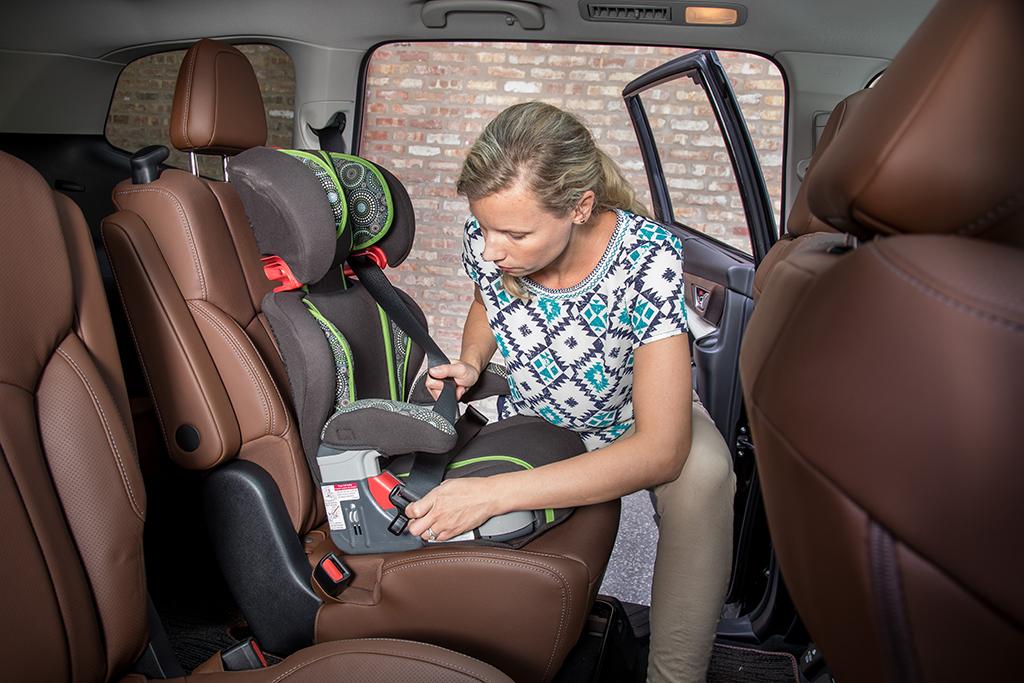 For larger families, the ultimate automotive question is usually, "SUV or minivan?" If you're solidly in camp SUV, the next question is, "Will it be able to hold all my kids ... and their stuff?" Many models offer an appealing blend of cargo room, occupant space, creature comforts and safety features — but how well they accommodate child-safety seats is a mixed bag.
Related: Taking Young Kids on a Trip? This Travel Car Seat Makes It Easier
We perform Car Seat Checks on the segment's most popular vehicles to find out which model-year 2018 three-row SUVs handle car seats best. Our two winners got straight A's in the check. Here's how they rank:
The Winners: Straight-A Students
VW's newest — and largest — SUV earned all A's in our Car Seat Check thanks to its easy-access Latch anchors and roomy second and third rows. Bonus: It easily accommodated three car seats across its second-row bench seat.
We tested a three-row Acadia Denali with second-row captain's chairs. The Acadia was redesigned for 2017 and carries over into 2018 unchanged. The new model is now smaller, but it still wins big on child-safety seats by making the most of its second- and third-row legroom. It can also be had with just two rows of seats.
Decent Students: Mostly As and Bs
The SUVs listed alphabetically below earned a mix of A's and B's. Common problems include buried Latch anchors and a lack of legroom in the third row.
Fans of the Subaru Outback wagon should find a lot to love about the 2019 Ascent. The three-row SUV offers the comfort and utility of the Outback plus SUV versatility courtesy of an extra row of seats and additional family-friendly amenities. The second row earned high grades for Latch connection and room, but the third row needs work.
Big and burly, the Dodge Durango is a bit of an SUV throwback, but it delivers when it comes to hauling kids and towing a boat or camper. The Durango's second-row bench easily handled rear-facing car seats in our testing, but the third row's partially covered tether anchor penalized it. Our Durango Car Seat Check was on a model-year 2017 vehicle, but little has changed for 2018.
Honda's largest SUV handles car seats well in all three rows, and there's ample room for three car seats in the Pilot's wide, flat second row when it's equipped with a bench seat. While it earned high marks for room, Latch ease and an extra set of anchors in the third row, we deducted points for its floppy second- and third-row buckles, which make it tough for kids to buckle up independently. This Car Seat Check was on a model-year 2017 vehicle; little has changed for 2018, but the Pilot gets significantly updated for 2019.
With its capable powertrain, ample room and rugged exterior, the Ford Explorer SUV is a hit with many families looking for a third row and the ability to tow boats or campers when properly equipped. In our Car Seat Check, we tested a 2017 Explorer XLT with seating for seven; little has changed for 2018. Difficult-to-find second- and third-row top tether anchors earned it a couple of B's.
Car seats of all sizes fit well in the Santa Fe SUV, but what hampers it are the floppy seat belt buckles in the second and third rows. These buckles sink into the bottom seat cushion, making it harder for kids in boosters to buckle up independently. This Car Seat Check was on the 2017 model; little of substance has changed for 2018. The Santa Fe gets renamed and redesigned for 2019, however.
Refreshed for 2017, the Pathfinder made easy work of installing our trio of child-safety seats, but it suffers the same car-seat penalty as the Santa Fe and Kia Sorento SUVs: floppy buckles in the second and third rows. This Car Seat Check was on the model-year 2017 Pathfinder; little has changed for 2018.
Like its Santa Fe cousin, the Sorento SUV suffers from floppy seat belt buckles, which decreased its overall car-seat score. It also takes some muscle to connect to the second row's lower Latch anchors, but our car seats fit well. Lastly, it lacks a third-row top tether anchor, which means forward-facing car seats cannot safely be installed back there. This Car Seat Check is about the model-year 2017 model; little has changed for 2018.
The Highlander lost points for floppy buckles in its second- and third-row seats, as well as poor accommodation of the forward-facing convertible in the third row. Since there are no third-row lower anchors, we used the seat belt to install the car seat and had to position it in the middle spot since that's where the sole top tether anchor sits. Because the seat belt comes down from the ceiling, it blocks the driver's view when in use.
Needs Work: B and C Students
While these vehicles earned some A's and B's, they also earned some C's, placing them at the bottom of the list.
Although Chevrolet's redesigned people mover has a roomy second row with accessible Latch anchors, the 2018 Traverse lost points for its third row. The fixed head restraint interfered with the front-facing convertible's fit; we had a similar issue with our booster seat in the third row. Also, the third row's floppy buckles are not very kid-friendly.
Redesigned for 2016, the CX-9 SUV is leaps and bounds ahead of previous versions when it comes to car seats. It has a tilt-and-slide second row that allows parents to create a pathway to the third row even when a forward-facing car seat is installed. It lost some points for its second-row Latch anchors, however; they're buried in the upholstery, requiring some muscle to access. This Car Seat Check is of the model-year 2017 version of the SUV, but the CX-9 carries over for 2018 with few changes.
For families on a budget looking for three rows of seats, the Mitsubishi Outlander SUV might be appealing. When it comes to child-safety seats, the seven-passenger Outlander performs well until you get into the third row. It lost points for difficult-to-use second-row top tether anchors and buried third-row buckles. Also, because the third row doesn't have any Latch or tether anchors, the only car seats that can be installed back there are booster seats. This Car Seat Check is of the 2017 model; little has changed for 2018.
About Cars.com's Car Seat Checks
Editors Jennifer Geiger and Jennifer Newman are certified child safety seat installation technicians and Matt Schmitz is working toward his recertification.
For the Car Seat Check, we use a Graco SnugRide Classic Connect 30 infant-safety seat, a Britax Marathon convertible seat and Graco TurboBooster seat. The front seats are adjusted for a 6-foot driver and a shorter passenger. The three child seats are installed in the second row. The booster seat sits behind the driver's seat, and the infant and convertible seats are installed behind the front passenger seat.
We also install the forward-facing convertible in the second row's middle seat with the booster and infant seat in the outboard seats to see if three car seats will fit; a child sitting in the booster seat must be able to reach the seat belt buckle. If there's a third row, we install the booster seat and a forward-facing convertible. Learn more about how we conduct our Car Seat Checks.
Parents should also remember that they can use the Latch system or a seat belt to install a car seat, and that Latch anchors have a weight limit of 65 pounds, including the weight of the child and the weight of the seat itself.
Cars.com's Editorial department is your source for automotive news and reviews. In line with Cars.com's long-standing ethics policy, editors and reviewers don't accept gifts or free trips from automakers. The Editorial department is independent of Cars.com's advertising, sales and sponsored content departments.