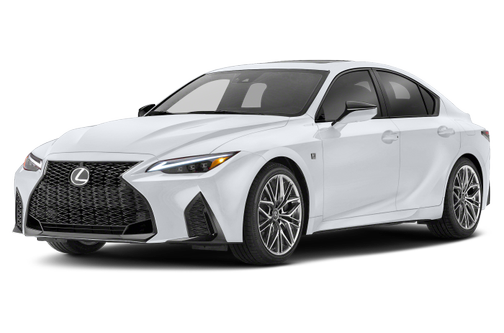 Key specs
Base trim shown
3 trims
Starting msrp listed lowest to highest price
2022 Lexus IS 500 review: Our expert's take
In 2020, we drove Lexus' mildly updated IS compact luxury sedan, its rear-wheel-drive-based competitor to luxury stalwarts like the Audi A4, BMW 3 Series and Mercedes-Benz C-Class. We found it to be a pleasant cruiser with a compliant ride, though not terribly athletic, and with a rather cramped interior and dated interior design that was definitely in need of more power. Well, Lexus took care of one of those issues with the new 2022 IS 500 F Sport Performance, replacing the 311-horsepower, naturally aspirated V-6 with an honest-to-God 5.0-liter V-8 engine delivering 472 hp and 395 pounds-feet of torque.
Related: 2022 Lexus IS 500 F Sport Performance: Get Your V-8 While You Can
In a world where nearly every automaker is ditching V-8 and even V-6 engines in favor of highly boosted turbocharged four-cylinders, this seems like a strange anachronism (heck, Toyota even ditched V-8 engines for its new 2022 Tundra pickup truck). But "anachronism" isn't a bad word to describe the IS lineup given its age and competition from newcomers like the Genesis G70, Acura's all-new TLX, the Alfa Romeo Giulia and the Cadillac CT5. So, does giving it a big V-8 help boost its standing versus newer, more modern ideas of compact luxury sedans?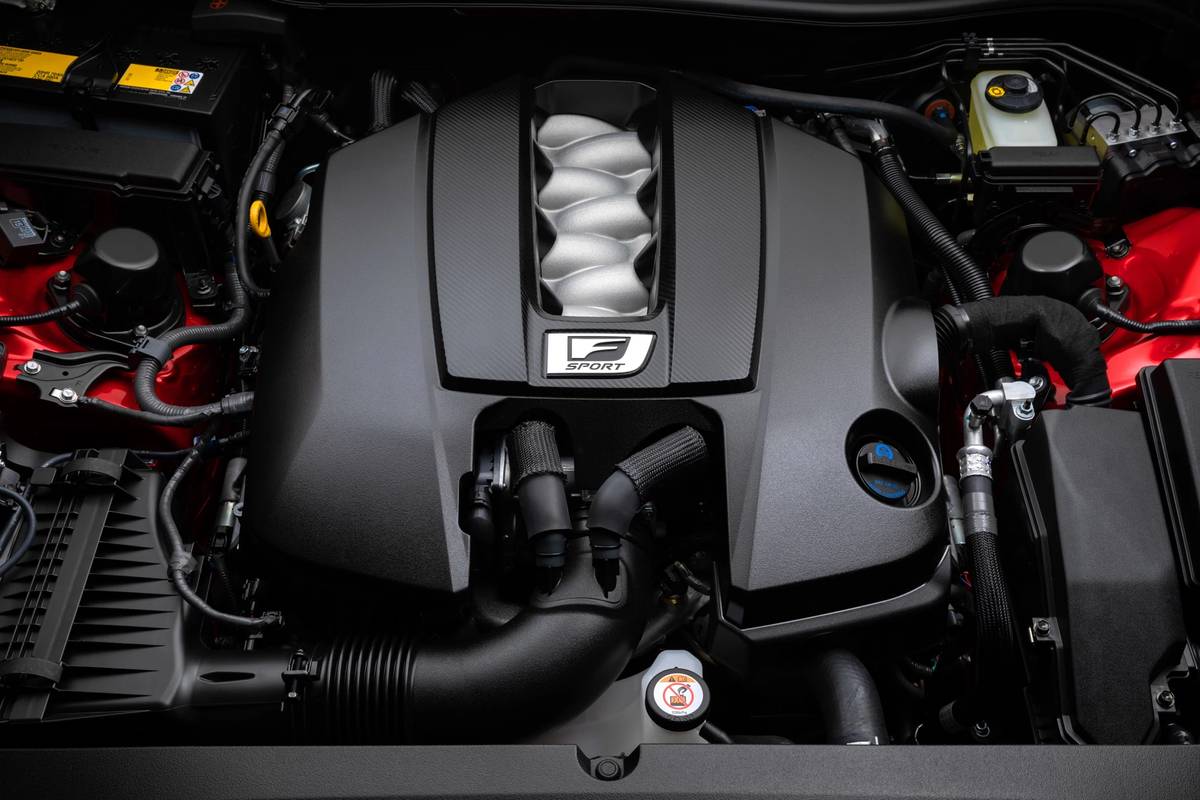 It Certainly Sounds the Business
The V-8's days are sadly numbered as the world moves towards electrification, but we're still going to enjoy it for as long as we can — and one real reason to enjoy one is the sound it makes. The IS 500 is no slouch in this department; when you plant your right foot, the sounds emanating from the quad tailpipes are beautifully sonorous in ways no amount of EV spaceship soundtrack can match.
I just wish the forward propulsion matched the sound out the back. Yes, acceleration is improved in the IS 500 from the IS 350, but it still doesn't have the immediacy that we've come to enjoy and expect from other competitors, almost all of whom now employ forced induction. Lexus says the 0-60 mph time has been clocked at 4.4 seconds, but honestly, my spin in the IS 500 on public roads around Elkhart Lake, Wisc., didn't make it seem that quick. In normal driving, it's perfectly calm and composed, really only delivering a power punch when you specifically call upon it to. Even in its sportiest mode, there's still an urgency lacking from the power delivery, just like in the lesser IS 350. The big V-8 and eight-speed automatic transmission seem tuned more toward smooth, constant power flow than quicker sprints between corners.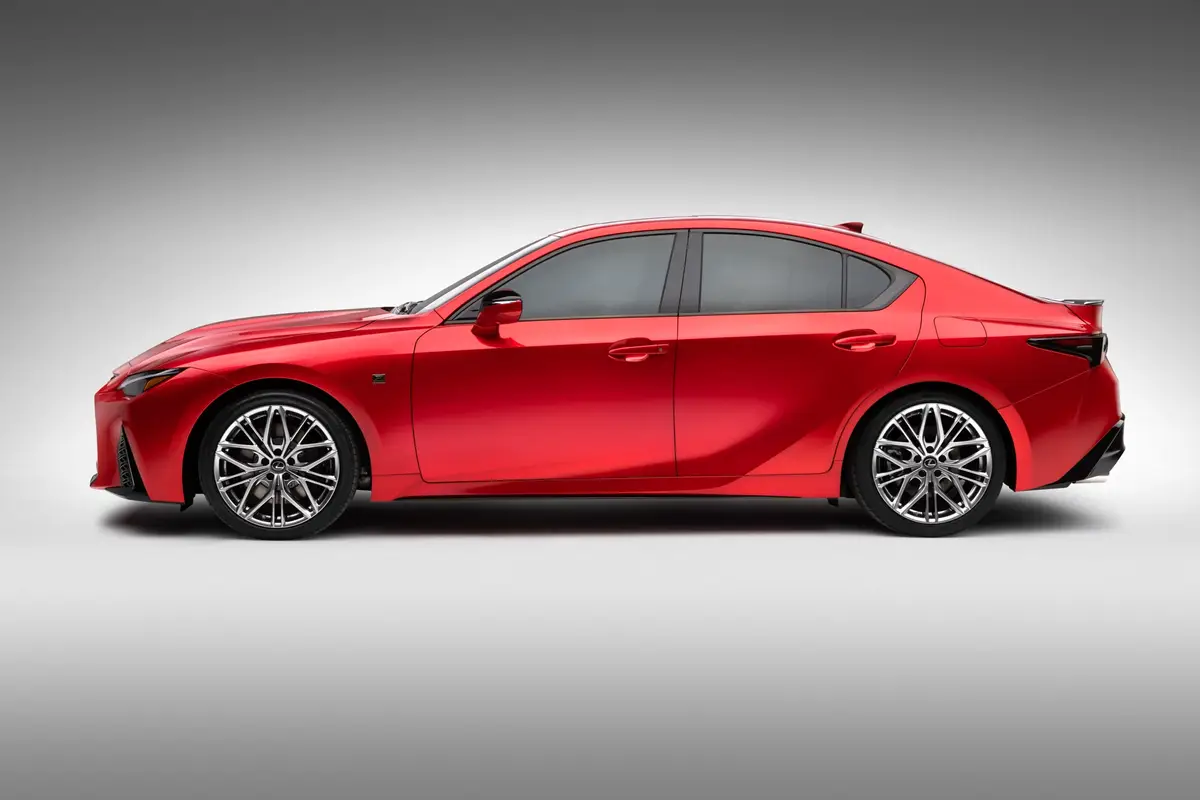 When those corners do arrive, the IS 500 F Sport doesn't seem to tackle them with any greater prowess than the lesser IS 350 F Sport Performance I drove. Steering is still extremely light and numb without much in the way of sporty feel or feedback, even (again) when engaged in the top sport modes on the drive mode selector. It features the same Dynamic Handling Package and adaptive variable suspension as the IS 350 F Sport Performance and the same Yamaha rear performance damper, as well, so the fact that it has largely the same suspension and is only 143 pounds heavier with the V-8 means that it handles like the IS 350 is to be expected, I suppose. The IS feels like the grand touring model of the compact luxury sedan competitive set, with a ride that's compliant and relatively forgiving, steering that's light and easygoing, and brakes that are on the soft side for pedal feel and performance.
I sadly was not able to take one out on the circuit track of nearby Road America, where I sampled the IS 500 at the recent Midwest Automotive Media Association Fall Rally, but this was due to the interior headroom being so limited that I could not sit in the IS 500 with the required helmet. Still, given the general lack of bite to a lot of the IS 500's controls, it didn't really inspire me to even want to take it out on the track — it felt a lot better suited to delivering a countryside grand touring experience than a track day romp. 
Still Needs That Thorough Interior Rethink
Inside the IS 500, you'll find the same interior updates that Lexus made for the 2021 IS 300 and IS 350. The new multimedia screen that eliminates the reviled mouse-controller-joystick thing is a positive move, but the rest of the interior still needs a major overhaul to be competitive with the best in the industry. Too much old-style Lexus is in here, from the nonlinear automatic transmission shifter to the gimmicky gauges and dated info screens. It's also extremely cramped front and rear, with a narrow cabin that doesn't offer much in terms of knee or headroom, plus seats that are decidedly sized for smaller people. That said, the interior is offered up in some dramatic colors, the fit and finish are exemplary, and the material quality still impresses from the dash to the doors to the seat materials.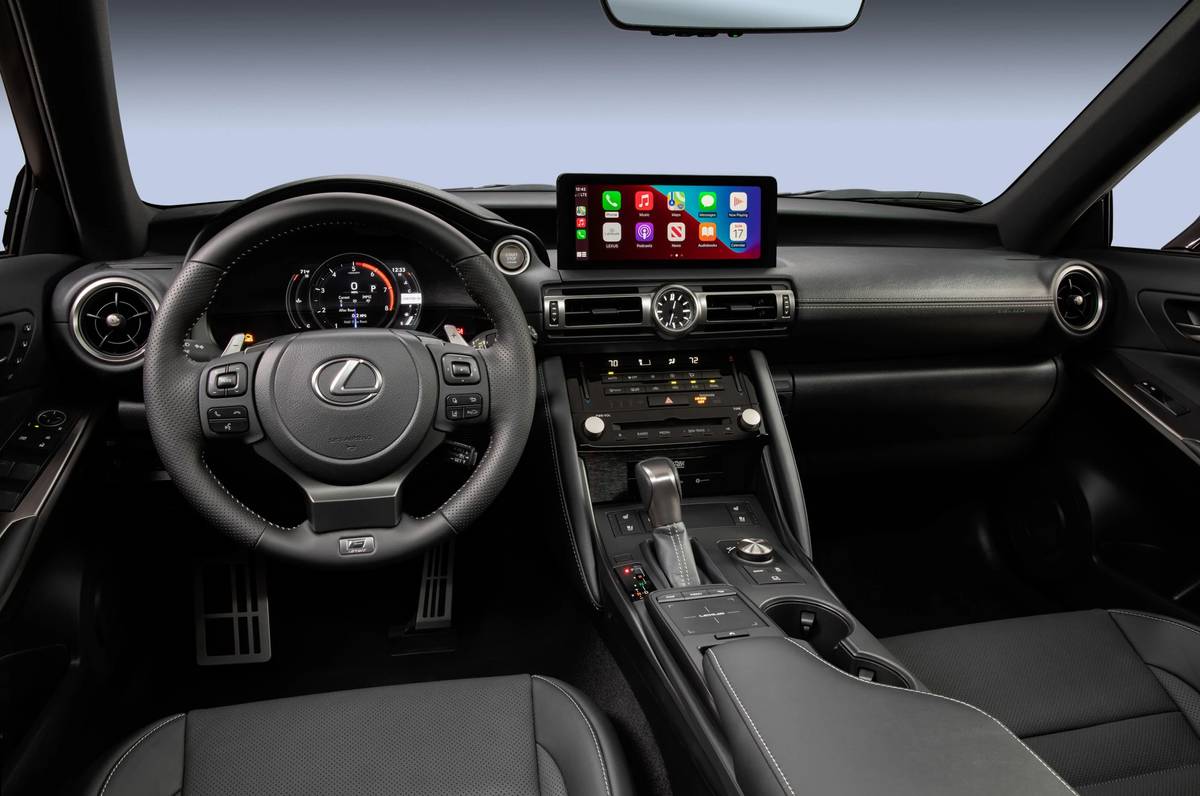 The thing is, there's a new kid in town who absolutely smashes all of the desirable sports sedan traits: the Genesis G70. After sampling the IS 500 for an extended street drive, I popped into the recently refreshed 2022 G70 Launch Edition with the optional 365-hp, twin-turbocharged 3.3-liter V-6 and sport suspension, and found it to be brilliant from start to finish. Fast, modern, gorgeous to look at and sensationally rewarding to drive — it put the dated, cramped, old-school IS 500 into true context.
More From Cars.com:
Here, Have a Second Opinion
Cars.com News Editor Brian Normile had a longer stint in the IS 500 than I did, including an extended highway jaunt. His sentiments largely echoed mine, however, when it came to the dynamics of the IS 500. "It sounds delightful, always a strong suit of a 5.0-equipped Lexus," he says. "This feels like what the GS F and RC F should've been, and what the F Sport package should be going forward: some performance enhancements including a higher-output engine, but not pretending that it can take on the real BMW Ms, Mercedes-AMGs or Cadillac Vs of the world. And, as such, it's at a relatively lower price point than true performance rivals."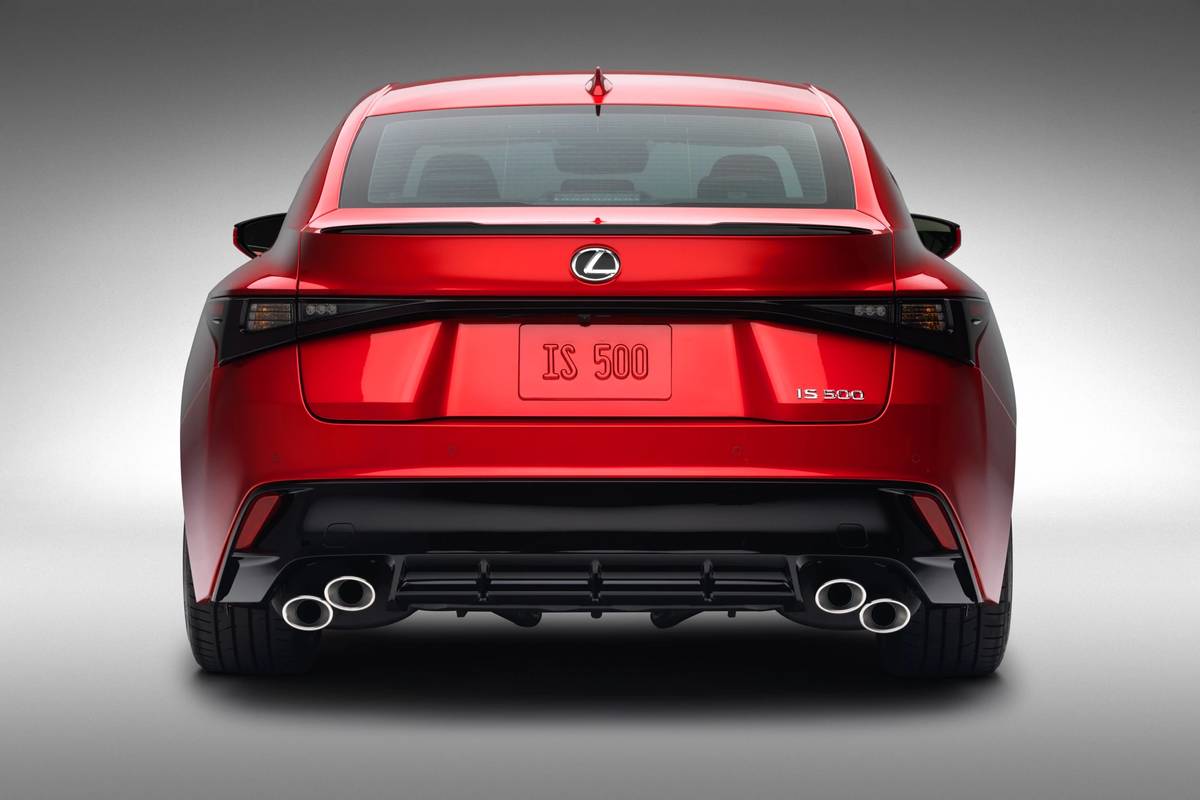 I think that sums up the IS 500 quite nicely. It's an old-school player in a new-school world, updated with more horsepower in an equally old-school way, trying to hang on until Lexus ponies up some serious development cash to modernize it … or, perhaps more likely, kills it entirely given that the entire world apparently now prefers compact luxury crossovers to compact luxury sedans. If you're one of the holdouts that still wants a compact luxury sports sedan however, the IS 500 — which starts at $57,575 (including $1,075 destination) — will provide you with some nostalgic pleasures, but better modern takes on the sports sedan are available. 
Related Video:
Cars.com's Editorial department is your source for automotive news and reviews. In line with Cars.com's long-standing ethics policy, editors and reviewers don't accept gifts or free trips from automakers. The Editorial department is independent of Cars.com's advertising, sales and sponsored content departments.
---
More from our experts:
Warranty
New car program benefits
Bumper-to-bumper

48 months/50,000 miles

Corrosion

72 months/unlimited distance

Powertrain

72 months/70,000 miles

Maintenance

12 months/10,000 miles

Roadside assistance

48 months/unlimited distance
All model years for the Lexus IS 500