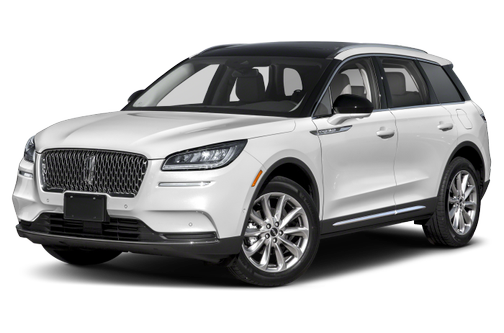 Key specs
Base trim shown
2 trims
Starting msrp listed lowest to highest price
2020 Lincoln Corsair review: Our expert's take
Lincoln is rounding out its SUV lineup with the reintroduction of its smallest utility vehicle, which gets both a redesign and name change. The 2020 Corsair replaces the MKC, which means there are no more SUVs from Lincoln that have silly, meaningless letters for a name.
Related: 2020 Lincoln Corsair Pricing Starts in High 30s, Can Speed Past $60K
Though this is the smallest and least expensive Lincoln, I had high hopes for the Corsair. Lincoln has been walking the roadmap that Volvo embarked upon a few years earlier, which has worked out extremely well for the Swedish automaker. Both companies had some similarities a few years ago, making vehicles that we describe as premium — a way of saying that they weren't quite nice enough to be considered luxury.
Then Volvo introduced a redesigned XC90 in 2016, bestowing its largest SUV with a higher level of styling, technology and luxury materials that then trickled down to the rest of its SUVs and passenger cars. The smaller XC60 and XC40 also became staff favorites after they included much of same aesthetics, features and rich appointments. It seems that Lincoln has taken a similar approach, starting with the jumbo-sized Navigator, which gave way to the Aviator. Now comes the culmination of that strategy, the compact Corsair. (What about the Nautilus, you ask? That was more of a name change and a refresh rather than a redesign or the introduction of a brand-new vehicle, as the other three were. As such, I was not as impressed with it when I reviewed it.)
I headed to San Francisco and Carmel, Calif., to see if the Corsair could likewise swashbuckle its way into my good graces (the pirate puns will not stop, sorry) at Lincoln's media introduction. (Per our ethics policy, Cars.com pays for its own lodging and transportation at such automaker sponsored events.)
Smooth Sailing
Technically, the word "corsair" can refer to either a pirate ship or the pirate itself, which feels confusing since you have a corsair on a corsair. All I know is that this corsair would choose the Corsair to be his corsair for any long voyage, because Lincoln has done a fantastic job with the SUV's ride quality and quietness.
Though the Corsair is closely tied to the Ford Escape — which got a full redesign of its own for 2020 — there are a few key differences. One of those is the suspension setup: The Corsair has a multilink rear suspension with upgraded bushings, a more capable (and expensive) setup that allows the rear to be compliant for a smooth ride without feeling sloppy.
You feel this when you push the Corsair on curvy roads, as I did on the drive from San Francisco down to Carmel. As the SUV turns into a corner, the body leans noticeably (as is common in all SUVs). Where many of those vehicles get tripped up is that once the body leans (or "rolls," as we gearheads say), the suspension rebounds too much and unsettles the vehicle for a second time. Not so in the Corsair; the suspension does an excellent job of resetting the rear once body roll happens, and by the time you exit the corner, it feels completely flat and balanced again so you can jump back on the power with confidence. Both Corsairs I drove were equipped with the optional adaptive suspension, as well, which varies shock absorber firmness automatically based on conditions, so I can't comment on the standard suspension as of yet.
Lincoln said keeping the cabin serene was a point of emphasis on the Corsair, and it shows. You do detect some wind and tire noise, but I didn't realize how quiet it was until I was able to have full conversations with our videographer, Jonathan, in the backseat without turning my head or raising my voice at all even over stretches of rougher road. On a dock with wooden planks, the cabin remained delightfully oblivious to the exterior conditions.
Engines Good, Transmission Overboard
I got to test both of the Corsair's engine choices, each turbocharged four-cylinders. The standard engine is a 250-horsepower, turbocharged 2.0-liter four-cylinder, while the optional (and more exciting) engine is a 295-hp, turbocharged 2.3-liter four-cylinder that also makes a whopping 310 pounds-feet of torque (versus 280 pounds-feet in the 2.0-liter). Both vehicles I tested also came with all-wheel drive, though front-wheel drive is standard.
The good news is that buyers will be happy with the performance you get from either engine. The base engine is more than up to the task of moving the Corsair with some haste, though not as much as the optional engine — when that engine kicks, the Corsair surges forward rapidly, and with the SUV's smooth ride, it's easy to surge past speed limits and not even realize it.
There is, however, one large problem, and it felt to me to be the one thing holding the Corsair back from overarching greatness: the transmission. The Corsair might have a unique suspension setup compared with the Escape, but this time it doesn't dodge the bullet and ends up with the same eight-speed automatic transmission. When fellow reviewer Kelsey Mays tested the new Escape, he noted that "The new eight-speed resists downshifts while in motion until the accelerator is halfway to the floor." I had much the same experience in the Corsair, but perhaps to an even greater degree as it's about 300 pounds heavier than the Escape, trim level depending.
The end result is a disconnect between accelerator pedal action and forward motion even in the Corsair's sportier Excite drive mode — and in Excite, it became harder to launch the Corsair smoothly. In Normal mode, the vehicle was smoother off the line and also seemed to accelerate faster. Once you get going, Excite offers a more responsive pedal and quicker downshifts, but not quick enough to mitigate the laggy feeling entirely. This does bother you less with the optional engine because the added power helps to overcome the timing deficiencies more quickly once you get going, but it's present with both engines and definitely puts a damper on the experience.
One quick caveat: The vehicles we tested were all filled with premium gasoline, which in California is 91 octane. Much like with the Ford vehicles, these engines will run on regular 87-octane fuel and I didn't see any requirements or caveats on the fuel doors that I checked (the EPA's fuel economy ratings cite the Corsair's fuel requirement as regular gasoline). Lincoln bases its horsepower and torque figures on 93-octane fuel, which its engines are designed to exploit for more power; not all vehicles that run on regular get any benefit from premium, so it's likely that you'll lose a bit of power if you opt to fill up with the cheaper stuff. When AAA tested several "premium-recommended" vehicles in 2017 for premium versus regular fuel, power increased 1 to 2 percent on average; I don't foresee this being a problem for the Corsair, however, because both of its engines had power to spare.
Captain's Grade Quarters
The Corsair's interior is a delight, with impressive materials quality, design and efficient use of space. Soft leather adorns most of the surfaces you'd touch regularly, including where your knees come in contact with the center console. The only exception would be some hard plastic atop the dashboard and the top of the windowsills, but that's sort of par for the course for this class. Impressively, the backseat doesn't see much drop-off in quality save for the back of the front seats, which are hard plastic shells.
What immediately stands out up front is the unique way the Corsair presents its climate and seat controls. They sit on what can best be described as a shelf, with the shift buttons appearing as a balcony of sorts above them. I am not usually a fan of shift buttons versus a traditional gear selector, but I'm happy with it in this application for two reasons: The buttons are easy to use, and Lincoln has taken full advantage of the space it has opened up by placing a second storage cubby underneath the shelf. It's big enough to fit a few items, including a larger phone, and houses both a USB-A and USB-C port. There are two more USB charge ports for the backseat and an optional three-prong household outlet back there, as well.
The back of the cabin is also where the Corsair showcases an intelligent maximization of space. There is plenty of headroom and legroom for adult passengers to fit comfortably, and there are large windows all around, which makes the cabin feel open — even more so if the giant dual-pane panoramic moonroof option is added. Those large windows also aid with driver visibility, and the rear-quarter windows between the C- and D-pillars in particular have grown — viewable area has increased by 300 percent, Lincoln says — which helps out a lot with that tricky passenger-side blind spot.
Another way that the Corsair uses its compact footprint efficiently is a sliding backseat with 6 inches of travel for both sides of the 60/40-split rear bench. The seat will stay slid all the way back for maximum legroom most of the time, but for those occasions when you have to carry both passengers and cargo, this gives you some extra breathing room. Lincoln performed a demonstration where the Corsair was loaded with four large suitcases in the cargo area, which necessitated sliding the seat forward a few inches. Even with that, Jonathan and I were able to sit on the driver's side, one behind the other, comfortably (we are both roughly 6 feet tall).
The touchscreen is a hair too small. It's an 8-inch screen rather than the 10-inch screen (measured diagonally) that you find in the Aviator — I think the 10-incher would have been a welcome addition here. It's powered by the excellent Sync 3 multimedia system that I enjoy for its simplicity and ease of use, and Android Auto and Apple CarPlay both come standard. The Corsair also gives owner the options of using their phone as a key so you don't even need to carry the key fob, but I don't see much added functionality with that technology yet. You can open the windows and the liftgate through the app, but other automakers offer this capability through apps, too — I'm hoping the technology evolves and this is just a precursor to something like transferable driver profiles between vehicles, which is not yet a reality.
Solid Safety Technology — With a Flaw
Standard safety offerings are decent. Lincoln's Co-Pilot 360 is found on every Corsair and it includes forward emergency warnings and automatic braking with pedestrian detection, lane keep assist, automatic high beams and blind spot warnings. Our test vehicle was also equipped with Co-Pilot 360 Plus, which added adaptive cruise control, speed-limit sign recognition and evasive steering assist.
These systems worked as advertised, and I found myself especially impressed with a lane-keeping system that did a good job of centering the Corsair in its lane without making a lot of adjustments, which can make the front end feel busy in other vehicles. I did run into one problem on the drive, which involved both the adaptive cruise control and speed-limit sign recognition.
The adaptive cruise control offers an "intelligent" setting, which will automatically adjust the vehicle's speed if the speed limit changes. If you're traveling in a 65-mph speed zone with the adaptive cruise control set at 65 mph, you encounter some construction and the speed limit drops to 55 mph, the cruise will automatically reduce your speed to match. (The system will let you set your cruise higher than the limit and will keep the same difference, say 5 mph above the posted limit, when it changes based on a sign.) At one point on the highway however, I felt the car speed up and looked down to see that the system had somehow read an 85-mph speed limit sign and bumped our cruising speed up accordingly.
I don't know what the system read, but there are no roads with a speed limit over 70 mph in California, so I had to quickly roll my speed way, way back down. This does mean that if you choose to use this mode rather than the regular set-it-yourself adaptive cruise, you'll have to be careful and watch your speed. Lincoln is not the only automaker that has struggled with implementing this technology in the U.S., where each state is free to design its own signage and set speed limits.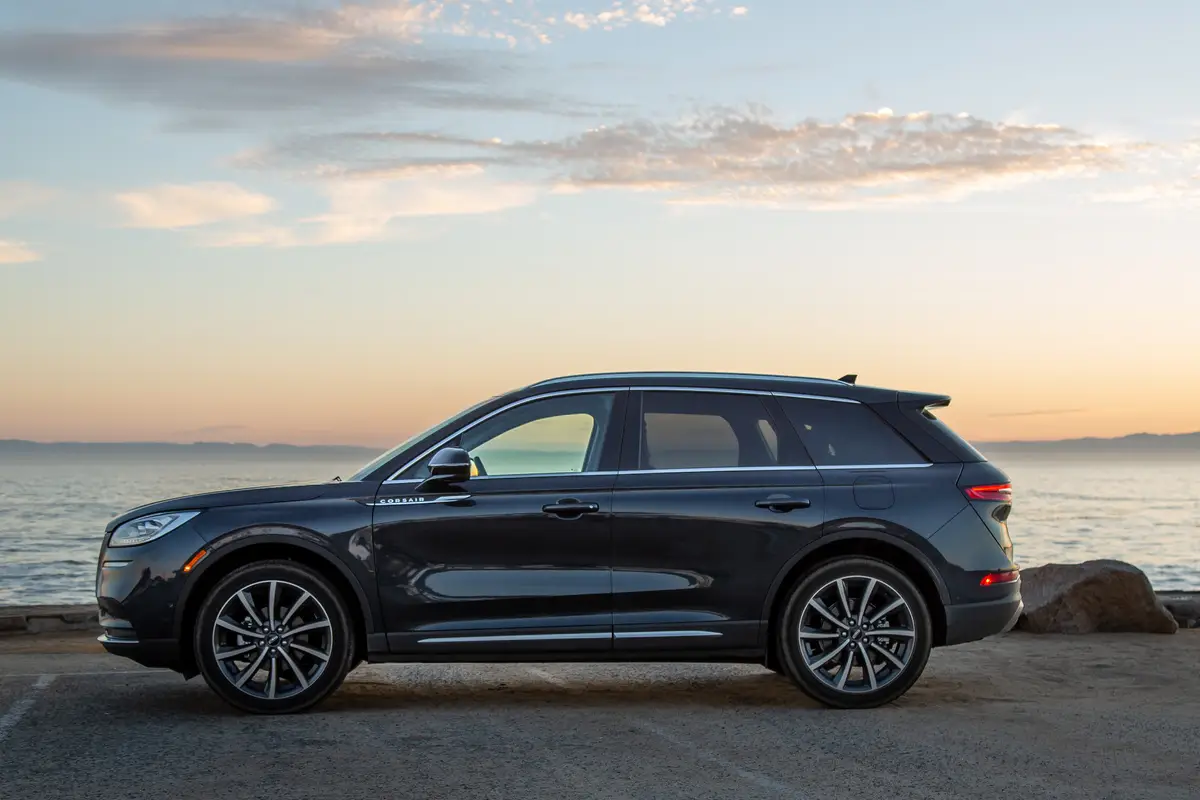 Buried Treasure
The Corsair builds upon what the Navigator and Aviator started, with a fantastic cabin, solid engines and easy-to-use technology and safety features. Yes, the transmission is a nagging annoyance, but it's not enough on its own to dampen my enthusiasm — this is a solid, welcomed entrant into the luxury compact SUV class, and I think it'll challenge the competition to try to match its level of passenger comfort and cargo flexibility.
Corsair pricing does jump up quickly. Both of the examples that I tested came out in the mid-to-high $50,000s — $59,660 for the vehicle with the optional engine and $54,875 with the standard. At these prices, I'd have gunned for the more expensive of the two, which had the better engine and more features to boot. Check out our pricing post for the full details. Competitors in this class can also reach this price range, so the Corsair isn't alone in this space, and I think this Lincoln makes a good arrrrr-gument for itself against those vehicles.
The Corsair goes on sale in the fall.
Cars.com's Editorial department is your source for automotive news and reviews. In line with Cars.com's long-standing ethics policy, editors and reviewers don't accept gifts or free trips from automakers. The Editorial department is independent of Cars.com's advertising, sales and sponsored content departments.
All model years for the Lincoln Corsair