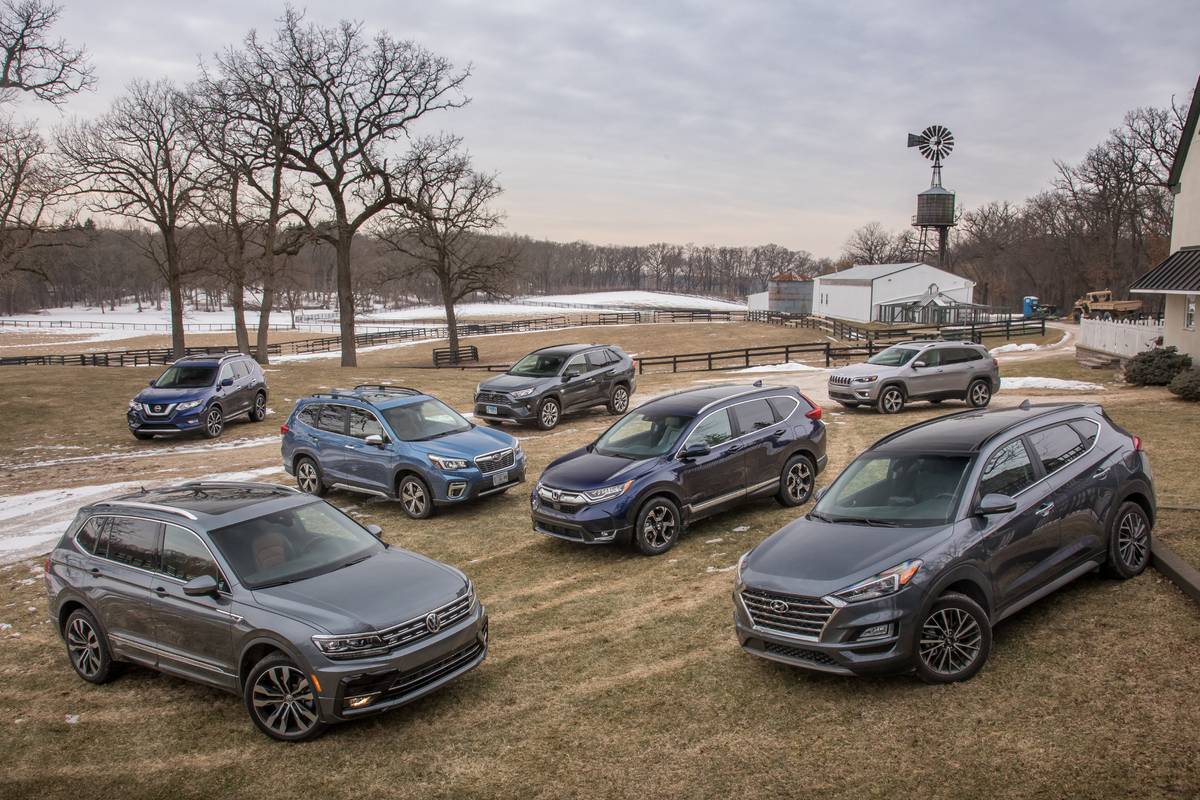 The term crossover originally represented a cross between a car and an SUV, but it carries little meaning in today's market.
Related: AWD Vs. 4WD: What's the Difference?
The fixation with the terms SUV and crossover are mainly about characteristics that these terms no longer faithfully represent, such as appearance, efficiency, roominess and capability. Fortunately, all of these characteristics are their own bottom lines, so rather than obsess over whether a vehicle is a crossover or an SUV, why not look at the bottom-line items and get on with your shopping?
Now Almost Everything's a Crossover
If you accept the historical definition, which is based on a vehicle's underlying construction, almost all of 2019's roughly 114 discrete SUV models were crossovers; only 13 weren't.
When SUVs proliferated more than 20 years ago, the overwhelming majority were based on trucks — some literally full-cab versions of existing pickups, like the segment-establishing Ford Explorer, which was derived from the Ford Ranger — while others merely used body-on-frame truck platforms. By that time in automotive history, most cars used unibody platforms (also known as monocoque or unitary construction) in which the structural floor pan and body are a single piece.
Even before the SUV explosion there were some lesser-known trailblazers (sorry, Chevy) like the original sport utility wagon (sorry, Subaru): the 1980 AMC Eagle. But the "car-based" SUV models credited with breaking ground and becoming the first and most influential crossovers of the SUV era include stuff like the 1996 Toyota RAV4 and 1999 Lexus RX 300 (these model years represent U.S. market debuts). They drove more like cars and were more fuel efficient and space efficient, no doubt.
But much has changed since then. Unibody construction has some theoretical advantages, but there's no guarantee that a crossover will deliver on that promise, or that an uninformed driver could tell the difference between of one of today's body-on-frame SUVs and a unibody crossover. Most truck-based SUVs have incorporated four-wheel independent suspensions. To give one example, back in 2003, Ford redesigned its full-size Expedition SUV's rear suspension to pass through the frame rather than sit underneath it, both improving its performance and providing a third row usable by adults. Conversely, the venerable Explorer made the switch from body-on-frame to unibody construction in 2011 — yet remained frustratingly snug inside given its exterior bulk.
Where Are We Now?
Today we have some crossovers that ride like trucks, and some SUVs that drive beautifully. Overall, body-on-frame vehicles tend to have better towing and hauling capabilities, but that seems like a good reason for a shopper to look for a good tow vehicle rather than confuse matters with labels. The same can be said for fuel efficiency, which is still the traditional SUV's biggest typical disadvantage.
If forced, we'd certainly still categorize the roughly dozen SUV models as such because they are body-on-frame. Most are full-size SUVs based on full-size pickup trucks, like the aforementioned Ford Expedition or the Toyota Sequoia, Nissan Armada/Infiniti QX80, Cadillac Escalade, etc. Chevrolet Tahoe and Suburban? Body-on-frame. Chevy Traverse? Unibody (if you want to call something that's 17 feet long and weighs over 4,300 pounds a car-based crossover, we're not going to stop you). The SUVs also include some hardcore off-roaders like the Jeep Wrangler, Toyota 4Runner and Land Cruiser, and less-expected luxury models like the Lexus GX and LX and Mercedes-Benz G-Class.
Before you contact your congressman or something, I'll disclose that Cars.com's SUV section includes dozens of models that don't meet the description above. Why? Because many shoppers still think of anything that looks like an SUV as an SUV, and not a crossover or — heaven forbid — a CUV (crossover utility vehicle). If a model isn't where people expect to find it, they might just leave Cars.com … and we don't want that.
Exceptions Galore
Do all the off-road SUVs mean unibody models can't go off road? Nope. Take a look at the entire Land Rover lineup, or all Jeep SUVs apart from the Wrangler, including the Grand Cherokee, which began its life in 1993 with a unibody, reinforced with a more conventional frame in a construction Jeep calls uniframe. The related Dodge Durango has shared this platform since 2011. A unibody generation of a Mitsubishi SUV sold in the U.S. from 2001 to 2006 as the Montero won the Dakar Rally seven times (as the Mitsubishi Pajero).
Sometimes these unibody off-roaders have clear ladder-type frame reinforcement. Sometimes not. If you're crawling around on the ground trying to determine if a unibody platform is reinforced, thinking maybe that will help you conclude whether to call the model an SUV or a crossover, it's a pretty good sign the terms have become meaningless.
What to Really Look For
What the words crossover and SUV suggest, but never guarantee, even in the best circumstances are bottom-line specs and characteristics you should direct your energy toward instead. The specs include:
Fuel economy
Tow ratings
Payload ratings
Off-road features and capabilities
The characteristics are:
Roominess for the vehicle's external size
Ease of ingress and egress
Ride comfort
Handling
Though specifications might point you in the right direction regarding occupant and cargo space, we find these figures don't always tell the whole story, so we still recommend getting in as many vehicles as you can to see what they're really like.
The treatise above recalls my explanation of AWD Vs. 4WD: What's the Difference?. Over time, technology changes, as does the meaning of words representing that technology. The wise shopper is one who looks into the details rather than relying on assumptions based on labels — especially when those labels are obsolete.
More From Cars.com:
Cars.com's Editorial department is your source for automotive news and reviews. In line with Cars.com's long-standing ethics policy, editors and reviewers don't accept gifts or free trips from automakers. The Editorial department is independent of Cars.com's advertising, sales and sponsored content departments.