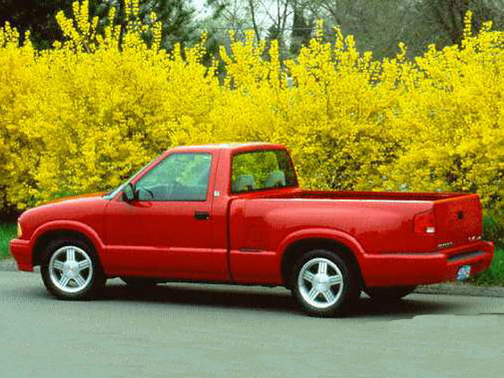 Key specs
Base trim shown
6 trims
Starting msrp listed lowest to highest price
SL Short Bed

$11,290

SL Long Bed

$11,600

SLS Short Bed

$12,552

SLS Long Bed

$12,822

SLS Club Coupe

$14,452

SLS Club Coupe 4WD

$18,882
Wondering which trim is right for you?
Our 1996 GMC Sonoma trim comparison will help you decide.
1996 GMC Sonoma review: Our expert's take
The verdict:
Versus the competiton:
The GMC Sonoma has been around since 1982 and it seems to get better with each model year. For 1996, the compact truck gets options like a third door on extended cab models, a revised sport suspension and more powerful V-6 engines.
So why did Anita give it only one star? Read on . . .
He: That little Sonoma with the five-speed and the big V-6 was so much fun to drive, I almost miss our old Ranger Splash.
She: I miss our Splash, too. In fact, the picture is still up on our fridge. You'll notice I haven't even taken one snapshot of the plain black Geo Prizm we bought to replace it. But I'm a lot more comfortable with having my kids in the Prizm than the old Ranger for one overriding reason: It didn't have a passenger-side air bag. And that's the exact reason why I can't, in good conscience, recommend the Sonoma, especially when there are so many cute compact trucks out there with two air bags.
He: Easy solution. Just never drive with any passengers.
She: Exactly. If you can live with just having a driver-side air bag, this is a great truck. It has the chunky appearance of a Tonka toy, and it certainly outpowers most other compact trucks with its 4.3-liter engine. But if you are at all aware of what's going on with side air bags, you're going to be too far ahead of the curve on safety to feel secure in this truck. And I know GM's rationale – that the second air bag isn't required by the government on trucks for another year or two.
He: Finished with the safety soapbox, mom? Let's talk about stuff that real truck drivers care about, like power. You can get the V-6 in two different versions, with up to 190 horsepower. In the configuration we had – standard cab, short bed – the big six and the five-speed make a dynamite combination. Plus, the truck's so light, your gas mileage doesn't suffer much. The EPA numbers on this model are 18 city and 25 highway. And we haven't even talked about the slick SLS package.
She: I hate to remind you that a lot of real truck drivers are women and before you talk about any slick packages, my advice to them is forget the glitz and go for the practical. If you do decide on a Sonoma, get one with what they call the "side access panel," which is a little third door on the driver's side of the extended cab models. It makes the Sonoma a better car substitute. The side access panel wasn't on the version we drove and I missed it. It makes it much easier to to get at stuff in the back seat.
He: Boy, are you cranky today. Back to the SLS. It's a $2,000 package that includes the V-6, sport suspension, aluminum wheels, sport bucket seats, leather-wrapped steering wheel and a few other goodies like fog lamps. I was pleased that the sport suspension didn't feel nearly as harsh as the one on our old Splash. The manual gearbox also lends an element of entertainment that tends to be missing in many of these trucks.
She:Entertainment, nothing. It lends an element of savings. The automatic transmission adds more than $1,000 to the sticker price.
He: What I meant was the Sonoma SLS that we drove reminded me a little of the early Toyota and Datsun compact trucks back in the Seventies. Not that it's primitive by any means – not with $4,000 worth of options including air conditioning, full power accessories and a fancy stereo. However, it's still a great value for $17,000 in today's money.
She: You're right, I am cranky. I still don't understand why GM was thoughtful enough to make safety items like antilock brakes and daytime running lights standard on the Sonoma, but couldn't get it together to do the second air bag. That's my backward way of trying to be fair on the safety issue, by the way.
He: Here's the corporate logic: It's a lot cheaper to add daytime lights and ABS than it is to retool a whole instrument panel to add the second air bag. But you're right, that still doesn't justify GM's decision. If GM had had oresight to put two bags in the Sonoma when they redesigned the truck for 1994, I'd be inclined to give it four stars. It really is one of the most fun-to-drive vehicles you can buy for under $20,000, without scrimping on the amenities.
She: My only other gripe about the Sonoma is the sport suspension. Some people may find that it bucks a bit too much. It seemed pretty harsh to me. But the truck had plenty of power for passing and merging and one we drove with the six-foot bed was easy to park. You can also get a version of the Sonoma with a seven-and-a-half foot bed, depending on how much mulch and marigolds you want to haul. You can also get it in four-wheel drive, if you live out in the country or you're worried about getting through snow. If you want to go whole hog, plan on spending upwards of $25,000, which is twice the base sticker price.
He: Call me Mr. Cheap, but I'd be happy with this truck just the way it is – with a second air bag, of course. If you're riding in the passenger seat, does that qualify?
1996 GMC Sonoma SLS
Type: Front-engine, rear-wheel drive, two-passenger compact pickup.
Price: Base, $12,552; as tested, $17,246 (inc. $485 destination charge).
What's new for '96: Sport suspension option, improved V-6 engine.
Standard equipment: Power steering, power brakes, AM-FM stereo, tinted glass, dual outside mirrors, 19-gallon fuel tank, intermittent wipers, full carpeting, painted rear step bumper, lighted visor vanity mirrors.
Safety features: Driver-side air bag, antilock brakes, side impact beams, daytime running lights.
Options on test vehicle: Marketing option package, including SLS sport decor, sport suspension, aluminum wheels, high-back front bucket seats, leather-wrapped steering wheel, tachometer, air deflector, fog lamps, Vortec 4300 engine ($2,057), air conditioning ($805), power windows/locks ($535), tilt steering column and cruise control ($395), AM-FM stereo cassette ($282), remote keyless entry system ($135).
EPA fuel economy: 18 mpg city/25 mpg highway.
Engine: 4.3-liter V-6; 170-hp at 4400 rpm; 180 lb-ft torque at 4400 rpm.
Transmission: Five-speed manual.
Competitors: Chevrolet S10, Ford Ranger, Toyota Tacoma, Nissan Pickup, Mazda B-series, Isuzu Hombre.
Specifications: Wheelbase, 108.3 inches; overall length, 189.0 inches; curb weight, 2930 pounds; legroom, 42.4 inches front; headroom, 39.5 inches front; shoulder room, 57.2 inches front.
12-month insurance cost, according to AAA Michigan*: $1,031.Rates based on an average family of four from the Livonia area whose primary driver is aged 40 with no tickets who drives 3-10 miles each way to work. Rates reflect multicar discount and, where appropriate, discounts for air bags and seat belts.
Where built: Shreveport, La.
Consumer reviews
Rating breakdown (out of 5):
Comfort

—

Interior design

—

Performance

—

Value for the money

—

Exterior styling

—

Reliability

—
Warranty
New car and Certified Pre-Owned programs by
GMC
Certified Pre-Owned program benefits
Maximum age/mileage

5 model years or newer/up to 75,000 miles

Basic warranty terms

12 months/12,000 miles bumper-to-bumper original warranty, then may continue to 6 years/100,000 miles limited (depending on variables)

Powertrain

6 years/100,000 miles

Dealer certification required

172-point inspection

Roadside assistance

Yes
View all cpo program details

Have questions about warranties or CPO programs?

All model years for the GMC Sonoma