2010 Toyota 4Runner: First Drive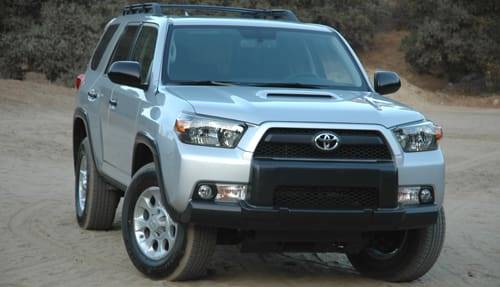 By John Stewart for Cars.com
The 2010 Toyota 4Runner debuts today at the State Fair of Texas, and it's one of the last body-on-frame midsize SUVs on the market.
We spent a week in the 2010 4Runner Trail Edition, covering more than 800 miles, mostly on the highway with a few hours of commuting, mountain roads and trail driving thrown in.  The Trail Edition would be the most mechanically specialized 4Runner, trading on-road comfort for maximum off-road capability. Even so, we can vouch that the 4Runner is a comfortable cruiser and daily driver. In one day we logged 13 hours on the highway without feeling the least bit deprived.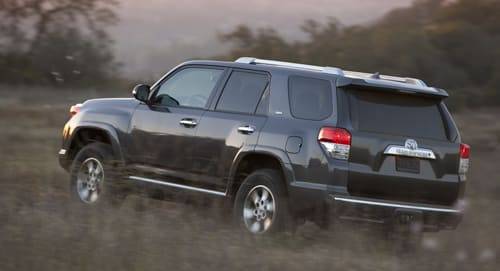 The 2010 4Runner is designed with outdoor enthusiasts and family adventures in mind. Now in its fifth generation, the 4Runner is far more rugged than the Camry-based Highlander crossover and more versatile than the two-door FJ Cruiser. Toyota offers the 4Runner in three distinct models, each aimed at buyers with different lifestyle priorities.
For those who want maximum economy, there's the SR5. It comes with a four-cylinder engine that gets 23 mpg on the highway and is available in either two- or four-wheel drive, with minimal frills.
For those who want a touch of luxury, there is the Limited model, which offers amenities like leather seating, full-time four-wheel drive, a 15-speaker audio system, 20-inch alloy wheels, keyless entry and color-keyed exterior styling with chrome accents.
Finally, the Trail Edition is for the true outdoor recreationalist. It combines a part-time four-wheel-drive system with advanced electronic enhancements that allow the user to dial in off-road driving control based on the nature of the terrain. It's aimed at buyers who want something as capable as the FJ Cruiser but with four doors and more cargo room.
Power and Mileage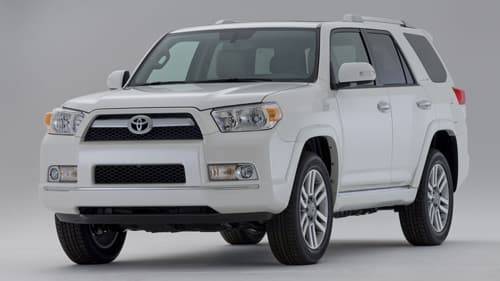 In the interest of better fuel economy, Toyota has ditched the optional 4.7-liter V-8 engine in favor of a revised high-output version of their 4.0-liter V-6 that gets 270 horsepower. That's 34 hp more than the prior V-6, and 10 hp more than the old, optional V-8. The 4Runner feels quicker than ever before, with stronger response. We had ample high-speed passing power and on-ramp acceleration — even with a full load, and there's enough power to pass on the highway without forcing a downshift.  The V-6 is run by an electronically controlled five-speed automatic transmission. Its maximum towing capacity is 5,000 pounds.
We averaged 20.3 mpg during the week we drove the 4Runner, which is a little better than its combined 19 mpg EPA rating.
Driving Dynamics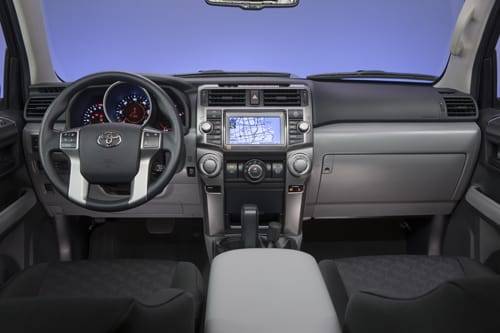 As you might expect, the Trail Edition rides and handles like a 4×4. The suspension permits a fair amount of vibration on the highway; contact with cracks and small imperfections are noticed in the cabin. On the other hand, larger irregularities — washed out dirt roads, speed bumps or dips at intersections — tend to disappear, soaked up by springs, shocks and bushings tuned to handle tough terrain.
Steering is easy and reasonably accurate in the 4Runner, and it's easy to keep on-center while cruising on the highway. It takes minimal effort to maneuver in tight spaces. We think the 4Runner would readily out-handle and ride more smoothly than most full-size SUVs, but car-based unibody SUVs would be noticeably more precise, with better on-road manners.
For-Real Off-Road Capability
While the 4Runner might be so-so when it comes to on-road manners, it clearly excels in off-road capability. The frame is as rugged as they come, and the driveline has been strengthened all the way back to the rear differential.  The four-wheel-drive system in the SR5 and Trail Edition is a part-time system favored by off-road enthusiasts, enhanced by electronic traction control, speed control and terrain-following innovations.  Four-wheel drive is actuated by a short lever on the center console.  
We found that it was easy to shift in and out of 4-Lo, as long as the transmission was in Neutral, and it was easy to get back to two-wheel drive again. A locking rear differential that's electronically actuated is standard on the Trail Edition. One unique feature, the Kinetic Dynamic Suspension System, disconnects the stabilizer bars to enhance suspension droop in highly irregular terrain. KDSS and other enhancements that allow for fine tuning the traction control system were formerly only available on the top-of-the-line Toyota Land Cruiser. Ground clearance — 9.6 inches for the 4×4 — is ample for trail use; the 33-degree angle of approach is very good, but it's not quite equal to the Hummer H3, another superior off-road crawler.
How Big Is It?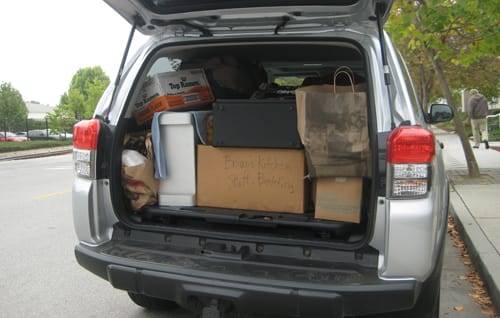 The 4Runner offers a three-row option with room for seven. The interior volume is enhanced by the rear seats that fold flat without having to remove the headrests, and the rear liftgate opens wide. That allowed us to load the 4Runner with our son's dresser, mountain bike, computer, chair, guitar and amp — plus boxes, clothes and groceries — to bring to his college quarters in a single trip.