Cars.com Names 2010 Green Cities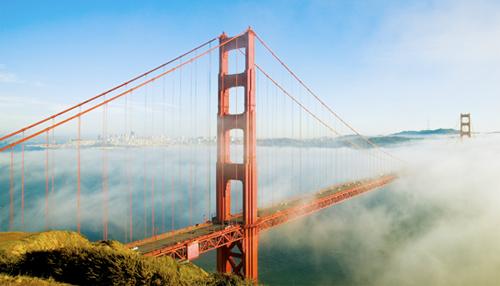 In its third year, Cars.com's ranking of the greenest U.S. cities finds San Francisco topping the list with more car shoppers in that metropolitan area researching hybrid cars, crossovers and SUVs. In our full list of 210 — yes, 210 — metro areas, the top is heavily weighted to the West Coast and Pacific Northwest, as it has been in past years.
A bit surprising to us is how major cities, including our hometown of Chicago at No. 77, follow such locales as Fargo, N.D., and Billings, Mont.
Which cities bring up the rear in terms of hybrid interest? Cities in the South and Texas in particular do, with all 10 of the bottom cities coming from that region. Laredo, Texas, came in dead last at No. 210.
However, Austin, Texas, broke that mold, falling instead into the university-town trend of scoring highly on the list. Austin came in at No. 21.
1 San Francisco - Oakland - San Jose
2 Eureka, CA
3 Portland, OR
4 Eugene, OR
5 Glendive, MT
Santa Barbara -Santa Maria -San Luis Obispo,
6 CA
7 Seattle - Tacoma, WA
8 Madison, WI
9 San Diego, CA
10 Gainesville, FL
11 Monterey - Salinas, CA
12 Chico - Redding, CA
13 Bend, OR
14 Charlottesville, VA
15 Sacramento - Stockton - Modesto, CA
16 Salt Lake City, UT
17 Medford - Klamath Falls
18 Fairbanks, Alaska
19 Missoula, MT
20 Washington DC (Hagerstown)
21 Denver
22 Austin, TX
23 Rochester - Mason City - Austin
24 Minneapolis - Saint Paul
25 Boise, ID
26 Los Angeles
27 La Crosse - Eau Claire, WI
28 Tucson (Sierra Vista), AZ
29 Boston
30 Phoenix
31 Burlington - Plattsburgh, VT
32 Mankato, MN
33 Bangor, ME
34 Helena, MT
35 Lansing, MI
36 Juneau, AK
37 Raleigh - Durham (Fayetteville), NC
38 Lexington, KY
39 Columbia - Jefferson City, MO
40 Butte - Bozeman, MT
41 Portland - Auburn, ME
42 Cedar Rapids - Waterloo & Dubuque, IA
43 Honolulu - HI
44 Palm Springs, CA
45 Fresno - Visalia, CA
46 Harrisonburg, VA
47 Lafayette, IN
48 Bakersfield, CA
49 Twin Falls, ID
50 Reno, NV
51 Yakima - Pasco - Richland - Kennewick, WA
52 Springfield - Holyoke, MA
53 Syracuse, NY
54 Roanoke - Lynchburg, VA
55 Kansas City
56 Rapid City, SD
57 Las Vegas, NV
58 Spokane, WA
59 Green Bay - Appleton, WI
60 Albany - Schenectady - Troy, NY
61 Evansville, IN
62 Albuquerque - Santa Fe, NM
63 Idaho Falls - Pocatello, ID
64 Cincinnati
65 Des Moines - Ames, IA
66 Springfield, MO
67 Tallahassee - Thomasville, FL
68 South Bend - Elkhart, IN
69 Birmingham (Anniston and Tuscaloosa), AL
70 Sioux Falls (Mitchell), SD
71 Billings, MT
72 Anchorage, AK
73 Richmond - Petersburg, VA
74 Peoria - Bloomington, IL
75 Providence - New Bedford, RI
76 Fargo - Valley City, ND
77 Chicago
78 Norfolk - Portsmouth - Newport News, VA
79 Davenport - Rock Island - Moline, IA
80 Saint Louis
81 Milwaukee, WI
82 Tulsa, OK
83 Jonesboro, AR
84 Nashville, TN
85 Omaha, NE
86 Charlotte, NC
87 Indianapolis
88 Wilmington, NC
89 Columbus, OH
90 Dallas - Fort Worth
91 Champaign & Springfield - Decatur, IL
92 Panama City, FL
93 Fort Wayne, IN
94 Orlando - Daytona Beach - Melbourne, FL
95 Grand Rapids - Kalamazoo - Battle Creek, MI
96 Fort Myers - Naples, FL
Fort Smith -Fayetteville -Springdale - Rogers,
97 AR
98 Colorado Springs - Pueblo, CO
99 Youngstown, OH
100 Salisbury, MD
101 Lincoln & Hastings - Kearney, NE
102 Knoxville, TN
103 Baltimore, MD
104 Dayton, OH
105 Cheyenne - Scottsbluff, WY
106 Watertown, NY
107 Binghamton, NY
108 Louisville, KY
109 Topeka, KA
110 Columbia, SC
111 Greensboro - High Point - Winston-Salem, NC
112 Jacksonville, FL
113 West Palm Beach - Fort Pierce, FL
114 Chattanooga, TN
115 Tampa - Saint Petersburg (Sarasota), FL
116 Johnstown - Altoona, PA
117 Jackson, TN
118 Rockford, IL
119 Atlanta
120 Oklahoma City, OK
121 Hartford & New Haven, CT
122 Mobile - Pensacola (Fort Walton Beach), AL
Greenville -Spartanburg -Asheville - Anderson,
123 SC
124 Lubbock, TX
125 Wausau - Rhinelander, WI
126 Philadelphia
127 Presque Isle, ME
128 North Platte, VA
129 Cleveland, OH
130 Greenville - New Bern - Washington, NC
131 Terre Haute, IN
132 Harrisburg - Lancaster - Lebanon - York, PA
133 New York
134 Saint Joseph, MO
135 Pittsburgh
136 Rochester, NY
137 Great Falls, MT
138 Parkersburg, WV
139 Little Rock - Pine Bluff, AR
140 Detroit
141 Grand Junction - Montrose, CO
142 Joplin - Pittsburg, MO
143 San Antonio, TX
144 Toledo, OH
145 Duluth - Superior, MN
146 Wichita - Hutchinson, KS
147 Houston
Paducah -Cape Girardeau -Harrisburg -Mt
148 Vernon, KY
149 Utica, NY
150 Buffalo, NY
151 Huntsville - Decatur (Florence), IL
152 Traverse City - Cadillac, MI
153 Dothan, AL
154 Charleston, SC
155 Miami - Fort Lauderdale
156 Marquette, MI
157 Minot - Bismarck - Dickinson, ND
158 Wichita Falls & Lawton, KS
159 Beaumont - Port Arthur, TX
160 Columbus - Tupelo - West Point, MS
161 Bowling Green, KY
162 Memphis, TN
163 Casper - Riverton, WY
164 Tyler - Longview (Lufkin & Nacogdoches), TX
165 Amarillo, TX
166 Flint - Saginaw - Bay City, MI
167 Sherman - Ada, TX
168 Elmira, NY
169 Augusta, GA
170 Ottumwa - Kirksville, IA
171 Savannah, GA
172 Columbus, GA
173 Sioux City, IA
174 Waco - Temple - Bryan, TX
175 Lima, OH
176 Zanesville, OH
177 Yuma - El Centro, AZ
178 Biloxi - Gulfport, MS
179 Wilkes Barre - Scranton, PA
180 Baton Rouge, LA
181 Macon, GA
182 Tri-Cities, TN-VA
183 Montgomery (Selma), AL
184 New Orleans
185 Florence - Myrtle Beach, SC
186 Clarksburg - Weston, WV
187 Quincy - Hannibal - Keokuk, IL
188 Abilene - Sweetwater, TX
189 Albany, GA
190 Charleston-Huntington, WV
191 Alexandria, LA
192 Odessa - Midland, TX
193 Wheeling - Steubenville, OH
194 San Angelo, TX
195 Bluefield - Beckley - Oak Hill, KY
196 Erie, PA
197 Monroe - El Dorado, AR
198 Lake Charles, LA
199 El Paso, TX
200 Meridian, MS
201 Harlingen - Weslaco - Brownsville - McAllen, TX
202 Lafayette, LA
203 Shreveport, LA
204 Corpus Christi, TX
205 Jackson, MS
206 Hattiesburg - Laurel, MS
207 Alpena, MI
208 Victoria, TX
209 Greenwood - Greenville, MS
210 Laredo, TX