Mileage Challenge 6.2: The Results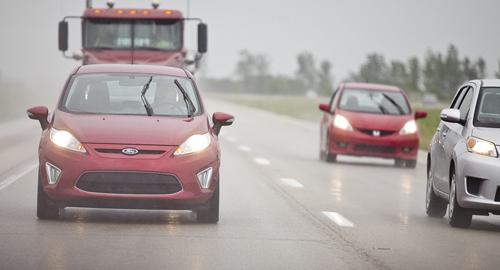 For our most recent mileage challenge we tested four subcompacts to see how they stacked up when the wheels hit the real world. This challenge's players include the all-new 2011 Ford Fiesta SES with an impressive 38 mpg rating to back up, 2010 Honda Fit Sport, 2010 Nissan Cube Krom and 2010 Scion xD — all equipped with automatic transmissions.
As rated by the EPA, the Ford Fiesta gets the best fuel economy of the bunch at 29/38 mpg city/highway. But could it get those numbers in the real world?
It came pretty dang close on Leg 2. According to the Fiesta's trip computer, it got 37.2 mpg, the drive's highest-recorded mileage.
All four of these cars come with a trip computer that monitored gas mileage. The xD wasn't as cooperative as the others; according to the owner's manual, the trip mpg meter only resets when the gas tank is filled. The others were able to be manually reset at each leg, which is standard operating procedure for our drives. The xD's readout as displayed below is a continual reading through the drive.
All of our testers were equipped with automatic transmissions, though different transmission technology stood out. The xD uses an almost antiquated four-speed automatic while the Fiesta has a six-speed dual-clutch automatic transmission, which is commonly used in more expensive cars. In the end, however, the old-school transmission held its own and wasn't far behind the Fiesta's mark at the end of the day. According to our fill-up calculations, the Fiesta managed 35.89 mpg and the xD hit 34.34 mpg, which actually bested its EPA-estimated 33 mpg highway. The xD far surpassed the others in terms of overall mileage compared to its ratings.
Our route was less than picturesque with heavy rain and winds that took these four cars and threw some of them around the road. On Leg 3, the bread-box-like Cube struggled in the wind, which was apparent by the transmission continuously revving the engine high and low to keep pace. That combined with sawing back and forth at the wheel to keep the Cube straight resulted in a dismal 27.9 mpg on that leg. That's not bad for its city rating, but we averaged 59 mph during that stretch in the Cube. Ouch.
Like previous challenges, we filled up from the same pump and maintained a standard climate-control setting and windows-closed rule throughout the drive. Check back tomorrow when each of our editors picks which car they'd want to spend more time in.
Route Notes

Leg 1: 64˚ F, rain
Traffic: Medium (5/10)
Average distance: 53 miles
Average speed: 27.25 mph

Leg 2: 64˚ F, rain
Traffic: Light (1/10)
Average distance: 45.8 miles
Average speed: 55.5 mph

Leg 3: 64˚ F, heavy rain, winds
Traffic: Medium (4/10)
Average distance: 79.5 miles
Average speed: 59.3 mph

Leg 4: 67˚ F, rain
Traffic: Medium (6/10)
Average distance: 88.3 miles
Average speed: 48.8 mph
Mileage Challenge 6.1: Subcompacts