2012 Ford Focus to Get 38 MPG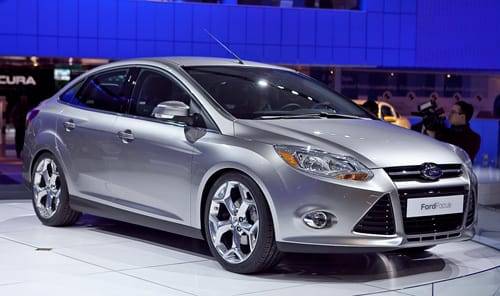 As gas prices jump higher with every news report, the mileage wars are back on in a big way. Even before the most recent pain at the pump, automakers were trying hard to bump their mileage figures on new cars, especially compacts.
While Ford announced the mileage for the Focus' high-efficiency model last week, today the company has given us the official fuel-economy numbers for the rest of the Focus lineup, which is slated to go on sale later this month.
When equipped with an automatic transmission, which most consumers select, the Focus will return 28 mpg in the city and 38 mpg on the highway for a combined figure of 31 mpg. With a manual transmission, the Focus will return 26/36/30 mpg city/highway/combined.
The mileage falls short of the 2011 Hyundai Elantra, which is rated at 29/40/33 mpg with an automatic, but it easily bests the Chevy Cruze's 24/36/28 mpg with its automatic.
Honda's redesigned 2012 Civic, which is coming this spring, is expected to return 39 mpg highway.
While the Focus' numbers don't match those of the Elantra, the Focus is a heavier vehicle that impressed Cars.com senior editor Joe Wiesenfelder. You can read his full review here.