2012 Mazda3 Hatchback: Car Seat Check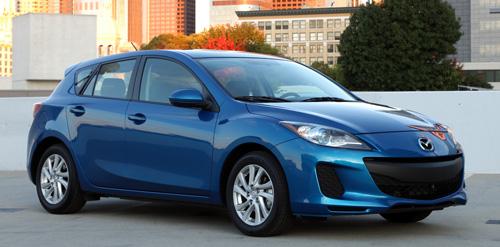 Mazda wiped the smile — well, some of it — off the Mazda3's grille for the 2012 model year. It didn't stop there, though. The automaker also tweaked the exterior and interior styling of its compact car, which comes in sedan and hatchback body styles. For our Car Seat Check, we tested the hatchback.
For the Car Seat Check, we use a Graco SnugRide 30 rear-facing infant-safety seat, a Britax Roundabout convertible child-safety seat and Graco high-back TurboBooster seat.
The front seats are adjusted to a comfortable position for a 6-foot driver and a 5-foot-8 passenger. The three child seats are installed in the second row. The booster seat sits behind the driver's seat, and the infant seat and convertible seats are installed behind the passenger seat. We also install the infant seat in the second row's middle seat with the booster and convertible in the outboard seats to see if three car seats will fit. If there's a third row, we install the booster seat and a forward-facing convertible.
Here's how the 2012 Mazda3 sedan did in Cars.com's Car Seat Check:
Latch system: The Mazda3 has two sets of lower Latch anchors in the outboard seats. The anchors aren't tough to use because they're not buried too deeply between the stiff seat cushions. Three tether anchors are in the cargo area. The outboard seats' tether anchors are found halfway down the seatbacks. The middle seat's tether anchor is in the rear lip of the cargo area, causing the tether's strap to span the cargo area.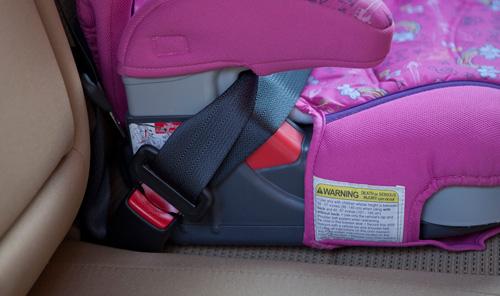 Booster seat: Our high-back booster seat fit well in the Mazda3. However, the seat belt buckles are floppy, making it hard for young kids to buckle up independently.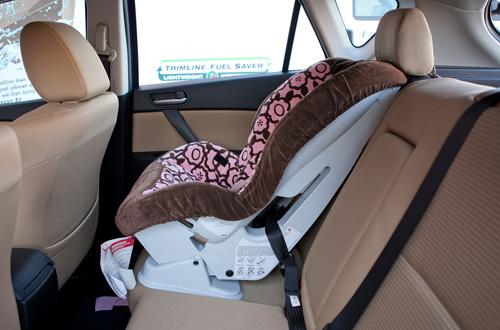 Convertible seat: The forward-facing convertible also fit well, but we had to move the front passenger seat forward a few inches to get the rear-facing convertible to fit in the backseat. The front passenger had about a half-inch of space between her knees and the glove box.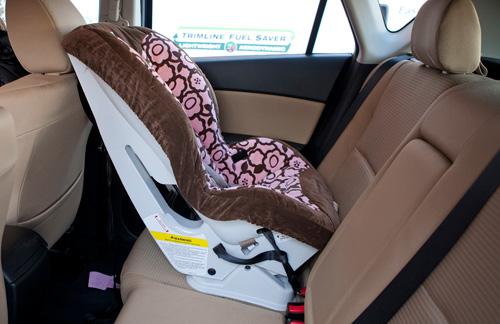 Infant-safety seat: We also had to move the front passenger seat forward to fit this rear-facing car seat. The front passenger had just enough legroom to sit comfortably.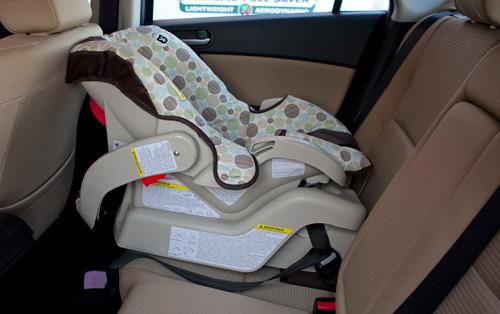 How many car seats fit in the second row? Two
Editor's note: For three car seats — infant-safety seat, convertible and booster seats — to fit in a car, our criterion is that a child sitting in the booster seat must be able to reach the seat belt buckle. Parents should also remember that they can use the Latch system or a seat belt to install a car seat.