2012 Audi Q5: Car Seat Check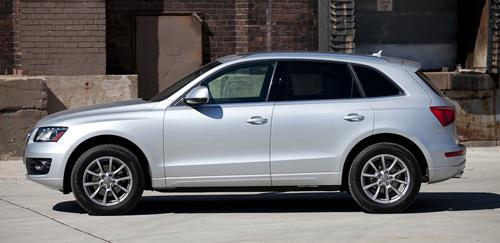 After commuting in the 2012 Audi Q5 for a few days, I couldn't help but describe it as vehicular butter to a friend. For those who haven't seen the old "Saturday Night Live" sketches, butter is good. Its available adaptive suspension smoothed out Chicago's pothole-filled streets, and the leather seats were like, well, butter. In its Car Seat Check, the A5 did OK but failed to maintain its butter status.
For the Car Seat Check, we use a Graco SnugRide 30 rear-facing infant-safety seat, a Britax Roundabout convertible child-safety seat and Graco high-back TurboBooster seat.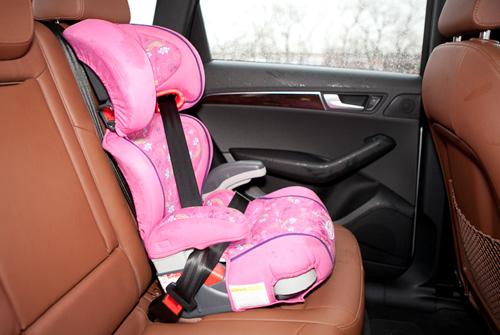 The front seats are adjusted to a comfortable position for a 6-foot driver and a 5-foot-8 passenger. The three child seats are installed in the second row. The booster seat sits behind the driver's seat, and the infant seat and convertible seats are installed behind the passenger seat. We also install the infant seat in the second row's middle seat with the booster and convertible in the outboard seats to see if three car seats will fit. If there's a third row, we install the booster seat and a forward-facing convertible.
Here's how the 2012 Q5 did in Cars.com's Car Seat Check:
Latch system: The Q5 has two sets of lower Latch anchors that are mostly easy to use. The anchors sit under removable plastic covers, but they're set close together, so we had to push the child-safety seat from one side to another to access the anchors.
There are three tether anchors in the Q5. The outboard seats' anchors are halfway down the seatback. The middle position's anchor is near the bottom of the seatback.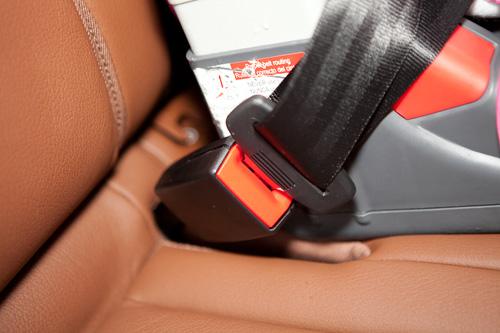 Booster seat: Our high-back booster fit well in the Q5, and the outboard seat belt buckles are on stable bases, making them easy to use. The middle seat's buckle is floppy, though.
Convertible seat: The forward-facing convertible fit well. To get the rear-facing convertible to fit, we had to move the front passenger seat so far forward that our front passenger only had about an inch of clearance between her knees and the glove box.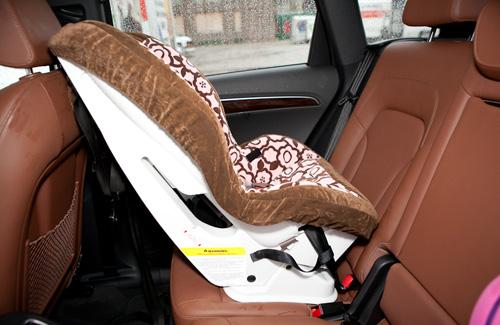 Infant-safety seat: While we also had to move the front passenger seat forward to fit this rear-facing car seat behind it, it wasn't nearly as far forward as with the rear-facing convertible. The front passenger had more legroom.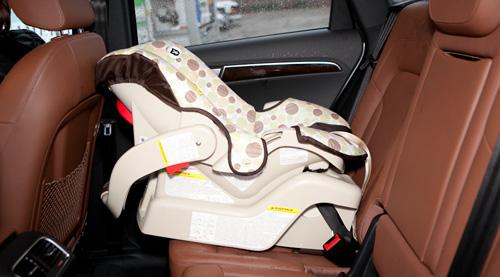 How many car seats fit in the second row? Two
Editor's note: For three car seats — infant-safety seat, convertible and booster seats — to fit in a car, our criterion is that a child sitting in the booster seat must be able to reach the seat belt buckle. Parents should also remember that they can use the Latch system or a seat belt to install a car seat.