2012 Mitsubishi Lancer Evolution: Car Seat Check
The 2012 Mitsubishi Lancer Evolution proves that parents can have their cake and eat it, too. The Evolution isn't normally associated with families, but its backseat easily handled most of our child-safety seats. Parents who choose this atypical family sedan get to have lots of fun with its turbocharged 2.0-liter four-cylinder that makes 291 horsepower.
For the Car Seat Check, we use a Graco SnugRide 30 rear-facing infant-safety seat, a Britax Roundabout convertible child-safety seat and Graco high-back TurboBooster seat.
The front seats are adjusted to a comfortable position for a 6-foot driver and a 5-foot-8 passenger. The three child seats are installed in the second row. The booster seat sits behind the driver's seat, and the infant seat and convertible seats are installed behind the passenger seat. We also install the infant seat in the second row's middle seat with the booster and convertible in the outboard seats to see if three car seats will fit. If there's a third row, we install the booster seat and a forward-facing convertible.
Here's how the 2012 Lancer Evolution did in Cars.com's Car Seat Check:
Latch system: The Evolution has two sets of lower Latch anchors in the outboard seats. The anchors are easy to find and use, thanks to sizable slits in the upholstery. Three tether anchors sit on the rear shelf behind the backseat's head restraints. The easy-to-use tethers are under hinged plastic covers.
Booster seat: Our high-back booster fit well in the backseat. The seat bolsters helped to keep it in place. However, the seat belt buckle was floppy and kept falling behind the booster seat.
Convertible seat: Both the forward- and rear-facing convertible fit well in the Evolution. This was somewhat surprising because the Evolution's rear seats have roughly 3 inches less legroom than its sibling, the 2012 Mitsubishi Lancer.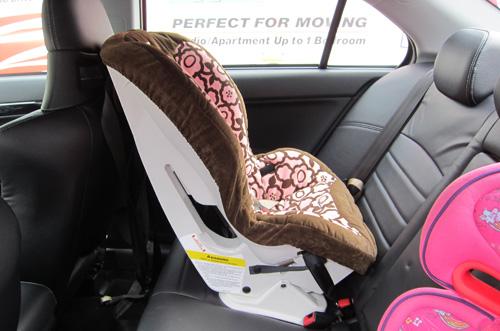 Infant-safety seat: The front row's Recaro-brand sport seats have significant seatback bulges that interfered with the fit of our rear-facing infant seat. To get this car seat to fit, we had to move the front passenger seat forward a lot and adjust the seatback's angle forward. This left the front passenger uncomfortable, with her knees pushing into the glove box.
How many car seats fit in the second row? Two
Editor's note: For three car seats — infant-safety seat, convertible and booster seats — to fit in a car, our criterion is that a child sitting in the booster seat must be able to reach the seat belt buckle. Parents should also remember that they can use the Latch system or a seat belt to install a car seat.