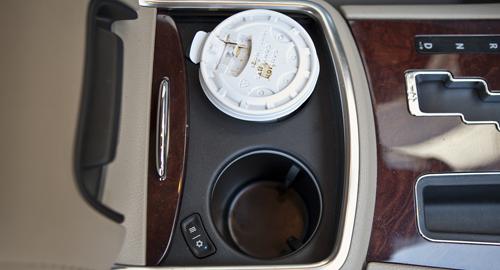 One of the things I've learned from reviewing cars is not all cupholders are in fact cupholders. When an automaker says there are 14 cupholders in the latest crossover, that quantity is usually a variety of beverage-holding areas.
Usually in the front row there are the traditional, all-American cupholders. They sit between driver and front passenger and can be lined with rubber or have various grippers to hold a venti latte or skinny water bottle. They usually do a pretty good job of holding cups in place. These also can be upgraded to heated and cooled cupholders; they can be lit, and they can become your best friend depending on how much you like to be hydrated while driving.
There are just two of these cupholders in most cars. Two. Not six, not 10, not 14. Two.
What other kinds of cupholders are there, you ask?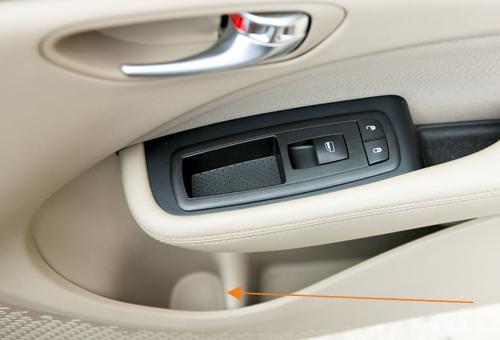 Also found in the front row are bottleholders. These typically live in the door bins. They're often slanted in orientation and are taller than a cupholder. Why shouldn't it be called a cupholder, you ask? Because it doesn't grip the container like a cupholder, the bottleholder requires a bottled or capped beverage. If you had a full, yet opened, can of soda in the bottleholder, you'd get splashed with soda every time you hit a bump in the road.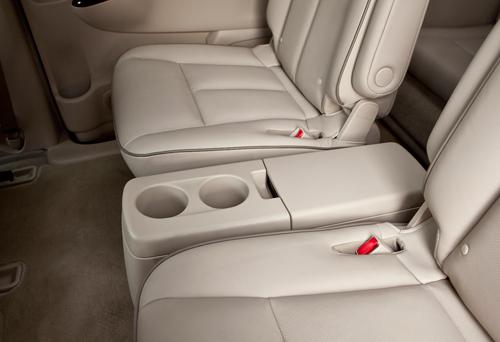 Then there are cupholders in the rear seats, which can be found in various locations. Sometimes the cupholders will be a version of what's found in the front seat, just in to folding armrest, if there happens to be one.
Sometimes there are cupholders that are built into the back of the center console. These are hard, if not impossible, to reach for toddlers who are strapped into their child-safety seats, and they serve to infuriate parents of little ones and little ones themselves.
The above-mentioned cupholders should not be confused with those that are built into the top rear portion of the front row's center console. Minivans usually have these, and the console's top can slide back toward the second row for easier access. Kid asks for the water bottle and Mom or Dad slides the cupholder back. Serenity ... for now.
Sometimes, a cupholder in the backseat will be built into the seat bench itself. Some sporty four-seat sedans or coupes often have a console where a middle seat would be in the back. These are usually found in luxury cars and are almost as nice as whatever premium cupholders are in the front row.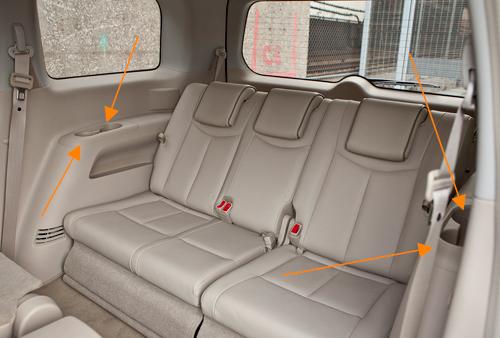 In the third row of crossovers and minivans, it's all about utility. The only cupholders I've found to date are large, bare wells cut into the molded plastic above the wheel wells. I will say, though, that sometimes there are two wells for each side despite the rarity that three people can even fit in a third row.
Please bear in mind that coolers, chillers and cooled glove boxes aren't cupholders at all, but will hold bottles, cans or juice boxes and keep them cold. They usually require said items to be stowed in a place that isn't easy to access. So keep your stuff cooled in the chiller and then put it in the cupholder. If you can't finish it, then cap it and put it in the bottleholder.
Related
Car Storage Wars: Inventive Places to Stash Your Stuff
Cars.com's Minivan Buying Guide
More Family News on Cars.com