Ford Wraps Fiesta in Bacon, Really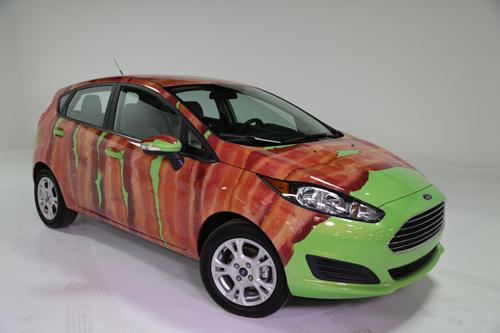 I'm a fan of bacon-wrapped dates and BLTs, but that's about as far as my pork-product love goes. Ford, however, is going much, much further. In anticipation of International Bacon Day on Aug. 31, the automaker is offering Fiesta customers several different bacon wraps for the subcompact's exterior.
If it was April 1, we'd be skeptical about this news, but it's true. The wraps are produced by Ford Custom Graphics and 3M Original Wraps. Prices start at $78.75 for mini strips, $191.25 for bacon racing strips and $318.75 for a side of bacon — two strips that wrap the rear wheel hubs. You'll have to really love bacon to get the full wrap, however; it'll run you $3,347.
Why bacon? "It's no secret that bacon inspires a lot of passion, and that's what the Fiesta celebrates. Our customers have a hunger for self-expression. Plus, it's just awesome to drive down the road in a piece of bacon," Liz Elser, Ford Fiesta marketing manager, said in a statement.
We wonder if the automaker has anything in store for Toasted Marshmallow Day (Aug. 30) and Cheese Pizza Day (Sept. 5).
Related
Research the 2014 Ford Fiesta
Car Art: Infectious or Tacky?
More Ford News