IIHS: Chevrolet Spark is Safest Microcar
This probably doesn't come as much of a surprise, but microcars just aren't as safe as larger vehicles, according to the Insurance Institute for Highway Safety's new round of crash tests. Of the 11 model-year 2013 and 2014 microcars and subcompacts evaluated, the agency reported that only the Chevrolet Spark earned an acceptable rating in the challenging small overlap front crash test. The 10 others in the group earned marginal and poor scores, the two lowest ratings. "Minicars are the worst performing group so far in this test," IIHS said in a statement.
22 Cars Earn IIHS' Revised Top Safety Pick Plus Award
The 40 mph crash test simulates the front corner of a vehicle striking a smaller-diameter object like a tree or a telephone pole. The Honda Fit and Fiat 500 got the lowest scores of the group. "In both the 2013 Honda Fit and the 2014 Fiat 500, intruding structure seriously compromised the driver space, and the dummy's head didn't stay in contact with the frontal airbag. The 500's driver door tore open at the hinges," IIHS said in a statement. The agency also reported that the side-curtain airbag failed to deploy in the Toyota Yaris (pictured below), leading to its low score.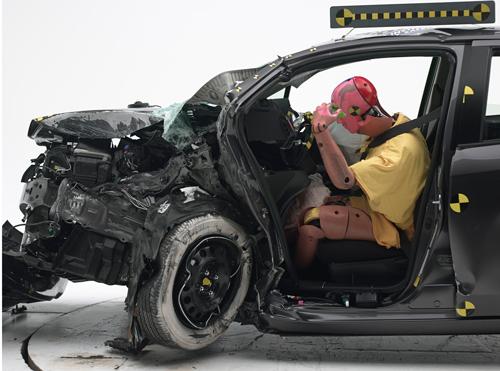 Honda's Fit has been redesigned for 2015 but hasn't yet been crash-tested by IIHS. The automaker, however, has high hopes for the new model. "Honda has an all-new, completely redesigned 2015 Honda Fit that will come to market in just a few months and we anticipate it will earn top safety scores from the Insurance Institute for Highway Safety, with a good rating in all test modes including the rigorous small overlap front crash test," said Angie Nucci, Honda spokeswoman.
The Spark's acceptable score in the small overlap front test and its good ratings in the agency's four other crash tests helped earn it Top Safety Pick status, the only micocar to do so. "The Spark achieves an acceptable overall rating because the dummy's movement was fairly well controlled and its injury measures were low," IIHS said in a statement.
The Spark, like all the other microcars tested, doesn't offer a crash prevention system, a must-have for a vehicle to earn IIHS' highest honor, the Top Safety Pick Plus award. Despite its best-in-class safety rating, IIHS cautions that the Spark still exhibited some structural integrity problems during the crash. "Consumers should remember that the Spark, while offering more small overlap protection than other minicars, weighs less than 2,500 pounds and doesn't protect as well as a larger and heavier vehicle with a comparable rating," it said.
Check out the chart below for each micocar's detailed scores: