Which 3-Row SUV Gets the Best Mileage?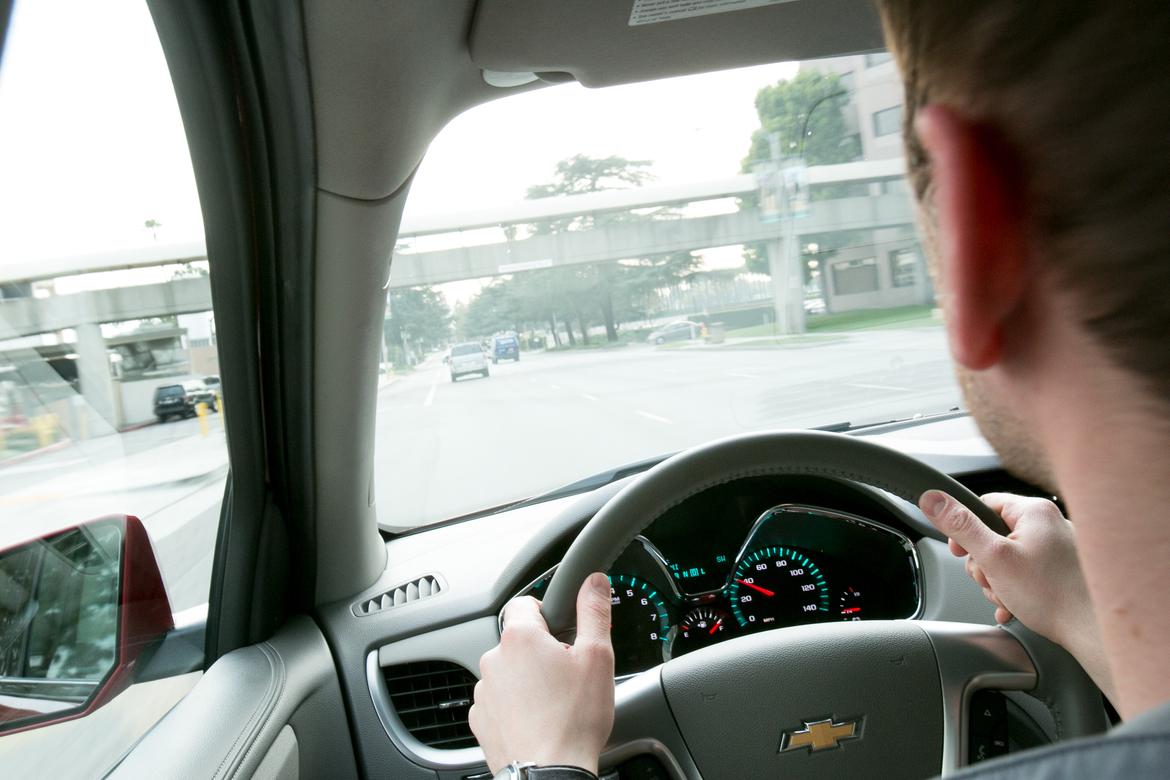 CARS.COM — Squeezing gas mileage out of the three-row SUVs tested for Cars.com's $40,000 3-Row SUV Challenge is no easy task for automakers. A large people-and-cargo hauler capable of carrying eight and towing up to 5,000 pounds isn't really a vehicle conducive to great gas mileage.
$40,000 3-Row SUV Challenge (2014)
Results | What the Judges Said | 2017 Rematch
Efforts to raise MPG ratings take are evident in a variety of fuel-efficient technologies in the seven three-row SUVs we tested. Our mileage drive put these features — including efficient transmissions, cylinder deactivation, Eco modes, sleek aerodynamics and weight savings — to the test.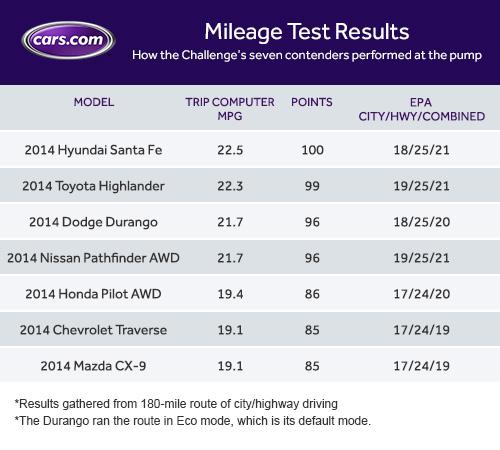 Fuel-Efficient Tech Impacts Mileage Ratings
The three-row SUVs tested use various transmission technologies to improve fuel economy. Dodge's Durango is equipped with an eight-speed automatic good for a 9 percent boost in economy compared to 2013's five-speed. The 21.7 mpg that put the Durango into third is a mighty impressive feat considering the Durango was the heaviest (at 4,838 pounds) and tied with the Hyundai Santa Fe as the most powerful (290 horsepower). Nissan credits its continuously variable automatic transmission as a fuel-economy booster in the Pathfinder; it tied the Durango's 21.7 mpg. The Pathfinder was one of only two SUVs with all-wheel drive. The Toyota Highlander gained a six-speed automatic for 2014, and its 22.3 mpg came in just a hair behind the Santa Fe's winning 22.5 mpg.
Another way to boost economy is active Eco modes, which alter transmission and accelerator behavior. The Santa Fe and Durango sported such modes and we mirrored EPA testing, which meant leaving the Durango's acceleration-sapping Eco mode on and the Santa Fe's off, because that's the way the car defaults when starting. The Durango's Eco mode was especially aggravating and withholding of available acceleration.
The Honda Pilot's 3.5-liter V-6 uses cylinder deactivation that drops down to four- and three-cylinder modes to save fuel; it's practically seamless when it does so, too. Low- rolling-resistance tires and aero-friendly splash shields, inner fenders and a minimal frontal area help the Pilot's cause as well. The Pilot's fifth-ranked 19.4 mpg may seem low, but it has all-wheel drive. All-wheel drive adds weight, and weight is an enemy of fuel economy. Decreasing weight to bump fuel economy isn't easy, however, and often requires significant changes to the chassis or body. Nissan switched the Pathfinder from a body-on-frame platform to a car-based one and says it shaved almost 500 pounds in the process; its fuel economy jumped.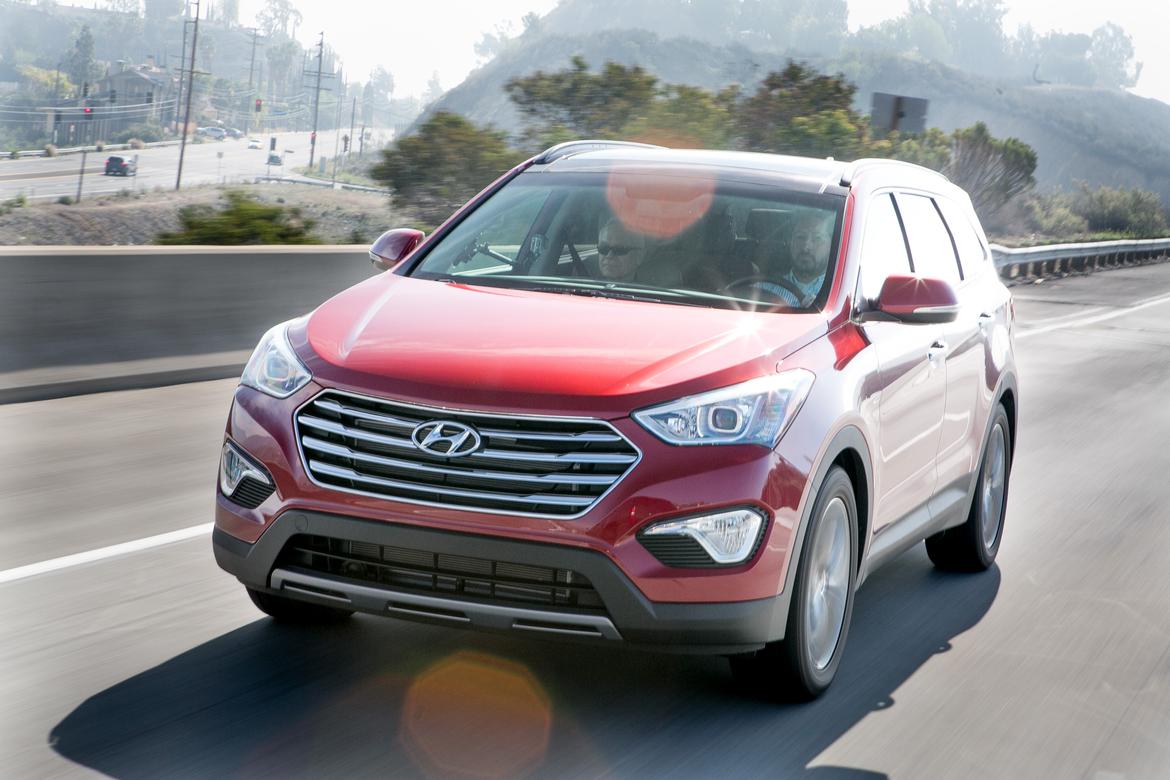 Weight brings us to the Santa Fe sitting at the top of our mileage test. Besides using gasoline direct injection like the Chevrolet Traverse to boost efficiency, it's important to note how little the Santa Fe weighs. The Hyundai's 3,904-pound curb weight is the lightest of the SUVs tested by more than 400 pounds; the Highlander was the next lightest at 4,310 pounds. Since the Santa Fe was the most efficient as well as one of the most entertaining to drive SUVs, it was hard to not be impressed by it in the mileage drive as well as overall.
Testing notes: The 180-mile fuel-economy loop included a mix of highway and city driving in the Los Angeles area. All the SUVs were driven with the windows up, air conditioning on and tire pressure at manufacturer recommendations, and the seven drivers rotated into each SUV to spread an equal mix of driving habits and weight across the field. We gathered final gas mileage numbers from each SUV's onboard trip computer.
Cars.com's Editorial department is your source for automotive news and reviews. In line with Cars.com's long-standing ethics policy, editors and reviewers don't accept gifts or free trips from automakers. The Editorial department is independent of Cars.com's advertising, sales and sponsored content departments.