2016 Volvo XC90: First Look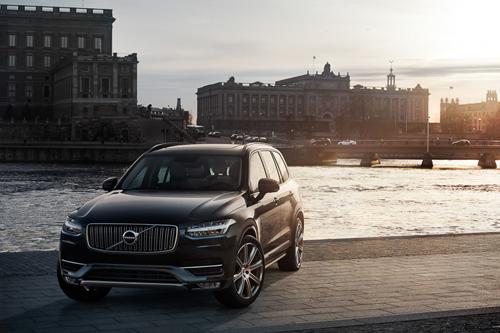 Competes with: Acura MDX, BMW X5, Infiniti QX60
Looks like: Sleeker elements meet the same upright profile
Drivetrain: 320-hp, supercharged and turbocharged four-cylinder or 400-hp (est.), supercharged and turbocharged four-cylinder with plug-in electric motor; available all-wheel drive
Hits dealerships: Early 2015
After a protracted rollout that included a reveal of the interior and details on powertrains, Volvo finally unveiled the next-generation XC90's exterior. It's all here, now, and much of it reads like a concept car. But so did the original XC90, which debuted gyroscopic rollover detection and was among the first SUVs with three-row side curtain airbags.
Related: Porsche, Hyundai Top New J.D. Power Study, Volvo and Mitsubishi Sink
That was more than 12 years ago.
This new XC90 gets some all-new tech in the safety arena like you'd expect from a Volvo but it may be the powertrain and interior opulence that woos luxury shoppers.
Next year's XC90 boasts automatic intersection braking if it detects that you're trying to turn in front of a car that's coming too fast, as well as protective occupant measures — like seat belts cinching up — if you run off the road. Another U.S. first is a plug-in hybrid drivetrain with a supercharger and a turbocharger, available on the XC90 T8.
Exterior
The XC90's new face departs somewhat from Volvo's current cars, which employ taller headlights and a horizontally oriented grille. The XC90 gets a waterfall grille with vertical bars, though it still bears the brand's trademark diagonal crosspiece. Volvo's arrow-and-circle logo gets its own remake, dropping the blue "Volvo" overlay for an inset, colorless piece that spells the brand's name inside the circle.
The headlights feature bold, T-shaped daytime running lights that Volvo likens to Thor's hammer. The Norse gods roll in rimmed-out style, apparently, because the XC90's wheels measure up to 22 inches in diameter — matching the Cadillac Escalade Platinum for some of the largest factory wheels you can buy. In back, the taillights follow Volvo's tradition, snaking around the rear window.
Interior
The XC90's seven-seat cabin eschews the Swedish automaker's floating center stack, which has characterized its U.S. cars since the mid-2000s. In its place is a more horizontal, stacked dashboard with plenty of capacitive-touch controls. Lush materials include a gearshift made from Orrefors crystal and real leather along the dash.
Three passengers fit in the second row, with a two-seat third row that Volvo says is suitable for passengers up to 5-foot-7. A Bowers & Wilkins premium stereo features an air-ventilated subwoofer - one of the first such placements in a car, Volvo says.
Under the Hood
Volvo's supercharged and turbocharged four-cylinder, which made its U.S. debut in the 2015 S60 sedan and XC60 SUV, serves as the base engine in the XC90. It makes 320 horsepower and 295 pounds-feet of torque, and it works through an eight-speed automatic transmission. A higher, T8 trim is actually a plug-in hybrid and uses a 60-kilowatt electric motor to drive the rear wheels, while the supercharged and turbocharged four-cylinder runs the front wheels. Combined output is about 400 hp and 472 pounds-feet of torque, Volvo estimates. With a full charge, the electric motor is capable of powering the XC90 for around 25 miles in a driver-switchable EV mode.
The T8 will have standard all-wheel drive, but it's unclear whether a front-drive version is available on the base models. EPA gas mileage, as well as plug-in charging specifics, are still pending.
Safety
Touting the XC90's features as the "most advanced standard safety package on the market," Volvo says the new SUV boasts five times the ultra-high-strength steel of its predecessor. Standard features include a run-off occupant protection system, which cinches the front seat belts if you leave the pavement unintentionally. Specially designed front seats aim to mitigate spinal injuries, too.
A standard auto-braking feature can stop the XC90 if you attempt to turn in front of an oncoming car that's moving faster than you thought. Other features include a blind spot warning system, next-generation Roll Stability Control, seat belt pretensioners in all seven seats - not just the front seats, as is the norm - and rear-facing radar that detects an imminent rear impact and tightens the seat belts to properly position occupants. The XC90's forward collision warning system, which includes auto-braking, can now detect cars, cyclists and pedestrians; it also works at night, Volvo says.
Manufacturer images