2016 Infiniti QX50: First Drive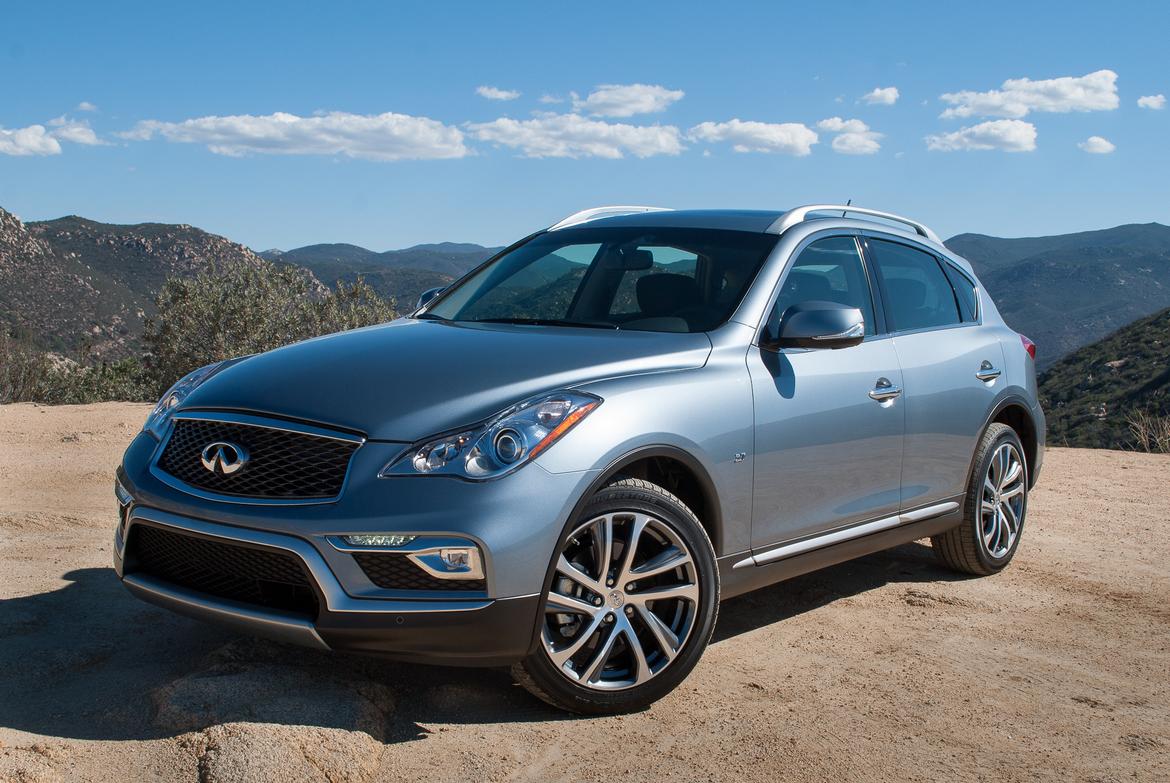 Infiniti representatives said that the QX50 compact crossover was simply ignored as the company focused on other portions of the lineup during the past several years. Consumers followed suit: The 2015 QX50, originally called the EX35 and then EX37 before a brandwide change in model names for 2014, represents a slim sliver of sales and attention among its competitors, which include the Acura RDX, Audi Q5 and BMW X3.
Related: 2016 Infiniti QX50: First Look
For 2016, Infiniti decided it was time to give the QX50 a shakeup, with what is technically a refresh yet adds some structural changes usually seen only in full redesigns. I had a chance to get behind the wheel in San Diego to try it out.
Updates
When you look over the changes to the 2016 QX50 they are pretty minimal. Exterior styling has been tweaked, with a new front grille to better match the rest of the lineup, and there are subtle changes to the rear and sides as well.
However, underneath the QX50 is a new wheelbase, taken from the long-wheelbase version of the Q50 sedan (Q50 L) that Infiniti sells in China. At 113.4 inches long, the wheelbase is 3.2 inches longer than last year, which opens up 8 percent more cabin volume. Most importantly, this adds 4.3 inches of rear legroom and 3.9 inches of rear knee room that were desperately needed.
Also changed for 2016 is the price, which drops by $550 even though there are now more standard features.
How It Drives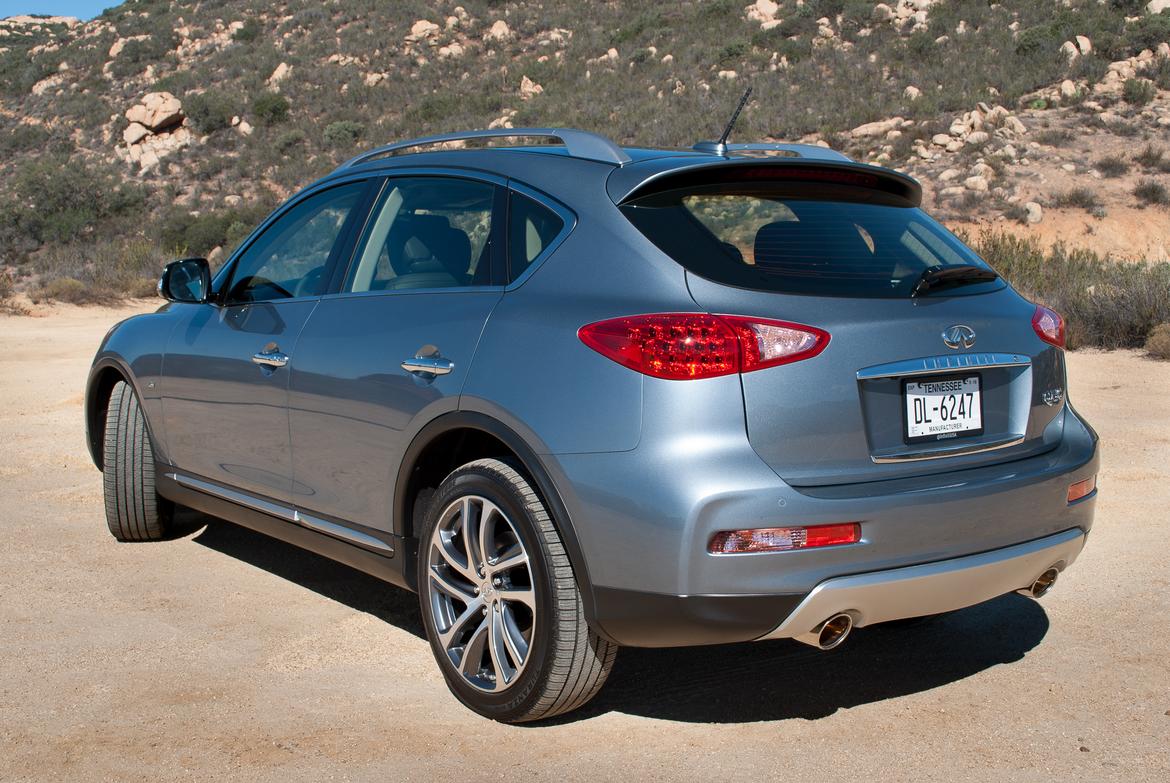 Our drive route was a mix of winding roads through the hills northeast of San Diego and a few stretches of highway that gave us a chance to stretch the QX50's legs and test out the driver aids.
There were no changes under the hood for the 2016 QX50, but this isn't a negative. A 325-horsepower, 3.7-liter V-6 that makes 267 pounds-feet of torque provides plenty of power for acceleration and passing maneuvers, and the seven-speed automatic transmission is compliant, holding gears politely when asked (although coaxing it high into the rev range with accelerator pressure takes a bit more asking than I'd prefer).
There were two versions of the QX50 on hand, one with rear-wheel drive and the other with all-wheel drive. I spent most of the day in the all-wheel-drive version, which keeps a rear-drive bias under most conditions.
Infiniti insists that the QX50 be viewed as a performance-oriented crossover. I think this ultimately does the vehicle a disservice; if you expect sportiness and twitchy performance you will be left wanting. That's what happens when you add ride height and weight to a chassis designed for a passenger car.
However, if you are looking for a comfortable luxury crossover with a bit of bite, then the QX50 fits the bill. It offers rear-drive dynamics and a tightly wound steering rack that is heavier than other crossovers I've driven. On the curvier portion of the drive, the QX50 felt sufficiently agile, handling quick directional changes and left-right weight transfers confidently.
The test vehicle came with the Technology Package ($2,750), which adds several driver aids and active-safety features, including adaptive cruise control with full-speed range, Distance Control Assist (aspects of adaptive cruise control that can operate when cruise isn't activated), blind spot warning, lane departure warning and prevention, and forward collision warning with intelligent brake assist .
When the QX50 is shut off, the safety settings all reset to default, including the sensitive lane departure warning system. I did like that each of the systems could be turned off with a physical control, which makes activating or deactivating them safer than sifting through a menu in the information panel or the center screen.
Interior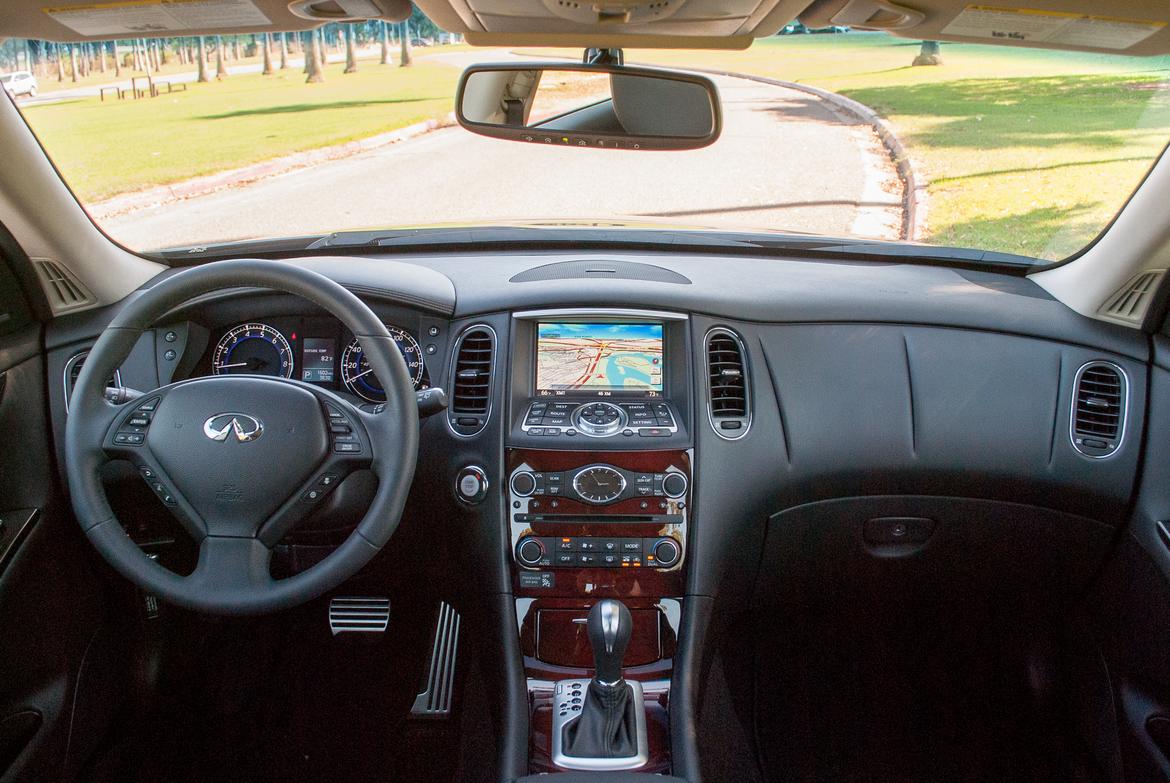 The most pronounced interior change comes from the added wheelbase length. Basic design, technology and features remain the same, which gives the cabin a slightly outdated feel -- especially in the technology department. A larger screen would do wonders.
I hopped in the backseat to check out the added passenger room after moving the front seat to a comfortable driving position. I'm 5-foot-11 and the additional legroom is much appreciated. There were a few extra inches of clearance between my knees and the seatback, and it felt roomy. I found the rear seats to be well-appointed but too upright with flat cushioning. They don't recline, so you may have to slouch a bit to get comfortable.
The 60/40-split rear bench also has convenient powered operation that comes as part of the $2,400 Deluxe Touring Package. Pop open the liftgate and there's a switch on either side to lower or raise the seat without straining or climbing into the cargo area. If you're sitting up front and need to raise the seats back up, there are two buttons on the center console to do so. We should note, however, that there are no switches up front to drop the seats -- only to raise them.
Value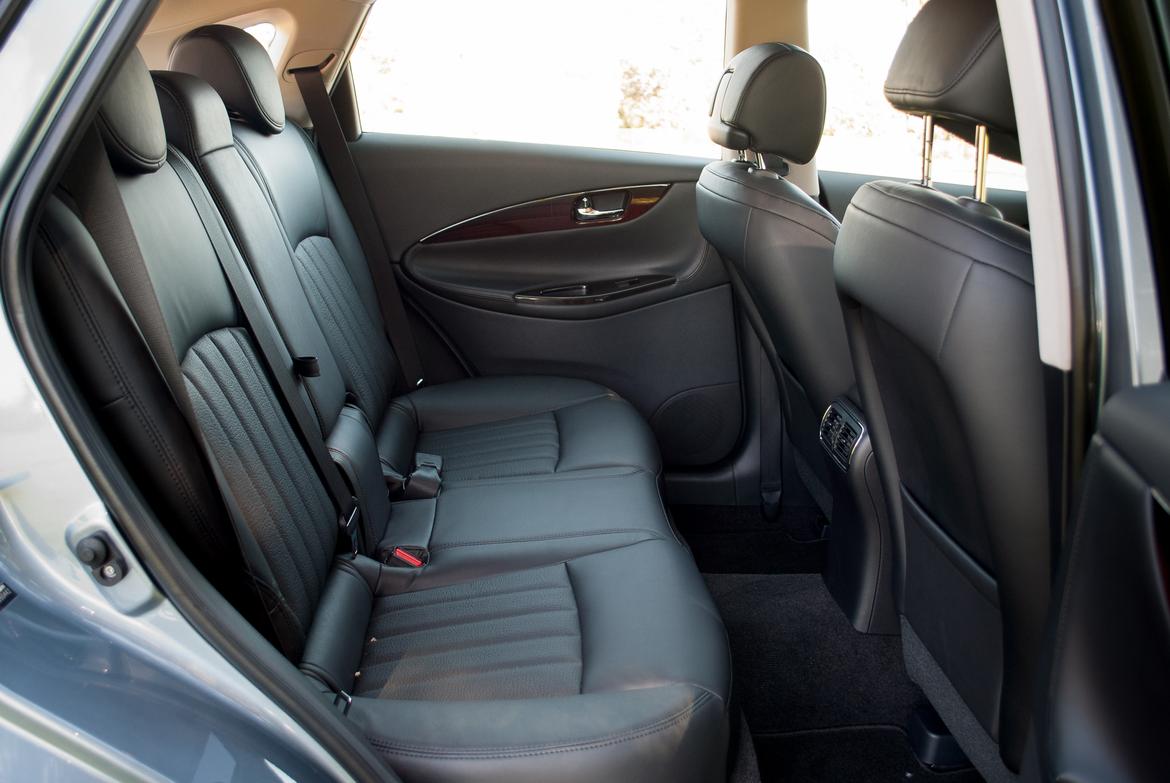 Though there weren't many new features added to the 2016 QX50, Infiniti did raise the crossover's value by concurrently lowering the MSRP and adding standard features. The starting price has dropped by $550 to $35,445 for the QX50 3.7 and $36,845 for the QX50 3.7 AWD (prices include destination). According to Infiniti, $1,700 worth of standard equipment has been added, including a power moonroof, heated front seats, LED fog and running lights, and door mirror turn signals.
Infiniti has also added a new $500 Premium Package to the mix, which includes a Bose premium sound system, advanced climate control, auto-dimming rearview mirror with HomeLink, maple accents, a power tilt/telescoping steering wheel, aluminum roof rails and memory for the driver's seat, steering wheel and outside mirrors.
Taken at face value, there's nothing inherently wrong with the QX50. It is a fine luxury compact SUV that drives well and offers good value with the additions for 2016. But being perfectly inoffensive does not translate to added buyers, especially in a segment this hotly competitive. Infiniti needed to score a touchdown with this makeover to move the needle, but it's settled for a field goal.
2016 Infiniti QX50; Cars.com photos by Brian Wong