Cars.com Field Trial: Mobile EV Quick-Charging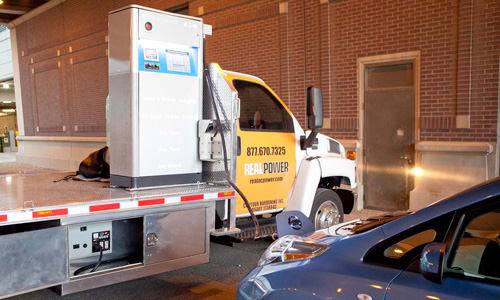 Thanks to a company called Real Power, we were able to test both this scenario and our Nissan Leaf's Level 3 DC quick-charge port, which was a $700 option on our 2011 Leaf SL but will become standard with this trim level for 2012. Though Level 3 charging has been promised before, it's not yet available publicly.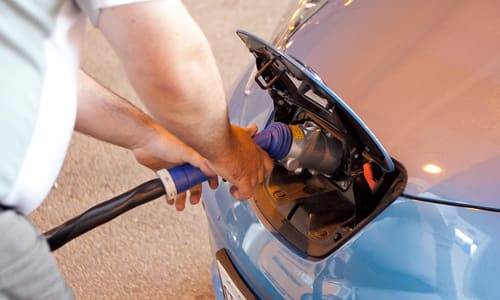 Real Power's prototype truck admittedly looks inelegant because it employs a kiosk-style Level 3 charger — characteristically the size and shape of a gas pump — at the front of the flatbed. Vincent Laplante, the company's sales and marketing manager, said Real Power is working with the unit's manufacturer, Eaton, to adapt the hardware so it fits under the bed, on the curb side, opposite the generator. The final design will have a long cable and won't require the operator to climb onto the flatbed unless it proves necessary: In instances where the stranded car proves to have a problem aside from a dead battery, it can be winched onboard and ferried away as it would on any flatbed tow truck.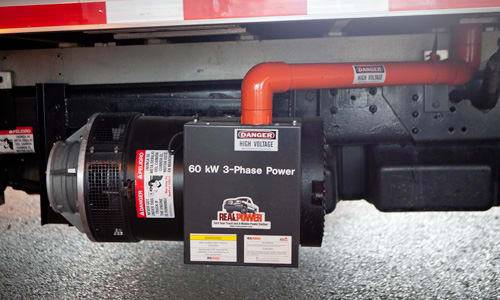 He then attached the compatible connector to our Leaf's charge port, and seconds later the battery pack was gulping 93 amperes of direct current. From then on it was just like charging at Level 2 or Level 1, except the miles of range piled on much more quickly.
Our Leaf's battery started at 50 percent, which corresponded to a predicted range of 55 miles. Within 10 minutes, the range had increased by 11 miles. The charging stopped automatically after 19 minutes when the level hit 80 percent. This is standard for Level 3, because additional quick charging would damage the battery. For the same reason, the charge rate slows as the battery fills, so our test didn't show quite how quickly the miles can pile on. Nissan claims Level 3 can take the pack from empty to 80% in 30 minutes. Our range at 80% was 85 miles with the climate control on.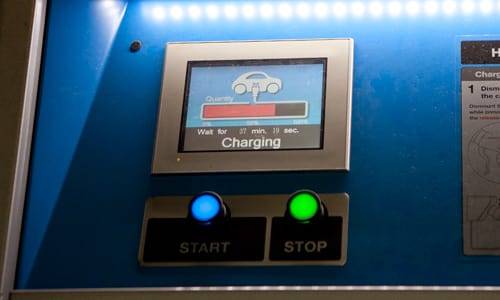 The Level 2 option, which we also tried, seems less attractive. Our Leaf adds 10 to 15 miles of range for every hour of charging, which suggests a dead car would warrant a 30-minute minimum session to ensure that the process needn't be repeated a few miles down the road. The upcoming Ford Focus Electric won't have a quick-charge port, but it should charge twice as fast as the Leaf on Level 2 thanks to higher-capacity onboard electronics. The Mitsubishi "I" EV has a Level 3 port and charges to more than 80% in 15 minutes.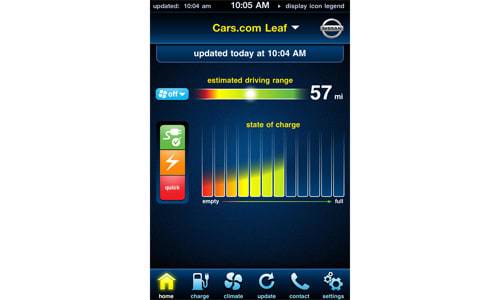 According to Laplante's testing, the truck uses less than a gallon of diesel fuel to fully charge an empty Mitsubishi I, so the Leaf's larger battery would probably push it over a gallon. The national average price for diesel fuel is $3.92 per gallon. Greenies might fear an environmental cost as well, but it's not like electricity is carbon neutral to begin with, and if the prospect of merely five to 10 minutes of diesel fumes helps to tame range anxiety, more consumers might see EVs as a viable option.
Read more about Cars.com's long-term Nissan Leaf and Chevy Volt