Gadget Review: TomTom One 130S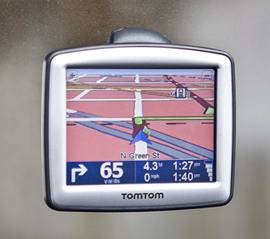 Brand: TomTom
Model: One 130•S
Suggested Retail Price: $249.95
"Turn right on north LaSalle Street." Is that worth $50? TomTom recently updated its tremendously popular ONE 130, making it the ONE 130•S, by adding text to speech — the ability to hear both street names and the standard turn-by-turn directions. We took an in-depth look at the new 130•S on suburban, urban and rural highway routes in an attempt to determine whether the new TomTom ONE 130•S is the way to go in lower-end portable navigation units.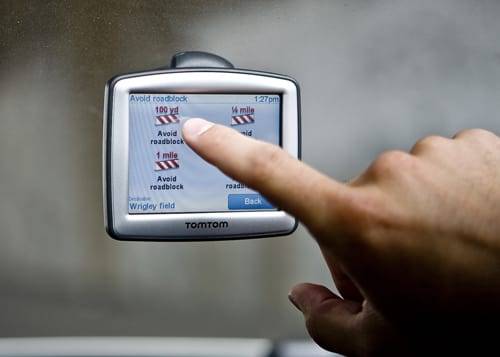 Ease of use (15 pts): 13
When I began using the 130•S, the third turn it told me to make was a closed road. Not completely sure about how to change the route, I tapped the screen to view the menu. The center menu option was "Find alternative," and when I tapped this I was prompted to make one of six choices. The clear choice was "Avoid roadblock," then it was on to choose how far away the roadblock was. Within 10 seconds of seeing the closed road ahead, I had a new route to drive. This is just one of many examples of how easy and logical TomTom has made its system.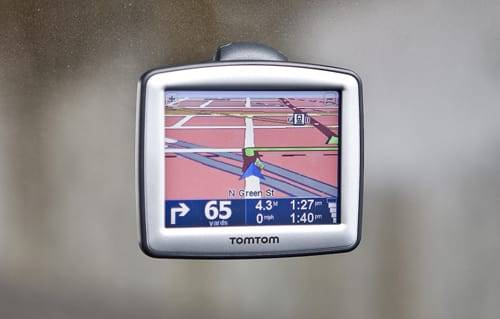 Routing (15 pts): 12
An extremely important aspect of a navigation system is its ability to change its route on the fly. On long road trips, it's always important to know where the next gas (or bathroom) break is going to be, and I hate it when you take an exit ramp only to learn Wendy's is another two miles down the road. Why can't they tell you this ahead of time? TomTom's "POI along route" does just that. The system will tell you before you get off the highway that the gas station is actually two miles out of the way by displaying just how far off your route your stop is.
It wasn't all good, though. One of the more disappointing aspects of the 130•S was its unnecessary repetition of directions. When driving down a highway there is no need to repeat "stay left" before every exit. This annoyance forced me to mute the system before I had to resort to road rage.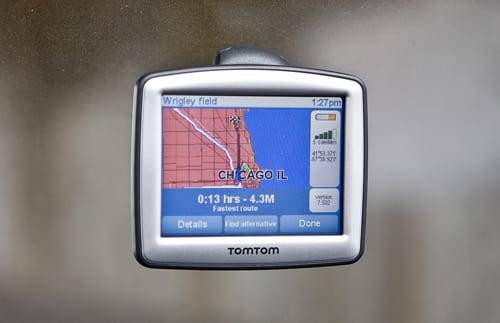 Map quality (10 pts): 6
Although the 130•S' maps are readable, they aren't quite as detailed as they could be. It makes sense to limit the number of roads shown when zoomed out, but this system doesn't show nearly as many as it should. In some instances, there were street names shown with no corresponding line for the road, and vice versa. There's lots of room for improvement in TomTom's future.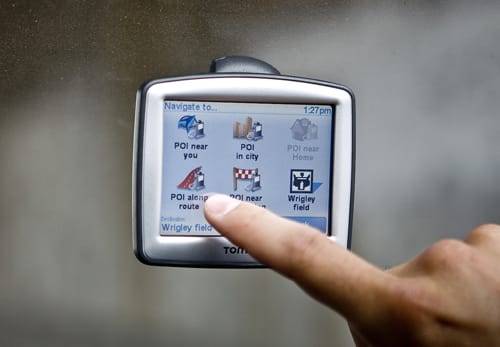 POI content and accuracy (10 pts): 6
When doing a search, things need to be fast, accurate and easy. TomTom has failed slightly at these three things. Searching for my favorite deli in Chicago, I entered the text "Mannys" and was shocked when only one Manny's came up (Mannys Dog House). Then I realized that perhaps punctuation mattered, so I edited my search by adding an apostrophe and, sure enough, the first result was Manny's Coffee Shop and Deli. This is not fast, accurate or easy searching. TomTom needs to rethink its search engine and perhaps include a software update. One thing I can't complain about, though, is its broad range of available listings and its never-ending ability to upgrade POI locations via the TomTom Home desktop application.
GPS accuracy (10 pts): 8
When powering on the system, it took a bit longer than expected to recognize my position. Once it locked in, though, it was pretty accurate. It thought I was still on a road a few times when I was actually in a parking garage, but that's understandable considering the unit assumes you're on a road.
Multimedia features (5 pts): 0
There are no multimedia features available on this system.
Mounting kit (5 pts): 5
TomTom has done an excellent job with the 130•S' mounting kit. The kit is basically an all-in-one package, and few adjustments need to be made. Just stick and turn the suction-cup mounting bracket on any windshield and you're ready to roll. No complaints here.
Voices (5 pts): 4
One amazing feature of nearly all TomTom units is the ability to download new voices (Mr. T is a clear favorite) for a fee via the TomTom Home desktop application. With the new text-to-speech feature, spoken street names aren't always pronounced correctly, and some are hard to understand. I hope to see an improvement in that area in the future, but for now the spoken names are a nice touch to the 130•S.
Design (5 pts): 4
Small, light and compact. Not much else to say. The only design flaw is the speaker in the back. If TomTom could find a better way to project the sound, I could crank up my music while also listening for directions.
Value (20 pts): 14
Overall, this is a great unit for low-end users. Along with adding text-to-speech, TomTom has jacked up the price $50 over the plain 130. If you're a big fan of hearing street names, it's worth the upgrade. If you can deal with just "turn left" and "turn right," I'd say stick with the 130.
Total: 72 out of 100