Making an iPhone6 Work With In-Car Wireless Charging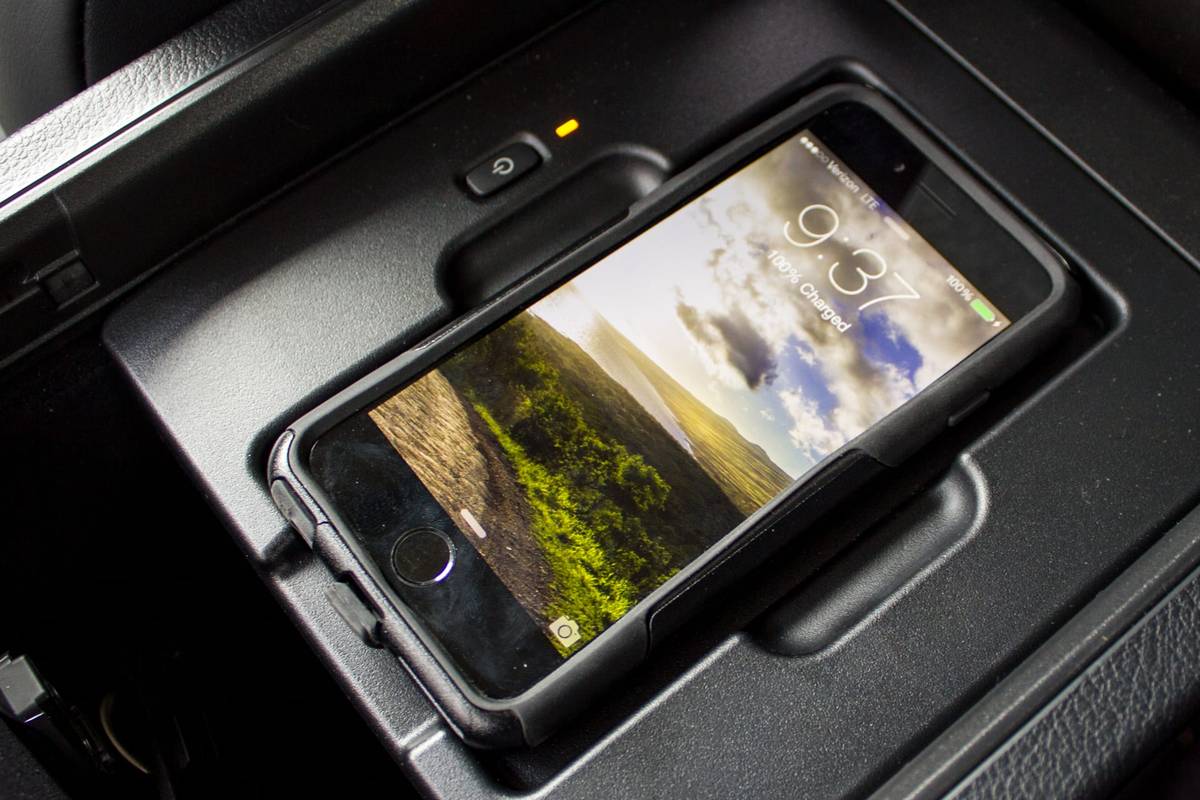 CARS.COM — For years, automakers have promised in-car wireless charger systems and they're finally rolling out at a feverish pace. Toyota, Lexus, Jeep, Cadillac, Dodge, GMC and Chevrolet currently offer wireless chargers, and more automakers will follow. The catch is, of course, compatibility considering not all phones can be charged using these chargers, including my iPhone 6.
Related: 2015 Cadillac ATS Gets Powermat Wireless Charging for Smartphones
Since Apple's lineup of older iPhones isn't compatible with wireless chargers, I set out to adapt my iPhone 6 to test out the optional car charger system in a 2015 Lexus NX 300h from Car.com's test fleet.
How does the technology work? Lexus, Toyota and many other automakers use the Qi (pronounced "chee") standard for wireless charging backed by the Wireless Power Consortium, a group of technology and infrastructure manufacturers that support the Qi standard. There isn't a universal standard, which is why all phones and accessories aren't interchangeable. GM uses Powermat wireless charging in its Chevrolet, Cadillac and GMC vehicles, a separate standard from Qi akin to HD-DVD versus Blu-ray. But in a win for consumers, GM's system is dual compatible with Qi devices.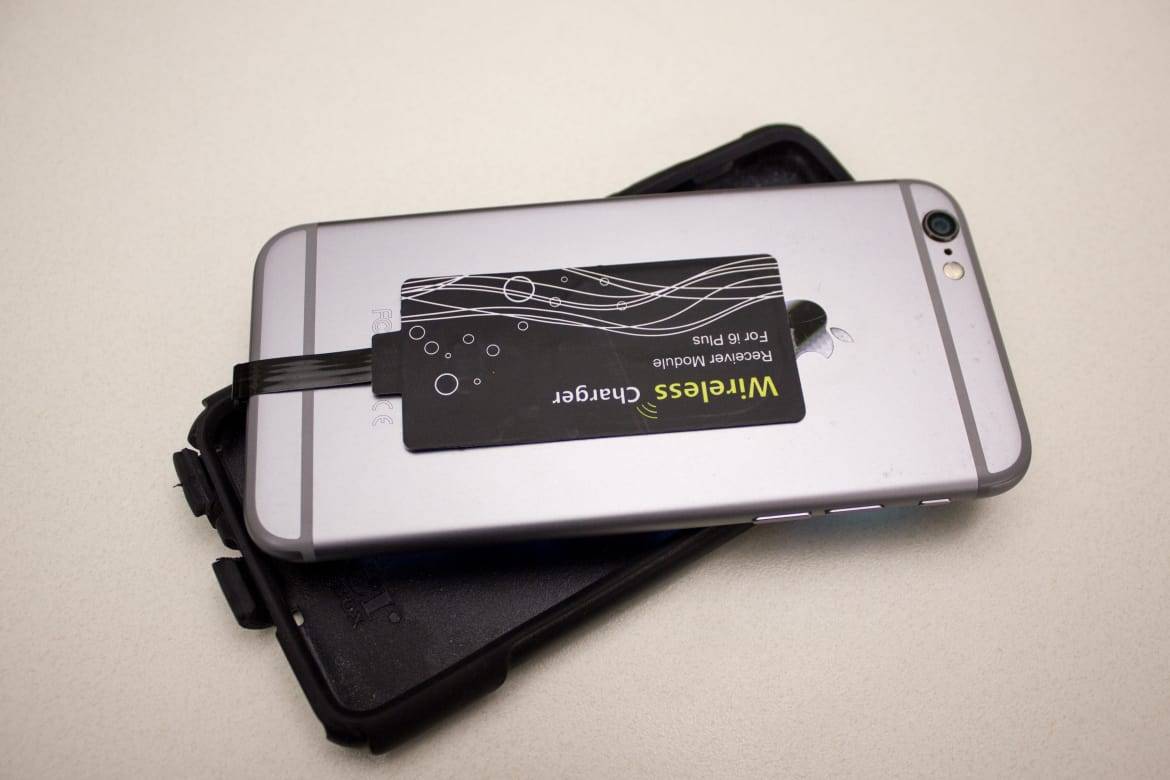 Adapting Qi wireless charging to an older iPhone is not as hard as it sounds considering there's no disassembly, soldering or any software changes. You can buy a case that's compatible or go the cheapo route by using an inexpensive baseball-card-sized Qi adapter. I bought one online for $15. Connecting the adapter is simple: Plug it into the iPhone's Lightning connector and peel the card's adhesive to stick it to the back of the phone. Voila. Wireless charging enabled.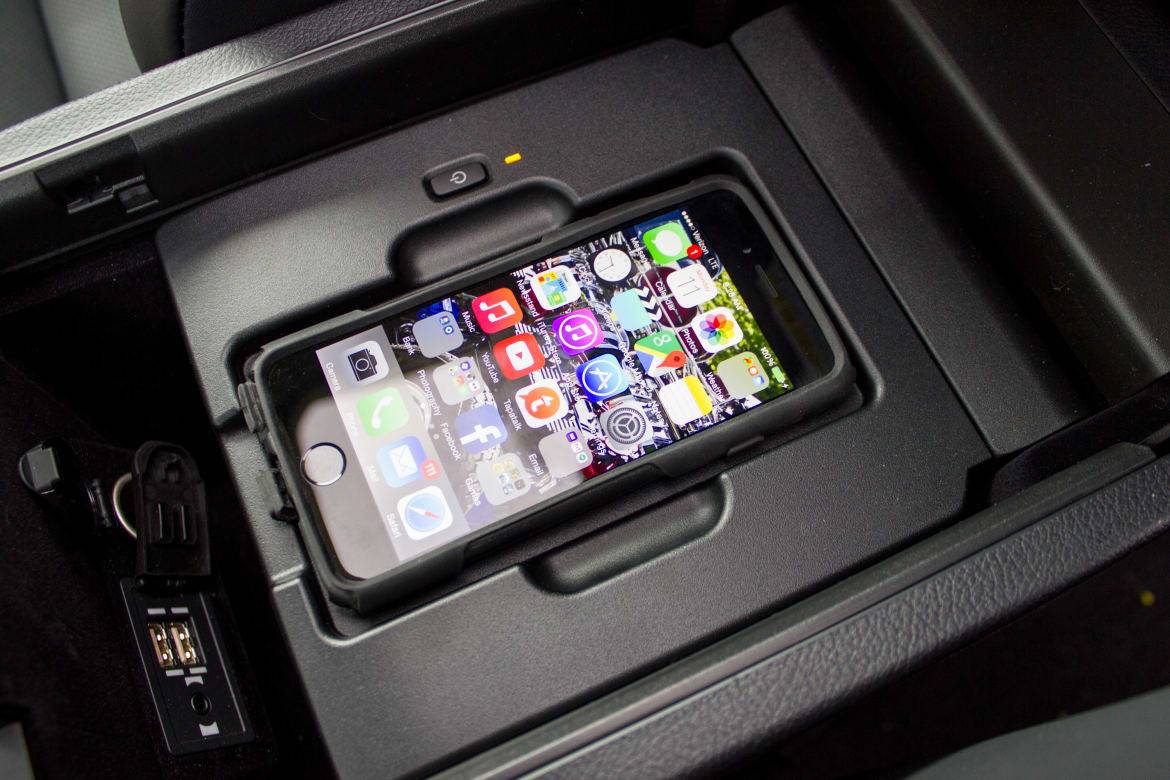 The adapter card affixed to the back of the phone picks up juice from the NX 300h's dedicated charge pad, sized perfectly for the iPhone 6. Power even flowed through my thick OtterBox case; it can transfer through the outer casing up to 7 mm, according to the Wireless Power Consortium. This method comes with a big, fat "Use at your own risk" disclaimer because it's not the ideal way Apple or the WPC recommends adding wireless charging capability.
Regarding the inexpensive adapter, "nothing bad is going to happen to your phone or car," says John Perzow, vice president of market development for WPC. However, "Qi has gotten very popular, and part of something that's popular is imitation. A lot of parts claim to be a Qi product but are not tested to the Qi standard," he cautions.
WPC authorizes third-party manufacturers to use the "Qi" logo on packaging when a product passes WPC's inspection and quality process. Full disclosure: My adapter card was not one of those approved products.
Apple recommends only using approved "Made for iPhone" wireless charging devices. Like Qi, Apple's "Made for" program evaluates third-party devices before slapping on an approved label. There isn't a wireless charging case for the iPhone 6 in the Apple store at the moment, and the compatible iPhone 5 case uses the same method as the adapter card where the case plugs into the Lightning connector to enable wireless charging. Also, the online Apple store case is only compatible with Powermat wireless charging systems. A quick online search found a few Apple- and Qi-approved cases.
Step away from Apple fandom and phones like the Samsung Galaxy S6, Google Nexus 6, Nokia Lumia 1520 and about 30 others have Qi wireless charging integrated from the factory. Perzow recommends visiting qinside.biz for a list of current phones with Qi wireless charging capabilities.
I'm not totally sold on the retrofit options for the iPhone because it ties up the Lightning connector, though iTunes is configurable to sync over a Wi-Fi connection. Still, I'll hang onto my inexpensive iPhone adapter for future use because I really like the idea of hopping in and out of the car and not worrying about digging through my bag for a phone cord, especially considering how in-car systems are relying more on phones for a number of functions from telematics to entertainment to navigation.