Semitrailer Add-On Could Curb Underride Deaths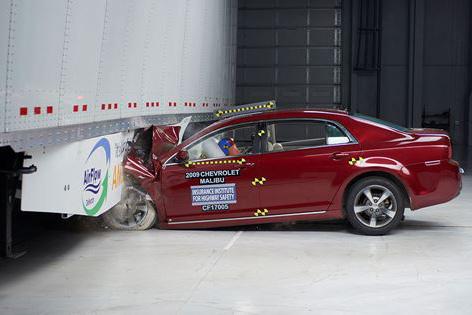 CARS.COM — When the driver of the Tesla Model S in Autopilot mode crashed into a semitrailer in May 2016, the sedan slid under the truck, killing him. According to the Insurance Institute for Highway Safety, underride accidents — when a smaller vehicle crashes into a truck and goes completely or partially underneath it — claimed hundreds of lives in 2015. The agency is testing new equipment on semitrailers to prevent these types of fatalities, specifically side underride accidents.
Related: 3 Up, 3 Down in IIHS Large-Car Crash Tests
IIHS reports that of the 1,542 deaths of passenger vehicle occupants in crashes with tractor-trailers in 2015, 301 involved the side of a tractor-trailer compared with 292 that involved the rear. By law, these types of trucks are required to have rear underride guards but not side ones. IIHS' test of an aftermarket device that attaches to the sides of the truck successfully prevented a mid-size sedan from sliding underneath the trailer in a 40-mph crash test.
The AngelWing device produced by Airflow Deflector blocked a 2009 Chevrolet Malibu that struck the center of the truck's side guard. According to IIHS, the guard bent but prevented the car from going under the truck; the car's airbags and safety belt also worked properly to restrain the dummy driver.
"Broader use of devices like this one, combined with continued improvements to rear underride guards, would go a long way toward reducing deaths in large truck crashes," David Zuby, IIHS executive vice president and chief research officer, said in a statement.