Suburban Dad: Rally Impressions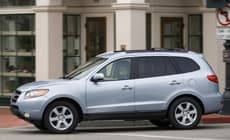 Earlier this month, the Cars.com reviewers brought me along to an otherwise journalist-only rally where they got an early look at dozens of new car models. They wanted to get some thoughts on new cars from a typical suburban dad, and they wanted to see what I'd consider buying for me, my wife or my teenage kids. These writers aren't having kids yet and they're pretty jaded about getting to drive the latest and greatest cars. I'm not. Here's my take.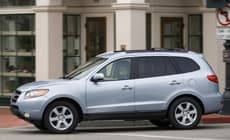 Hyundai Santa Fe: The updated version of the Santa Fe looks great and offers lots of cool features for drivers and passengers. It has plenty of room for a family, though it's lacking the standard third row some others offer. That third row is crucial when you've got three kids (like I do) and you need to divide and conquer in order to have a long, tranquil trip. Too bad it lags when you hit the accelerator. And that was with the V-6.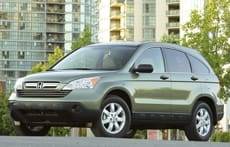 Honda CR-V: Gone is the overly feminine face. Here is more room, better features (like the nav system borrowed from the Pilot) and a ton of storage space. I'd feel less like hiding my face while driving this through Suburbia; it's much more contemporary and can play MP3s from CDs, a PC card or your iPod (or other MP3 player). One cool feature: a nifty "rollaway desk" style compartment that can be easily opened with one hand and is suitable for extra keys, your cell phone, etc.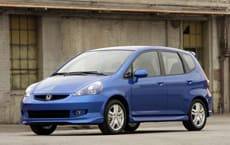 Honda Fit: If I had to buy a car for my oldest (and luckily I've got a couple of years before that happens), I'd be looking at cars in the Fit's class. A couple of things would stop me. The overly aggressive accelerator, which jumps when you touch it, would make me nervous that he'd wind up in an accident not of his own making. I also wasn't wild about the cheap feel of the cloth panels on the inside of the doors. I think he'd like the look and space in the car, and he'd be thrilled by the MP3-player jack at the bottom of the dash, right next to a storage bin clearly aimed at holding your iPod.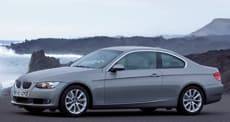 BMW 335i: OK, this one may be more Well-To-Do Suburban Dad, but … wow. It may not have been exactly the "ultimate" driving experience, but it sure was fun. Yeah, it's a little tough to get the whole family into a coupe ("watch your head, sweetie, sorry about having to push you in…"), but there's plenty of space once you get in, and those drives to the in-laws would be way more fun. Coolest feature: a robotic arm that pulls your seat belt forward so you can reach it, then retreats after you're buckled up! There was little road noise, and I felt like I was in control of the car at all times, with really responsive steering. The only thing I didn't care for, as a typically overweight American, were the seats with pinched-in supports just above my hips.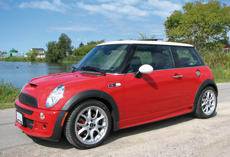 Mini Cooper S (John Cooper Works): I know, I know. Totally impractical (as my wife keeps telling me). But I want one! If there was one car I wanted to drive home from the rally, this was it. It was roomier than it looks (honestly, honey) and a blast to drive. In reality, it could only hold me and my wife — the backseat would be fine if I only had two kids who were both younger than 6, neither of which is the case. Still, it gets great gas mileage (we're saving money, honey!) and I could easily see myself checking out the fall foliage in this baby.