VW R32 Discontinued for Now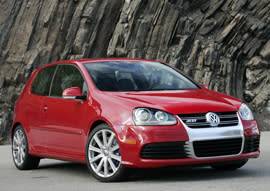 We have some bad news for all you Volkswagen R32 fans out there: Thomas Wegehaupt, spokesman for Volkswagen, has informed us that there will be no U.S. version of the R32 for the 2009 model year. It's an odd move given that the redesigned R32 was on sale for less than a year. The R32 is a VW Rabbit- (or Golf-) derived model that's been extensively reworked to include a V-6 powertrain and all-wheel drive.
Part of the reason behind this move could be that a redesigned 2009 Golf was just unveiled at the 2008 Paris auto show and is headed to the U.S. sometime next year. We might get a new R32 based on the 2009 Golf but that will most likely be a year or two down the line. Until then, if you've been holding out for a better time to get this hot hatch, your time is running out. Doing a quick inventory check on Cars.com unveils a total of 276 R32s spread across the nation. They start at $32,990, but there's a maximum of $2,000 cash back on them through Oct. 31.